Cover Story – The PGA of America Heads to Frisco

In just a shade under 10 years, a trip to Tennessee and a pair of inconspicuous signs showcasing upgrades to parks in two North Texas communities has somehow managed to morph into a half-a-billion-dollar project that will pump more than $2.5 billion into the local economy over the next two decades. How did the PGA of America decide on the city of Frisco for their new headquarters? It was a labor of love and perseverance by multiple people, and AVIDGOLFER Magazine takes you on a guided tour of the work involved, all the way from urban golf park, to the PGA Championship.
When Mark Harrison boarded a plane to Tennessee in 2012, little did he know that would be the beginning of a long and arduous journey, not just to the regional meeting he was attending that week, but to an endgame he never could've imagined. 
While in the Volunteer State, Harrison took the opportunity to visit the Golf House Tennessee, a property which is home to the Tennessee Golf Foundation, the PGA of Tennessee and The First Tee Program of Middle Tennessee. In addition, it also features the "The Little Course", which is a nine-hole par-3 course where holes can play as little as 65 yards for the beginning junior player, or as much as 200 yards in some situations for the experienced player. It's a unique facility and one that Harrison knew he needed to see while he was in town. 
In addition to his duties as an executive and CEO of the Northern Texas PGA, Harrison is also a father with a tremendous passion for junior golf. About nine months after his trip to Tennessee, Harrison found himself driving one of his kids to the North Texas Golf Center. For those not familiar, the now extinct driving range was located behind Speed Zone off I-35 and Walnut Hill Lane. The North Texas Golf Center was once a place where juniors could practice on the cheap without the pressure and stuffiness of a private club. 
En route to the North Texas Golf Center, Harrison stumbled upon a sign that provided additional illumination. The sign focused on an upcoming City of Dallas project for a soccer park. At the bottom of the sign, it read: 
FUNDING: 
State of Texas 50% $1,000,000
City of Dallas 50% $1,000,000
Total: $2,000,000
MoneyGram Soccer Park received the funding, and is a 120-acre, 19-field soccer complex at Elm Fork in Dallas and is owned by the city in a partnership with FC Dallas. The facility features 14 full-sized fields as well as five junior fields. 
The following week, Harrison saw a similar sign in the City of Grand Prairie, another where the state and city were using a 50/50 split to upgrade community parks and bike trails.  
After seeing the second sign, his mind immediately went directly to his passion… golf.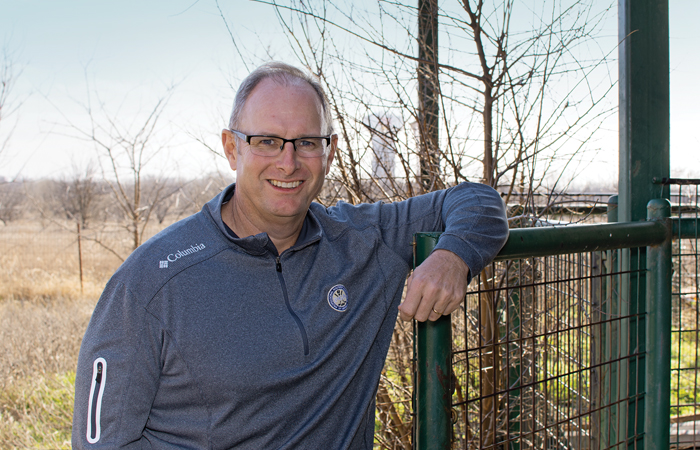 Mark Harrison
With his thoughts coming together, Harrison decided he needed to define "urban golf park". The three criteria for his vision took shape quickly. This project would be a par-3 course with synthetic turf tees and greens. The project would be constructed in a preexisting park space in close proximity to where other sports and activities were played, and this concept would be free and open to the public. Anyone would be welcome to play. In addition to a desire to bring golf to those who maybe don't have the opportunity to enjoy the game as those that are more privileged, Harrison had one other ulterior motive for wanting to see this project take off. A new office for the NTPGA. 
As well as the urban golf project, the potential property would also become the permanent home of the North Texas PGA, saving the chapter thousands of dollars in rent annually. So, in the end, the idea had the potential to be a win/win for whichever community put their confidence in it, as well as Harrison, the NTPGA and their employees. 
As the calendar turned to 2013, Harrison, having once been a resident of Addison, thought of a park in the area which would be perfect for the potential project. The first renderings of the 7-acre lot included six par-3 holes, but after a meeting between Harrison, NTPGA President Philip Bleakney, past president Ronny Glanton and Addison Mayor Todd Meier, the city declined the project saying the park in question was geared toward mixed-use and the urban golf park idea wouldn't be feasible.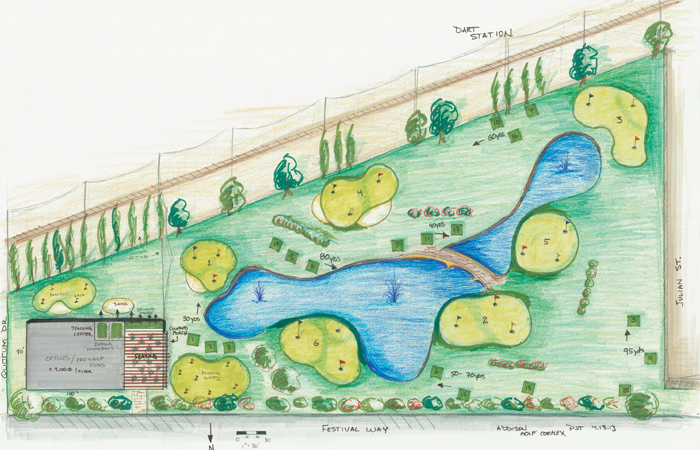 Urban Golf Park Rendering for Addison
Though Addison passed on the potential project, Harrison continued to push forward knowing he had a winner, and the next step was finding another potential suiter for the project. 
In May of 2013, when the AT&T Byron Nelson announced their plans to relocate the tournament from TPC Four Seasons to Trinity Forest, Harrison saw an open door. He contacted the City of Irving to see if they could be a potential candidate. 
Dan Strimple, who was once the proprietor of a driving range off Interstate-183, helped Harrison reach out to several city officials, and after a meeting, the city gave Harrison three parks to check out as potential locations.  
Just west of TPC Las Colinas and Cottonwood Valley, at the corner of Story Road and Walnut Hill Lane, sits Cottonwood Creek Park. After taking a look at all three parks the city recommended, Harrison had made his choice. Cottonwood Creek Park checked all the boxes. It had the acreage necessary and was in close proximity to other sports, in fact, the Miracle League of Irving has a baseball field there. In addition, there is a playground and a pavilion on the property. 
After a second meeting with the City of Irving, Harrison set out to prepare a detailed blueprint of what the property would look like once it had been overhauled. Casey Paulson, who was on the board of the NTPGA and was general manager of Vaquero at the time, recommended designer Beau Welling to route and develop the project. If the name Beau Welling rings a bell, it's because he has collaborated with a guy by the name of Tiger Woods on several projects, including Bluejack National in Montgomery and Payne's Valley, a current project in the Ozarks of Missouri now set to open at some point in 2020. Welling also helped collaborate on Vaquero Club in Westlake while working under Tom Fazio. 
Welling and Harrison had originally agreed on a price of about $2,500 to render the project, but after months of not receiving an invoice, the NTPGA reached back out to Welling about settling up but Welling wanted no part of payment. He was thrilled to be a part of the project.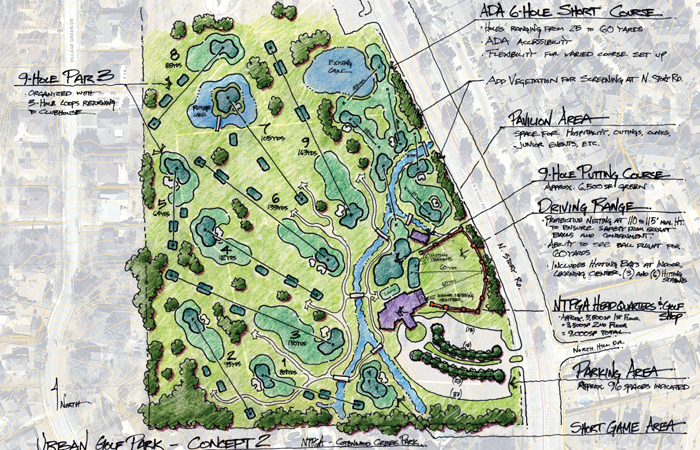 Urban Golf Park Rendering for Irving (Beau Welling Design)
Things were finally picking up some steam. It appeared Harrison's brain child might actually take flight. 
As the project continued to develop, more brainstorming led to more ideas. The City of Irving was still interested, but Harrison and company felt like they might need to pitch the idea to more locales. The NTPGA kept up their dialogue with Irving and were transparent with the city that they were going to be in negotiations with other areas to gauge their interest. 
Despite the fact this project had already started to gather momentum, 2014 became a watershed 12 months, as things began to take on a life of their own and develop from humble beginnings to something much more. 
As the NTPGA and Harrison continued to shop the idea, they developed relationships in Plano and Richardson. Meetings took place and pitches were made, although nothing concrete was agreed upon. 
Then in March 2014, Harrison reached out to a representative of the City of Frisco and a meeting was arranged. That chat ended with the city recommending four parks that could potentially be a landing spot for the project. A second meeting with Frisco officials took place on March 27. In attendance were Harrison and NTPGA Vice President Tony Martinez. They met with City Manager George Purefoy, as well as Jim Gandy, who was the head of economic development for the City, Frisco Convention & Visitors Bureau Executive Director Marla Roe and Director of Parks and Recreation Steve Walsh. 
The conversation that took place at that follow-up meeting would change the direction of the project and the City of Frisco. At that meeting, Harrison and Martinez learned the city was considering building a golf course funded by the Frisco ISD bond program. The course would be used for the 11 high schools and their teams during designated times due to lack of availability at other city courses. Basically, the city wanted somewhere their high school kids could practice and play without being bogged down by the local muni players. 
They appreciated the idea of the urban golf park, but as has been the case with the City of Frisco over the last 30 years, they began to think big picture. 
Enter Cameron McCormick. 
If that name sounds familiar, it's because he has been Jordan Spieth's longtime golf instructor. McCormick, who has been friends with Harrison for years, first mentioned the name of Frisco attorney David Ovard. Ovard was a father of a pair of boys who were developing their games in Frisco ISD. McCormick was teaching Ovard's boys and mentioned to Harrison that Ovard was spearheading a group of local homeowners in the preliminary phases of developing a golf course project. 
In mid-July 2014, Harrison met with Ovard to discuss a partnership which would get the ball rolling on the potential project. The following afternoon, Harrison sent an email to Darrell Crall, who once was the of the Executive Director of the NTPGA but is now the COO of the PGA of America. The email was simple, just dropping a line to Crall to inform him of the potential for the Frisco project.  
In September, a dinner was arranged between Harrison, McCormick and Ovard to further discuss the project. At this dinner, a new idea was hatched. This idea, even bigger than the previous. 
At that dinner, the trio concocted what Harrison now refers to as the "Field  of Dreams idea", more specifically, the often-misquoted line from the movie: "If you build it, they will come.", which is actually "if you build it, he will come." in reference to Ray Kinsella's father from the film, but no need to split hairs here, we get the picture. 
The idea was to reach out to the PGA of America and offer them a blank slate. Ask the organization what it would take to bring a potential PGA Championship to Frisco. Another email was sent to Crall, this one expressing the idea that Frisco could be interested in hosting a world- class event on a brand new course. The project was very much akin to the same agreement the Frisco ISD had reached with the Dallas Cowboys. An agreement that helped bring The Star and the Ford Center to town. The Ford Center now plays host to Frisco ISD football games. 
In December 2014, the first "Project PGA Meeting" was held. In just under a calendar year, Harrison, Ovard and Crall had taken the simple idea of an urban golf park into a new stratosphere with seemingly limitless potential. 
Most projects of any size run into roadblocks, but certainly one of this magnitude couldn't get through this process unscathed. The first hurdle the group came upon happened in early 2015, when Bert Fields passed away. Fields was the owner of Headquarters Ranch in Frisco, which was settled upon as the best plot of land for the future home of the PGA of America and the immense development that would accompany it. 
As the process rolled on into 2015, the PGA's Chief Championships Officer, Kerry Haigh, arrived in Frisco in early February to tour some potential sites for the venue and the infrastructure necessary to pull it off. At the same meeting, Crall also brought to the table the potential economic impact for the area. Studies conducted at Valhalla and some of the smaller market venues to host the PGA had seen impacts of around $100 million, but Frisco officials felt that number was conservative given the market size, accessibility and the passion Texans have for the game of golf. 
After hearing the pitch, the City of Frisco was all in. Officials could see the potential impact this project could have, both from an exposure standpoint and a financial one. 
In the spring of 2015, Harrison was tasked with contacting potential architects for the project, including calls to Frisco resident D.A. Weibring, Coore/Crenshaw, Welling – who had previously designed the Irving urban golf park pro bono, Chet Williams – who designed Whispering Pines (the No. 1 course in Texas) and Gil Hanse – who is known for designing the Olympic Golf Course in Brazil. Coore/Crenshaw declined as at the time they were working on the Trinity Forest project, but after visits to the site and hour-long presentations that followed with representatives from the PGA and the city, minds were made up.
As the meeting adjourned, the representatives met and agreed they wanted Welling to design 18 holes, the 9-hole short course and the practice facility. They also agreed that Hanse would be given the task of creating the championship course, which would one day play host to the PGA Championship and potentially a Ryder Cup. The official decision was made several days later on November 4, but it was merely a formality.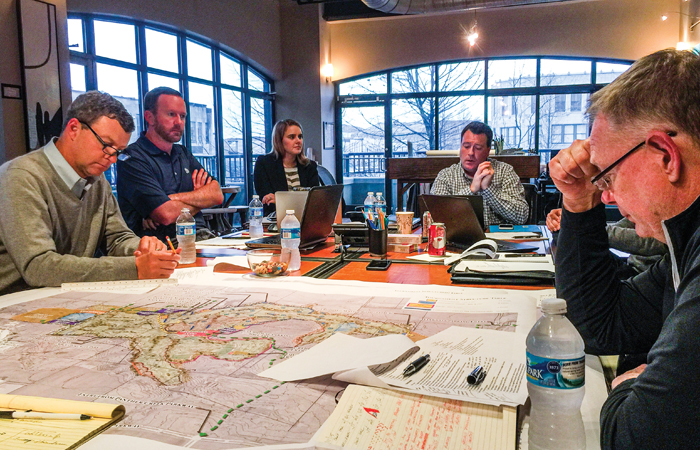 First Architectural Meeting
As 2015 began to wind down, the first joint architect meeting between Welling and Hanse took place at Welling's office in Asheville, North Carolina. In addition to the two architects and members of their teams, Jimmy Terry, the Senior Director of PGA Golf Properties, Paul Earnest and Harrison were in attendance. It was at this meeting that those associated with the project really began to see the fruits of their labor. 
One major component for hosting a major championship are the areas around the courses and the infrastructure necessary to host large crowds and the thousands of employees and volunteers needed. In early 2016, Hanse and Welling were tasked with presenting a conceptual tournament plan to the PGA of America. This meeting took place at January's PGA merchandise show in Orlando. The plan included golf course routing with placement of grandstands, concession areas and the other fanfriendly necessities required to house a major championship. At this time, the plans were still top-secret, so those at the meeting were forced to meet in private and then leave the facility separately as to not raise any suspicion. 
Arguably the most significant development to this tale took place in spring of 2017. The PGA went public with their request for proposal to relocate their headquarters. Initially, over 200 cities applied for the honor to call the PGA of America home, but that field was quickly narrowed down to just a handful. Charlotte, Atlanta, St. Louis, Phoenix, West Palm Beach, and Frisco were the final few in the hunt for obvious reasons. The PGA likely wanted a home that was in a warmer climate where golf can be a focal point year-round, so anywhere north of St. Louis would be a tall order, as the golf season can be cut short by winter weather. So, the southern cities which were easily accessible rose to the top of the list posthaste. 
Although the ball continued to roll along, there was still nothing completely agreed upon or carved in stone. As Frisco continued jockeying to outfox the other candidates, representatives felt they needed to get a feel for major championship golf. So, in August, Harrison and Martinez, along with city officials in-tow traveled to Quail Hollow and the PGA Championship in Charlotte. 
Golf is big business, we all know it is, and everyone involved in this process was aware of that as well. Money and incentives help drive negotiations and Frisco was falling behind. At this point, Frisco and West Palm Beach were the final two cities on the table, and after several meetings, it became apparent that Frisco was losing out. West Palm Beach had more capital for incentives and that meant more reason for the PGA to stay in Florida. 
After a nine-hole round at Trinity Forest with Crall and Paul Levy, Harrison knew Frisco was officially behind the eight-ball. After all the work, all the calls, all the e-mails and meetings, he was told the chances were less than 10%. 
Less than 10%. After all that it was still less than 10%. 
More funding was needed… and in a hurry. Harrison immediately picked up the phone and called Ovard and sent up the signal flare. Luckily, more money was raised, and the funds were untied to economic incentives or jobs created. This money was basically unrestricted to be used in any manner necessary. After this, suddenly Frisco was making a Tiger-like charge. Well, maybe not quite Tiger-esque, but the odds at least seemed to be tilting closer to even-money.
The general public doesn't really understand the moving parts that come along with uprooting a major organization and moving them halfway across the country. Some employees might not want to make the move, and they have to be compensated via severance. Those that choose to go along for the ride need compensation for moving expenses, etc … not to mention disrupting the staff and operations during the process. Point being, the money required, and the headache might not be worth it when talking about an office as large as the PGA of America. And that can be the difference. That money has to come from somewhere, and if the PGA had chosen to stay in Florida, that's an expense that would have been avoided. 
Again, Harrison fired the financial signal flare and yet again Ovard and his team came through. It was truly a two-horse race again. With all things basically apples to apples monetarily, the PGA now began to look at the pros and cons of the potential new site. The PGA of America Board of Directors flew to town for a visit and a tour of the City of the Frisco. The Star, the new Toyota headquarters, JP Morgan Chase, Liberty Mutual, Legacy West. Some might argue a trip around Frisco sells itself, but it truly checks all the boxes: 
Central time zone and easily accessible from anywhere in the country? Check.
Two major airports? Check
Fortune 500 companies flocking to the area? Check
Booming economy? Check 
No state taxes? Check
Pro sports littered across the area? Check 
Two golf courses designed by world-renowned architects? Check
New state of the art facilities for the PGA to call home? Checkmate.
Being an Aussie, Mark Harrison might say it better. Check, mate. 
In the months since the announcement, more site visits, more renderings and more planning has taken place. The project is on time, with golf course construction set to begin in the fall, but civil work is currently underway. Heavy earth moving has begun and once that is complete course design should begin sometime around October or November. If weather cooperates, planting of grasses should begin in the spring of 2020, with completion expected in the fall of next year. This timeline would mean the grasses would have a full year of development before the courses are expected to open in 2022.
All vertical construction of offices, clubhouse and the resort itself are in the final stages of the design process and should likely begin in spring of 2020. The construction that will take the longest will begin first, meaning construction of the resort will begin first and likely be complete in 2022 while the PGA headquarters and clubhouse for the courses should be finished in late 2021 or early 2022.

Rendering of PGA of America Headquarters
As of now, the grand opening is still planned for June of 2022.  
The PGA of America already has a makeshift office that houses about 15 of its employees with plans to relocate more of their workforce as the completion of the project draws near. 
With the development, major championship golf will also return to the Metroplex. The Hanse East Course is already slated to host the 109th PGA Championship in May 2027 and again seven years later in 2034. Rumors are already swirling about a potential Ryder Cup at the location, but any official confirmation on that is unlikely until at least one of the two PGA Championships has been contested. It is believed that the major championships will provide a litmus test to see if the area has the infrastructure to host such a global spectacle. Should the area receive a Ryder Cup, the earliest date available wouldn't be until 2040. 
After all the brainstorming, all the planning and all the meetings, the PGA of Frisco project is finally under construction. The selfless hard work of the major players in this saga have all given the Metroplex a tremendous gift. One that will not only bring millions of dollars and countless jobs to the area, but one that will shine a spotlight on a state and area that has always been a hotbed of golf talent and passion. North Texas deserves this. Frisco deserves this. Those who helped orchestrate this project deserve this… but most of all the game of golf deserves this. 
The Architects: Beau Welling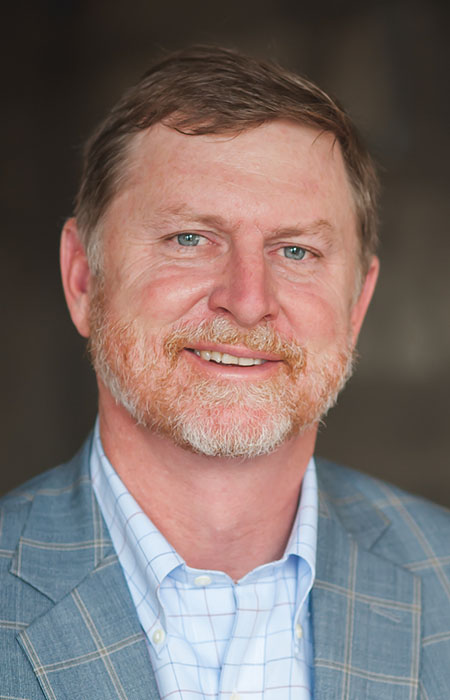 AVIDGOLFER: Golf course design is one of the things you do, but you also have tentacles that stretch to other realms as well. How many golf courses have you designed and how many projects have you worked on in total?
Welling: At the start of my career, I was working with Tom Fazio, a golf course designer, and then helped run his company for about 10 years. That was sort of 97-2007. With him, we were involved in 90-100 golf courses, including things in Dallas like Vaquero and Dallas National. Since I left and started my own firm, which was 2007, I had this relationship with Tiger Woods and helped him with some projects and then had projects of our own. So since leaving within in the last decade, its probably been about 10 golf courses? It's been in a lot in my career, but fewer over the last several years and I think that just goes to the nature of the market.
AG: You've also done a school and other interesting projects. It seems like your philosophy seems to be more about bringing people together rather than exclusively golf course design. At what point in your career did you know that was going to be a motivating factor instead of focusing on just golf courses? 
Welling: I've played golf since I was two years old. I played competitively and played in college. When I got involved in design, I was a golf fanatic. I studied landscape architecture with the sole intent of becoming a golf course designer. I normally say it's greens, tees and bunkers that took me into this industry. What happened though, is that when I was working with Tom, the projects I ended up enjoying the most were so much more than greens, tees and bunkers. They really were like communities and they brought people together. They were social and human things. Seeing people interact whether it be family interaction, social interaction, people. It was a vibe and cool and you'd want to go there and hang out if you weren't playing golf kind of thing. I thought about why I liked that and when I left, one of the things I wanted to do was be involved in helping create great places. This word place-making gets overused in the design world, but in essence it's what I'm into. It's trying to create and places to help people gather in and it turns out golf is a wonderful place to do that. Some of my best friends in life are people I grew up playing junior golf with. Played golf with my dad and mother since I was a really young age and all of these great memories of being with people. Sometimes that cannot sound right to a golf magazine, and I don't mean to the minimize the golf course architecture aspect of it, but to me golf is part of a bigger thing that can happen. Not to get too weird, but with all the rise of technology, you see humans struggle to be human. Kids look at screens all the time and they have a hard time talking and relating. Helping them get together and interact and get the phones and technology down is going to be increasingly important going forward. I feel like that's our core thing we are trying to do. We start with golf and it morphed into doing community planning, urban planning. 
AG: Mark Harrison introduced you to this project for an urban golf park.Essentially he wanted to create a space where kids go out and introduce themselves to the game without costing an arm and a leg. Is that why you accepted the project pro-bono? Is it just something that you're passionate about? 
Welling: I first met Mark through K.C. Paulson, who used to be a North Texas section member and the GM at Vaquero. Later, he became the CEO at Bluejack in Houston that we did with Tiger. I was a real close personal friend and he introduced me to Mark at The Masters one year and he told me his vision about what he wanted to do with this urban golf park. 
It was easy to decide it was something I wanted to get involved with. I'm a big junior golf person and I'm very passionate about that. The idea of helping him create something new and impactful was easy to get involved in. 
AG: As this morphed from urban golf park to all of the sudden you're getting a phone call to come down and bid on this half of a billion-dollar project. Does that put added pressure to go from a fun little project the kids will love to desiging a golf course that's part of a complex that at some point will host a PGA Championship and possibly a Ryder Cup. 
Welling: I don't think it's any added pressure. It's excitement to me. I grew up in Greenville, South Carolina and I was fortunate enough to grow up in the Greenville Country Club. It's an interesting place where there's a par-3 course that was sort of the vein of us juniors and almost immediately adjacent was the old full but shorter golf course. Five miles away, there was a satellite part of the club with a separate stand-alone course, which at the time was a top 100 golf course in the country. It was awesome growing up there and it seemed like they were kind of stepping stones to golf. I started on the short par-3 learning the fundamentals. Got confident and had relationships with other kids to take the step next door to the "big golf course" when you knew what you were doing. You knew the rules and the etiquette, and you weren't intimidated at all. And you got good enough there where you felt confident going to the signature golf course. It was very difficult and hard and more of the domain of really good players. It was interesting stepping stone of golf and to me it's no accident that Greenville Country Club has produced a lot of very good golfers and people that remain in golf. When the North Texas PGA opportunity started to morph, it reminded me of the place I grew up and I was immediately attracted to it. From Day 1, I was very excited and honored to have a presentation on how I could see it working. We spent a lot of time talking about junior golf, the progression of golf, talking about tournament golf and my background with Fazio and Tiger. We've been involved in a lot of major tournament-oriented things in terms of a design standpoint. We really felt we were unique form to try and help them do this. I think they ultimately were impressed and at the end of my interview they asked if I was only involved in part of it, would you still like to be involved. I said absolutely. I want to be involved no matter what. They said what part and I said to be honest I'd like to take the junior stuff and the progression and what not. The net of the whole thing was they asked Gil? To do the tournament golf course, they asked us to do the other parts and help masterplan the whole thing. It's quite an honor and maybe there's some pressure now that it's real, but originally, I wasn't feeling any pressure at all. 
AG: Going back to Bluejack. I know it's one of the better courses in Texas. Aside from being in great shape, the property in general with everything going on around it and the golf course kind of being the center of it, do you see a lot of similarities between Bluejack and this one in Frisco? 
Welling: I think they're different, but it will have the same kind of playability dynamic that you see at Bluejack. I think one of the reasons Tiger has had me help with his efforts is that we are both philosophically the same. We really want golf courses to be fun and playable. It's recreational and supposed to be fun and if you're not a good golfer, it still needs to be a fun experience. Mom, dad, brother and sister out there it could be four very different distinct levels of play. Lets create an experience where everyone can go enjoy the game and being together. It really relates to width and space, but you can turn it up on the greens a little bit and challenge the better player more. I think what will be different from Blue Jack is the scale is much bigger. Blue Jack is 18 holes. Here we have two significant level golf courses, a short course, a massive range that will almost be three-sided in many ways. The volume of people will be very different and put it into the context of the Omni hotel and the development and retail options, it's going to have much more of an urban feel. More urban from the start and going out into nature and then coming back where Blue Jack you feel you're out in the woods from the get-go. 
AG: You mentioned variety, do you communicate with Gil and ask what he is thinking for his course? Just on the off chance some of the holes don't like similar etc. 
Welling: We both build things a certain way and yes, we're in communication regularly. Part of our scope is helping plan the tournament function around his golf course. It's been a great working relationship. At the end of the day, I think the courses will look and play different, but they'll look related if you know what I mean. He's not going to do Pine Valley and we're going to do Augusta National. It's not going to be that stark. He's going to create an experience to host a major tournament and they'll be playability issues regarding that. Ours, while still being championship level and maybe host some other PGA Championships, is going to have an extreme focus on playability and width. I know he likes to have ninth and 18th holes playing over streams, we don't have a lot of cross hazards thought the landscape is very similar on both sides of the property. They'll feel like brother and sister. 
AG: What does it mean on a personal level to be part of such a large-scale and important project? We haven't had a major championship here in a long time.
Welling: It's really been a pinnacle of my career type of thing. I don't know if you can tell how excited I am about this and how honored I am to be given the opportunity to assist in this endeavor. I think the PGA of America is really important for the game of golf. The PGA professionals are the ones teaching the game and cultivating the game from the ground. Some of the things the PGA are doing are fantastic for the game and to have this facility that will host their headquarters and be able to start the game and work all the way up to test the best players of the world at the facility and have all of those demographics mix is really, really special. And then to put it outside of Dallas, it's going to be something that's awesome for Texas, awesome for Frisco, awesome for Dallas, but also awesome for the game and the country. Many people are going to get to experience it because of the central location. Those tournaments and Ryder Cups are fantastic and exciting and a wonderful cherry on top of it all. But for me, it's just a part of what it is. The facility itself and this world-class organization and putting all these ingredients in the stew make it phenomenal and I can't be more excited because it's going to be such an impactful facility for those passionate about the game. 
The Architects: Gil Hanse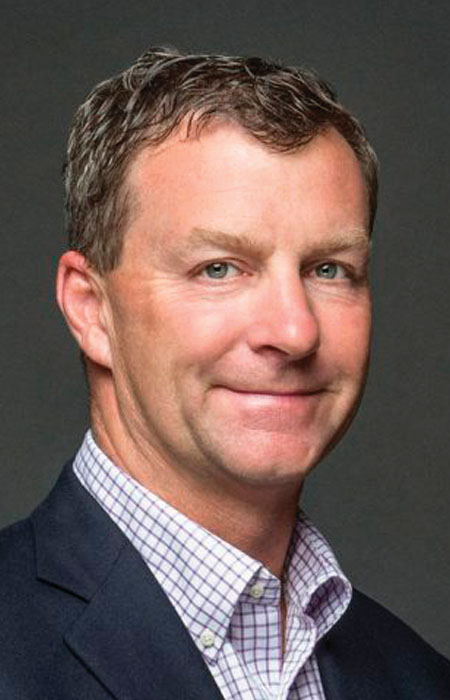 AVIDGOLFER: I know this has been a long process. Wanting to build an urban golf park and then a couple courses for the Frisco ISD school district has now snowballed into a half-of-a-billion dollar project. When you first caught wind, what were your initial thoughts? Had you heard the PGA headquarters was considering relocation long before you got the call to potentially design a course for them?  
Hanse: No. The first contact for me and some other architects was fall of 2015 when they asked me to consider laying out a 36-hole facility that would potentially host a PGA Championship. But at that time there was no discussion of moving the headquarters or any of that stuff. It was really just building a couple of courses so they'd have a site potentially for future major championships. In that period of time between then and now, that's when it came into the project that you see in front of us now. 
AG: The overall philosophy is to focus on the player and their experience first rather than seeing how the players react. When you go through a process, especially one like this, and I spoke with Beau Welling, he was super excited and felt like you were kind of on the same page. Whenever you dive into that, at what point do you want regular players to enjoy themselves but at the same time make a course suited to host a PGA Championship or Ryder Cup. How do you balance making it playable for the amateur and also able to transform it into something that will challenge the top players on the planet. 
Hanse: I think myself and my partner Jim Wagner really focus on and talk about the level of precision and skill required to play a golf course versus the level of precision and skill required to actually score on a golf course. If the first is wide and forgiving and ultimately enjoyable as they think there way around the golf course, then that works for every skill set. But if we can create hole locations or create setup locations where angles are paramount to be able to score, the level of precision required to post a good score, which a tour player is shooting for, is a lot higher than the other level of precision. Augusta National is the poster child for that. It's the perfect example of a golf course that doesn't have a ton of hazards and is wide and playable and forgiving off the tee. The greens are fairly generous and unless you're hitting in the water down in the lower part of the course, you're not going to lose a lot of balls. But the level of precision to score at Augusta is off the charts. You take that big wide golf course and reduce it down to the fairways are X yards wide but to get the proper angle at the hole to birdie, you have to hit the proper half of the fairway. And you're dealing with slope and contour and wind to get there. Once you navigated that, now to score you have to hit the proper corner of the green otherwise you're going to three-putt. So that same exact golf course that's playable for me not worrying about score, you put these guys on it and watch them make decisions and level of precision is so fine the line is right there for them to score and that's what we look for. You take that philosophy and apply to all the different sites and locations that are all very different. Put it in context of what the ground looks like in Frisco and you hope it equals a good location. 
AG: Do you receive input or directives or guidance from the PGA about the project and how they want it to play. Or do they just say we love the work you've done in the past and get after it. 
Hanse: It's more toward the latter once we get inside the ropes. They're obviously going to have opinions and thoughts and we are comfortable working in that collaboration nature, but inside the ropes they trust us and show us what you think is going to be a proper test for this golf course. Outside the ropes, they've had a significant role in helping us understand the infrastructure requirements, the gallery requirements, all of the things that happen outside the play corridors that we need to make space for. We need to make sure we plan for that and we've had a lot of direction and discussion with them outside of that. But inside the ropes, it will be heavily weighted to the decisions we make. 
AG: I'm guessing you haven't been out to Frisco much prior to this project. What were your initial thoughts regarding the property and the topography the first time you got to take a look? Was it about what you expected? More impressive? Less impressive? 
Hanse: It was more impressive in spots. They were certainly ups and down and nice hills and interesting valleys. And there are sections of the property that are pretty flat. We'll have to figure out working in the context of the site how can we transform those areas and make them look and feel natural and provide a little more drama and maximize the drama that already exists on the site. It was better than I thought topography-wise, but the soil is a little bit worse. It's heavier soil and we'll have to do some things to make the course drain a little better.
AG: Given that you designed the Olympic course down in Brazil, it seemed like those projects would be relatively similar starting from the ground up and having an infrastructure given that those golf courses are going to have huge crowds out there. Are those two projects similar at all? 
Hanse: Yeah, we learned a lot from designing the Olympic golf course and I think all of that has been very helpful. The other real positives from that positives from that experience is that Kerry Haigh, who is in charge of setup for the PGA of America, was very involved in the setup of the golf course in Rio. The day-to-day setup of hole locations and tees and we spent a lot of time before the event talking about our philosophy and what we wanted to accomplish on the golf course. Kerry was great and would basically say here you go here's what we're thinking, please use it, and they did. He and David Garland from the European Tour did a phenomenal job with setup and using all of the characteristics. We're very happy to be working with Kerry again in the capacity, but the infrastructure requirements are larger as it relates to the PGA Championship and even larger as it relates to the Ryder Cup. The understanding of the fact that you can't just take everything for golf and you have to look at how the property flows and can be experienced by spectators. That's something we had to factor in in Rio and at least set a good level for us to understand as we now take on this golf course. 
AG: What does it mean to you to get the call to design a course that will host a major championship and potentially a Ryder Cup?
Hanse: I don't know if it's the pinnacle of a career for a golf course architect, but it certainly has to be near the top. Recognition for golf course design comes in any number of ways, whether it's ranking or polling member satisfaction or hosting championships. In our sport the crowning achievements are during those major championships so whether it's men's, LPGA or seniors, there are lots of opportunities. Those championships define their careers and the fact that we're providing the stage for that to happen is very exciting. We talked a lot around the time of the Olympics that we can't lose sight of the fact that we're not the most important part of the story nor is the golf course. At the end of the day it's the competitors and hopefully we can provide the stage that creates compelling golf or at least allows them to display their skills. If the golf course is the story, unfortunately that usually means something is wrong and we like that fact that it serves as a great stage to conduct championships. But I'd be lying if I didn't say there is a certainly thrill watching the best in the world trying to figure out the challenge that we've put in front of them and to get to see your work on television and to see your golf course be part of the history of the game. That's about as cool as it gets. 
AG: Give us a few of your favorite layouts? 
Hanse: Well I tend to like the old-school stuff. I'm a big fan of National Golf Links and the old course at St. Andrews. Those bigger, more open courses tend to fit my game and they also tend to be landscapes that I'm drawn to. As far as our own work, it's hard to say. We've been so fortunate to work with so many different clients in so many settings with different aspects. I've always pointed to Boston Golf Club as being a time in our career where we had a client that was giving us a lot of time to build the course and we had a lot of time at our disposal. It was the first time we were ever given a piece of land to build a course on and that was exciting. Streamsong Black and this new course we built in Georgia, the Ohoopee Match Club, was a different concept and we had a blast. It's been fun to kind of push the envelope with those projects and now we're back in Frisco with kind of a more traditional set up that can be utilized for championships as opposed to a resort course or private club more strictly for match play. We're really lucky we get all these diverse opportunities and chances to be creative so that we can get all over the map. I'm trying to give you a reason why I can't definitely say 'That's the best course we've done.' They're so different, they really are, and that's what makes our work …. You go from project to project and people ask if that's a grind? Well no, we're fortunate just to have another project, and then your batteries are completely recharged. The situation you worked on in Georgie is completely different from Rio, and that's completely different from Frisco. It's easy to keep your enthusiasm up as you go from job to job.