After the Round – Harry's at the Harbor

The 2021 AT&T Byron Nelson was at a new venue in McKinney's TPC Craig Ranch. Most fans and players felt the course and surrounding area was a premiere location to hold a PGA Tour event. 
Not too far from the new Nelson digs sits a lesser-known dining experience that you might want to consider if you live in McKinney or happen to find yourself in the area. Harry's at the Harbor is in the European-style Village of Adriatica across from Stonebridge Ranch Country Club. Cobblestone streets lead to the entrance of this spot, originally owned and operated by Harry Dickhaner but now run by restauranteur Eddie White. Recently, Chef Dan Dreyer took over the kitchen brigade as Executive Chef, bringing decades of experience and his take on fresh ingredients and seafood to propel Harry's to the next level in culinary talent and innovation. 
If you are the type who enjoys a cocktail with your meal, then Harry's has plenty of options. From a nice wine selection to the restaurant's signature cocktails, you will find something you like. We were treated to a seasonal cocktail, made with Harry's pineapple and mango-infused vodka. The Nue Tikitini features that delicious vodka with some Crème de Banana, a hint of coconut rum, coconut creme and some orange juice. It went down smooth as silk, with a slight burn from the spirit, but tons of summertime flair. Harry's also features a Tito's Mule, some flavored margaritas and a dynamite Bloody Mary that is made with vodka infused with jalapeños, bell peppers and onion. 
If you are looking for a great appetizer after a warm day on the course, then I would check out the Yucatan Shrimp Cocktail. These jumbo shrimps are served with some cocktail sauce, along with some creamy avocado, cilantro, and lime. In addition, there are some crispy wonton crackers that make for a great vehicle to get the concoction from the serving vessel into your face. The shrimp are refreshing and bursting with flavor, and the bite of the cocktail sauce is soothed with the creaminess of the avocado. It is a prefect app to share or indulge all on your own.
We also sampled the scallops, which are served with a little mango salsa and a clean-finishing, bright-flavored beurre blanc sauce that really brings the dish together. It's another lighter option for those wanting an easy appetizer or entrée.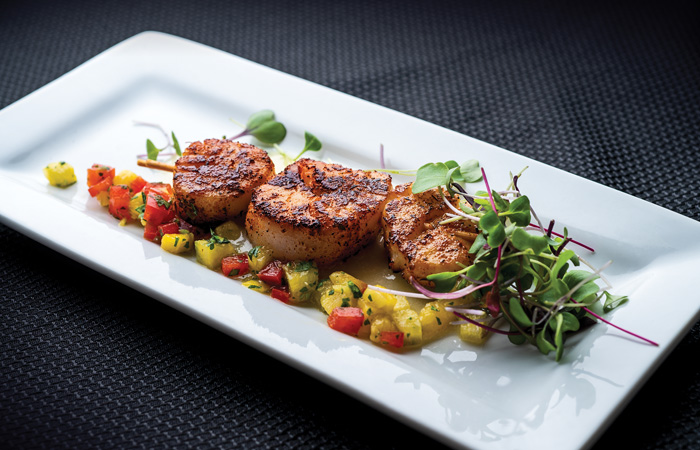 If you are looking for a quick lunch or another app to share, the Rusty Nuts are an interesting change of pace. A combination of potato, bacon, jalapeno, onion and Jack cheese are rolled in seasoned breadcrumbs and deep fried to a golden brown. They are unique, and with a little dip in some ranch dressing, are a great addition alongside a cold beverage. Wings, chicken nachos, calamari or traditional chips, salsa and queso are all available as a sharable or to enjoy solo before your meal. 
During the chilly fall or winter months, there is also a soup of the day or a lobster and crawfish bisque to soothe the soul and warm your bones. 
If it is a burger or sandwich you crave, there are plenty of options: from a traditional burger to crab cake sliders, a shrimp po-boy or a steak portobello sandwich. But the real outside-the-box option from this portion of the menu is the Morning After Burger. This hangover mutilator is a bacon and egg cheeseburger, where the patties are dipped in buffalo sauce, and then served on a bed of fried jalapeños and topped with crunchy onion straws. One was delivered to a Tee Box remote last month and Rick Arnett wouldn't stop raving about it for the following week. It's not only a satisfying, massive burger, but it will produce enough beads of sweat rolling off your forehead to make you forget about the poor life choices from the night before.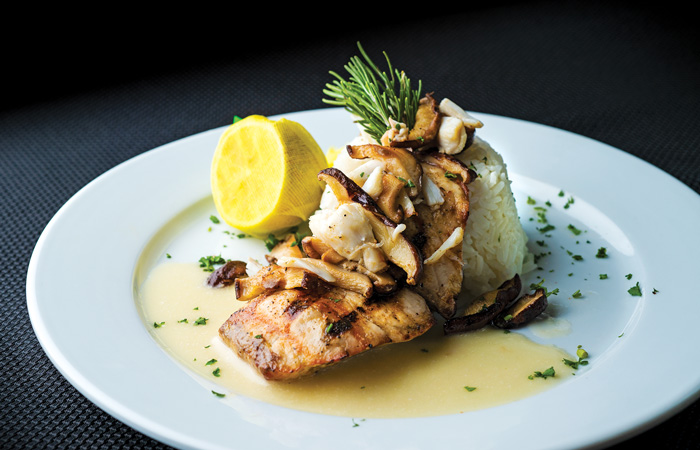 If we go from the most gut-busting item on the menu, to something a little more sensible, then we need to look at some of the salads available at Harry's. A Chicken Caesar is on the menu, along with a fantastic Mediterranean, and even a buffalo chicken. If you want something a little more substantial, there is a steak salad, topped with strips of beef atop mixed greens with a cheddar and jack cheese blend, bacon and some of those crispy onion straws. Multiple dressing options are available to complete your healthy lunch or dinner. 
If you're looking for other quick options at Harry's, then look no further than the selection of flatbreads. The crusts are brushed with rosemary and garlic oil and then left to rest and infuse with flavor overnight. These thin, crispy crusts are then topped with a multitude of toppings, like buffalo chicken, roasted veggies or our favorite, the Philly, which is topped with sliced ribeye steak, onions, mushrooms and diced jalapeños. They are then sprinkled with mozzarella and baked to golden perfection. 
With all of that out of the way, let's peek at some of the fantastic larger-portion entrees Harry's offers. We sampled three of the top-notch entrees, the first of which was a beautifully prepared redfish with some mushrooms and some of that beurre blanc sauce, along with some jasmine rice and a seasonal veggie medley. The fish was well prepared by Chef Dreyer, being flaky but not overdone. It's a wonderful dish that will fill you up without weighing you down. 
Next up on our dinner menu was the lone pasta dish we sampled at Harry's. This special was a breaded chicken breast with homemade marinara and linguini. It came topped with grape tomatoes and a chiffonade of basil. It was served with some tasty broccolini. The chicken was juicy and the marinara was to die for, so much so that I wore some home on the front of my shirt. Overall, it's a rib-sticking, carbo-loading dish that will leave you wanting to come back for more.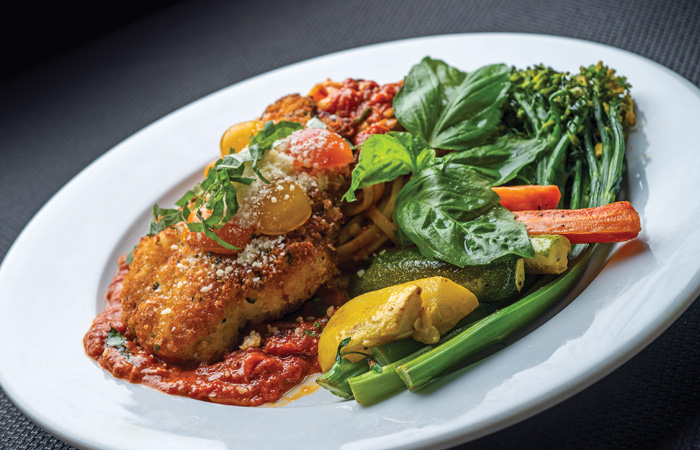 The final dish of our visit to Harry's at the Harbor was the filet mignon. This eight-ounce cut comes seasoned with a signature blend of spices to enhance the flavor of this leaner cut. Ours was served a gorgeous mid-rare with some eye-popping grill marks on the outside. The char added even more flavor to an already stupendous cut of meat. Although I am usually not a proponent of sauces alongside a filet, as I feel a cut that nice should stand alone, this one came with a chianti black peppercorn sauce that was absolutely to die for. I found myself dragging the garlic mashed potatoes and the accompanying asparagus through the sauce, in addition to the steak itself. And to top things off, the whole shebang was topped with some more of those crispy onion straws. I constructed a fork full of steak, potato, some of the onions and then wiped it through the sauce… and let me tell you, it might have been the best single bite of food I have had in 2021.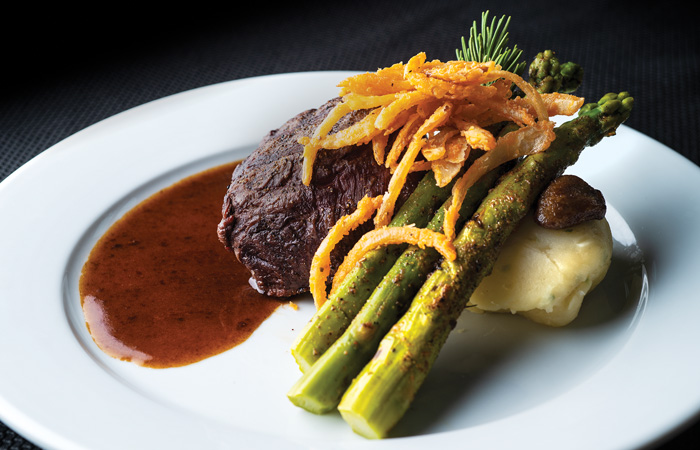 If you have a sweet tooth, then you might want to try one of Harry's desserts. They vary by day, and when we were on-site we had the crème brulee. The custard was sweet without puckering your cheeks, and the bruleed sugar on top gives that nice crust that is synonymous with the dish. It was a nice way to end the meal. 
The atmosphere at Harry's is casual, but very accommodating if you want a date night or to entertain clients. There are plenty of TVs and a large horseshoe-shaped bar that will seat you and your buddies after a round of golf or to take in a ballgame. The outdoor seating area is a great spot to get some fresh air as you dine or for a night out with the significant other. This area also overlooks a nice body of water, which really adds to the ambiance of the meal.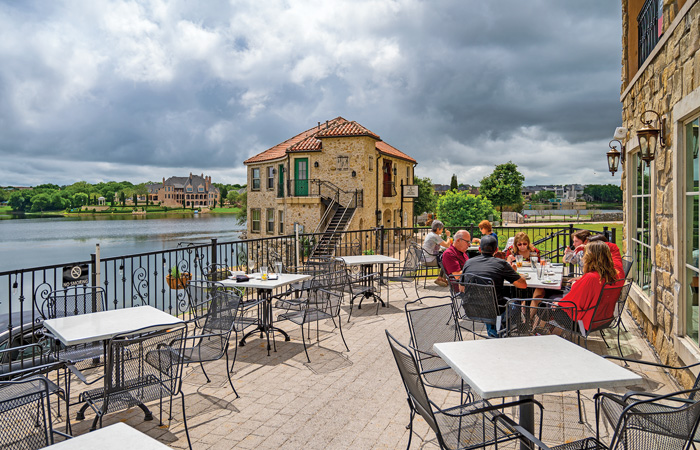 If you happen to live in McKinney or make your way up for a round of golf at one of the nearby courses, then add Harry's to your list of post-round destinations. With a wide variety of tasty options for a quick lunch or a rock-star dinner, I promise you won't walk away disappointed.