After The Round – Heim Time

When thinking of the best places to get barbecue across the US more often than not the debate brings up the state of Texas as it is widely considered one of the four major types of BBQ. Barbecue in the state of Texas is a staple and more often a way of life and a place of gathering for many that accompanies a lot of pride with it. With that pride comes some pretty darn good barbecue and some pretty special barbecue spots call Texas and DFW home.
In one of Fort Worth's newest hot spots with tons of development happening sits the River District. With many new apartments, homes, businesses and more it is the perfect place for a North Texas BBQ gem to reside. That gem being the second location of Heim Barbecue. Travis and Emma Heim really hit this one out of the park with all of the little details from the sign on the outside to the covered patio to the colors that weave their way throughout the restaurant.
However, everyone knows that the three keys to a great hangout is great food, drink and atmosphere and Heim Barbecue without a doubt checks off all boxes and even threw in some surprises when it comes to the menu. Heim's River location features a larger menu selection to go along with their larger location, but don't let that fool you because everything on the menu will leave you wanting more.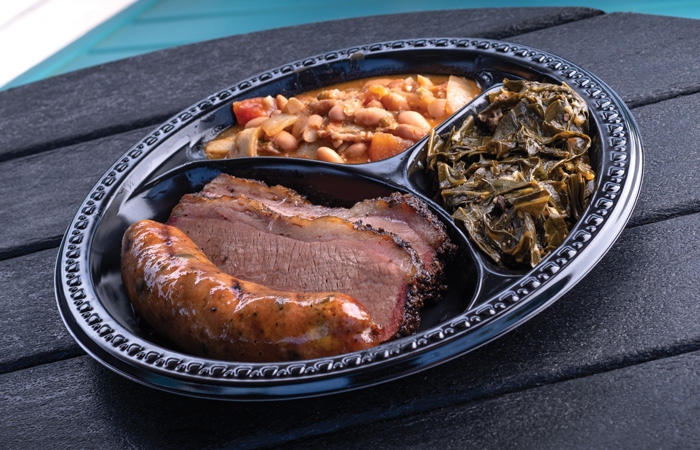 Good Eats
Whether you are coming to hang out with friends for a while or stopping in before a night out on the town you will find some great new appetizers to go along with some original selections. They have some great Texas apps like their chips and homemade salsa and their brisket or pork tacos that you won't find at their other location.
Looking to take it up a notch? Look no further than the Loaded Mac n' Cheese that comes mixed with green chilies and your choice of Heim's mouth-watering brisket or pulled pork. Last but not least is the Heim Famous Bacon Burnt Ends. There is a reason why everyone asks about them and why so many places have tried to imitate these delectable pieces of pig, but there's nothing like popping one of these one-inch cubes of juicy goodness into your mouth to devour. Be careful as you may find yourself eating them so fast that just when you get going there are none left.
If you are looking for something on the heathier side, the Heim House Salad or the Cowtown Salad are great options and ones that are new to the Heim Barbecue menu. If you are worried about missing out on some of the good meat you can add in the Bacon Burnt Ends to give the salad a nice twist give it that nice hearty finish.

The Meats
Of course, we can't talk about a barbecue joint without talking about the meats they offer. You can find anything from turkey to pulled pork to their ever so loved brisket and their specialty Jalapeño Cheddar Sausage and everything in between. I would say for a first timer then without a doubt grab the two or three meat plate and get you some of that delectable brisket and see what that Jalapeño Cheddar Sausage is all about and for that third meat option take a taste at the ribs as well. Grab you some of Emma's Pinto Beans and don't forget some green chili mac n' cheese to wash the meat down with.
If you are wanting something different as well Heim has some pretty amazing burgers. What makes these burgers so great one may ask? Well the fact that they have 44 Farms Beef blended in with their smoked brisket to make their burger patties is all you need to know.
In addition to the great food and drink, the Heim River location will be having live music for guests to enjoy out on the patio so stay plugged in on social media for updates on the live music happenings every week. With one-of-a-kind food, great drinks and a laid back atmosphere, Heim Barbecue is a go to whether you're headed to the Colonial to watch the Charles Schwab Challenge golf tournament, or just interested in a laid back atmosphere with your friends and family.