Drive Time – 2020 Mercedes-Benz GLE-Class 4Matic

New is possibly the most overused word in marketing when lazily linked to latest, greatest and we have to have it. Thus, new can be a letdown from those highly suspect expectations.
The Mercedes-Benz brand immediately conjures thoughts of exquisite style, performance, luxury and status. Such descriptions are well deserved but also bring the constant pressure of significant reinvention to substantiate a new product.
Thankfully, new is all positive when affixed to the 2020 GLE SUV It's simply a work of art, performance, luxury and technology. In essence, it's another award-winning hit from Mercedes-Benz rewarding a picky, well-heeled customer base in a formidable upscale market.
Formerly known as the M-Class, the GLE is totally new (with a first-time optional 3rd row) with a distinct peek into future technology while providing grins a plenty from the moment you enter the ultra-comfy cabin. Their newest SUV embodies what many expect from those impressive minds in Stuttgart, Germany.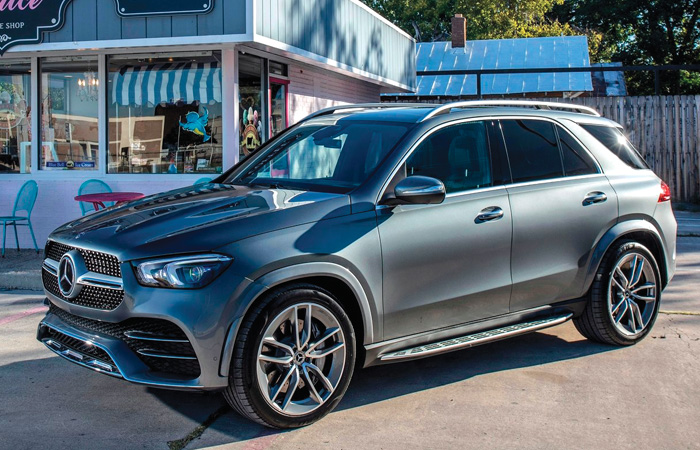 SKIN
The exterior possesses a familiar but elegant SUV silhouette. Our tester's Brilliant Blue Metallic paint drew admiring glances. The angles and curves are smoother yet gives it a bolder stance. The wheelbase stretches by 3.1 inches and 5.2 inches from bumper to bumper, thus allowing you to order a 3rd row.
New headlights are bright, and the Auto High Beam feature works impeccably. 20" AMG 5-Spoke rims and dual chrome exhausts add to the attractive package. Even the Mercedes-Benz grille badge has a defroster! However, I'd recommend future-thinking designers invent adjustable roof rails to be more streamlined with the roofline when not in use to enhance the overall appearance.
PERFORMANCE
The GLE is offered in two flavors; the 350 is a turbocharged 2.0-liter inline-4 with 255-hp/273 lb-ft. torque and rear or all-wheel drive (4MATIC) or the more robust turbo 3.0-liter in-line six with 362-hp/369 lb-ft. torque (4MATIC only). Zero to 60 estimates? 350 RWD 7.0, 350 4MATIC 7.1 sec, and 450 4MATIC 5.5 sec. The base prices are $53,700 for the 350 RWD, $56,200 350 4MATIC and $61,150 for the 450 4MATIC.
The 350's power is plenty for most buyers in this class while the 450 brings additional benefits besides a pronounced punch. It pairs a 48-volt mild hybrid (EQ Boost) delivering an extra 21hp and 184 lb-ft torque and sends power to the excellent available adaptive suspension (E-Active Body) that combined with the newly developed AIRMATIC suspension that individually the spring and damping forces in each wheel. This allows you to lean away from the curve (like riding a motorcycle) to virtually eliminate body roll—something you'll rarely experience in a higher-profile SUV. It's quite addictive.
Here's another cool party trick for the E-Active Body Control; when stuck say in a sand dune, a button will quickly raise and lower (bounce or wriggle?) the GLE to free the tires. You can also raise and lower the ride to help clear obstacles or assist with aerodynamics on the highway.
The GLE's steering is communicative and Sport Mode brings added friskiness when called upon. A superb 9-speed transmission shifts flawlessly and smoothly. The 4MATIC all-wheel option performed superbly in recent Dallas storms.
Gas mileage differences (TBA) are minimal between the 350 RWD (19/26/22) and 450 4MATIC (19/24/21).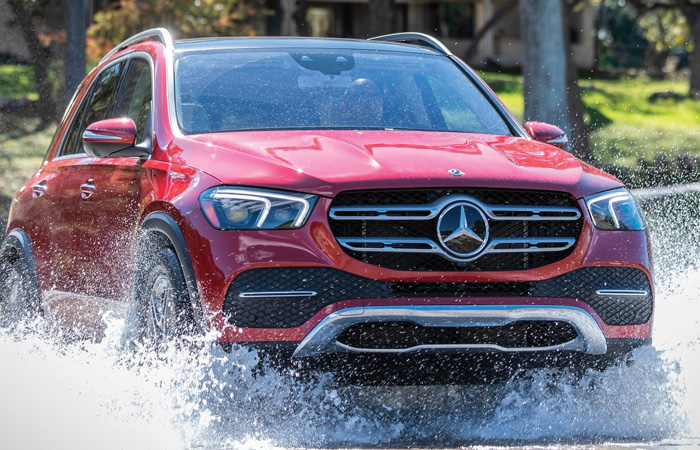 CABIN
Oh, the interior. For as advanced as the GLE's performance capabilities, it's the sumptuous cocoon that'll make you and the passengers swoon. There's so much luxury, so many whiz-bang goodies to enjoy. High-end materials are abundant throughout the superb layout.
The heated and cooled contrast-stitched seats are comfy and supportive. Side bolsters help lateral support when you hit a tight curve. Even the center console and door armrests are heated (via the optional warmth and comfort package)! Oh, and drive in relaxing splendor with the multi-contour front seats' optional massage feature delivering no less than nine massage settings to reward you after a long day at the office desk or on the golf course. I regularly dialed it up.
I'm a big fan of the gearshift on the right steering wheel stalk that frees up valuable room on the console. Cool handles on the console were welcome to grab when barreling into curves. How about the optional heated and cooled (they work great!) cup holders? Paddle shifters change gears without a hitch. The thick sport steering wheel has excellent tactile feel. Lighted kick plates and several ambient lighting choices are a welcome touch.
Six cup holders are useful yet only Type-C USB ports (five) are available so bring adapters. The power folding 2nd and 3rd row seats are a great touch and provide good legroom too. Cargo volume behind the 2nd seat row SAE: 33.3 cu ft (with option adjustable 2nd row max 39.9 cu ft). Max cargo space behind front seats with second row folded down in 74.9 cu ft.
The optional Soft-close doors are a personal favorite. Multi-view cameras and a 360-degree Surround View help safely maneuver the GLE into tight confines.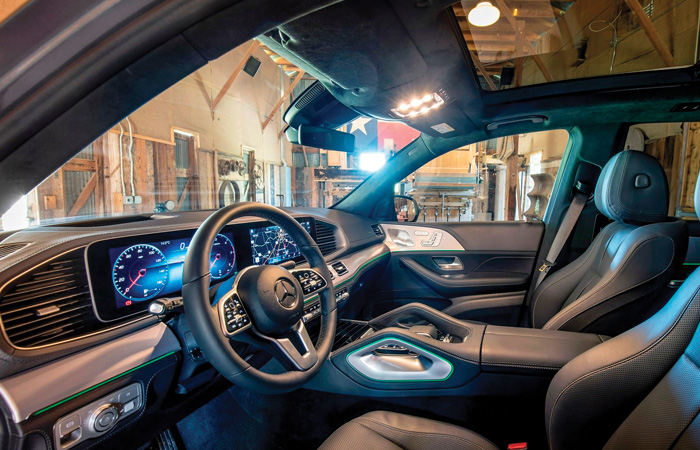 TECH TOYS
The stellar MBUX (Mercedes-Benz User Experience) combines two beautiful 12.3 inch screens for Digital Instrument Cluster and Touchscreen Multimedia Displays.
It's absolutely huge, clear and gorgeous. The GLE allows the driver to create a profile by asking for height to select the perfect seat, pedal and steering wheel settings. So futuristic.
Drivers use a track pad on the console to maneuver through the extensive menus. Some selections will require a quick learning curve, but you'll adapt quickly. Those massage settings can combine with ambient lighting to provide a total relaxation experience. Gesture control can adjust various settings via mere hand movements. It's a fun magic trick to show passengers the first time, but I rarely used it afterwards.
Apple's CarPlay and Android Auto are standard and work well. The "Hey Mercedes" application is akin to Apple's "Hey Siri" to voice various commands. Bluetooth transmission is impeccable for phone or music. The Burmester Sound System is concert hall quality.
Of course, the 350/450 deliver the latest reassuring safety features. It will gently remind you to stay in your lane, constantly scans at an early stage sensing traffic patterns to help prevent front collisions brace you for a rear-ender, and PRE-SAFE brake with Pedestrian Recognition. The radar-enabled Active Distance Assist keeps you safely behind cars ahead at a pre-selected distance and Evasive Steering Assist provides additional safety to avoid an obstacle at speed by tightening up the steering response.
The 2020 GLE 4MATIC is a superb blend of futuristic performance, luxury and incredible technology. At a base price of $53,700 for the RWD GLE, this incredible cargo hauling/people mover will deliver its happy inhabitants in creature comforts while effortlessly barreling and curving down the road whenever the mood strikes. For the GLE, new is absolutely fresh, futuristic and wondrous.
Test-drive the 2020 GLE-Class at Park Place Motorcars in Dallas, Grapevine, Fort Worth, and Arlington, Mercedes-Benz of Plano and Mercedes-Benz of McKinney