After the Round – Katy Trail Ice House

If you have ever taken a walk, jog or bike ride on Dallas' Katy Trail, then you have likely made your way past the always bustling Katy Trail Ice House. Located on Routh Street, just a stone's throw away from the trail itself, this spot, with its massive patio, has become one of the hottest places in Big D. On any given day, Katy Trail may see thousands of patrons through their doors, and if the weather is nice, look out, as there can be waits of up to three hours for seating. So be sure to plan ahead, especially if you have a larger party. A 50-foot indoor bar has plenty of seating if the weather isn't cooperating, and one of Katy Trail's many servers will tilt a glass and pour one of the 50 beers they regularly have on tap.
Katy Trail's beer menu is very impressive, featuring all the usual suspects, from Coors, Bud, Miller and Ultra, to many more exotics and rotators, including selections from Deep Ellum Brewery, Rahr and Sons, Peticolas and Lakewood. Their frozen margaritas are nails, too, as they were named D Magazine's best margarita in Dallas. If you are in the mood for a signature cocktail, then I recommend the Texas Mule, which is a refreshing combo of Wheatley Vodka, lime and ginger beer. The Trouble Maker is also a hit, combining Shiner Blonde, Deep Eddy Grapefruit Vodka, ginger and a splash of lemonade. Take a sip during the summer months and immediately feel the cooling sensation rush down your gullet. Plenty of seltzers, ciders and shots are also available for your consumption.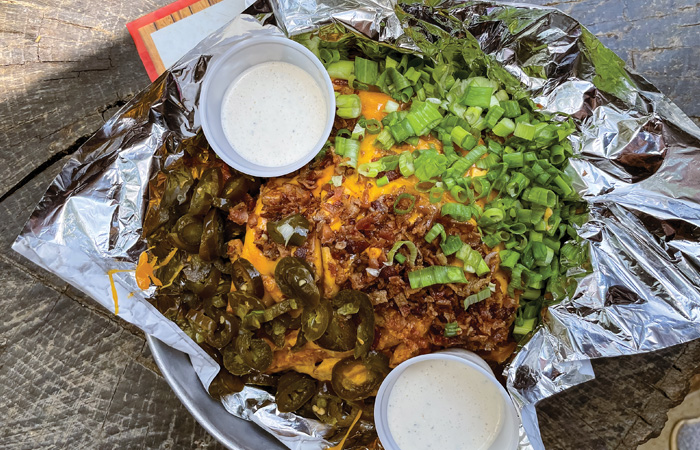 Aside from the fantastic atmosphere and cold beverages of your choosing, Katy Trail also boasts a fantastic menu, with everything from burgers and dogs to more labor-intensive barbecue. Everything is cooked to order, and everything is made from scratch. If you are just in the mood for a few sharables for the table to accompany your beverages, then the loaded queso and chips are a great idea. The smooth, velvety queso is doctored up with guac, sour cream and some of Katy Trail's best brisket. It's perfect to pass around the table and enjoy as an appetizer or a light snack for the group. 
One of Katy Trail's best sellers are the loaded cheese fries. The kitchen goes through hundreds of pounds of potatoes a day preparing them fresh to order. They are topped with bacon, green onion, jalapeños for some kick, and served with a sidecar of their homemade ranch dressing. The ranch alone is worth the price of admission, as it is creamy and full of flavor. Take a fork-full of fries, dunk away and enjoy. The crispy fresh fries, the salty bacon with fresh crunch of green onion and jalapeño kick, make this a perfect bite. 
Another great option for a quick bite is the massive steakhouse-style onion rings. These rings are perfectly fried golden brown with a crispy exterior, and the onion inside has just enough cook to soften and sweeten them up. They are great not only as an app but ask for them to accompany any burger or sandwich, as well. 
Speaking of burgers, Katy Trail has several for your enjoyment. The always crowd-pleasing half-pounder comes with your choice of cheese and loaded down with lettuce, tomato, pickle, onion and mustard. If you are looking for something with a little kick, then try the jalapeño jack burger, which I think speaks for itself. If you really want to up the stakes of the game to multiple napkins, then go for the Terlingua Pride burger, which is slathered with their venison chili. Let me tell you, this one is a game-changer, with all the beefy rib-sticking goodness you expect from a quality burger. You can also get the chili as a stand-alone in a cup or a bowl with cheese, onions and jalapeños. 
If you aren't in the mood for something so substantial, then go for one of Katy Trail's dogs. You can get it plain, or Coney Island-style with chili, cheese and onion. The two-taco plate is a hit among customers, too, with brisket, chicken or fajita beef varieties ready to be scarfed down with a pillowy soft flour tortilla and some fresh guacamole. A variety of salads are also ready for your consumption, if you are interested in something that is a little easier on the waistline.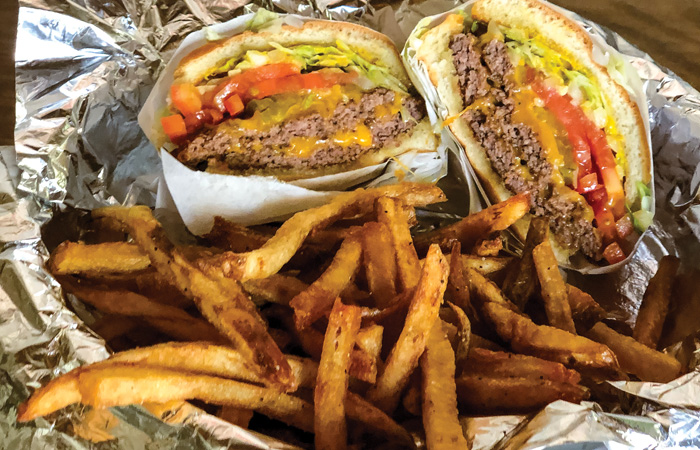 One thing I do seriously recommend at Katy Trail is their barbecue. It is served Thursday through Sunday only, and it's available until it's gone. The meats are prepared in their smokehouse, and then loaded onto their custom David Klose post oak stick-burner, known to everyone as "The Beast." Everything on the barbecue menu is divine, from their Wagyu brisket to their house-made jalapeño cheddar sausage. You aren't going to want to miss this cue. You can also get the brisket or the sausage as a sandwich, too, which makes everything super easy to ram in your face. 
In addition to Katy Trail Ice House, ownership recently purchased a plot of land just down the street, where they plan to not only expand parking for the ice house, but they also plan to open a new dive bar called Lucky Dog Saloon. The saloon will have around 10 beers on tap, a full-length shuffleboard table, Golden Tee machine, jukebox and dart boards. It will feature everything a great dive bar needs. Their grand opening is expected sometime in late spring or early summer. Stay tuned for that.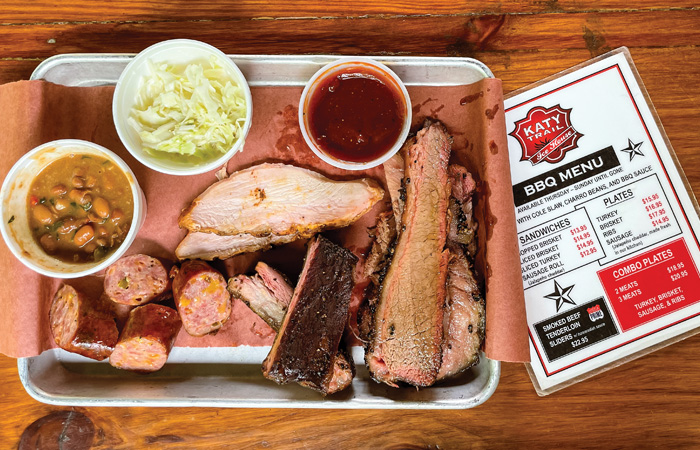 Katy Trail Ice House also puts on an annual golf tournament to help continue to raise funds to maintain and expand the Katy Trail itself. The tournament provides food, fun and raises plenty to help the Friends of the Katy Trail, which is the entity responsible for keeping the Katy Trail beautiful, clean and safe for the hundreds who utilize it daily. In the past, celebrities like Troy Aikman and former Cowboys head coach Jason Garrett have been involved with the tourney, so be sure to check out their website for more information and to register your team for the fun. 
Dallas has so many options for your food and beverage dollar, but Katy Trail Ice House is almost the perfect setting for so many reasons. They have thought of just about everything … from their signature drinks to their simple, yet tasty menu, and their massive outdoor beer garden, Katy Trail Ice House is a great spot for a day out in Big D.