Travel – On the Road in The Magnolia State

Mississippi is known for its majestic cotton fields, beautiful deltas and for being the birthplace of blues music. It has a rich history chock-full of southern charm, with French, Spanish and British influence. I doubt the first thing many think of when it comes to The Magnolia State is golf, but there are plenty of great options for not only teeing it up, but entertainment, gaming, dining and education. Mississippi has it all, and AG takes you on a road trip across this historic state. 
Our adventure began in the southern part of the state in Gulfport. After a quick 20-minute drive from the airport, we were at Windance Golf & Country Club. Known as "The Gem of the Coast," this Mark McCumber design is managed by the Island View Casino Resort (more on that momentarily) and is a great amuse bouche to begin your Mississippi adventure. Eighteen championship holes, with rolling vistas and a great collection of challenging but scorable holes, will test your game to the tune of 6,659 yards from the tips. Highlights include slick greens, as well as massive trees framing gorgeous fairways. The difficult par-5 third hole is a long dogleg left, where precision on the tee is key. A good tee shot will leave players with a long iron or hybrid to a small green, guarded by a half moon-shaped bunker short right. The inward nine plays more difficult, with five of the 10 hardest holes on the course, including the No. 1-handicapped par-5 16th, which slides left to right through the massive trees and poses a stern test for even the most proficient ball-strikers. 
Just a short jaunt away, sitting on the waterfront, is the Island View Casino Resort. Named one of the top 10 casinos in the United States by Yahoo, Island View has slots, table games and even sports-betting kiosks for those who like some action on whatever sporting event may be on. Once you have placed your bet at the sportsbook or at one of the 20 kiosks, settle in at Stage Bar, which has a giant TV right behind the stage, that, appropriately, sits on top of the bar. When there is no live music, it's a perfect place to watch a game and wet your whistle with any number of cocktails or beers. Another great way to refresh yourself is right around the corner at the Daiquiri Bar. A bank of several machines will fulfil your frozen craving with flavors like strawberry, margarita or their famous Bushwhacker, which was my personal favorite. They are available at the bar or delivered to your machine or table by one of Island View's many servers.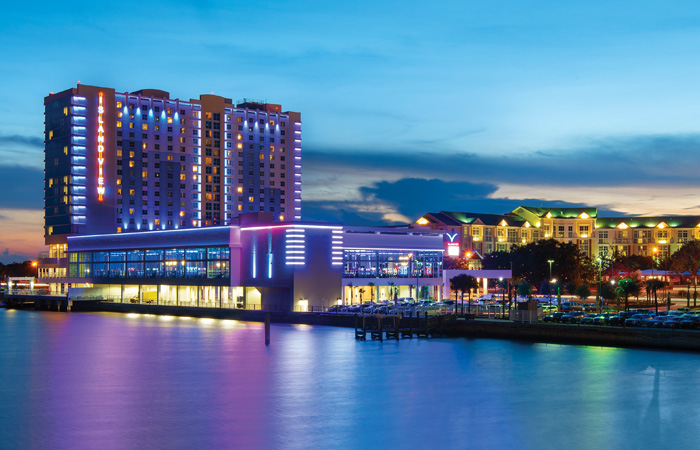 Dining options abound at Island View, including a massive breakfast buffet, which has everything you need from protein to carbs to fuel up for a day of golf at Windance or an afternoon sitting in front of the one-armed bandit. 
For dinner, head down to the Carter Green Steakhouse and settle in for a great meal. Carter Green combines great steak with a balance of Gulf Coast flair. As a starter, go for the firecracker shrimp, which have some sweetness with a hint of spice on the back end. The yellowfin tuna is also a crowd-pleaser, served with a wasabi dressing and some orange segments. Either are a sure-fire way to get your meal off to a tasty start. The center cut filet is a tender, juicy way to entrée, and I recommend adding a crumble of Maytag blue cheese to really take this cut to the next level. As a table, we shared the corn au gratin, mashed potatoes and creamed spinach, and each were as savory as they were delicious. A white chocolate bread pudding rounded out this spectacular meal. Carter Green Steakhouse was a true highlight of our time spent at the Island View. 
Our second coastal region stop was The Club at Diamondhead. This Jourdan River Coastal Preserve destination features a pair of great courses, the Pine Course and the Cardinal Course. We were fortunate to play the Cardinal, and this par-72 layout is as beautiful as it is challenging. As with Windance, massive trees line fairways and white sand bunkers frame holes, delighting players with stunning visuals from tee boxes and on approach shots. Each hole stands alone, with no parallel fairways, making this a tight, but enjoyable, loop.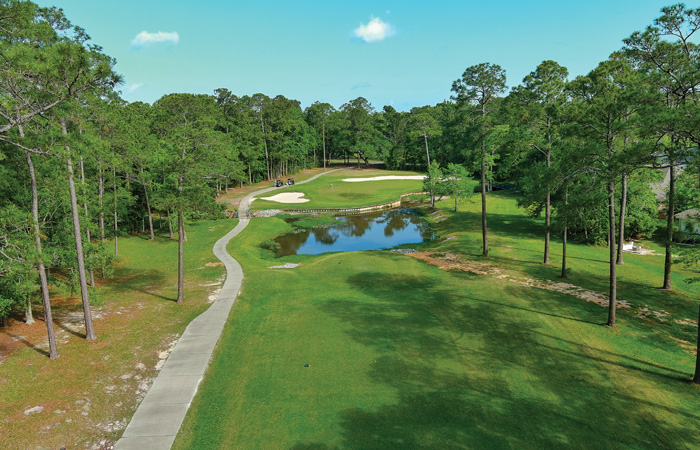 A couple of the more enjoyable holes are No. 3, which is a manageable par 3 that plays just 175 yards from the tips, and a mere 140 from the white tee boxes. Water short of this green makes this an all-or-nothing swing, so the fat part of the green and a little long is a nice place to find this putting surface. 
No. 5 also has a unique design, with a tight tee shot that gives way to a tough approach as a large magnolia tree hugging the left side of the fairway makes for a fun and intimidating visual. Favor the right center of the green to avoid the magnolia but beware of the large greenside bunker to the right on this intriguing par 4. 
As you make the turn, don't forget a quick photo opportunity with one of the many nods to the course's namesake. Just off the left of this tee box, a pair of hand-carved wooden cardinals watch as you and your group prepare to hit the inward nine. Be sure to catch a photo with your group for your social media as you pass by. 
One of the more difficult and interesting holes I encountered during my week in Mississippi is the par-5 15th hole on Diamondhead's Cardinal. This double water hazard 510-yarder features an initial carry to a fairway guarded by a pair of massive oaks, one of which was registered by the Hancock Co. Historical Society in 2020. This tree not only presents a gorgeous visual but is also 114 years old. Be sure to get a look at the plaque on this stately tree as you drive past. Should you find the fairway, and miss the aforementioned trees, a second shot, again over water, leads to a secondary landing zone, and then an uphill third to a expansive green that has some tricky undulations. Par here is a great score. 
For our final afternoon in Gulfport, the daiquiris again flowed at the Island View as we prepared for a short trip to the Mississippi Aquarium. The aquarium is simply stunning, with over 200 species of aquatic friends that can be viewed in their habitats. We began at the touch pool, where visitors can run their hands across leathery-skinned Atlantic or Cownose rays and even White-Spotted Bamboo sharks. Horseshoe crabs also adorn this water habitat, which is designed specifically to mirror the ocean floor. The next jaw-dropping attraction is the 360-degree tunnel, which gives visitors a complete tunnel view of the surrounding tank, where any number of sea creatures glide past as you watch in amazement. Through the tunnel and around the corner is a floor-to-ceiling look at the entire massive tank where you really get a sense of just how much time and effort goes into creating an aquarium of this magnitude. It is truly serene and awe-inspiring to see Sandbar Sharks, Moray Eels, Stingrays, Zebra Sharks and sea turtles all sharing the same habitat with multiple other varieties of fish.  
In addition to the indoor part of the aquarium, there is also an outdoor part, which features a river otter habitat (they're cute little creatures), and even a massive outdoor Atlantic Bottlenose Dolphin tank. With multilevel viewing, you can see Axl, Finn, Nigel and Archer from an underwater view, as well as above. Special separate Dolphin Encounters are available to be booked as well, if you are interested in something a little more personal with all the boys. 
After an amazing learning experience, it was off to a rock-solid dinner at Patio 44, just a short ride from the aquarium. We sampled local brews like Chandeleur Island Brewing's CBC Freemason Golden Ale, which paired perfectly with our fried green tomatoes covered in crawfish etouffee and served with a dynamite remoulade. For dinner, it was the Patio 44 Redfish with crawfish cream sauce and gouda grits. Everything was super fresh and packed with flavor. I could practically hear "Father of the Delta Blues" Charley Patton playing in my mind as I savored every bite.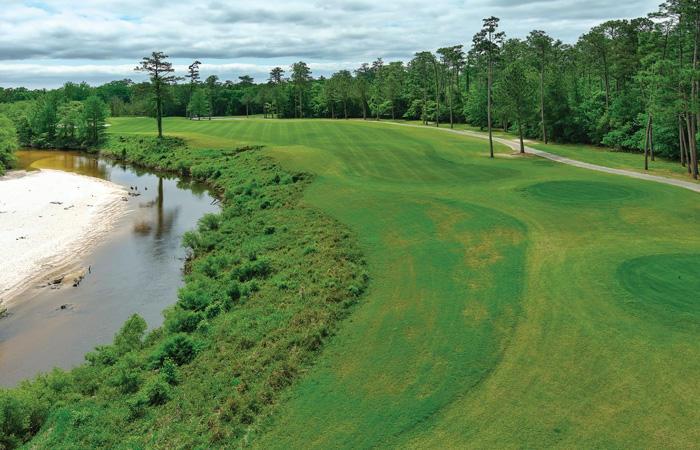 About 20 miles north of Island View sits the DeSoto National Forest. At over half a million acres, this is the largest forest in Mississippi and also home to one of the premiere golf experiences in the state. Grand Bear Golf Club was ranked as the No. 6 course you can play in Mississippi by Golf Digest in 2022 and, believe me, it lives up to that billing. This Jack Nicklaus signature design was the host course to the Champions Tour Rapiscan Systems Classic in 2022, which brought in a star-studded field. 
The course itself is one of the most serene settings for golf I have ever experienced. To say it's off the beaten path would be an understatement. There is virtually zero external noise, other than the birds chirping and the towering pines rustling in the breeze. With five sets of tees, Grand Bear can play a muscular 7,204 yards from the "Grizzly Bear" tees, and a far more manageable 4,802 yards from the "Teddy Bear" tees. This course incorporates as much character and visual delight as any course I have ever played. 
Some of the more memorable holes include No. 2, which is a reachable par 5 that features a massive thin pine left of the fairway, a hazard right off the tee and more trouble right up near the green. Find the right, and a big number can be in play, but favor the left, and this can jumpstart your round early in the day. 
The No. 1 handicap on the course comes at the par-5 fifth. This challenge plays a whopping 603 yards from the tips, but can be played at 565, 508, 476 or 421 from the other sets of tee boxes, so plan accordingly before you begin your round. A large hazard bisects the fairway, so be mindful to avoid it or punishment could ensue. Missing the green long and left here leaves a very difficult up-and-down. It's a great hole and a true test for a "Golden Bear."
The inward nine features nine more fabulous holes, such as the par-3 14th, which is a stunning hole where players need to carry a small pond that serves as a runoff for the Biloxi River. Miss short and left here and double-bogey, or worse, enters the chat. Favor the middle of this green and hope to make a putt. Par is a good score here. 
Holes 15-17 wind along the limestone walls of the Biloxi River, providing amazing views as players near the end of the round. No. 15 is another imaginative par 5, with the river all along the left side. A generous landing area waits for those players who don't have the firepower to attack the green in two. It's a reasonable shot at a birdie. No. 16 is a short par 3, but a pair of greenside bunkers left and a tricky green complex can make for some whimsical putts. A solid iron shot provides a chance at a two, as players head to a tough pair of finishing holes. The 17th again features the river all down the left, and players must choose how much of the water they want to chew off. A more aggressive line brings more of the Biloxi into play but leaves a shorter approach. A more conservative line can lead to longer approach shots to a large green. 
The final test at Grand Bear is the difficult par-4 18th. It plays back uphill to the clubhouse with a large fairway bunker right that must be avoided at all costs. The approach plays significantly uphill, so be sure to choose the right iron to avoid being short. 
Overall, Grand Bear is one of the better collections of 18 holes I have seen in a while, and I say this not being a huge fan of Nicklaus-designed courses. It is beautiful from start to finish, with plenty of challenge no matter which tees you choose. 
The clubhouse at Grand Bear is more reminiscent of a ski lodge than a clubhouse. It is rustic but elegant, with warm wood accents and a comfortable bar and grill to enhance your overall experience. Grand Bear is a can't miss on your road trip through the Magnolia State. 
Our next stop on our tour of Mississippi took us north to Choctaw. The Pearl River Resort offers everything you might want if you are looking for a stop, with gambling, dining and world-class golf. As with our previous casino stop, Pearl River offers table games, sports gambling and slots, as well as multiple options for dining and cocktails during your stay. If you are there during the summer months, you can even explore the Geyser Falls Water Theme Park, which 23 acres of water fun for you and your family.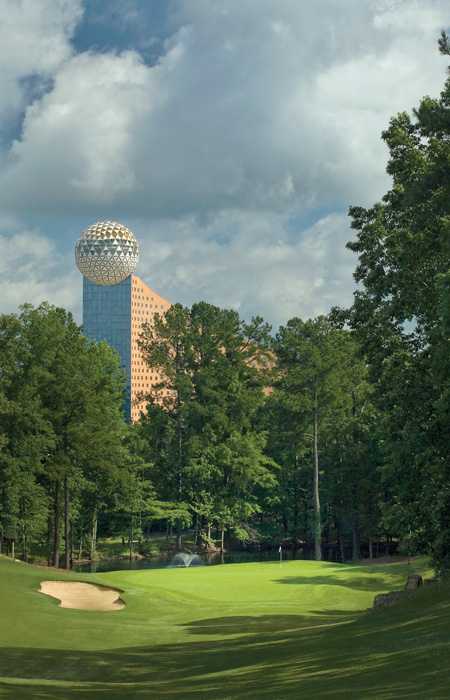 A dinner at Phillip M's Fine Dining is a great option for a nice meal if you are weary from your travels. The chilled gulf shrimp are a great way to begin, or if you are looking for a group sharable, strap in for the chilled seafood tower, which comes with raw oysters, shrimp, stone crab claws, jumbo lump crab salad and whole lobster. The French onion gratinée is satisfying and flavorful if it is a pre-meal soup you crave. 
For dinner, try the red snapper or one of their many steaks, including an eight-ounce filet or the 10-ounce prime NY strip. Either are a great, rib-sticking way to enjoy your favorite cut. If you are planning a stay at Pearl River, be sure to get a reservation at Phillip M's. 
The real star of the show at Pearl River are the golf courses. Dancing Rabbit features two world-class tracks, the Azaleas and the Oaks, and both are worthy of a round. If there is one thing I might recommend, it is to try to get to these courses in the spring when the azaleas are in bloom. They are beautiful and make for some of the best golf course photos you will ever take. There is a reason many refer to the Azaleas course as "the Augusta you can play."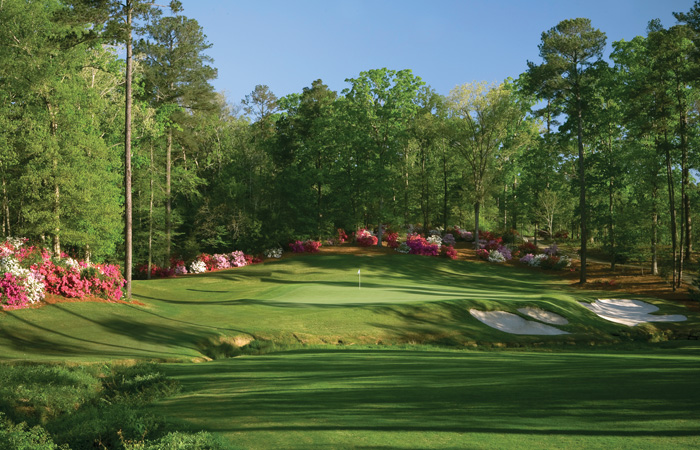 The Azaleas not only features picturesque views perfect for photos of you and your group, but it also has elevation changes and course architecture that will challenge your game. The Tom Fazio and Jerry Pate collaboration meanders along the banks of the Big and Little Dancing Rabbit Creeks and stuns as you take on each unique hole. 
No. 3 is one of the best holes on the front nine, with a split fairway bisected with a pair of bunkers. The left fairway offers a shorter shot into the green, but there is more room on the right. It's a fun hole, and one that tests your course management early in the round. 
No. 7 is another fabulous hole. A large bunker on the left guards this par-3 green, and anything long and left is a difficult up-and-down. Use the natural contour of the putting surface to work your iron shot from the right to the left to get shots close to the hole. This is a fun little par 3, and one you won't soon forget. 
The signature hole on the Azaleas is the par-4 ninth. This par 4 plays 439 yards from the tips but is like threading a needle off the tee. Avoid the tall pines, water and the rabbit-shaped bunker on the right, and a mid- or long-iron awaits to a well-guarded green with a meandering creek and a large greenside bunker protecting the left. A par here is a fantastic score and will provide some momentum as you make the turn. 
No. 13 is another great par 3 that really highlights the pine trees, azaleas and the creeks of the course. The tee shot plays downhill, but don't be fooled as the putting surface slopes from back to front, funneling shots on the front edge of the green back toward the water hazard. Avoid the deep bunkers short and right of the green and be mindful of pin position, as this green has some tricky undulations. 
The final hole on the Azaleas is a bomber's delight. Playing 505 yards from the back tees, you will need max distance, but there is a generous landing area, so players can be aggressive. The green here is 55 yards deep, so a back pin will be receptive to shots that land on the front edge and want to chase to the back of the green. There is a pond on the right and a bunker left, so an accurate approach is required to have a chance at a final birdie on the day. 
The Azaleas course definitely lives up to the "Augusta you can play" moniker, and when you finish your round, I'm sure you will agree. There is a reason this track was ranked No. 5 on the list of best courses you can play in the state of Mississippi by Golf Digest for 2022. 
Speaking of that Golf Digest list, the Azaleas sister course, the Oaks, also made the list, coming in at No. 8 for last year. The Oaks Bermuda greens and Meyer Zoysia fairways keep this loop in immaculate shape, especially during peak season. 
No. 5 is a highlight, with the resort in the background of this elevated tee shot, this is a good photo op for you and your group. It plays shorter than the 190 yards it reads on the scorecard, as the shot is downhill, so be aware of that when choosing your weapon. A bunker guarding the front left half of the green needs to be avoided, but the real challenge here is getting the yardage correct. 
The final hole of the front nine is a long par 5 that features a lot of danger, with water to cover off the tee and a pair of fairway bunkers on the left. Hazard down the entire left side of the hole means players must favor the right as they make their way to a green with a false front that is also guarded by a deep bunker on the left. 
The back nine features a picturesque par 3 at No. 11, which can be a tricky club to pick as it plays downhill. A bunker short left of the putting surface can collect balls and make for a tough up-and-down. A pond crosses the hole and adds some aesthetic beauty, but it isn't necessarily in play with a well-struck iron shot. 
The final hole on the Oaks, a 455-yard par 4 from the championship tees, requires all your attention as you wrap up your round. Fairway bunkers are featured on either side of the fairway, meaning your tee ball must be precise. The putting surface slopes from back-to-front with bunkers on either side and water left. Favor the right center of the green for your best opportunity to score. 
The Dancing Rabbit courses are as beautiful as they are challenging. Course conditions shine, and the rates (just $100 on the weekends during prime season) is nothing short of a steal. Getting there takes a little time, but the Pearl River and Dancing Rabbit are worth the effort.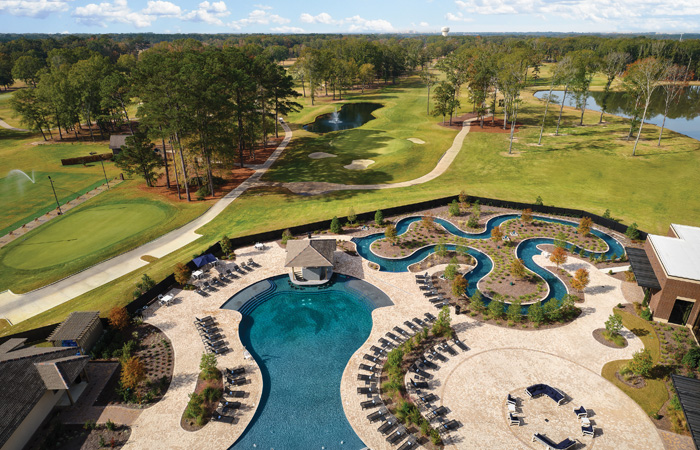 Our final stop in The Magnolia State takes us a 90-minute drive southwest to Flowood and the Sheraton Refuge Hotel and Conference Center. As you arrive at the Sheraton, one of the first things you need to do, especially if it's late afternoon, is hit the Missy Sippy Rooftop Bar. This bar offers panoramic views of the resort pool, golf course and, in the distance, downtown Jackson. It's a perfect place at sunset or late night for some drinks and laughs with friends as you wind down from a day on the course. The resort also has a 200-room hotel, spa, lazy river and a 54,000-square foot conference center.
Just down the road in the town of Pearl, sits Patrick Farms Golf Club. This Randy Watkins course is a nice semi-private track with generous fairways and four sets of tees to accommodate any skill level. Recently renovated Mini-Verde greens make this course scorable and fun for all, and a great 5,000-square foot clubhouse is perfect for lunch, dinner or drinks pre- or post-round. Bookend par 5s at No. 1 and No. 18 offer opportunities to score heading out and coming in. 
The Mississippi State capital of Jackson is the state's most populous city and offers a bevy of options for entertainment and educational options. One of the most eye-opening and enlightening visits you can make is to the Mississippi Civil Rights Museum in downtown Jackson. 
Powerful artifacts and stories of the struggle for civil rights in the south are abundant and thought-provoking. A re-created jail cell and tear gas canister from the integration of the University of Mississippi give visitors a first look at the brutal nature of the struggle of African Americans to attain equality in the Deep South. The rifle used to assassinate civil rights icon Medgar Evers is also on display, along with a short film about Evers' impact during his life and after his murder. 
To end the tour, a powerful message from Oseola McCarty is displayed on the wall as you make your way out of the museum. It reads: "If you want to be proud of yourself, you have got to do things you can be proud of." This museum is a must-see if you make your way to Jackson.
The Mississippi History Museum is also nearby, with a comprehensive look at the history of the state, from its beginnings with indigenous people to its current-day makeup, there are many artifacts and interactive exhibits and galleries to take in. The Civil War artifacts are particularly interesting, with many weapons, battlefield medical devices and even a full-sized cannon to browse. There is even a commemorative sweater celebrating Ole Miss' Sugar Bowl win over the University of Texas in 1958.
If you are looking for good food and some fun in Jackson, might I suggest Highball Lanes. This upscale bowling alley is located in the historic Fondren neighborhood right next to the Capri Theatre and The Pearl Tiki Bar. You can enjoy a local brew or two while you consume some cheese fries, a shrimp bowl or even their Highball Burger. It's a fun spot to bowl off some steam with your group, if you see fit. 
One final round of golf ends our adventure to Mississippi, and this one takes us back to the course on property at the Flowood Sheraton. The Refuge Golf Course was renovated in 2019 by Nathan Crace, who revamped this property to make it a more playable layout with some additional challenges. For starters, the Refuge has one of the most interesting driving ranges I have ever seen. Limited flight, floating golf balls sail into a large body of water, and once every few hours they are scooped out of the water and reloaded on the range. It's a unique way to get loose before the round, and one that I had never seen before.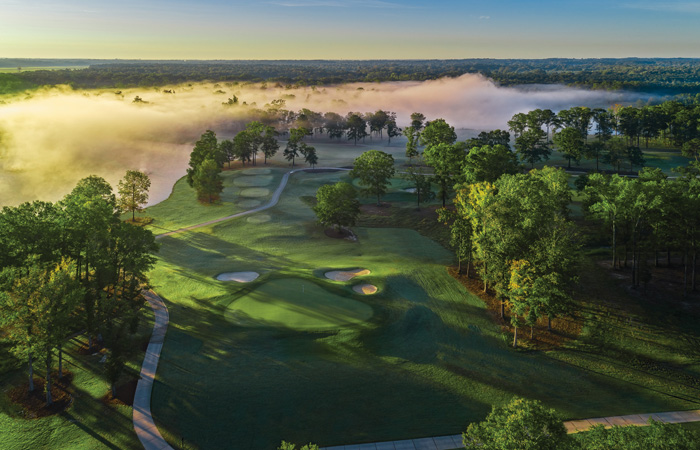 The course is perfect for a resort. It isn't too tricked up, it's very playable and conditions are great. Fairways, bunkers and greens are all rock-solid, with plenty of design elements to make players think without making it a stressful day on the course. The course is carved from about 200 acres of wetlands, meaning there aren't many dramatic elevation changes. But there are plenty of trees to frame the holes and some generous fairways, making this course very user-friendly. Five sets of tees are available, stretching from a little over 7,000 yards from the tips, to about 4,500 from the forward box. Stay-and-play packages are available for those wanting to mix in some golf while they stay at the hotel. 
From the Gulf Coast to the piney woods to the red clay hills, Mississippi offers some of the best golf and entertainment to be found in the South, all at rates that are easy to stomach. When I set off on my Mississippi road trip, I had no clue I would find so many great courses and resorts with so much to offer, and all of them are very affordable. Whether you choose one or more of these suggestions, I promise you are going to find something you love. 
Mississippi has something for everyone, and I wish you safe travels on your trip across The Magnolia State.