After the Round – Malai Thai-Vietnamese Kitchen

Malai Thai-Vietnamese Kitchen refers to their dining experience as "a modern approach to Thai and Vietnamese cuisine." After visiting their Fort Worth location, I can attest, you won't find a more interesting or delectable menu anywhere. Owners Braden and Yasmin Wages forged their take on Southeastern Asian food after extensive travels to the region, including Thailand and Vietnam. With that in mind, there are some other twists and turns to their menu, which uses only freshly sourced ingredients and almost exclusively scratch-made items. 
Malai Clearfork is gorgeous, opening in 2017, with a 3,000 square-foot dining room which is well-lit with rich wood accents and a great bar for not only dining, but a happy hour or brunch excursion. Outdoor seating is available when the weather cooperates (which it, hopefully, should for the next couple of months), and staff is friendly and knowledgeable about the menu and any specials they might have. The booths and tables are large and comfortable, and the open kitchen concept right in the center of the action adds a classy touch of energy to the dining experience, without making the restaurant overly loud. Malai serves brunch, lunch and dinner, but for this feature, we will focus mainly on the dinner service options.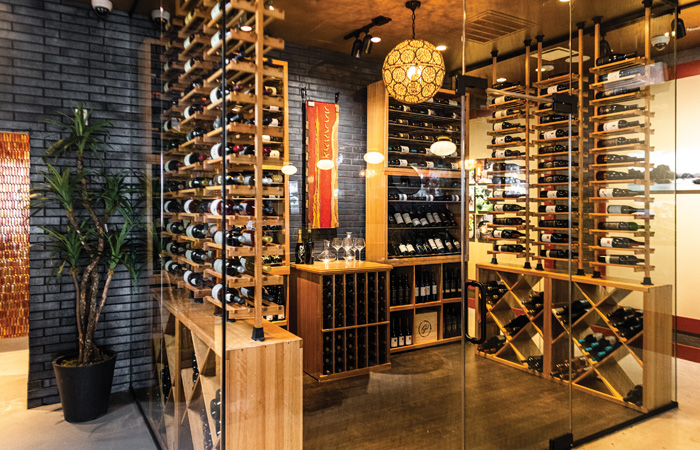 The beverage menu is a great place to start when we dive into the menu at Malai. If you are looking for non-alcoholic, the Peach Ginger Detox Green Iced Tea is a fabulous option, and one I could've taken advantage of after my trip to Dickies Arena to see Pearl Jam last month. This refreshing concoction will leave you feeling energized and is a great accompaniment to any of their dishes. On our visit, I sampled the House Pressed Sugar Cane Juice with Ginger and Lime. This is another non-alcoholic drink that is not only bursting with a light and fresh ginger pop, but also gives a nice sweetness. And for those who see the words "sugar cane" and assume it must be bad for you, it actually has a multitude of health benefits, including promoting digestive health, liver function and kidney health. Score! 
If you enjoy the adult libation, Malai has plenty of beer, wine and signature cocktails to wet your whistle. The Malaysian Martini is a nice option, with a pair of rums, Aperol, pineapple, passion fruit, lime and mint. It's the perfect summer or post-round drink if you are looking for something light and fun. If you like spice, then the jalapeño basil margarita offers a spice-infused tequila, lime and agave with a Hawaiian black lava salted rim. This is not only a gorgeous cocktail perfect for an Instagram post but is also a smooth sipper with a nice spicy finishing note. 
House-brewed beers are also on tap, like the Bia Hoi, which is a crisp Vietnamese-style lager brewed with rice and pilsner malt. If you are a fan of the IPA, then the Jungle IPA is a great selection with an 8.0 percent abv punch. This tropical dry-hopped IPA offers an aromatic nose with a clean finish and pairs well with any number of entrees. Should you be torn about which beer to sample, Malai also offers flights of three beers to allow you and your friends to try different varieties during your visit. Don't forget to try their rotating seasonal beer, as well, which right now is a nice Octoberfest. 
The food at Malai will truly take you on a trip around Southeast Asia. From their shareables to their fresh seafood, Pad Thai and curry dishes, you won't find a better representation of this part of the world anywhere in the Metroplex. The culinary variety is stunning, and from your opening act to the second the check hits your table, you won't be bored by anything you select. Flavor profiles are unique and well executed throughout the meal, and the freshness of the ingredients really shines, as Malai is a restaurant that doesn't even have a freezer in their kitchen. 
To begin your meal at Malai, there are over a dozen shareables that go from simple, like the edamame or tempura-battered shishito peppers, to the more exotic, like the lemongrass mussels or the Ahi tuna spring rolls. We chose the spicy crispy beef samosas, and they came as advertised, with a little spice, but plenty of crunch. The filling is cooked with garlic, ginger, onion, mint and chilies, then fried to a golden crisp and served with some tamarind chutney and a cilantro yogurt sauce for dipping. The filling inside the samosas is sublime with a ton of flavor profiles and a melt-in-your-mouth texture. I would return to Malai just to have these again. They're that perfect.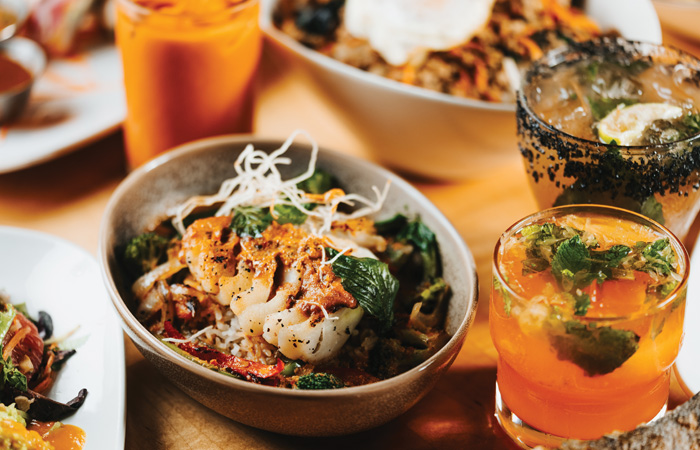 If you are one who enjoys a warm, rib-sticking noodle-based dish, then you'll have a multitude of options on the Malai menu. The tasty chicken or shrimp Pad Thai are both stomach-warming, yet light and full of flavor. The crushed peanut finisher adds some crunch for a textural delight. The Pad See Ew is another favorite if you are looking for something healthy and delicious. House-made rice noodles in a sweet soy sauce with chicken, egg and broccoli make this a great addition to the menu that won't weigh you down. 
There is one must-try noodle dish at Malai that will have you licking the bottom of the bowl when you are done. The Pad Kee Mow, also known as the "drunken noodles," is quite possibly the best dish on a menu chock-full of great entrees. These house-made wide rice noodles in a spicy soy with beef tenderloin and Thai basil are served tossed with tomatoes, onion, bell pepper and Thai chilies is a one-of-a-kind, no doubt hole-in-one order. The noodles are so fresh, soft and velvety, they melt in your mouth. Add in the succulent beef tenderloin and a knee-buckling sauce with just a hint of spice on the back end, and you really have something special. It's an absolute must if you head over to dine at Malai. 
There are so many other options on the menu, it would be impossible to discuss them all, but there are plenty of fresh salads, soups and curries, like the Iron Pot curry chicken or the Panang curry bowl with tenderloin and several fried rice options on the menu. One thing we must talk about, though, are the house specialties, any of which makes a great dinner choice for a night out on the town the town. Earlier I mentioned that Malai doesn't even have a freezer in their kitchen, which means all these seafood specials are fresh and never, for even a second, frozen. Fish is flown in several times a week, meaning you are eating something that was swimming no more than a day or two before it hits your plate.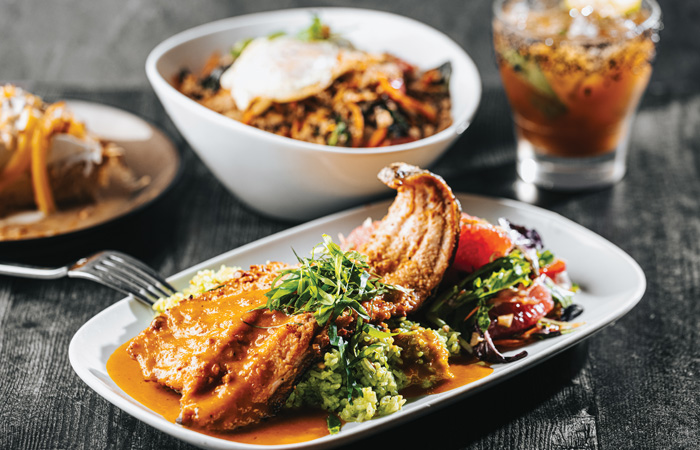 Some of the fresh seafood options include a North American Arctic Char in a garlic-shallot rub with sauteed snow peas and a sweet soy glaze, the Chilean Sea Bass poached in a garlic-lemongrass white wine broth with baby bok choy and rice noodles, and my selection off this portion of the menu, which was the peanut-encrusted Ruby Trout that is pan roasted with peanuts and then covered in a lemon-tomato coconut sauce and served over a bed of green curry rice with a citrus street salad. The trout isn't fishy at all (a sign of freshness), and the lemon-tomato coconut sauce not only adds a vibrant color to the dish, but also a nice bright flavor profile and some sweetness from the coconut. The peanut crust crunch is a great textural element, and the green curry rice was perfectly cooked. Overall, I give it a strong recommendation, should you be in the mood for one of the specials. Vietnamese barbecue pork ribs called my name, and I also gave the Banh Mi sandwich a look, but in the end, I made a great choice. 
No meal is complete without dessert, and with five options to satisfy your sweet tooth, Malai comes through in the clutch if you are in the mood for something sweet to end your evening. A simple coconut gelato is perfect if you are a fan of a cold refreshing dessert. But if you are in the mood for a true pastry delight, then I would go for the coconut cream pie, which is scratch- made with a macaroon crust, that airy merengue we love and placed upon some tamarind caramel and served with some of the aforementioned gelato as a sidecar. The other dessert we sampled is as unique as it is beautiful. The mango sticky rice smash is a diced mango and sticky rice with a chili-rubbed rice crispy served in a coconut shell filled with a pandan-infused coconut cream. The textures and flavors of this dessert are unlike anything you have ever sampled, and the crunch on the rice crispy coupled with the fresh mango is a slice of heaven. You don't want to miss this outside-the-box dessert option at Malai.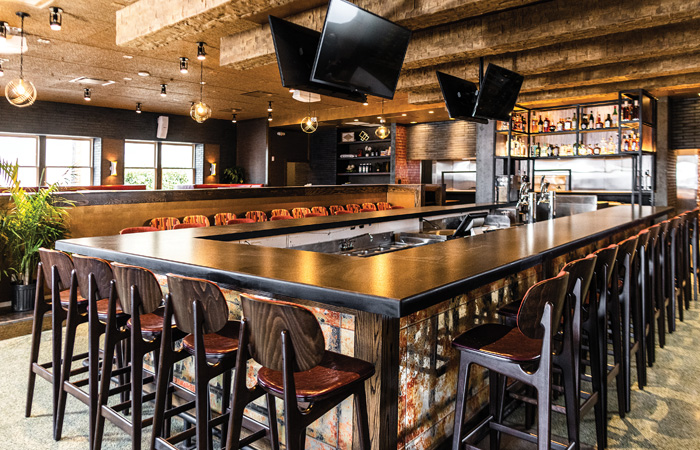 We visited the Fort Worth Clearfork location, but there are three more locations in the Metroplex, including a pair in Dallas and one in Southlake. So, no matter where you reside, you aren't too far from a great date night out or dinner among friends. If there is one final endorsement for Malai, it is my wife, who is generally a picky eater, absolutely loved everything we tried. She enjoyed it so much she immediately began sending texts to family and friends recommending it. That should give you some indication of how enjoyable this meal was. 
Malai Kitchen is a true trip across Southeast Asia. From the beautiful beaches of Thailand to the jungles of Vietnam, you will feel as if you are right there as you dine at Malai. It's a truly unique culinary experience with a casual fun vibe. Just don't forget to bring your appetite.