After the Round – Monaco Las Colinas

The Water Street area of Las Colinas is a great spot for a date night or an afternoon of cocktails with friends. Tucked among the dining and bar options near Lake Carolyn is the new Monaco restaurant, which is already receiving rave reviews despite only being open for a few weeks. 
The Lamberti family, which is ingrained in the very DNA of dining in the Las Colinas/Irving area, brings this French Riviera-inspired experience to an area in which they have become so familiar. At one time, owner David Lamberti was in corporate development for I Fratelli and then later opened Lamberti's Ristorante, which has become a staple for great Italian cuisine in Irving. 
Most of the people who will be alongside Lamberti for this new adventure have been with him for more than 20 years, including the Assistant General Manager Johnny Hardy, who was washing dishes at 15 and eventually worked his way into management.
Executive Chef and Beverage Director Matthew Perry is Hardy's brother-in-law and also worked for Lamberti at I Fratelli when he was just a teen. Perry later helped open PM Lounge at The Joule Hotel and was at the forefront of classic cocktail culture and bar programs for places like Victor Tango and Parliament. Most recently, he worked as a sous chef at a well-received restaurant in Austin. When I say this truly is a family affair, I mean it. Even those who aren't related by blood, Lamberti considers family. 
The ambiance at Monaco is inviting but relatively casual. Of course, I don't suggest flip-flops and a tee shirt, but you won't need the suit and tie either. The elegant lighting and warm wood finish immediately make you feel right at home. The front of the dining room has floor-to-ceiling windows that can open to make the restaurant open-air during the cooler spring and autumn months, and a small patio offers patrons fresh-air dining if they choose. There is a bar for those who may be flying solo for lunch, or just want to pop in for a quick cocktail, glass of wine or appetizer. Lunch, brunch and dinner menus are available, and will change as local ingredients change with the seasons. 
Speaking of cocktails, Monaco has a unique selection of those, too. We were served two of their most popular, starting with The Gypsy Daisy, which is a blend of Tullamore Dew Irish Whiskey, crème de violette, clementine and lavender bitters. The aromas and the flavors marry perfectly, and you get a little Irish whiskey burn on the back end to let you know you're getting what you paid for. If you are a follower of '80s action flicks, then you might want to try the Nakatomi Plaza, named for the building in which the 1988 Bruce Willis movie Die Hard was set. This concoction is Suntori Toki Whisky, China China Amer Liqueur, and Heirloom Pineapple Amaro. It' refreshing, with bright flavors throughout each sip. This is the perfect cocktail for after a warm summer round of golf, or if you're shooting it out with Hans Gruber. 
If you are a wine drinker, then Monaco is a place you are going to want to try. The General Manager, Frank Horak, also serves as the restaurant's sommelier and can recommend any number of special wines to pair with your entrée. Monaco not only features affordable, delicious selections, but some more exotic wines that will dazzle even the most refined palate. Bottles range anywhere from the low $40s all the way to the very special 2019 Tenuta San Guido Cabernet Blend, which goes for $525. There are also plenty in between, depending on what you may want with your meal. 
The food at Monaco is nothing short of mesmerizing. They have a great combination of European flavor profiles with enough of a whimsical American twist to keep you intrigued throughout. 
We sampled multiple dishes, but the first we were treated to was a fantastic light and tasty salad known as the Shrimp Laissez-faire. Three delicate butterflied shrimp over shaved cabbage, with pineapple, aioli and some banana chips. Everything about this dish just works. The shrimp were perfectly prepared, and the sweetness of the pineapple cut some of the richness of the creamy aioli. But the real curveball here are those crunchy banana chips, which I don't recall ever seeing in a salad before. They added a little crunch and some additional subtle sweetness. The whole ensemble is perfect for that power lunch among colleagues.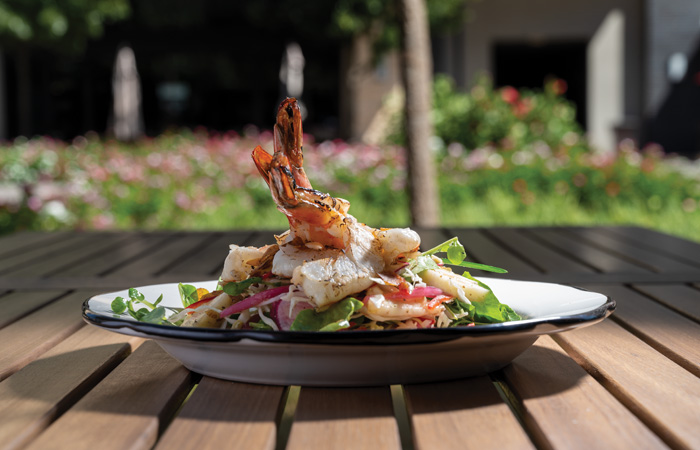 If you are looking for something a little more exotic, then Monaco also has one of best steak tartares you will ever try. Now, I know this dish can be a little taboo, but trust me, even if you aren't a big fan, this one will dazzle your tastebuds. The delicate filet is diced small to make it more palatable and is seasoned beautifully and mixed with some herbs for a fresh, earthy note and some Calabrian chili for some kick. Of course, it comes with the raw egg yolk on top, that can be mixed into the beef mixture for some extra richness. In addition, the tartare is served with some toast smeared with confit garlic, which is a perfect vehicle to get the tartare from plate to mouth.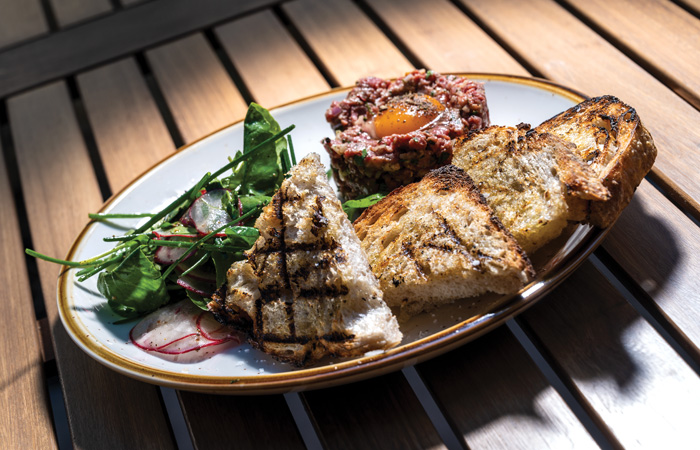 It's understandable if you may not be the type for beef tartare, but just about everyone loves steak and potatoes. No matter what cut and how the potatoes are prepared, it's a meal most of us could eat all the time. Well, luckily, Monaco does a French classic that scratches both your steak and potato itch. Their Petite Frites combine both tender bavette steak and crispy French fries in what becomes a carnivore's dream. If you haven't heard of the Bavette steak before, it is the thickest portion of the flank. This cut comes compliments of HyPlains, which is one of the premiere artisan beef processors in the United States. The Bavette can be tricky, as they can be overcooked easily if not careful, but this cut was magically prepared to a gorgeous mid-rare, which kept it juicy and full of flavor. A beautiful gremolata on top and a pat of bone marrow butter complete the presentation over the crispy frites. As you take each bite, some of the steak juices, gremolata and butter run down over the fries, making them a perfect accompaniment to the steak. If you are in the mood for steak and potatoes, this is a dish you need to try.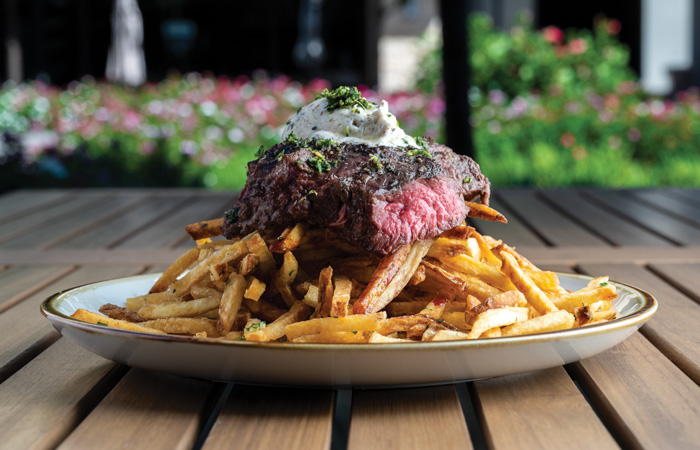 Speaking of beef, the final dish we sampled, which you won't find on the menu but is going to become a weekly special at Monaco, is their 1855 Farms Porterhouse. The Porterhouse is a world-class, thick-cut combination of the filet on one side and the strip on the other. The steak is prepared to your liking and served with some of the bone marrow butter on top, as well as seasonal fruits and vegetables. The presentation of this dish is nothing short of Instagram-worthy, so much so, that I posted a photo to my own personal account after dining at Monaco. The steak was phenomenal, with a perfect amount of marbling on the strip side, and the tender, amazing flavor you expect on the delectable filet side. Although this entrée will run you just shy of $100, it is well worth it, and it's also plenty large enough to split between two or even four if the group also has some appetizers.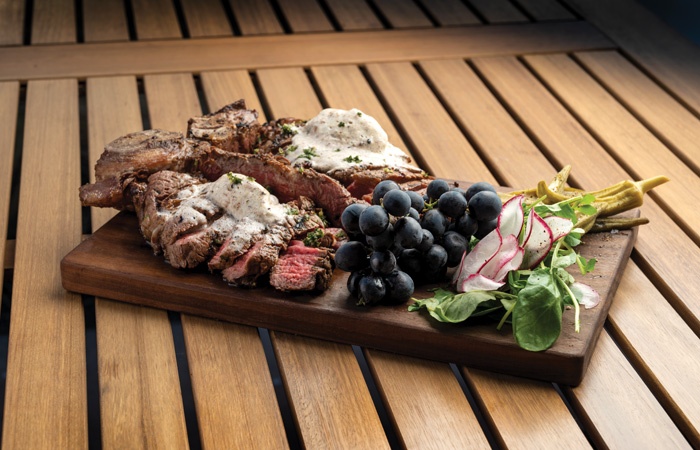 Monaco is everything you want in a fine-dining experience with a more business casual-like atmosphere. Everything about it is perfect, from the wine selections to the craft cocktails and, of course, the mouth-watering food choices. It's a perfect place for a lunch meeting, dinner with friends, or an evening out with someone special.