After the Round – Omi Korean Grill and Bar

When it comes to barbecue, Texas has a claim to being King. 
And while the Metroplex certainly has an abundance of acclaimed smokehouses, your BBQ experience doesn't have to be limited to standard meat-and-sauce establishments. 
Enter Omi Korean Grill and Bar, which offers a plethora of entrees and special menus to choose from, including all-you-can-eat options for both lunch and dinner, assuring carnivores of all shapes and sizes leave more than satisfied. 
But more than just a good meal, Omi provides a unique dining experience, one in which patrons have the option to cook their own proteins and vegetables at their table – and as much of it as their hearts desire. 
Omi, which means five different kinds of tastes (sweet, bitter, spicy, salty and sour), opened its doors in Carrollton way back in 2008, with a second location in Arlington having been in operation for more than two years now. 
Both Omi locations reside in Metroplex golf hots beds, with a minimum of five courses and clubs within seven miles of each respective restaurant location, making it a convenient point to chow down following a day on the links with friends and family. 
The first thing to catch the eye when entering Omi is the ambiance. Subtle fluorescent lighting throughout provides a comfortable, yet modern feel. A centralized bar flush with televisions on each side provides patrons an area to take in a cocktail while waiting to be seated, but judging by the overall size of Omi's dining areas – which also include numerous private rooms for a more intimate setting – one wouldn't think a lengthy wait is often required.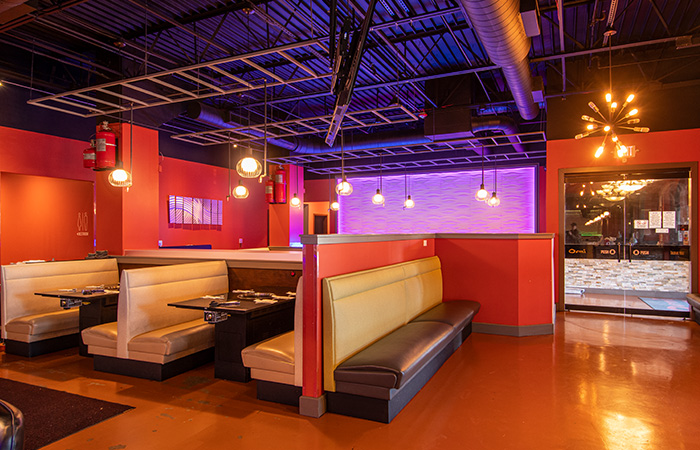 Upon seating, be sure to indulge in one of Omi's many beer and spirits options, including not only wine, cocktails and hard liquor, but traditional Korean favorites such as Bokbunja (Korean wine), Soju, flavored Soju and Sake.
Don't feel like cooking for yourself? Or maybe better put, don't trust yourself to cook? No problem. 
In addition to the all-you-can-eat options ($15.99 for lunch or $22.99 for dinner with a two-hour maximum and two-guest minimum), Omi serves up traditional appetizers as well as a variety of chef-prepared BBQ plates, lunch specials, dinner entrees, stews and main entrees. 
For starters, Omi offers Korean staples Hae Mul Pa Jun (a seafood and scallion pancake served with soy vinaigrette dipping sauce) and Kimchi Jun, as well as Hae Mul Tuk Bok Ki (spicy seafood rice cake with fishcake), Shrimp Tempura, Egg Rolls, Yaki Man Do (dumplings) and Calamares (crispy fried squid).   
On the BBQ Grill menu (cooked on a kettle pot with rice or udon noodles) are Spicy Pork BBQ, Baby Octopus BBQ, Squid BBQ, Beef Brisket BBQ and Pork Belly and Squid BBQ, but the Korean staple Galbi Jumooluk (marinated beef short rib with seasoning) steals the show. The tender pieces of meat fall right off the "bone" and are loaded with flavor.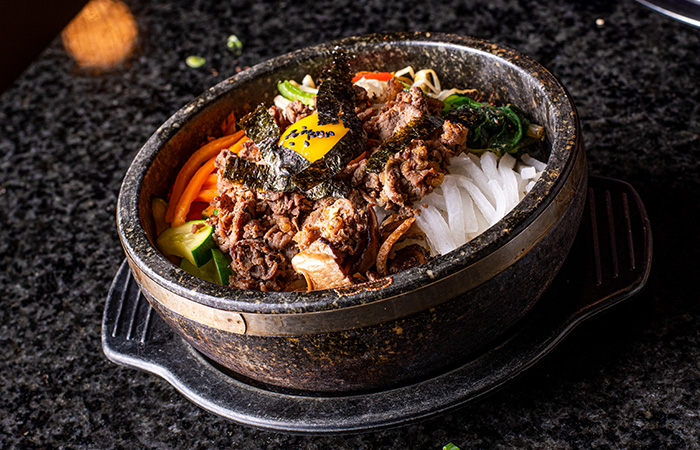 Omi's Bi Bim Bap, meanwhile, is a simple yet traditional dish that embodies not only all five kinds of tastes, but all five colors traditionally found in Korean fare (black, green, red, yellow and white). 
The Dol Sot Bi Bim Bap features steamed rice topped with beef or chicken, vegetables, egg and red pepper paste on the side served in a hot stone pot, while the pork and squid rice was a personal favorite.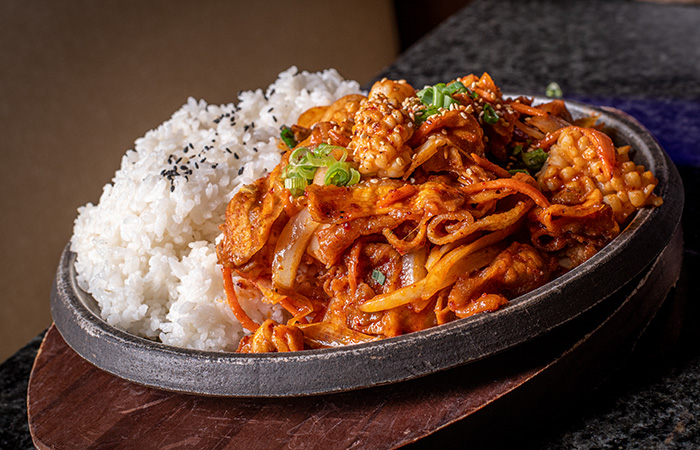 Can't decide between a meat or entrée or a noodle dish? 
Then give a combo, where you can get a spicy or cold noodle served alongside Korean BBQ short ribs, a try. 
Of course, typical rice bowls are also available, as are soups, teriyaki, bento boxes and other chef-grilled proteins. 
But for many, the draw to Omi or other Korean BBQ establishments is the all-you-can-eat option where you can cook your own proteins on a grill right in front of you at your table.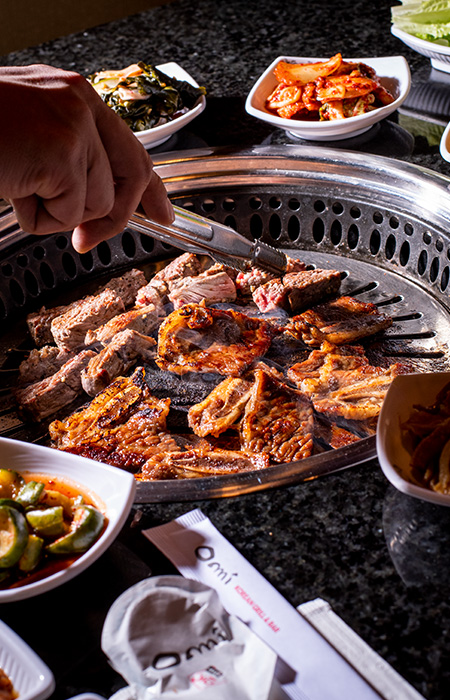 For this, Omi provides just six rules (don't touch the grill, don't touch the stone pots, fully cook all raw food items, grill with tongs, consume raw fish immediately and keep children away from pathways), but many more proteins and sides.
Your all-you-can-eat experience begins with a variety of sides carefully placed around the centrally-located grill, including steamed eggs, japchae (crystal noodles), rice cake, pickled radish, cabbage kimchi, bean sprouts, broccoli and cucumber. 
For lunch, choose from beef (including bulgogi, beef tongue, honeycomb tripe and brisket), pork (thin or thick cut belly, garlic, BBQ or spicy BBQ), chicken (thighs or breasts), sausage and seafood (squid or baby octopus).     
Proteins are even more plentiful during dinner hours, including the aforementioned melt-in-your-mouth La Galbi, Jumooluk (short steak marinated with sesame oil), beef intestines, premium signature steak, beef tongue and shrimp. 
Regardless of which route you and your party take at Omi, you'll certainly leave saying 'Oh my.'
Omi Korean Grill & Bar
2625 Old Denton Road #326
Carrollton, TX 75007
226 Lincoln Square 
Arlington, TX 76011