Drive Time – 2020 Volvo V60 AWD Cross Country

For years, Volvo's much-deserved claim to fame was its peerless safety features encased in boxes with wheels. They didn't own the most alluring silhouettes, but at least you had a great opportunity of arriving in one piece. 
Thankfully, Volvo designers have heard and delivered on the shouts of customers demanding their safety in beautiful sedan and SUV packages. Good on them. And since they're on a hot streak, why not unveil a looker of a wagon as well?
Debuted in 2018, the 2020 V60 AWD Cross Country wagon is nearly mechanically identical to the highly-rated sports sedans and SUV Volvo siblings except for engine output (only available in T5 configuration). Thus, it's a worthy look for those desiring luxury, safety, generous cabin room and cutting-edge tech – all in a beatific package. The tester provided by Crest Volvo in Plano attracted constant compliments from those who strive to separate themselves from the SUV herd. 
Skin 
The V60 Cross Country's appearance possesses bonafide leading man attractiveness. Its form is masculine, statuesque, crisp and decidedly upscale offering some serious good-looking chops to compete in the limited sports wagon market. The exterior exudes a clean, elegant appearance with a hint of drama via the added black cladding trim. Outrageously cool "Thor's Hammer" headlights (auto high beams!) illuminate the road and rotate when turning. Sightlines offer a fresh appearance from any angle and a blunt front allows Volvo to satisfy European pedestrian impact regulations. The rear includes perfectly placed LED brake lights and dual chrome exhausts. 
Darkened 19-inch rims are welcome accessories and help hide brake dust. Thus, the overall shape and trim definitely delivers some sexy panache. Suffice to say, the V60 drew many admiring comments of best-looking ride – wagon or not. It's not your old and homely refrigerators on wheels from yesteryear.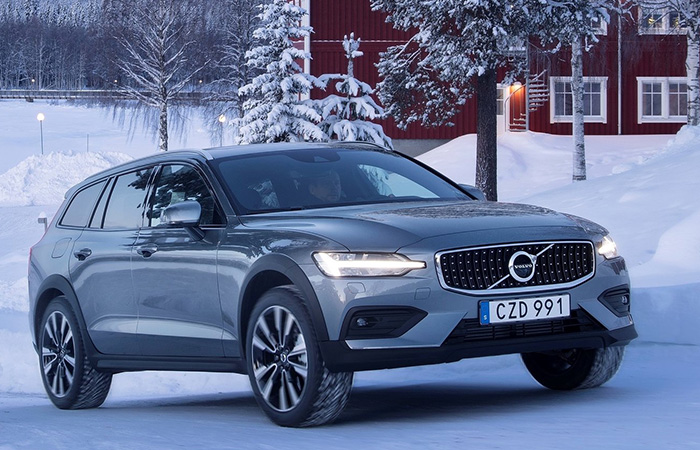 Performance
The powertrain is a delight as well. An eight-speed transmission coupled with a turbocharged 2.0 liter 250 HP/258 lb.-ft. torque is enough for most drivers. You may think that wouldn't provide enough oomph moving some 4,300 pounds, but the engine delivers admirable smoothness and pep for the targeted audience. In fact, the Dynamic mode is plenty peppy along with AWD and capable Off-Road mode for reassurance when confronting inclement weather. The four modes including ECO, Comfort and Dynamic subtly alter the throttle, steering and suspension. I normally only embrace Dynamic mode, but the Comfort was just right when cooling your jets. 
Handling is good (more carlike than SUV) and the extra three inches of ground clearance (8.3 inches total) work well for rocky off-road conditions.
You'll notice the engine bay is far larger than the engine. As usual, Volvo used safety-first thinking to allow a good distance buffer between engine, bumper and cabin for reducing collision calamities. Genius. 
The normally annoying Auto Stop mode is one of the smoothest experienced and for the first time I forgot several times to turn it off when testing the vehicle. Bravo.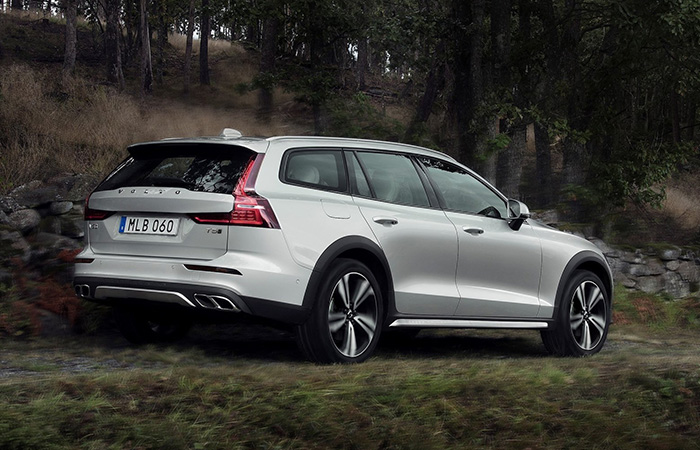 Cabin
Everything about the interior is superb with the added cargo area of a wagon. Think of it as upscale IKEA – modern, clean and uncluttered. Creature comforts abound in the spacious cocoon and the already lovely scented cowhide leather appointments improve even further in the upgraded packages. Soft-touch materials, attractive trim and a perfectly formed steering wheel (heated!) will delight the inhabitants. 
The tester included Advanced ($2,500) and Cross Country Pro ($2,800) packages with Head Up Display, 360-degree camera, Exterior Styling Kit and Adaptive Cruise. Even better, Volvo refreshingly allows you a buffet of a la carte option selections rather than being saddled (forced) with bloated packages of add-ons you wouldn't want if given the choice. Thus, I'd select the Heated Steering Wheel, Head Up Display and 360-degree camera to squeeze into tight spaces. I wish more manufacturers would follow suit.   
The 12.3" TFT Instrumentation is clear and attractive including speed limit notices. Several ambient lighting choices will accentuate your every mood. The wiper fluid is dispensed through the wipers themselves, thus no more annoying over spray when cleaning the windshield.
Large vertical air vents are superb. They seriously warm or cool the cabin in record time and for my money are the best around. 
Volvo spent seven years redesigning the heated and vented seats with renowned chiropractors resulting in near perfection with zero pressure points to endure. You can seriously drive forever without feeling the need to stop. The headrests are excellent. In fact, the V60 automatically braces the passengers if the car goes airborne or detects an imminent crash from behind. Safety plus!
A large double-panoramic moon roof provides oodles of headroom and looms above abundant rear seating. The rear legroom is generous.  
Wagons are all about cargo and the V60 does not disappoint. With the rear seats upright, there's 19.8 cubic feet of storage and 52.9 cubic feet with those seats folded flat (about 10 cubic feet less than an XC60).  Golf bags are swallowed with ease. A power trunk lid is standard.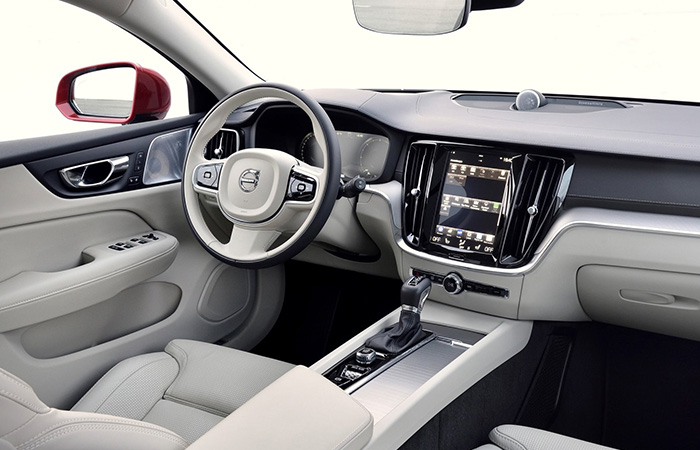 Tech check
As in all current Volvo's, V60 uses the familiar tablet-themed Sensus Technology for its infotainment system. The 12.3" vertical touchscreen is sublime and so intuitively easy to swipe and scroll. An improved processor removed the nagging delay of previous models. It does take a learning curve to use while driving since you take your eyes off the road – unless you Voice Command your selections. With the excellent Apple Car Play and Android Auto, most of the phone apps are displayed so there's little to learn. Good call. 
Given it's a Volvo, there is a plethora (nearly an entire column itself) of worthy safety features. The Lane Departure firmly brings you back when weaving when ignoring the lane signal. For grins, I drove over three miles hands free on the Tollway with nary a concern but plenty of admiration. Adaptive Cruise Control expertly keeps you safely away from vehicles you're following. 
Plus, there's the handy Volvo on Call app that remotely controls your car including remote start, locking doors, sending for roadside assistance, emergency SOS and heats/cools your cocoon before entering. 
A very capable 14-speaker/610-watt Harmon Kardon audio system with QuantumLogic Surround ($800) is clear and enjoyable. Or audiophiles can spend $3,200 for the supreme blowtorch 1,440-watt 19-speaker Bowers & Wilkins. I also appreciated the current songs displayed on the various satellite stations for quick perusing.  
The 2020 Volvo V60 AWD Cross Country wagon is a pleasing ensemble of luxury, driving chops and cutting-edge technology. Thus, it's a classy option when one tires of the countless SUV choices to stand out from the crowded segment. It will make any consumer happy when desiring to arrive safely while coddled in luxurious appointments inside a striking figure. If unique is what you seek, you'd be wise to give it a go when looking at an upscale sports wagon.
SCORECARD:
Golf Bags: More than two
Curb Appeal: That's a Volvo?
0-60: 6.8 sec
Mileage: 22/29. Observed 24.5 overall
Must-Haves: Momentum Plus, Climate & Convenience packages
Warranty: 4yr/50K miles + complimentary maintenance 3yr/36K
Base Price: $45,100
Price as Tested: $54,600
Who Buys It? Families desiring extra cargo space in a uniquely attractive shape
Finish Line: A terrific looking vehicle that checks just about the entire wish list
FOR MORE ON THE 2020 VOLVO V60 AWD Cross Country, check out Rick's YouTube review.
Test-drive the 2020 Volvo V60 AWD Cross Country at Crest Volvo in Plano.