Wine is the adult beverage of choice for a lot of people. Whether you are a true connoisseur or just someone who enjoys a glass with a nice meal from time to time, wine is a great accompaniment to any dish. That being said, I fall into the latter category, as someone who predominantly partakes in the suds game, with the occasional margarita or vodka sprinkled in. So, when we chose a wine bar to check out for September, I saw this as an opportunity to learn a thing or two about what makes a good wine. Poured in Mansfield was a great place to start. 
Poured is the brainchild of Carroll Burney, who launched the concept seven years ago. It is a place that admittedly, she opened because it is the kind of place she likes to frequent. It's a smaller space, but with plenty of comfortable seating and a long bar where customers can belly up for any number of wines by the glass, by the bottle, or some local craft beers. Wine flights are also available, if you are having a hard time choosing or just want to broaden your horizons and sample something that may not have been on your radar before. 
The menu at Poured is perfect for the concept. It isn't large, but it checks all the boxes for something to enjoy alongside the beverage of your choice. For starters, we tried the charcuterie board, which had everything you might want to sample while you enjoy your wine selection. 
The board came equipped with several artisanal cheeses that Burney rotates based on season. All the cheeses presented a different texture and flavor, which really complimented the wine well. The board also comes with some pecans, olives, as well as some meats that are chosen based on time of year. The meats we were served included a spicy chorizo that really held up well with some of the creaminess of the cheeses. I added some cheese and chorizo on one of their toasted crostini with a little bit of the grain mustard that was on the board and enjoyed a fine amuse-bouche. We also had some salami on the board, but as with the cheeses, the meats can vary depending on the day or month. For example, on occasion, you may find a prosciutto or some other variety in the mix. There is also a bit of local honey to add a little sweetness to any of the accoutrement. Overall, the board has everything you might want for a light snack as you enjoy your libation.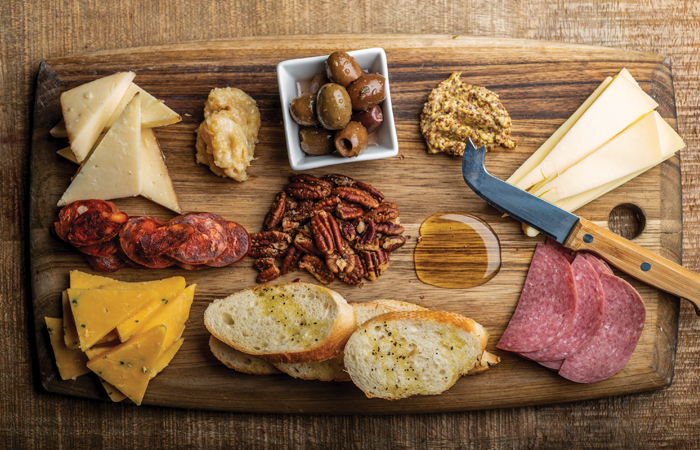 If you are looking for something with a bit more substance, then the sweet and spicy meatballs might be the way to go. They come warm in a cast iron vessel and have plenty of flavor. The sauce is the real star of this dish, with a little sweetness up front, followed with a little heat on the back end. Burney explained that she got the recipe from her mother, who at one time was in the catering business. The portion size is easily big enough to share, so don't sweat having to head home after your happy hour to make dinner.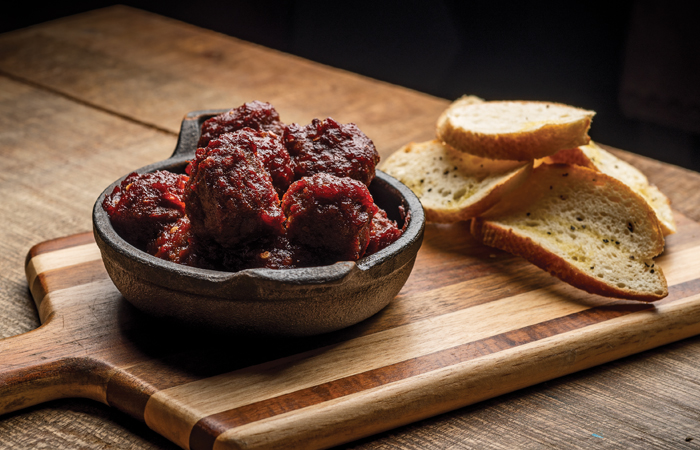 The other app we sampled was the spinach artichoke dip. Burney informed us it is one of their top sellers, and after a taste, I can see why. The dip has all the great components you come to expect from a spinach artichoke dip. It's creamy, salty, and once slathered upon some of the toasted crostini, is a jubilee in your mouth. If you are wanting something to really add to the wine tasting experience, then this should be your go-to. 
Other menu items include a baked herb cheese, hummus, baked brie, or couple of flatbread options, which include a spinach artichoke version or a Mediterranean. 
Poured also has multiple special events throughout the month (more on those in a moment), but one thing that is a must try is the last Sunday of the month bunch. The brunch features several specials, which in the past have included chicken and waffles, shrimp and grits, or a sweet French toast bake, all of which look amazing based on the photos I saw. They also sling one of the best mimosas in town to help wash it down. You can lock in on the Poured social media pages for updates on all their upcoming brunch specials.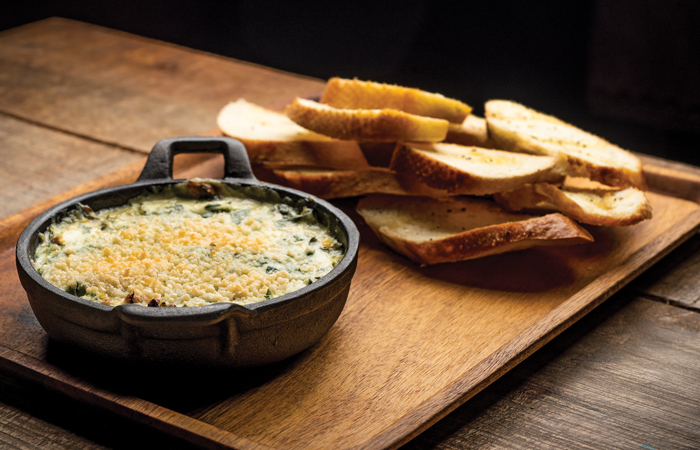 Poured is a perfect spot for a date night or for a happy hour. If you are just in the mood for some conversation or a nice glass of wine, there are plenty of comfy places to post up for just that. Or if you have a smaller group, there are board and card games available if you want to spice up your outing with some Cards Against Humanity or even something more rudimentary like Uno.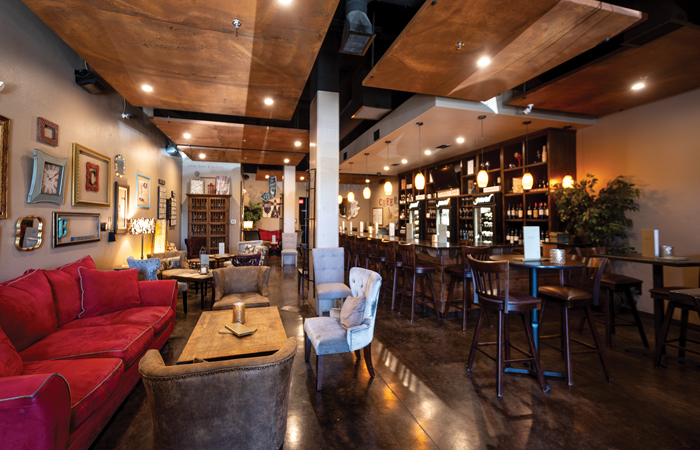 If you are interested in the art of charcuterie, Burney also offers classes on how to construct a board of your own for your own future gatherings. They also have trivia nights, and other fun classes like terrarium making and even a fun outing that pairs certain wines with Girl Scout Cookies (sign me up for that one). In addition to the classes they offer, Poured is also a popular spot for private parties like baby showers, wedding showers or even wedding receptions. 
Poured doesn't have the most expansive menu, but everything is solid, and the wine and beer selections make this worth a trip. I am admittedly not much of a wine drinker, but I will definitely be making a return trip for one of their classes or for a night out with the fiancée to enjoy some games and some craft beers. 
Poured 
1601 E. Debbie Lane, Suite 1105 (in Shoppes di Lucca)
Mansfield, Texas 76063
817-453-7919
www.pouredtx.com
Open Tuesday – Wednesday 4 p.m. – 10 p.m. 
Open Thursday – Sunday 4 p.m. – 11 p.m.