After the Round – Southside Rambler

South of downtown Fort Worth has seen a massive resurgence over the last half decade. Near the hospital district, the streets are alive with activity, from bars and restaurants to craft bakeries and brew-pubs. The latest addition to Magnolia is the Southside Rambler. A kitschy bar with off the chain food units and a great patio to boot. 
The Rambler opened in mid-May with much fanfare as, despite the COVID-19 pandemic, the new establishment opened without delay. The locals were in need of somewhere with a great patio., and it should be noted to the lover of the great puppy dog that the patio at Southside Rambler is pet friendly. So, bring along your pooch for an afternoon of beverages outdoors. In addition, the patio also features a stage for live music, which will no doubt be a great place to watch some live tunes in the near future as they plan to feature local artists several nights a week. 
Unfortunately, during our visit, it was pouring rain, so we were unable to really capture the great atmosphere the patio might provide, but dining inside was just fine, as there is a bar and a few tables to relax, and a couple large TV's to peruse as you have a cocktail or await your food. 
The menu is quite expansive, with about 30 items. Anything from nachos and poutine appetizers, to soups, burgers and even a lobster roll (more on that in a minute). 
If you're watching what you eat, Rambler also offers multiple salad options and for those Keto dieters among us, they have a Keto Bandito burger that basically comes deconstructed as a salad bowl. So, regardless of your dietary needs, the menu will offer something you will enjoy. 
We started with a classic, the Old Fashioned. The drink was as it was supposed to be, served with proper ice, and enough booze to know you were drinking a whiskey drink. The bite of the bitters coupled with the subtle sweetness of the toasted orange peel and Maraschino cherry really made this a great opener and a good way to work up an appetite. 
If you seek cocktails, they also have the standard libations available. Ranch Water, a TX Whiskey Mule with ginger beer and lime, a Blueberry Lemonade with blueberry vodka, a sangria, and my favorite, the Magnum P.I., which is a pineapple infused vodka mixed with coconut soda and lime. After one sip, you just may call up Higgins, bust out the Hawaiian shirt, the short-shorts and a Detroit Tigers cap. It's that good. 
If the hard stuff isn't your thing, Rambler also features 40 draft beer taps between the inside and outside bars. So, no matter what brewski you prefer, there's a good chance they'll have it on draft. 
What struck me about the menu at Southside Rambler, was not only the number of items, but the number of disciplines a chef must possess to execute such a wide variety of entrees. There is a large app menu for those just looking to lay a base for some impending cocktails. Nachos, wings (made with a TX Whiskey glaze), cheese fries, pimento cheese dip, hummus and even poutine are all on the app menu and would make a great start to an evening of bar hopping on Magnolia. 
Our journey started with a Strawberry Spinach Salad, that was served with grilled chicken, a poppyseed dressing, slivered almonds and some crumbled goat cheese. Not a tough dish to execute by any means, but everything about the salad worked well. It wasn't overdressed, the chicken was tender, and the strawberries added that little hint of acidity and sweetness that cut some of the rich goat cheese.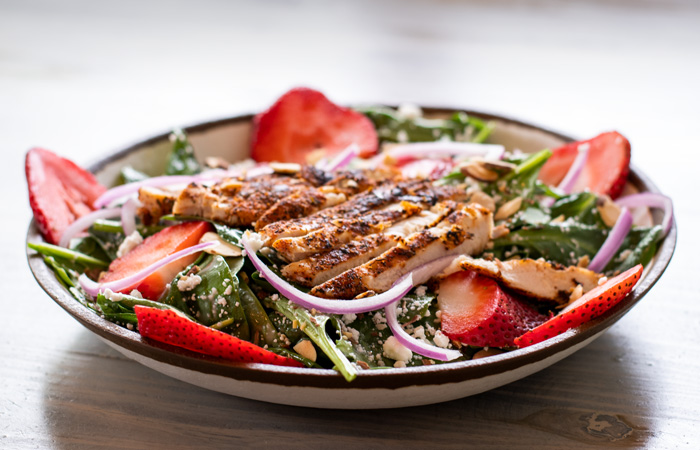 In my opinion, one of the things that Americans try very hard to replicate, but almost always fall short is the U.K. favorite Fish 'N Chips. All too often you are given a fishy ball of grease that is barely edible. The Rambler offers a Fish 'N Chips dish and I must say, it is one of the few Americanized versions I have enjoyed. The fish was crunchy and tender without being overcooked or greasy. The fries were crunchy and had just the right amount of salt. I added a little malt vinegar and some tartar sauce to mine to enhance the flavor. It was one of the better Fish 'N Chips offerings I have ever tried. Definitely a dish that would be perfect for a rainy fall afternoon, or for a nice lunch option that won't bog you down.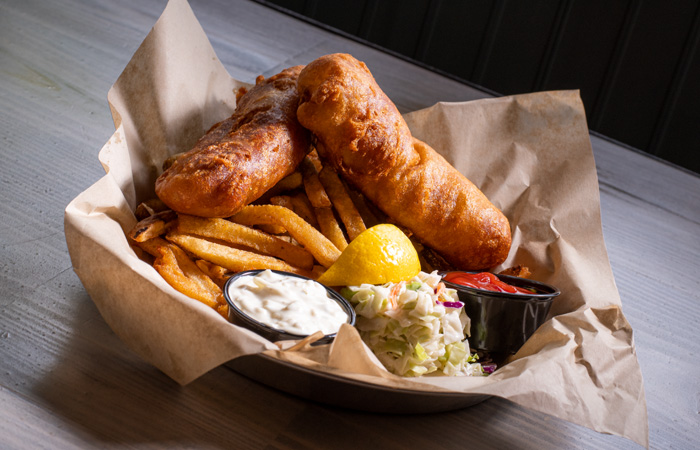 Since we're on the topic of seafood, I must mention one of the highlights of my meal at Southside. The Lobsta' Roll. This northeastern staple was served on a buttered roll with chilled lobster meat and a lemon herb aioli. One of the main hang-ups with the lobster roll is often the bread becoming soggy, and that wasn't the case with this roll. The lobster wasn't overly dressed and the bread kept its integrity. The celery and green onion gave the mixture a little crunch and some freshness to compliment the buttery large pieces of lobster meat. A homerun and a must-try if you're headed to the Rambler. Other seafood offerings include Baja Fish Tacos, which are served blackened or fried, the grilled or blackened salmon, or the fried shrimp basket. All of the seafood selections will scratch the coastal itch if you're needing a taste of the ocean.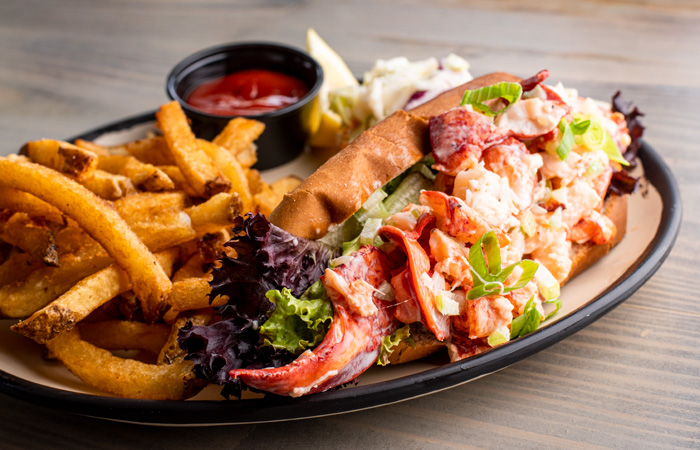 If you're looking for something a bit on the lighter side, I suggest the Tequila Lime Chicken. This marinated chicken breast comes topped with pepper jack cheese, grilled peppers and onions, pico and guacamole. The chicken was tender and juicy and the pico, grilled peppers and onions added just the right amount of spice without being overbearing. The tequila lime chicken comes served with refried beans, a tasty and fresh veggie medley and some crunchy tortilla strips. It's a lighter option that will really satisfy a tex-mex craving.  If you're looking for other tex-mex type options, Rambler also has a great chicken tortilla soup for those days when you need a warming meal.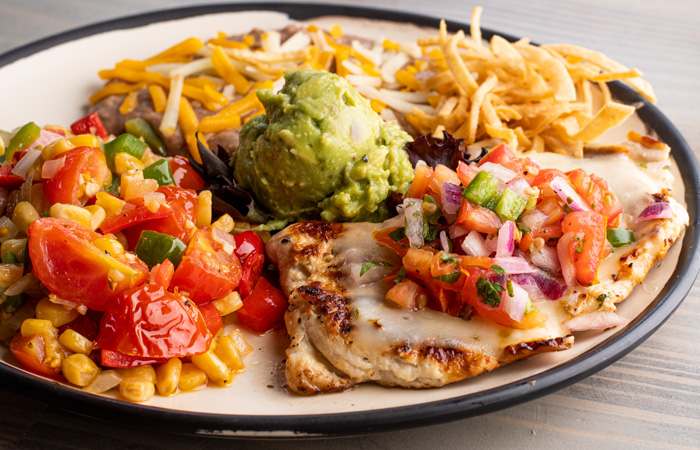 As great as the Lobsta' Roll was, I think my favorite item of the day was the Rambler Classic burger. As culinary wizardry continues to evolve, we keep seeing new twists on the classic cheeseburger, and Southside Rambler is no different. Of course, they have the build your own burger option if that's your thing. You can trick up your hand-held with a bevy of toppings, including chili, mac & cheese, brisket, fried egg or even fried bacon. However, they do feature some great menu offerings when it comes to the burger, and they are anything but standard. As mentioned, we sampled the classic, and this one came with all the usual suspects… American cheese, mustard, lettuce, tomato, pickle and onion… but it also came slathered with an unexpected twist, and that was a jalapeno bacon marmalade. The spice of the jalapeno paired wonderfully with the salty and sweet of the bacon jam. It really added a cornucopia of flavor to the already juicy burger.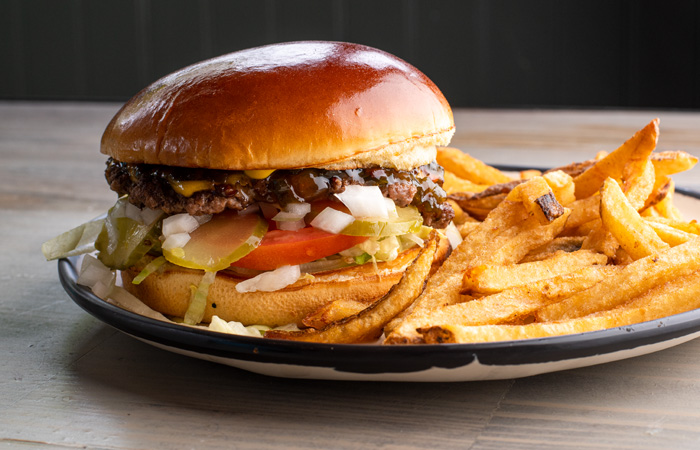 In addition to the classic, the menu also boasts several other outside the box burgers, including the Pimento Gouda burger, which comes with melted pimento cheese and hickory bacon, the Bestmaid burger, which has cheddar cheese, fried Bestmaid pickle chips and jalapeno ranch dressing and if you're a mushroom lover, the Maggie Melt might be your choice, with Swiss cheese, sautéed mushrooms and onions, with mayo on toasted rye.
Whichever burger you decide on, know that you won't be disappointed in the least. They are all great in their own right. 
For those who prefer more traditional offerings, of course the Rambler also has a great chicken tender basket, fried chicken sandwich, BLT (with double the bacon), a turkey club that features bacon and avocado, and a delectable brisket grilled cheese sandwich which is absolutely rib-sticking. 
For those Saturday or Sunday mornings where you might be struggling a bit from the night before, Rambler also serves up a brunch menu on weekends from open to 3 pm. Some of the highlights include a Lobster Benedict, biscuits and sausage gravy, a killer breakfast sandwich served with fried egg, Canadian bacon and American cheese. If you love breakfast tacos, then you might indulge in the chorizo taco plate, and if you need some hair of the dog, add a Bloody Mary, Mimosa or Michelada for just a five-spot. 
Overall, the concept at Southside Rambler is one that has been missing in the rejuvenated Magnolia area. Outstanding food and drink that can be enjoyed on a great, pet friendly patio with some live music. It really doesn't get much better than that for the spring days and summer evenings. Southside Rambler is a great addition.