Drive Time – The 2020 GMC Sierra Denali 1500

Trucks and Texas go together like BBQ and beer. In fact, I bet there's no one in the state who doesn't know someone with a truck – or own one themselves. The new luxury cargo haulers have grown in popularity every year – and for many practical and thoughtful reasons. 
Our latest Drive Time feature showcases the excellent 2020 GMC Sierra Denali 1500. So much power, amenities, cool tech and some amazing cargo options to ease loading. My truck-loving friends were immediately impressed as was this self-professed car-lover. Thank you to Ewing GMC in Plano for the tester. 
The 2020 GMC Sierra Denali 1500 is the top-of-the-line truck in the GM family and it's easy to see why. It's powerful, practical, full of thoughtful goodies and drives like the most luxurious sedan or SUV. New engine and transmission choices ramp up the allure. After a week, I can easily see why Texans indeed love their trucks. 
Skin 
Our tester is the highest-level Denali version. It looks mighty handsome in White Frost Tri-Coat paint and terrific chrome and black trim. A large bold face is nearly as formidable as a semi but nicely fits the overall scheme. 
Exceptionally bright LED headlights, C-shaped running lights and thoughtful automatic step-up rails (great eases entry), chrome exhaust tip and beautiful 22" Chrome rims finish off the look.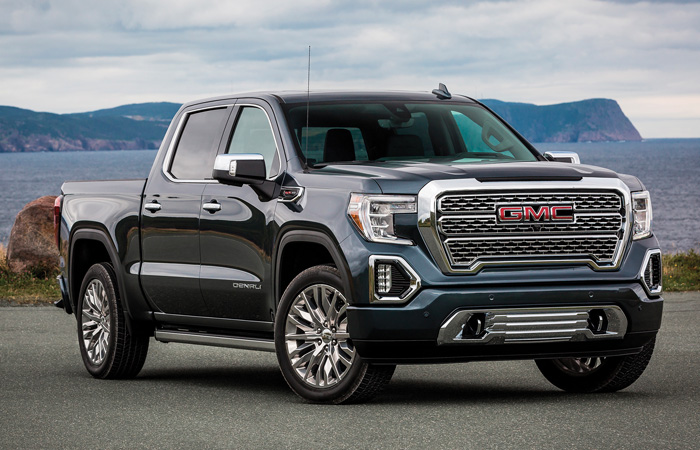 Performance
Yet let's face it; looks are nice but trucks are all about power and utility. The Denali offers a robust EcoTech3 420hp/460 lb.ft of torque that moves effortlessly. A new 10-speed transmission deftly runs through the gears, sometimes skipping a couple to maximize gas mileage—along with the unobtrusive Auto/stop. Gas mileage is an understandable low 15/20 but the diesel offers up to 23/30. That's darn good. And, there's no gas cap to fiddle with. Genius!
The capable switch-on-the-fly 4×4 switchable and good clearance allows the Denali to deftly handle off-road situations. Braking and handling are excellent for a big rig and even the turning radius is good. However, even with the helpful 360-degree camera, you are limited to generous parking spaces (forget navigating in parking structures) so plan accordingly. 
The suspension allows for limo-divine driving. My passengers approved of the comfortable ride.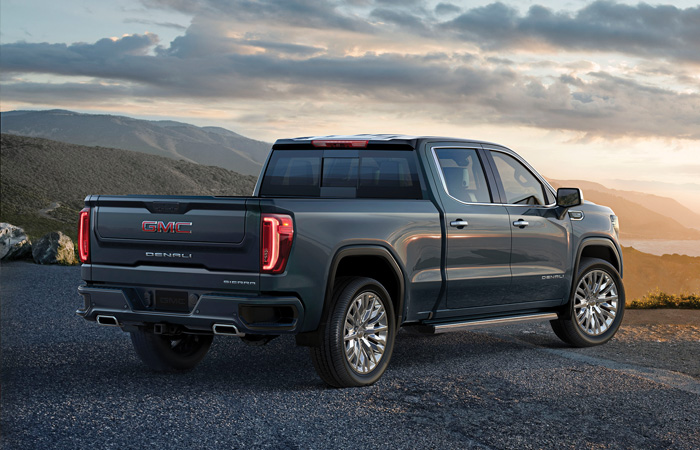 Cabin
The dual cab is like the ultimate mobile man cave. I mean it's immense without swallowing you up. The black leather looks and feels luxurious. Large comfy and supportive front seats cool and heat! Tasteful contrast stitching, chrome and real wood accents will impress anyone. Fit and finish are outstanding. Leg and headroom are generous, and visibility is maybe the best I've seen in any vehicle tested as you ride high in the saddle. 
The heated leather wrapped steering wheel (awesome in frigid weather) is responsive, light and feels just right in your mitts. Several scrollable info menus in the large LCD instrumentation dash deliver just about any piece of intel you wish and the Head Up display is incredibly handy to show speed limits, navigation instructions and if you're in two or all-wheel drive. As opposed to many cars these days, there are useful large knobs and buttons (a radio station tuner!) to easily make choices while wearing work gloves. 
Heated rear seating will comfortably house anyone, and the seats fold up against the cab's back to allow additional floor storage. Genius. There's plenty of knickknack stowage, including two secret compartments in the back and you can even install a safe in the cavernous middle console. A helpful welcoming step bar greets you when opening doors that ladies will definitely appreciate. I could seriously live in this mobile suite.
Of course, there's ample cargo room even in the short bed model. Plus, included carbon-fiber bed is lighter and stronger than your typical steel. Don't forget the multiple cupholders and power sources in the cabin. 
Yet the big hero is the incredible MultiPro tailgate that incorporates various hinges to assist ease of loading, prevents cargo from falling out and easy access to the bed. Even the foot sills on the sides of the rear bumper and included grab bar makes perfect sense. It's a wow moment whenever I demonstrated the capabilities.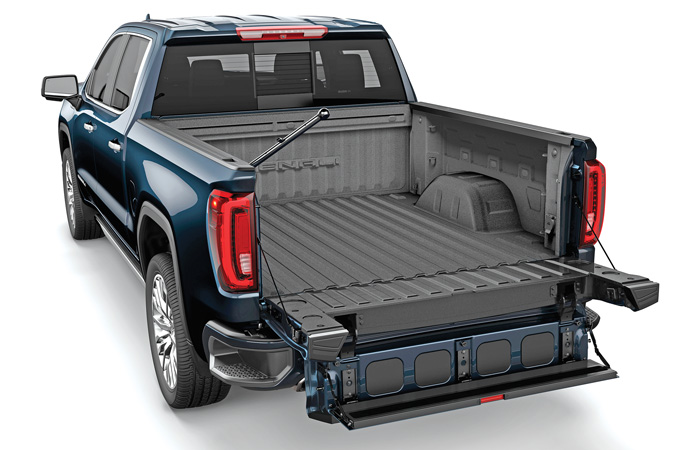 Finally, there is the Sierra HD rear camera. It's a second camera affixed to the back of whatever you're towing and magically makes it disappear so you can see what's behind the trailer. In addition, the HD camera offers up to 15 different views around the truck and in the bed (in case your dog is getting rambunctious back there). 
Tech check
This certainly isn't the barebones truck of yesteryear as there's plenty of technology to woo you. Safety features are abundant and top notch. Apple CarPlay and Android Auto is standard. A Bose surround system is powerful and clear. 
In addition, safety ratings are excellent and there are enough nanny features to keep you out of harms way. 
The 2020 GMC Sierra Denali certainly ramps up nearly every aspect its discerning (and plentiful) buying audience wants and expects. The quintessential American cargo hauler sails in some very competitive waters while continuing to give its competition fits. My truck luvin' friends gushed over it, and obviously, many already agree.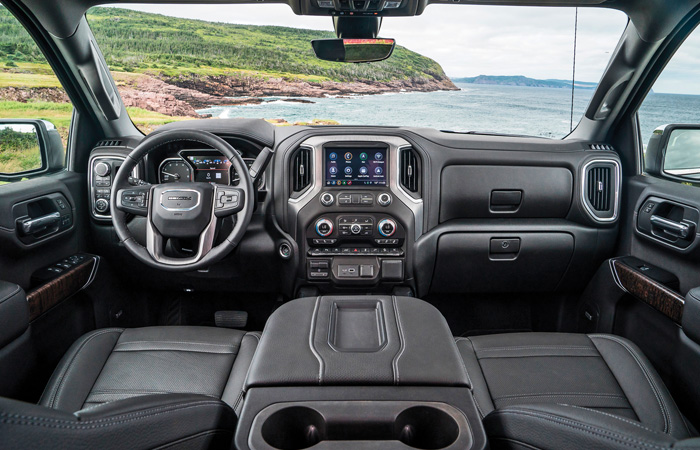 SCORECARD
Golf Bags: A truck load
Curb Appeal: Stylish, bold and incredibly practical American ride
0-60: 6.2 seconds
Gas Mileage: 15/20. Observed around 17 mpg overall
Must-haves: Everything 
Warranty & Free Maintenance: 3yr/36.000 miles, 5Y/60K powertrain
Base Price: $60,195
Price as Tested: $70,040
Who Buys It? Anyone desiring excellent driving, towing and luxury appointments
Finish Line: An All-American package of brawn and luxury
Test-drive the 2020 GMC Sierra Denali 1500 at Ewing GMC in Plano.