After the Round – Stone House Genuine Food & Drinks

Colleyville is a quiet community known for its great schools and beautiful homes. If there is one thing Colleyville lacks, it is upscale dining options. That changed recently, as a group of seasoned restauranteurs opened Stone House Genuine Food & Drinks. Stone House is located right off the main thoroughfare in town and is as inviting as you might imagine. Parking can be a bit tricky, but it is worth having to circle the area a couple times to find a spot. The building itself is intimate and charming. Hostesses await as you enter the door and are ready to take your name and get you prepped to be seated. Although there isn't a lot of square footage indoors, they have maximized the space, with a horseshoe bar at the front surrounded by tables. There is even a fireplace that adds to the ambiance as you await your meal. 
In addition to the indoor seating, the patio at Stone House is perfect for parties or that evening out with a special someone. It has open-air covered seating and beyond that, three fire pits for those evenings when it's a little chilly. It's a great spot to sip some wine or one of the restaurant's many specialty cocktails. 
The menu at Stone House is elegant and whimsical. It's a rare combination of next-level creativity and top-shelf ingredients without the back-breaking price tag that often accompanies this kind of experience. 
To begin the night, our group ordered some cocktails. One member of our party went with a martini, which came with bleu cheese olives. They are a nice, next level twist and a great representation of the creativity and attention to detail that Stone House provides. I chose a Stonefashioned as a pre-meal beverage. This take on the Old Fashioned is Bulleit Rye Whiskey, Stone House bitters with a charred orange. As soon as the drink hits the table, you get the essence of the orange mixed with the pungent notes of Caraway seed and cinnamon from the whiskey. It has a smooth burn on the way down, but isn't overpowering. It's a wonderful signature cocktail and one you should try if you make it over that way. If whiskey isn't your thing, then you can go with a 5201 Mule, which is made with a Tito's vodka base and topped with ginger beer, fresh lime and mint. The mule is no doubt a huge player on the patio during the spring and summer months. A large selection of beers and wine are also available if you're not a liquor person.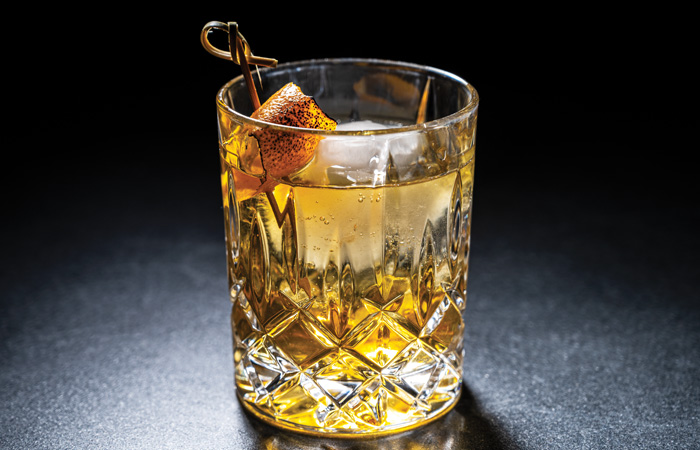 The menu itself is simple, yet creative. There aren't a ton of selections, but there are enough where everyone in your party will be able to find something that tickles their fancy. We chose to split several apps and a couple of entrees between the four of us, so we could all get a great sample size to choose from. 
To begin, we were served a couple of appetizers. The Blue Crab Empanadas came out first, and they were a great way to get things started. The lump crap wrapped in a pillow of delicious fried goodness was perfectly prepared, and the fire-roasted pepper jelly beneath really took them to the next level with some sweetness and a touch of heat. 
In addition, we sampled the TX Steak & Cheese Dumplings. These were hearty and rib-sticking, with a great savory combination of queso and steak that is dusted with lemon pepper dust and some fresh chive. If you do order these, be aware they're pretty rich, which may not leave you enough room for dinner. These are better split with others or as a light meal on their own. 
Other apps include queso blanco, butter bean hummus, roasted parmesan oysters, cast iron red chili shrimp and warm bacon cheddar biscuits. Believe me, I will absolutely sample the biscuits upon my next visit. 
One of the other highlights of our visit was the Syracuse Fennel Sausage Flatbread. This take on pizza features a light and crispy crust, lightly sauced and topped with delicious sausage, roasted hatch peppers with some shaved apple and Fontina cheese. The tart apple cuts the savory flavors of the fennel sausage and the richness of the Fontina. It's one of the best dishes on the menu and is perfect as a sharable or as an entrée on its own.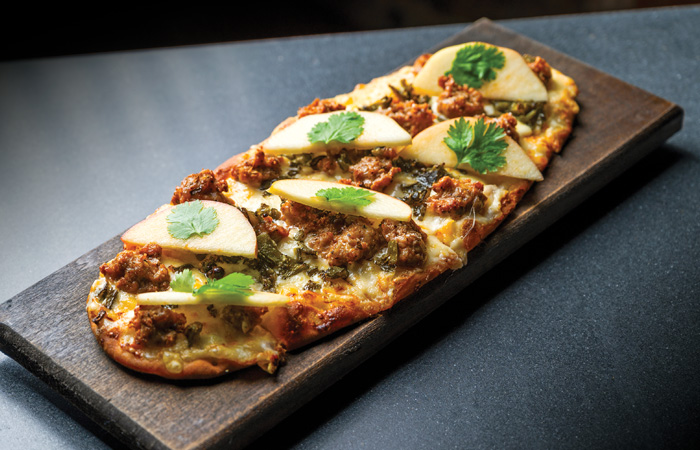 If salad is your thing, there are a trio of them to satisfy those who have a hankering for the green stuff. The Hughes, which is greens topped with cucumber, radish, baby tomato, carrot and a house vinaigrette. The Bergie is baby iceberg, baby tomato and bleu cheese topped with a TX chive ranch. It's perfect for a warm summer evening when a hot dish won't do. The final salad on the menu is the Little Gem Caesar, which is served with crushed croutons and a buttermilk parmesan dressing. 
On to the entrees, as Stone House boasts a wonderful selection of steaks, chops and other items for your main course. If you're looking to stay a bit more on the casual side, then we recommend the Stone House burger, which is topped with Redneck cheddar and served with hand-cut fries. Chicken tenders, seared Salmon, Shrimp and Grits and the Roasted 7 Spice Chicken are also players on the menu. Each of which looked delicious as we watched them roll out to other tables. 
We were able to sample several entrees during our time at Stone House. The first we saw was the Heritage Pork Longbone Chop, which will almost immediately become one of your top five favorite pork dishes. The chop was loaded with flavor without overpowering the pork notes. In addition, it was extremely juicy, which anyone will tell you is the key to a great pork chop. The chop was served with some crispy onion straws and a rock star dried cherry reduction underneath. Load up your utensil with a bite of chop, a couple onion straws and some of the sauce, and prepare yourself for next-level flavor profiles and textures. You will absolutely love it.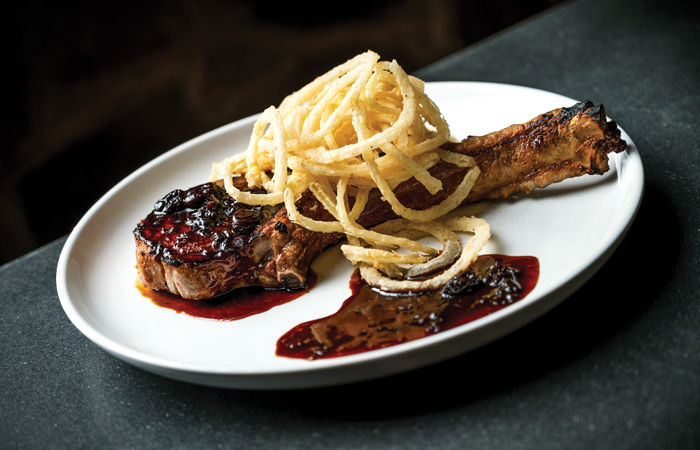 As great as the pork chop is, the top dog of this meal was the Chili-rubbed Akaushi Flat Iron Steak. Akaushi is a special breed of cattle, akin to Wagyu beef. Akaushi is highly prized for its tenderness and butter-soft flavor, and that's precisely what you will get when you saddle up for this dish. The steak was wonderful, with bold flavors from the rub and an exquisite, melt-in-your-mouth texture from the tender marbling throughout the high-end beef. The dish is served with some charred shishito peppers and a chili-rubbed lime butter. For a great bit of beef that is as good as anything you will get in a top-end steak house, but doesn't have the top-end price tag, this is worth your time. 
Although the flat iron Akaushi comes highly recommended, if you are a fan of the ribeye, NY Strip or the filet, Stone House has all of those options as well. The restaurant also features a lamb sirloin, all of which are expertly prepared by chef Thomas Dritsas. 
No fine meal is complete without dessert, and Stone House has some classics that are elevated to the next level. Despite our multi-course meal, we were able to muscle down a couple of different post-meal sweets, including the chocolate mousse cake, which was rich with a velvety texture. If anyone in your group is a chocoholic, then it's a must try. The crème brûlée is also a game-changer, and the warm bourbon bread pudding was to die for. The bread pudding comes served with Henry's vanilla ice cream and a bourbon caramel. You might find yourself oozing toward the floor from your seat as you savor each sugary sweet bite. It's one of the finest desserts you will taste anywhere.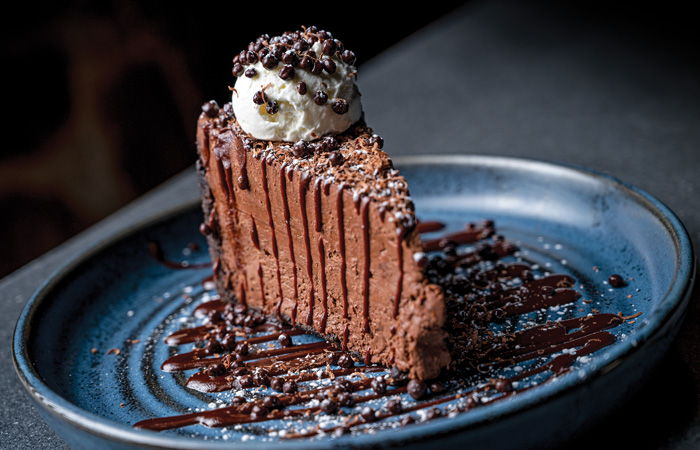 Paul and Lisa Pardo and Greg Kalina have a hit on their hands with this new concept. It has the cozy ambiance and top-quality food of establishments, all at a price point that will allow you to come back more than you would a top-end restaurant. The food is excellent, the staff is friendly and helpful, and both the indoor and outdoor dining areas are great. Overall, Stone House is a great spot for a date night, or a place to meet for some drinks by the fire.
Stone House
Genuine Food & Drinks
5201 Colleyville Blvd.

 
Colleyville, TX 76034
817-576-2626