After the Round – Tandoori with a Twist

The Colony has quickly become a great destination for entertainment. The area surrounding Nebraska Furniture Mart is bustling with activity. From Lava Cantina and Hard Eight BBQ, to TopGolf and Andretti Indoor Karting, the area is a fist riser when it comes to a fun day or evening out. There is a new addition to the area that is making waves, and that is the Total Environment Windmills at Grandscape. Windmills is without a doubt one of the most intriguing dining concepts we've seen in a while, with their Indian fusion cuisine and their on-site brewery. If you are curious what the "Total Environment" means, it is part of their overall philosophy, which by their own description, hopes to "evoke rich emotions, vibrant and intricate experiences created with passion, sensitivity and commitment."
First opening in 2012 in Bangalore, India, the restaurant captures the essence of Indian cuisine with an American flair, all the while keeping diners engaged in an otherworldly environment featuring thousands of books, a vast stage for live music, a pair of bars, and two gorgeous patios with magnificent scenery. As you enter the venue, you are immediately taken aback by the sheer square footage of the place. The venue is large enough to comfortably seat up to 600 guests throughout the lower and upper floors and the spacious double patios. 
Another unique feature are the aforementioned books throughout the lower floor of the restaurant. Ownership spent nearly a quarter million dollars to stock the shelves with a book on just about every subject you could imagine. The idea is that patrons can select a book and peruse some of the content as they enjoy dinner or cocktails. 
Now that you have a good idea of what Windmills is all about conceptually, let's take a gander at the menu and drink selections.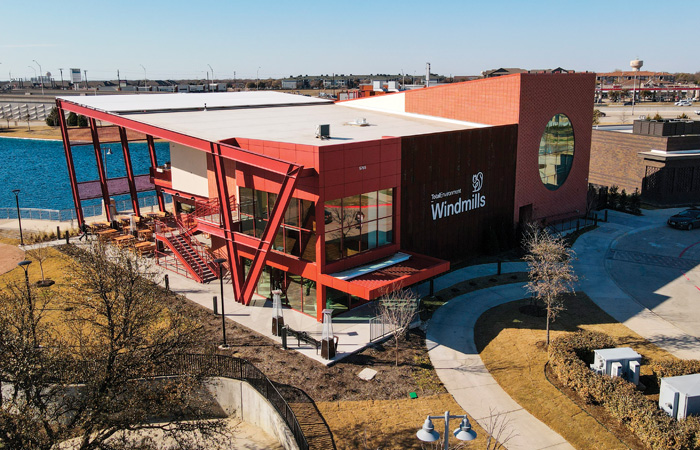 A great cocktail program is a necessity for new restaurants as they are in a constant arms race with other venues to come up with unique and delicious libations. Windmills checks those boxes with a multitude of interesting drinks that feature killer ingredients and top-notch mixology. One example is the tasty Smoking Barrel, which is a generous pour of barrel aged John Barr Scotch, shaken with Averna Amaro, bergamot honey, clarified lemon juice and then infused with hickory smoke. Upon removing the coaster from the glass, you are immediately presented with the aroma of the hickory fog, which rolls out of the glass under your nose. The bite of the scotch followed by the acidity of the lemon and the sweetness of the honey gives you a warming in the belly that transports you to a ski lodge in wintertime. It's a wonderfully presented cocktail that will send your palate into overdrive. In addition, Windmills has a mule, which has strawberry basil infused bourbon, fresh squeezed lime juice, ginger beer and mint. This beverage comes served in a copper mug like most mules you have seen before. It is a great summertime drink that will put some lead in your pencil. 
Craft beer is all the rage these days, and Windmills isn't missing the boat. Upstairs they have their own brewery which keeps the taps flowing downstairs for those who enjoy a cold brew with their meal. On tap, Windmills features some standard brews, like the Pilsner, which is a pale blonde color that presents a light, crisp finish. It's a wonderful accompaniment to any of their entrees and would make a great sipper for an afternoon on the patio. They also serve a Vienna, which is a classic amber lager that has a bit of a bitter finish to compliment the hoppy flavor. Windmills also has an IPA (India Pale Ale), a Double IPA, a Hefeweizen, an Amber Ale and an Imperial Stout. In addition, they are always coming up with and brewing seasonal beers to evolve with the times and their patrons' palates. If you are a beer nerd, this is a great place to check out and add a few more craft brews to your list.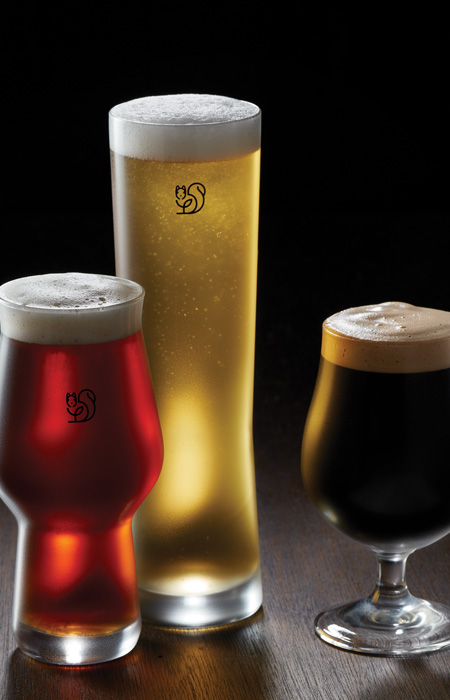 The food at Windmills is more than likely going to be different than just about anything else you have tried in the past, with a unique blend of Indian inspired favorites that come with some American twists and turns along the way. 
The first dish we sampled was the Shrimp and Fish Pakora. This combo of fried gulf shrimp and Texas redfish also comes with some deep-fried citrus and a lime pickle aioli for dipping. The breading is light and crispy without being oily. The fish and shrimp are delicate and fresh, and the dipping sauce is next level. If you are more of a cheese fan, there is also a Cheese Curd Pakora that is rich and delicious. 
One thing that definitely stands out at Windmills is the presentation. There is no better example of that than the Potato Tikki Chaat. This colorful delight is a spiced potato patty covered with sweetened yogurt, tamarind and mint chutneys, topped with chickpea fritters, red onion, tomato, pomegranate seeds and fried potato threads. This dish is as delicious to look at as it was to consume. The flavors marry well, and the depth of flavor is off the charts. 
Another of the signature appetizers is the Blackened Redfish Tacos, which are finished with some red slaw cabbage, avocado, some Sriracha crema, a dash or salsa verde and some cilantro. This menu addition adds some Mexican street flair to the Indian driven menu, and they are wonderful to split among the group as an app or as a meal for one.
We were also able to try the smoked pork ribs, which were tender and juicy without too much smoke flavor to dry out the product or overwhelm the flavor of the pork. They came served with a slab of grilled sweet cornbread and some dynamite jalapeno-espresso barbecue sauce. These are a perfect sharable pre-meal.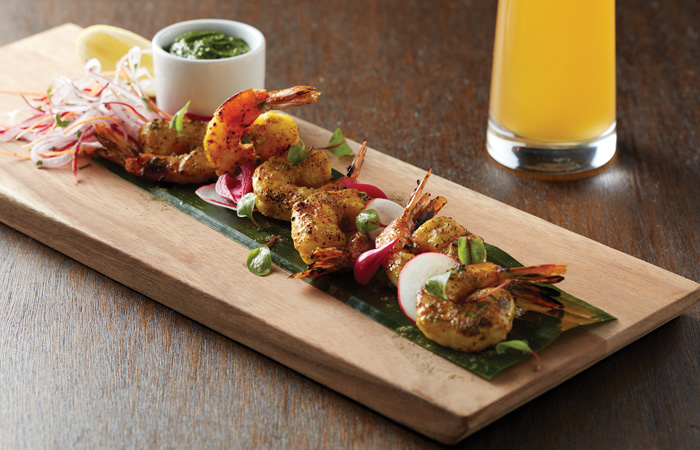 When you think of Indian food, one of the first things that comes to mind are kebobs. With Windmills having an Indian flair, of course they have a wide variety of skewered meats. We were given the Orange Zest Chicken version, and I must say, if there is one appetizer you must try while you are there, this is it. They use the thigh meat of the bird, which means the meat stays tender and juicy during the cooking process. The marinade is a perfect combination of sweet and spicy with some brightness from the citrus. They are out of this world, and a must try if you make the trip. Other kebobs include a Herbed Salmon, a Beef Boti, and a Classic Lamb.
Windmills' menu is vast, so make sure you visit their website to get an idea of what you might want to go with before you arrive. A Salmon Burger, a Wagyu Burger, Kathi Rolls, soups, salads are all on the menu as well.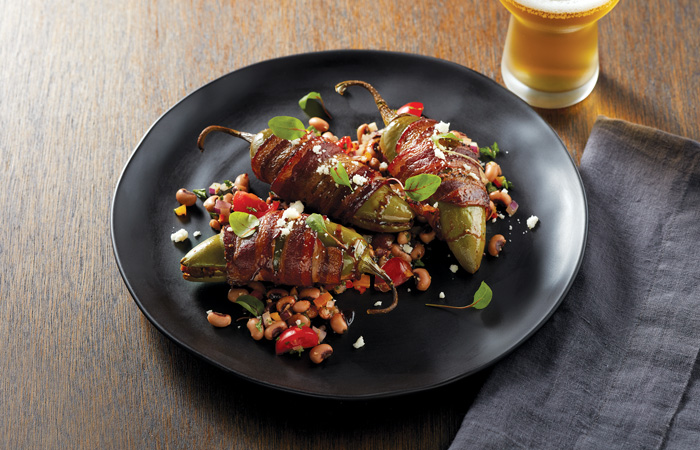 When it comes to the main event, there is a wide variety to choose from. They serve a Wagyu Chicken Fried Steak that looked simply amazing, they also do a coffee rubbed venison tenderloin if you are into game meats. If seafood is your thing, then I recommend the Scallops Cafreal, or the Grilled Gulf Redfish. A Sweet Tea Smoked Pork Chop and a Prime Filet are also options. We were given the Tandoori Half Chicken, which is marinated overnight in a variety of spices, then roasted in the Tandoor and served alongside buttered black lentils, mint chutney and delicious Naan bread. Much like the chicken kebobs we tried, this bird was moist and succulent. The spices are prominent, but don't overwhelm the dish. The mint chutney adds some alternate profiles with a little dip, and the Naan bread is to die for. 
The final dish we were offered was the Texas Bourbon Ribeye, and let me tell you, friends, you won't have anything like it anywhere else in the Metroplex. The Ribeye is marinated in Balcones bourbon and brown sugar, giving it such a unique flavor that you won't see it replicated anywhere. The bourbon is really forward and adds a pronounced aroma to the meat, and with the Ribeye already being a fattier, flavorful cut, they work together in harmony. The steak comes with some roasted broccolini and what Windmills calls their "Hill Country" Potato Salad. This is a nod to the German heritage of many Hill Country communities. This potato salad is served warm with bacon. And when I say bacon, I don't mean the little bacon bits you often find in mom's potato salad. These are more like chunks of pork belly. They melt in your mouth and the fattiness helps send the potatoes down with ease. It's a great side to a unique cut of meat.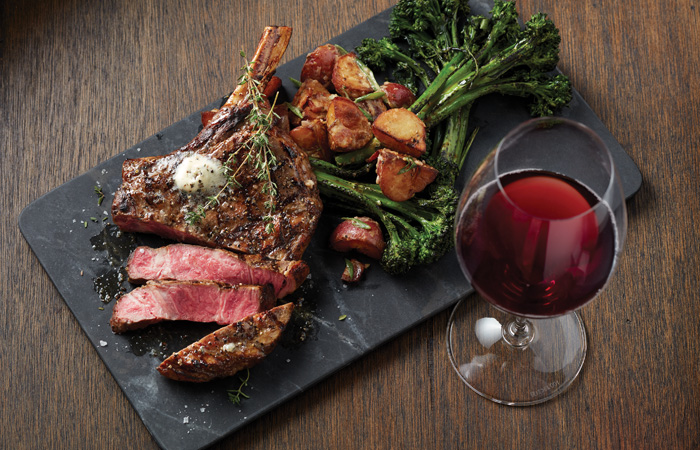 As Windmills continues to gather steam, we expect to see the stage with some live music, and with spring approaching, the patios should be packed with diners and those wanting to unwind with a delicious craft cocktail or freshly brewed beer. Overall, this is a great dining experience with great potential and room for growth. If you are headed toward The Colony, Windmills Grandscape is a must-try for you and yours. 
Total Environment Windmills

 
5755 Grandscape Blvd.
The Colony, TX 75056
972-777-6770
www.totalenvironmentusa.com