Course Feature – Escondido Golf & Lake Club

The word Escondido means "hidden" in Spanish, so it's no wonder a hidden oasis just three hours south of the Metroplex chose that name for their club. Escondido Golf & Lake Club is a sprawling community in Horseshoe Bay that oozes top notch amenities and caters to those who adore the finer things in life. 
Escondido is a private, member owned club with membership of about 350. The homes that adorn this Hill Country land are reminiscent of those scattered across Tuscan villas. Many of the homes line the shores of Lake LBJ, which is a constant level lake, meaning properties shoulder right up to the water line and the views are never altered. You may have also noticed that Escondido, in addition to featuring a world class golf course, also has Lake Club in the title. Property owners have access to the club, which includes a resort-style swimming pool, party pavilion, hot tub and a day dock that can be used to tie off vessels while members enjoy the amenities of the club. The Lake Club is one thing that truly sets Escondido apart from other top end members only properties. 
All you need to do is peruse their website to understand how committed they are to their members and their families. The Great House serves as the main hub for all the activity surrounding the club. This 30,000 square foot structure hosts gatherings for almost every major holiday, serves plenty of fine dining entrees, houses the El Corazon cigar lounge, a wine cellar, and fitness areas. At any given time, it is buzzing with activity. Whether it be members having a meal, or groups getting ready to head out for their round of golf. 
The land the club is situated on is chock full of decades old oaks, native vegetation, magnificent granite rock formations and sprawling water features. Wildlife is abundant, with deer, fox, turtles and the occasional fish jumping in ponds seen on the course.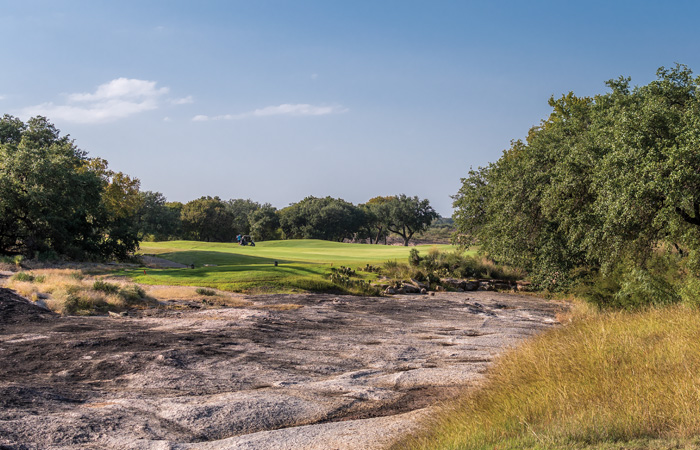 The beacon at Escondido is their Tom Fazio designed par-71 golf course that shines with exceptional routing, Hill Country elevation changes and meandering tributaries throughout. The course conditions are always beyond immaculate, with Zoysia tees, fairways and rough that are kept perfectly manicured given they don't see many rounds annually. Bunkering is penal but fair with sugar white sand that plays silky smooth should you find yourself in one. And then there are the Escondido greens. These Bermuda beauties are as good as any in the state. Fazio has utilized contours of the land to provide subtle breaks that can make them difficult to those who are seeing them for the first time, although guests playing with a member will have them to lean on for some local knowledge. On any given day, the greens are running anywhere from 12 to 14 on the stimp, which leads to a lot of white knuckle four-footers. Although lightning fast on occasion, they are as pure as can be. Putts that are on-line with proper speed go in. It's as simple as that. 
Before you head out to tackle this Fazio treat, make sure you utilize their world class practice area to loosen up. Range balls are Titleist Pro V1's, so you don't need to worry about any difference in the feel of your golf ball from range to course. They also have three separate Zoysia tee boxes, six target greens, a four-hole short game green with a pair of bunkers and a six-hole putting green that runs with the same slick speed as those on the course. If you need some new clubs or a lesson, the club has you covered, as Buck Mayers will break down all your numbers on the Trackman radar system and get you set up with the best equipment for your game.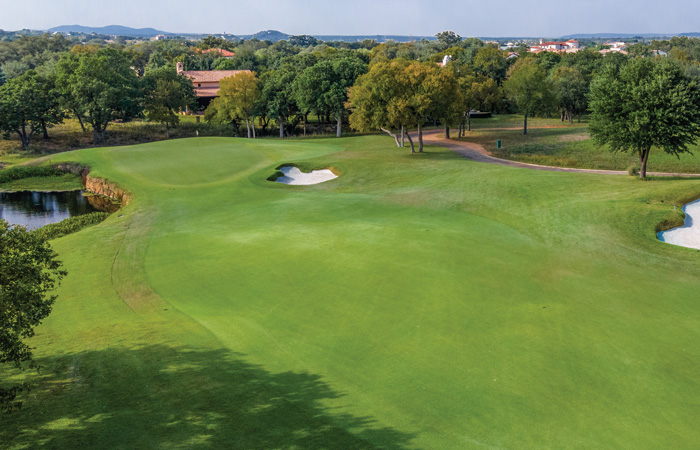 Ringing in at 7,165 yards from the back tees, the course will provide a challenge for any skill level, but also offers multiple tee options for those who want to play it forward for a less intense day on the course. On the whole, the longer holes have plenty of bite, especially depending on wind direction, and the shorter holes can give players trouble if not positioned properly, while at the same time yielding some birdie opportunities. 
A few of the highlights of the course include the No. 1 handicap second hole, which plays a stiff 482-yards from the tips and usually plays into a prevailing wind. A trio of fairway bunkers can swallow misguided tee balls and leave players with a lengthy second that runs the risk of coming up short and finding another deep bunker that guards the front portion of the putting surface. 
The first of Escondido's four par-5's comes at the fourth. It's a monster 582-yarder that weaves through a beautiful grove of oaks to a green that runs 32 yards front to back. It's a stout test for even the best ball strikers. The par-4 7th is another highlight of the opening nine, with a meandering creek all the way down the left that spills into a small pond that guards the left side of the putting surface. Native grasses line the right side, making this a tee shot that is as intimidating as it is visually stimulating. Also, don't forget to take a peek to the right on your approach shot, as this is a place where white tail deer often congregate. 
One thing that truly sets Escondido apart from other Fazio gems are the collection of par-3's. Unlike many courses, Escondido features five of them, each one as gorgeous as the last. One of my personal favorite shots at Escondido is the tee shot at the par-3 10th hole. Playing a manageable 187-yards from the tips, this one requires an iron shot that needs to be threaded through a narrow corridor of trees to a slightly elevated green. A bunker guards the front left, which can leave players with a tough up and down. Miss the putting surface to the right and there is a downslope that makes for an awkward chip. It's a great hole that plays tough without the use of anything more than the terrain and the trees. 
Before you stick a peg in the ground on No. 10, you may want to take a few minutes and fuel up at Escondido's famous "Smoke Shack". This halfway house on steroids features barbecue that would rival any boutique barbecue joint in Austin, and I truly mean that. The brisket tacos will be in your dreams long after leaving the property. In addition, they have almost anything you would want to snack on or drink as you head to the inward nine. They have warm chips and queso, chili, sausages that you can get individually, in a bun or wrapped in a tortilla. Top it with one of the multitude of toppings they have right there in the shack. There's a reason it's routinely voted by Golf Digest as one of the top halfway houses in the entire country, and we couldn't agree more.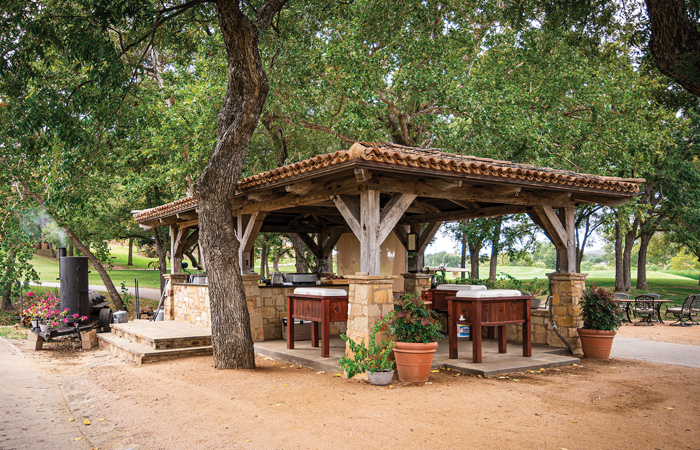 The 11th and 12th at Escondido are undoubtedly my two favorites on the golf course. No. 11 is a monster par-5 which takes the tee shot nerve factor up to the maximum. The tee ball here requires a carry of about 70 yards over water to reach the fairway, meaning if a topped or thinned shot makes an appearance, it could lead to a watery grave. The fairway splits at about the 260-yard mark, where balls left will careen down a hill to the bottom fairway zone, leaving a tricky blind layup shot. Balls that stay to the right have a clearer path to the green, but this is only reachable for the top of the food chain bombers. Most players will lay-up to a wedge yardage, and fly approach shots into an absolutely diabolical green that when missed on the improper side, can lead to a three-putt or worse. Although it is ranked as the No. 2 handicap, my guess is there are many members who would say this hole plays as the most difficult on the property.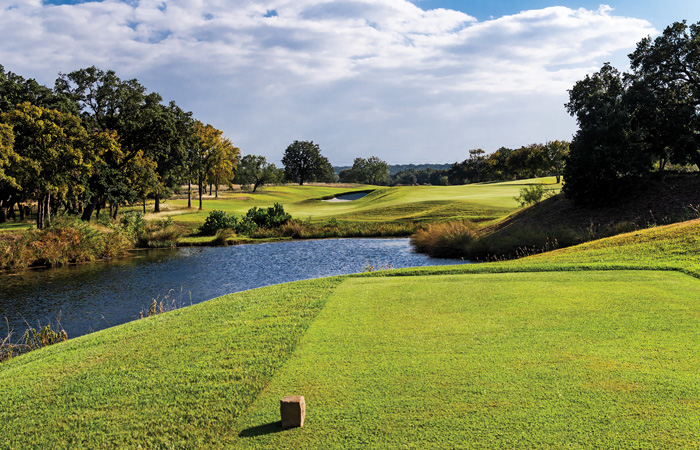 No. 12 is one of those holes that really needs to be seen to be believed. It is, for my money, one of the most visually impressive and gorgeous holes in the entire state. Fazio took a natural granite outcropping and carved a hole around it. As you make your way to the tee, you are taken aback by the large dark granite face that cuts into the hole, requiring about a 150-yard carry to clear. It's simply a stunning visual. Find the fairway and players will be faced with a short iron through a narrow window to the green complex. As you arrive to line up your birdie attempt, you are again greeted with more of the same granite rock formation behind the green. It's a wonderful hole and one that really shows off Fazio's ability to work around the land provided. 
No. 17 and No. 18 are again a pair of shining examples of great golf holes. The par-3 17th plays downhill and over a small creek. It is a bit reminiscent of Augusta National's famous "Golden Bell" 12th hole. A natural tree amphitheater frames the green beautifully and missing the wrong side of the green can mean disaster. Although it plays just 167-yards from the back tees, this hole can be tough even when hitting the green in regulation. 
The final hole of your experience at Escondido is the par-5 18th, which features a demanding tee shot with water down the left the length of the entire hole and a large fairway bunker on the right. The tendency here is to overcorrect to keep it out of the water and hit it in the fairway bunker. Sure, your ball is dry, but now you are forced to lay-up your second shot. Whether your second, or your third are headed for the green, you still need to be mindful of the water on the left, as it is still in play. It's a great risk vs. reward hole to end the round.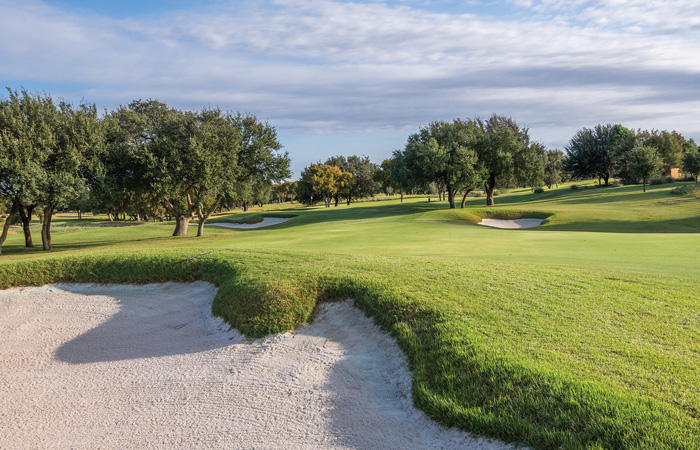 As you make your way off the 18th green, there is one last thing you need to do. There is a tradition at Escondido that as you exit the final green, you have to indulge in "One Last Shot". There is a small table with tequila on ice along with shot glasses. If you need training wheels (salt and lime), they are available also. The warm rush of tequila headed down the hatch couldn't be a more appropriate way to end a spectacular day on the course. 
At the end of the day, Escondido has everything someone would want in a top end club. The hospitality is off the charts without being overbearing. Everyone on staff is friendly and accommodating, from their limited membership to guests of the club, the level of courtesy and warmth they extend is phenomenal. For those looking to maximize the good life, Escondido provides an intimate, lavish experience that can only be understood by taking it in. It's a tough task to be asked to play as a guest, but should you ever get the opportunity, Escondido is one of those few courses where you should cancel any other plans and figure out a way to get there. Or, if you are one of the fortunate bunch that might be in the market for a great getaway club to entertain or spend some holidays away from the big city, Escondido just might be the spot for you. Either way you end up there, Escondido is a special, unforgettable place. 
Escondido Golf & Lake Club
9090 FM 2147

 
Horseshoe Bay, TX 78657
830-598-7800
www.escondidotexas.com