Drive Time – 2021 BMW M3 Competition

For BMW enthusiasts, the long-anticipated unveiling of the new 2021 M3 (G80) is like an early Christmas gift. The updated design, countless programmable driving and track modes, as well as the ability to carry four passengers comfortably, gives the track-happy M3 a refreshing well-rounded package.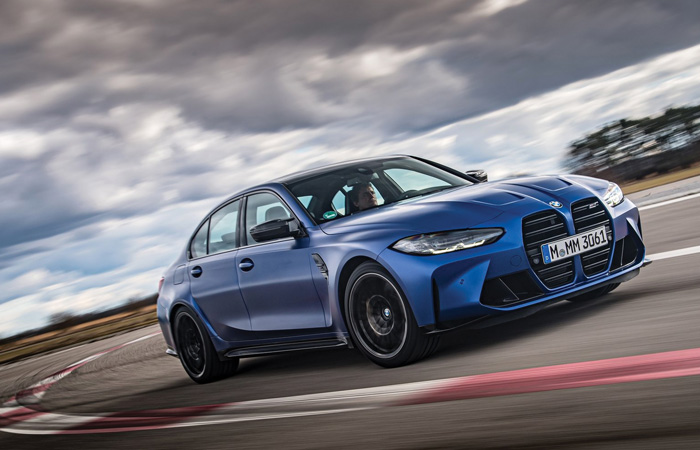 Now in its sixth generation since 1986, this an important upgrade for the Ultimate Driving Machine engineers to lure and keep those who embrace the famous street-legal track car. The model is updated and refined in every way, so let's take a long gaze at what it delivers. 
Well, I'm here to acknowledge the new 2021 BMW M3 checks all the boxes – especially the rip-roaring fun M3 Competition. Rarely have I had so much pleasure driving a car that's confident as a daily driver or an exhilarating tracking rocket. 
Skin
The updated 2021 M3 Competition is the ultimate 3-Series that ticks above the "base" M3. It's low, wide, boldly aggressive and catches your eye from any angle. New hood indentations in the front look great but are invisible while driving. Unique Brooklyn Grey Metallic paint drew raves from onlookers. The Laser light high beams provide excellent visibility as you carve corners.  
The front is all business, with massive air intakes, front lip and improved aerodynamics. And, unlike online dating, even the controversial new large vertical grilles look more appealing in person (especially in glossy black), melding well with the formidable sporty stance. Extended side sills, gloriously flared wheel arches, robust quad exhausts and rear spoiler add to the motif. The optional carbon fiber roof includes cool raised lines and removes about eight pounds for improved center of gravity. 
Finally, those flared arches house substantial 275/35/19 and 285/30/20 staggered rubber around bi-colored black rims. The entire package screams get-out-of-my-way available hustle and handling.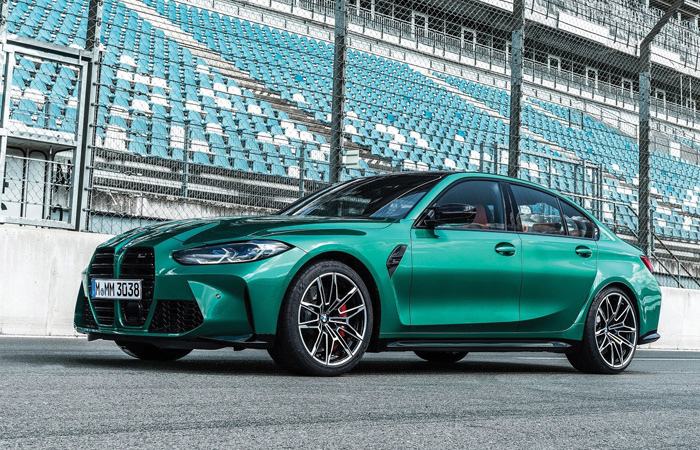 Performance
Of course, the M3 isn't merely beautiful. An S58 twin-turbo inline six engine delivers 473hp/406 lb-ft (48hp over the outgoing model), increased to 503/479 in the Competition providing giddy power. The base M3 receives a 6-speed manual while the colossal Comp gets an eight-speed auto, giving the fastest possible acceleration. Oodles of customized settings will satisfy any track-loving driver and the transmission cooler helps during aggressive laps. An upcoming all-wheel drive version (available in the summer) delivers power to all wheels in the M3 Competition, where you also have the ability to send all 503hp to the rear wheels should you start feeling drift happy. 
Zero-60 times are 4.1 seconds in the base and 3.8 for the Competition. Just remember that BMW typically underreports horsepower and speed data, so you'll no doubt be pleased at the real numbers. In fact, the thrust is so effortless, you'll hardly realize the speedometer quickly rising. Speed is limited to 155mph but can be bumped to 180mph with the M Drivers package. Gear shifts are quick and smooth and never jerky. The stability control allows for 10 unique settings for your driving heart's content. 
Handling is superb, with nary a lean into corners. Adjustable dampers now make the ride agreeable in city driving, but the setup really shines on smooth roads. The sticky tires are very capable to track. A revamped deep exhaust is intoxicating, with a button to turn off to not wake the neighbors. 
Gas mileage is a decent 16/23, which is about what I squeezed out even when pushing it hard with premium fuel. Just remember this engine requires a 1,200 break-in period, so don't go full-throttle until then.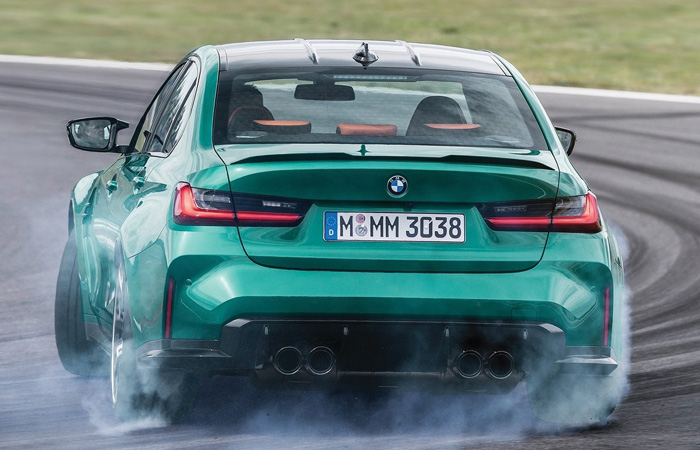 Cabin
The slightly enlarged four-door M3 possesses more elbow room and seating capacity to comfortably house four adults. The cabin layout is clean, roomy, easy to navigate and fairly comfortable in Comfort mode. Optional Full Merlot leather seats ($2,500) are comfortable, supportive, heat quickly and provide excellent lumbar, thigh and side bolstering, feeling like a warm hug. You can option it with bright, contrasting two-toned colors and carbon fiber seats ($3,500). 
The special M gearshift feels perfect in your palm, with additional settings for gearing selections. My tester had the lovely M carbon fiber trim ($950) on the console and steering wheel. Special M colored seat belts add a nice touch. 
The thick-rimmed wheel also includes large carbon fiber paddle shifters and two red programmable levers (M1, M2) to easily alter driving modes. All controls are driver-bias and easy to access via the iDrive control knob with its lovely tactile feedback. You can change the instrumentation for a sportier look. The new 12.3" digital instrumentation is clear, as is the handy optional color Heads Up display complete with tachometer. 
Backseat legroom is ample for a 6-footer. There's generous interior storage, 13-cu.ft. of cargo space for your clubs (horizontally or diagonally) and the 40/20/40 split folding rear seats deliver added cargo room.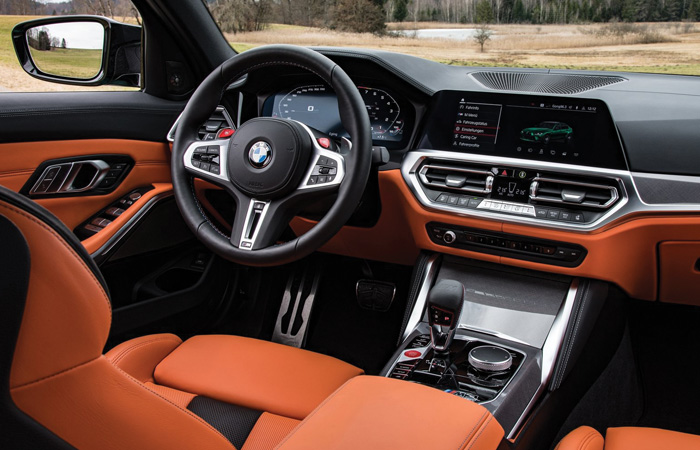 Tech Toys
I'm a big fan of BMW's infotainment displays. The fonts are perfect and easy to read,  even with aging peepers. An updated 10.25" infotainment screen display is pleasing to the eye. It's also simple to navigate through various radio formats and audio inputs. 
The latest iDrive 7.0 software continues to improve and voice activation is excellent. Stream mp3 files and utilize various apps like Spotify and Apple CarPlay are worthy additions, along with wireless phone charging. 
Options I'd recommend include the Executive Package ($2,800) that includes BMW's excellent color Head Up Display, wireless charging and heated steering wheel. The Parking Assistance ($800) allows for self-parking and overhead 360-degree view of the vehicle. An enthusiast M Driving Package ($2.500) satisfies those wanting to squeeze all the delicious performance from this mighty car. Plus, don't overlook the covered regularly scheduled maintenance for three years/36,000 miles. 
We believe the 2021 BMW M3 Competition will no doubt be two thumbs up for BMW aficionados and those car enthusiasts looking for a good reason to leap from other manufacturers. It possesses an intoxicating recipe of brawny looks, incredible performance, luxury and excellent tech to satisfy the legendary Ultimate Driving Machine DNA. Put this on your short list when contemplating the next ultra-sports sedan purchase. You'll thank me later. 
SCORECARD
Golf Bags: Two
Curb Appeal: The perfect mix of brawn, performance and luxury
0-60: 3.8 seconds!
Mileage: 16/23. 
Must-Haves: Executive, Parking Assistance & M Drivers Package
Warranty & Maintenance: 4yr/50K mile warranty & 3/36K scheduled maintenance
Base Price: $72,800
Price as Tested: $81,800
Who Buys It? Those desiring a near flawless sports sedan
Finish Line: Another winning BMW inside and out 
Test-drive the 2021 BMW M3 Competition at Classic BMW in Plano.