After the Round – The Mansion Dallas

When it comes to living a life of luxury, one of the first requirements that comes to mind is owning a mansion. 
But following a hot summer round of golf in Texas, the last thing I personally want to do is return home to slave over a hot stove or oven. 
If you're like me, I would instead direct you to get your post-round food and drink fix from THE Mansion – one of Dallas' premier and longstanding upscale establishments. 
Situated inside the Rosewood Mansion on Turtle Creek near Uptown in Dallas, The Mansion is sophisticated yet welcoming and brings to the table new American cuisine with French influences coupled with fresh local ingredients and bold flavors resulting in a four-star rating on the Forbes Travel Guide's prestigious 2019 Star Rating list! 
With breakfast, lunch, dinner and weekend brunch served, as well as seasonal menus, there is no shortage of variety available for your pleasure at The Mansion. 
But before we get into the exquisite food, possibly the biggest selling point for visiting the establishment, is its heritage and ambiance. 
Originally built as a private estate by cotton magnate Sheppard W. King and wife Bertha Wilcox, completed in 1925, The Mansion is embedded in Dallas' history and features architecture influenced by 16th century Renaissance Italy. 
For nearly half a century, the estate was at the center of the Dallas social scene before avoiding demolition and morphing into a restaurant and opening to national acclaim in 1980.
Upon entry, patrons are immediately greeted by The Mansion's interior beauty. 
A foyer adjacent to the main dining room (one of five distinct areas that comprise the restaurant) sets the scene perfectly as you wait to be seated.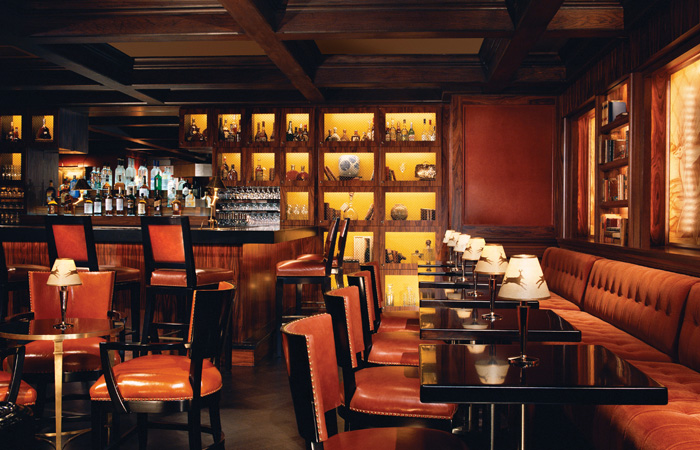 To the right, The Mansion Bar is the definition of elegance. 
Walls are adorned with cognac-colored leather and art with a southern motif and feel. 
The bar (and restaurant) boasts a wine and champagne list second-to-none, but don't worry, if you're in the mood for a cocktail, The Mansion's wide array of drinks feature the finest organic and freshly-squeezed juices. 
Reservations are required on weekend nights even if you are only desiring a drink, however, as The Mansion Bar remains a place to be seen with its live jazz music, beautiful décor and atmosphere. 
The Main Dining room combines elegance and comfort and boasts a grand fireplace, honey-colored walls and an intricate hand-carved ceiling shipped from Europe. 
The Library, adorned with an ornate ceiling and wood paneling, features yet another fireplace, with the west wall showcasing stained glass bearing the coats of arms of the 11 British barons that witnessed the signing of the original Magna Carta. It also contains a hidden door and cabinet many believe was used to stash booze during prohibition days and a 16th-century stone mantel that was brought to Dallas from Germany.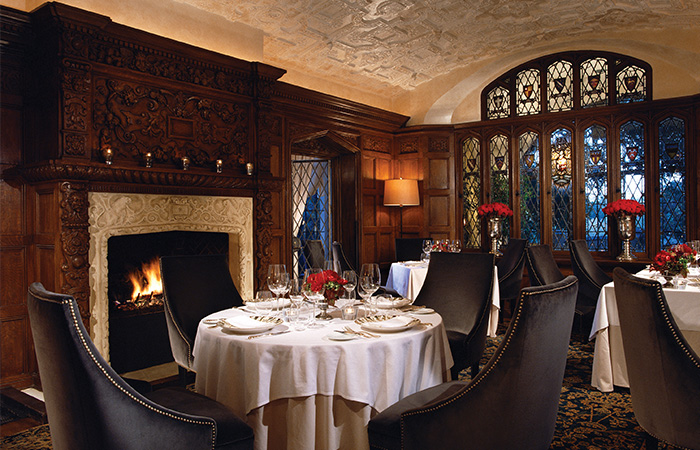 Prefer a little fresh air and lighting while you dine? Well the Veranda is your spot, complete with arched ceilings and windows overlooking an outdoor terrace and garden, while the Garden Room is flush with imported European marble-tiled floors and 19th-century Spanish doors. 
Last, but certainly not least, the Terrace is perfect for alfresco dining and cocktails with its two fireplaces and a lantern-lit setting under a canopy of oak trees while providing a breathtaking view of Dallas and overlooking Turtle Creek Blvd.
The Mansion also features a private wine cellar and dining room that was previously the King family's spacious silver vault. And with a price tag of $8,000 just to reserve a table, it is the definition of opulence. 
After being seated in the Main Dining Room, patrons are greeted with bottomless bread options while placing drink orders and perusing the menu, including a potato-herb roll that had me questioning if I would fill myself up before even getting the meal. 
Native Texan and French-raised executive chef Sebastien Archambault, who has overseen The Mansion's menu and cuisine for more than a year now, brings a bevy of mouth-watering appetizers to the table, including a tortilla soup that tastes as if an enchilada was dropped into a cup, and a jumbo lump blue crab cake consisting of nearly entirely meat from the scrumptious crustacean. 
Archambault also offers a seasonal tasting menu, and for entrees, The Mansion offers numerous seafood, meat and pasta dishes sure to satisfy your taste buds. 
The Maine Lobster not only boasts a delightful red-butter poached tail, but also a large ravioli stuffed with claw meat and mushroom. 
The Diver Scallops are another terrific shellfish option, while Crisp Ora King Salmon and Texas Olive Oil Poached Halibut are available for those craving fish.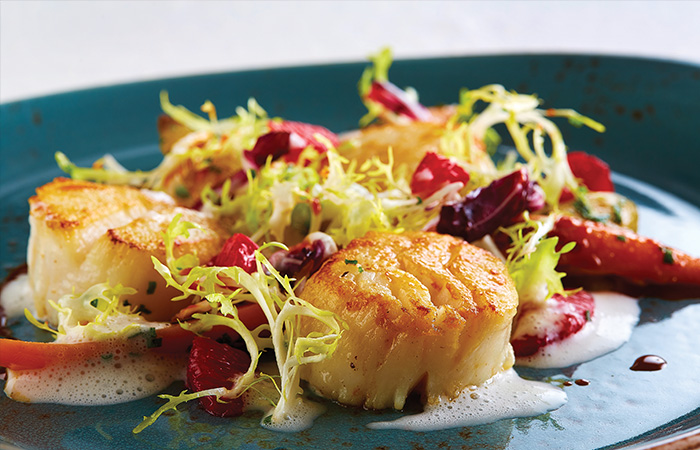 Another can't-miss option is the Roasted Lamb Rack, while beef fans will be drawn to the 16-ounce Prime Cowboy Steak, Beef Tenderloin or 11-ounce Prime Ribeye.
For sides, Green Asparagus in a ham vinaigrette or ancho chili glazed Brussels Sprouts are sure to pair well with any entrée, including the splendid Smoked Peking Duck Breast, while Shishito Peppers, Paprika Dusted Steak Fries and Hen of the Woods Mushrooms are also available. 
But I would advise patrons to opt for a doggy bag rather than go out of the way to finish the main courses as The Mansion's desserts steal the show.    
Raspberry Cheesecake complete with a raspberry sorbet atop candied raspberries were a delight to the pallet as was the Caramel and Pecan, while Sorbet Tasting, Flourless Chocolate and many other tasty treats were also available on a menu that changes from week-to-week. 
Add it all up, and The Mansion not only provides a culinary experience one won't soon forget, but an atmosphere chock-full of Southern hospitality, elegance and luxury to go with five-star service.