Drive Time – The 2020 BMW M340i

This is an important time for BMW and its all-time cash cow. Sure, SUV's are still the current rage, but it's the essential and iconic 3-series that moves the needle. Loyalists and competitive foes anxiously awaited on what the folks in Munich had devised in their labs for the seventh generation 3-series. Would they finally inject that Ultimate Driving Machine DNA back into the ride after criticisms of numb steering, indifferent handling and maybe taking too few chances? 
Well, I'm here to acknowledge the new 2020 BMW 3-series has checked all the boxes – especially the rip-roaring fun M340i. Rarely have I had so much pleasure driving a car that's confident as a daily driver or an exhilarating rocket. All at a price that stunned at least one buddy who's a devout M3 owner. 
The M340i is a worthy mix of the base 3-series and formidable M3. It's bigger, faster, lighter, quieter, safer and more tech-rich than the predecessor. As mentioned, it feels at home during normal commutes but will thrill when the mood strikes. It drives smaller than it looks, crackles and pops in Sport Mode downshifts, handles ramps without breaking a sweat and has more than enough tech toys to keep you impressed. I shed a tear upon returning it – the ultimate compliment. 
Skin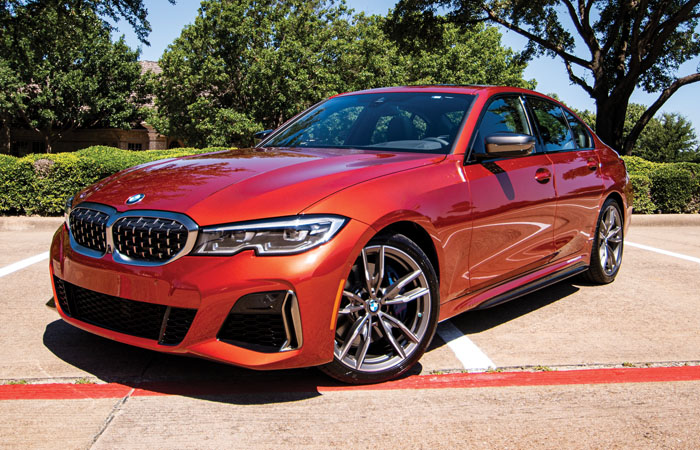 The newest M340i exterior is best described as a beefed-up 3-series but not as intimidating as the M line. It's adorned with an aggressive front and new grille that reminds me of reptilian scales or armor versus the familiar slats inside the kidney-shaped frames. Since they're new, they'll doubtfully appeal to everyone, but I grew to appreciate the latest look. The pronounced sports fascia includes larger air foils and wicked-cool headlights. Let's just say the front looks menacing without going full monster. 
The tester's unique sunset orange metallic paint and M Performance grey side skirt stickers were a hit with the office building workers. The rear is relatively plain but looks fine with the twin chrome exhausts. Attractive 19-inch, five-spoke rims inside smooth run flat rubber round out the clean and sporty appearance.  
Performance
The car looks great, but the Ultimate Driving Machine better be more than merely a hot body. Thankfully, this car gave me miles of smiles. The M340i's turbocharged 3.0-liter in-line six cylinder 382-horsepower/369 lb-ft torque eats up 0-60 in 4.1 seconds. It's 8-speed transmission auto gearbox shifts seamlessly in Comfort or ECO PRO mode. However, switching to Sport Plus transforms the daily driver into a barking, popping bad boy of hedonistic fun. 
You can opt for the familiar rear or xDrive all-wheel formats – which still possesses a rear-wheel bias unless all four wheels are required. Handling is near perfect with BMW's legendary 50/50 balanced chassis and 125lb lighter chassis due to generous infusions of aluminum and magnesium materials. The Adaptive M Suspension option ($700) adjusts constantly (but imperceptibly) over various road conditions, including the horrendous pot-holed asphalt in Las Colinas – thereby neutralizing the low-profile tires. Braking with the larger M-Sport blue calipers is capable and smooth. 
Thankfully, the engineers listened to customers and dealers demanding more responsive steering feel and handling. Paddle shifting is immediate. I kept it in Sport Plus most of the time (why wouldn't I?) and it delivered with that exquisite exhaust note, notable thrust and superb handling. Again, you will enjoy the cruise when chilling, but it's always nice to know you have options when the need for giddy speed arises. 
Gas mileage is a quoted 22/30 and I squeezed 35mpg cruising down the highway and about 22 when pushing it hard with premium fuel.
Cabin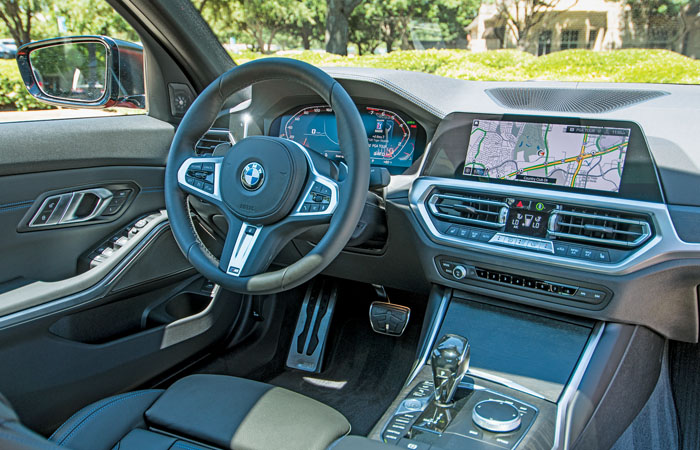 The larger frame allows for more elbow room inside. The cabin layout is clean, roomy, easy to navigate and library quiet in Comfort mode. Optional Black Vernasca leather seats ($1,450) are comfortable and supportive. They heat quickly and provide excellent lumbar, thigh and side bolstering, feeling like a warm hug.
The gearshift feels perfect in your palm. My tester had subtle Oak Matte Finish Wood Trim but some may find the no charge real aluminum trim better matches the overall scheme. 
I'm a big sunroof fan. This one is large and quiet. So much that even a Bluetooth conversation isn't blown away.
The optional heated M Sport steering wheel is thick and sublime, complete with handy controls at your fingertips. All controls are driver-bias and easy to access via the iDrive control knob with its lovely tactile feedback. The new 12.3" digital instrumentation is clear, as is the handy optional Heads Up display. 
Backseat legroom is ample for a 6-footer. There's a generous 17-cu.ft. of cargo space for your clubs (the 40/20/40 split folding rear seats are an added bonus). Ask about the custom rubber floor mats that look fantastic while saving your carpet. 
Tech Toys
I'm a big fan of BMW's infotainment displays. The fonts are perfect and easy to read even with aging peepers. An updated 10.3" infotainment display now doubles as a touchscreen. It's pleasing to the eye and simple to navigate through various radio formats and audio inputs. 
The reliable iDrive continues to improve but the console buttons have less travel than previous models and take getting used to. 
Stream mp3 files and utilize various apps like Spotify and Apple CarPlay are worthy additions along with wireless phone charging. 
Options I'd recommend include the premium 600watt Harman/Kardon Surround Sound audio ($875), Driver Assistance ($500) and Parking Assistance ($900) And, don't overlook the covered regularly scheduled maintenance for three years/36,000 miles. 
Yes, the 2020 BMW M340i should be a fan fav for BMW aficionados and those looking for a good reason to leap from other manufacturers. It possesses an intoxicating recipe of brawny looks, giddy performance, luxury and excellent tech. More importantly, it   symbolizes a welcome return of the legendary Ultimate Driving Machine DNA. Put this on your short list when contemplating the next sports sedan purchase. You'll thank me later. 
SCORECARD
Golf Bags: At least two with rear seats folded down
Curb Appeal: Lovely mix of brawn, performance and luxury
0-60: 4.1 sec!
Mileage: 20/30. Observed 24 overall
Must-Haves: Driving Assistance, Parking Assistance, Remote Start, Premium Package
Warranty & Maintenance: 4yr/50K mile warranty & 3/36K scheduled maintenance
Base Price: $54,000
Price as Tested: $63,640
Who Buys It? Those desiring a near flawless sports sedan
Finish Line: Another winning BMW inside and out 
Test-drive the 2020 BMW M340i at Classic BMW in Plano.