After the Round – Wishbone & Flynt

Stefon Rishel is a grizzled veteran of the fine dining industry. A seasoned artisanal chef that brings innovation and creativity to every dish, Rishel has a new vehicle to showcase his food in Fort Worth. 
Wishbone & Flynt occupies an old warehouse south of downtown in an area that is busting with new development. The building, which has been unoccupied since a fire in 1981, gives diners the feeling of stepping into the past, while still showing off some new wrinkles in modern dining. 
Wishbone & Flynt features breakfast, brunch, lunch and dinner menus, not to mention a wide array of craft beers and cocktails. Though the restaurant serves all day, the menus are simple and delicious.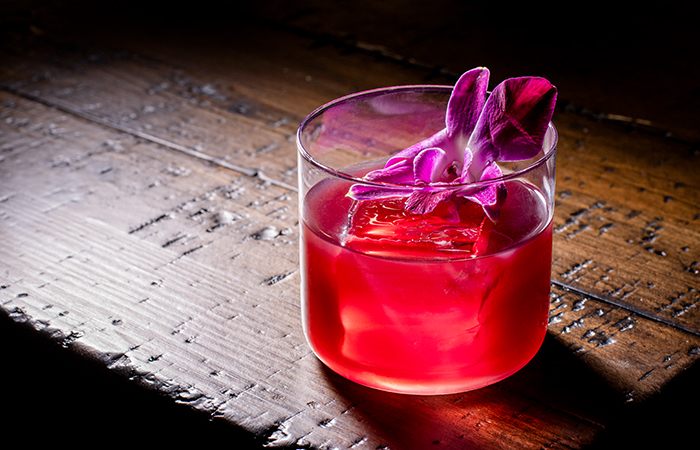 The breakfast menu features breakfast tacos, which come with a dealer's choice of bacon or house made chorizo with eggs, white cheddar, pico and a side of salsa. The Whihop is also available, which is two eggs with home fries and toast and is served with salsa. If you are stopping in for breakfast or brunch, make sure you sample some coffee. Wishbone & Flynt has entered into a partnership with Pedagogy Coffee. Pedagogy is family-owned and operated and 100 percent of their net profit goes directly to the people of East Africa by way of genuine for-Christ ministries. The coffee is served French press style and is some of the best java I have ever had. 
For the brunch crowd, Wishbone has some exciting dishes that are certain to take the edge off after a night on the town. The Chilaquiles are a no-brainer to soak up some of the previous evening's mistakes, featuring house chips, your choice of bacon or chorizo, salsa verde, salsa roja, two eggs, cotija cheese, a refreshing lime crema and cilantro garnishing. If the hair of the dog is necessary to wash down the brunch fare, might I suggest the Una Mas Cerveza, which is a 2-ounce pour of tequila, cut with lime juice and topped with a Rahr Brewing Paleta de Mango beer. The drink pays homage to the song of the same name by Texas country legend Tommy Alverson.
If you are a sweet over savory brunch person, then the Tiramisu French Toast or the Wild Rice and Blueberry Pancakes are a must try. 
Wishbone is still trying to get the word out about their amazing breakfast and brunch options, so I highly recommend trying them out in the morning or early afternoon, but for our visit, we predominantly sampled lunch and dinner entrees. 
For lunch, Chef Rishel has some wonderful options that can be shared as an appetizer or can also double as your entrée depending on what you're in the mood for. The PB&J Wings are a fantastic choice if you're bellied up to the bar or looking for something to split before your meal. These wings are tossed in a Thai peanut sauce and then drizzled with a blackberry coulis. They definitely live up to the name, as they bring back memories of the peanut butter and jelly sandwich you often got for lunch as a kid. 
If you're in the mood for something a little more sophisticated from the sharable menu, then try the Charred Baby Octopus, which Chef Rishel says has been a best seller since the restaurant opened back in January. They come served with roasted potatoes, pearl onions and a creamy aioli. House Made Chicharrones or the Beef Filet Skewers are also a great option to begin your meal.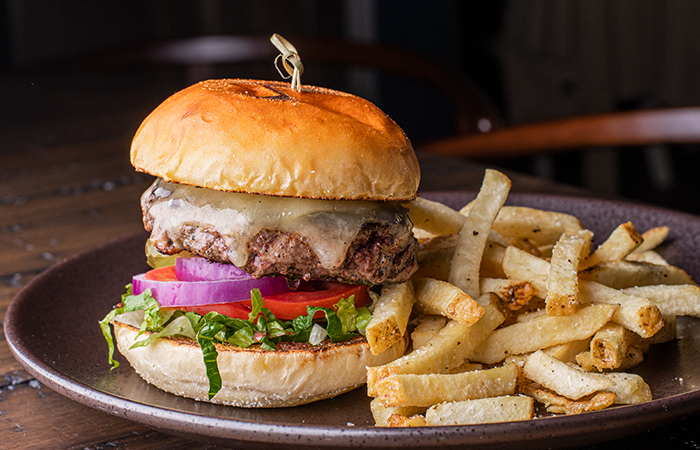 For lunch, the Flynt Burger is rib-sticking and delicious. Though you may not think of a burger as fine dining, Rishel has taken the standard burger and fries to a next level experience. The Flynt burger is a combo of chuck, brisket, short rib and beef belly, all seared in rendered duck fat. The burger is then topped with aged Vermont white cheddar and dressed with the usual suspects of pickles, lettuce, tomato and onion. The fries served with the Flynt Burger are crispy and flavorful. If you dig burgers, add this one to your to-do list post-haste. Diners can also try a couple other sandwich options, including the Martin House Chicken Sandwich. If the name Martin House sounds familiar, they are the Fort Worth craft brewery that made a splash in 2019 with their wildly popular Best Made Sour Pickle Beer. Chef Rishel has utilized this brew to brine his chicken and create a fried sandwich that stays juicy and is packed with flavor. It's one of the best chicken sandwiches you'll ever try. On the lighter side, the grilled grouper sandwich won't bog you down, and comes served with cabbage slaw, pickled Fresno chiles and a succulent dill tarter sauce. 
Nearby Courses
Rockwood ▸ 4.0 Miles
Colonial Country Club ▸ 4.3 Miles
River Crest Country Club ▸ 5.1 Miles
If salads are your things, might we recommend the Hot and Cold Caesar, with charred hearts of romaine, polenta croutons, a Caesar vinaigrette and shaved 10-year parmesan. The shaved Brussels Sprouts Salad also delivers, with crispy prosciutto, gorgonzola, dried cherries, pumpkin seeds and a champagne vinaigrette. 
When Chef Rishel entered into this partnership with Kyle Bryson and Wallace Owens of Trident Restaurant Group, the trio wanted to bring back the concept of going out to dinner in the way it once was. Where a group can sit for a meal and enjoy the evening, all while not breaking the bank. 
"We want people to be able to come in, eat a scratch-made meal and enjoy being with friends and family. I think that is something that has gotten lost over the years. I want to bring that back and also make it affordable for everyone to enjoy great food," Rishel said. 
The dinner menu at Wishbone & Flynt really shines. From the Roasted Half Chicken to the New Orleans BBQ Shrimp, there is a little something for everyone. If you're carnivore, the Butcher Cut special is always an option. A chef's choice cut with maître d'butter, served with seasonal veggies is sure to be a hit time and time again. On our visit, we sampled two of the dinner options, and both were as delicious as they were unique. The Deconstructed Chicken Pot Pie was interesting to say the least, and really showcases Chef Rishel's creativity and talent. A ballotine of chicken is served over a carrot puree with seasonal veggies and a puff pastry "roll". Get a bit in each bite and it tastes like a traditional pot pie with a dynamic twist.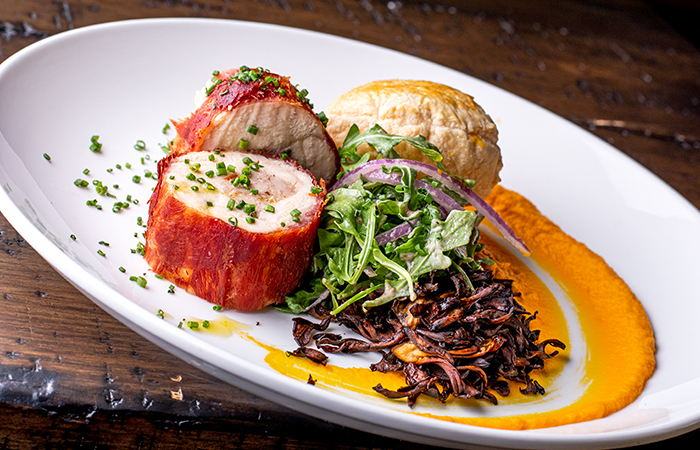 The other dinner entrée we sampled was the Shrimp Fra Diavolo. If you're a pasta lover, this one can't be beat. The gulf prawns were exploding with flavor, over a bed of capellini with a spicy sauce that rockets your senses into orbit. The whole dish is complimented with shaved parmesan that slightly melts over the dish and adds a gooey nutty note to the finish. Not only was it one of my favorite dishes of the day, it is one of my favorite pasta dishes I have ever had, period.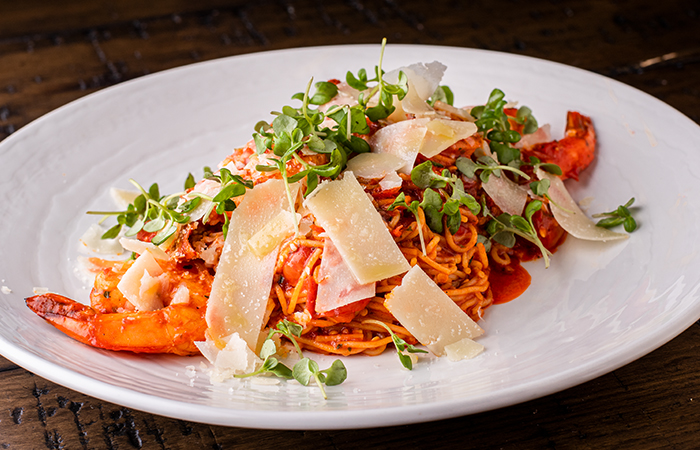 In addition to the incredible menu, Wishbone & Flynt also has a late-night cocktail lounge known as The Amber Room. Walk up a small ramp near the bar to a secret door and be transported back in time to prohibition era greatness. This room has a full bar, which is currently stocked with about 85 different kinds of whiskey, although Chef Rishel hopes to get that number to more than 100 the coming months. The incredible décor and light fixtures are like something straight from The Great Gatsby. Dinner followed by a trip to the Amber Room is almost guaranteed to secure you a second date if you're looking to impress the new love interest in your life, or if the same old boring date night has become stale, this will definitely wow your significant other or spouse. This venue would also be perfect to host a party for co-workers or to celebrate an engagement. The photos alone would be worth the price of admission.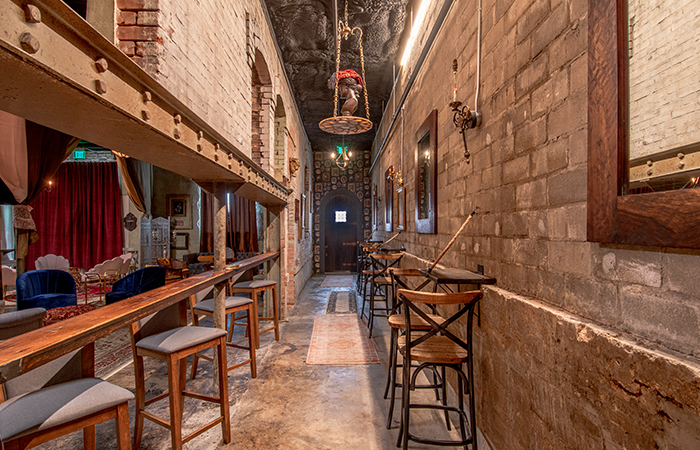 Chef Rishel has the skins on the wall and the pedigree to bring in the masses, and Wishbone & Flynt is a glorious showcase of his creativity and diverse culinary talent. Whether it's for breakfast, brunch, lunch, dinner or cocktails, Wishbone & Flynt checks all the boxes for your next restaurant adventure. 
Wishbone & Flynt
334 Bryan Ave.
Fort Worth, TX 76104
817-945-CHEF (2433)