Drive Time – 2019 Mercedes-Benz AMG C43

Silence is overrated when driving a sports car. Yet for some, the relatively new electric powered cars are the latest pick to click. For me, not so much – they're too, too quiet. Forget silence; I love the appealing sound of a great performance exhaust. The pops and crackles with perfect downshifts are literally music to my happy ears 
To wit, my latest euphoric experience is the 2019 Mercedes-Benz AMG C43 courtesy of Mercedes-Benz of Plano. It's fast, sleek, luxurious, tech-laden, handles like a slot car and an absolute gas to drive. And whether you opt for the two-door coupe or four-door sedan, the end result is literally miles of smiles. It motivated me to conjure up errands as an excuse to fire it up and take off. 
The 2019 Mercedes-AMG C 43 Sedan provides everything drivers with a pulse desire. And with a starting price of $57,450, it won't break the bank while you grin barreling down the road. 
SKIN 
The exterior is stunning. Neighbors with sleek sports cars stopped to admire the streamlined silhouette. Our tester's designo Diamond White metallic paint contrasts perfectly with the well-placed sporting black trim. The front-end leans towards menacing with large air ducks underneath jeweled LED headlights. The profile is appealing from stem to stern (even the four-door) ending with quad chrome exhausts. 18" five-spoke AMG rims (try the 19s), run flat summer rubber and jet black panoramic roof are the impeccable accessories for this chariot. 
In essence, it's the Mercedes-Benz AMG model slotted in the sweet spot of the enviable pugnacious line for style, performance and price.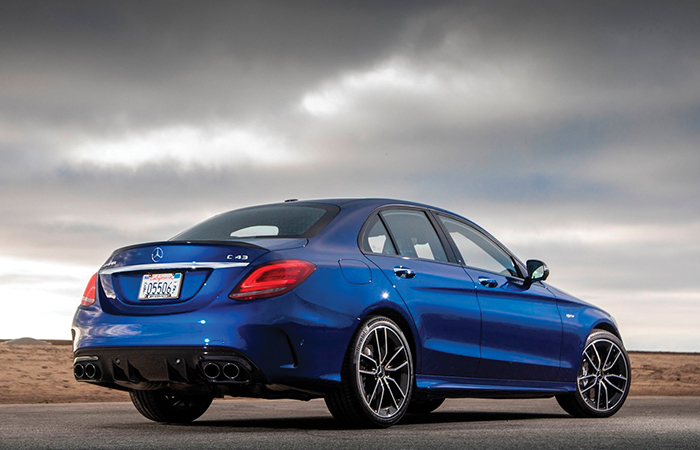 PERFORMANCE
The AMG C 43 is offered in one robust flavor; an adrenalin-injected 3.0-liter V-6 BiTurbo engine possessing 385 hp and 384 lb-ft. of thrust. The combo with available all-wheel drive (4MATIC) sprints 0-60 in 4.5 seconds. Your endorphins will love it. 
Each AMG engine is lovingly handcrafted by a single engineer. The nine-speed transmission is smooth when cruising and deliver knockout punches in Sport+ mode. It's the perfect split personality. Paddle shifters flip through gears without a hitch. Large brakes effectively stop the lithe rocket without struggle. 
The suspension is adjustable to soak up the bumps or handle cornering with nary a lean – no matter the speed. In fact, I found myself in Sport+ with Comfort suspension settings as the Goldilocks choice on our pothole inflicted asphalt. When in Sport+, the exhaust notes will raise your testosterone with a low rumble morphing into a barking, rowdy delicious Weapon of Seduction for any gearhead. Plus, with one button (via optional $1,250 AMG Performance Exhaust) you can turn on or off the roar when desired. Hey, life is all about options!
The 4MATIC all-wheel drive performed superbly (click the Slippery mode) in recent Dallas storms. Gas mileage is a decent 18/27 for such a missle with an average range of 380 miles. I observed a good 22 mpg overall in very spirited driving. Even the normally annoying Auto Stop feature is almost impossible to detect.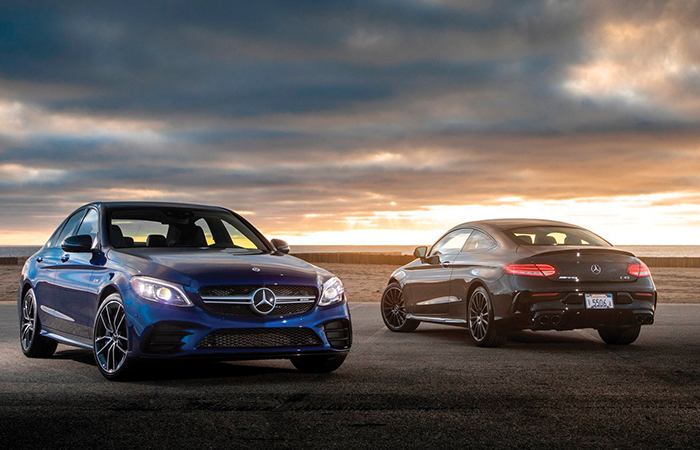 CABIN
The interior is cozy yet roomy. The sporty cocoon in Black leather with red contrast stitching is impressive. There's so much luxury, safety and whiz-bang goodies to enjoy. High-end materials, fit and finish are abundant throughout the cabin. Visibility is excellent for such a low slung ride. 
The seats are supportive and comfy but be sure to compare the standard versions versus AMG's Performance Seats as the latter might be too firm for some. The 14-way power seats are heated and optionally ventilated. Both work admirably. 
I'm a big fan of the gearshift on the right steering wheel stalk that frees up valuable room on the console. The thick sport steering wheel (squared off at the bottom – get the heated wheel) has excellent tactile feel with Nappa leather. 
That back seat in coupe form is relatively tight so if you need extra legroom get the four-door. The large panoramic roof opens generously while still allowing easy conversation. 
Cargo room is not bad at 12.6 cu.ft. but the rear seats do fold down for extra storage. One golf bag fits perfectly at a 45-degree angle with the driver). The power lift and close lid is a welcome addition. And, there's good storage for knickknacks.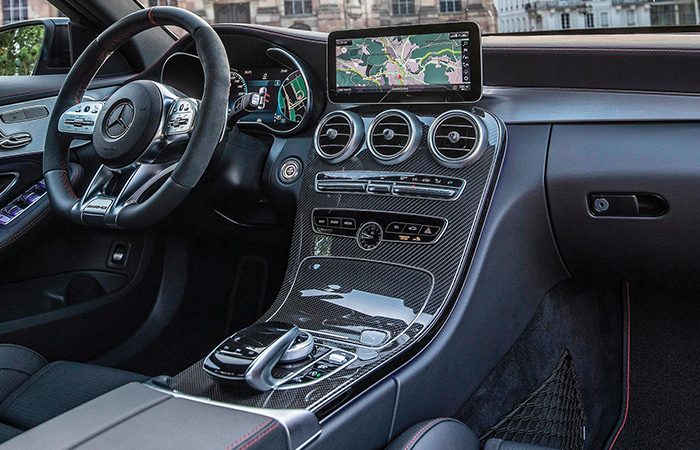 TECH TOYS
The 10.25-inch infotainment screen is easy on the eyes. Drivers use a track pad or COMAND wheel on the console and mini trackpad buttons on the steering wheel to maneuver through the extensive menus. Some selections will require a quick learning curve, but you'll adapt quickly. 
Apple's CarPlay and Android Auto are standard. Bluetooth transmission is impeccable for phone or music. The standard 540-watt/13 speaker Burmester Surround Sound System is excellent.  
Of course, the AMG C 43 delivers the latest reassuring safety features. It will gently remind you to stay in your lane, constantly scans at an early stage sensing traffic patterns to help prevent front collisions brace you for a rear-ender, and PRE-SAFE brake with Pedestrian Recognition. The radar-enabled Active Distance Assist keeps you safely behind cars ahead at a pre-selected distance and Evasive Steering Assist provides additional safety to avoid an obstacle at speed by tightening up the steering response. 
Meaning, you really have to be an obliviot to suffer a collision. 
The 2019 Mercedes-AMG C 43 Coupe or Sedan is an intoxicating balance of dashing looks, driving chops, incomparable luxury and incredible technology. Even at the tested price of $70,755 the package feels like a reasonable bargain. For those with the means, it's a must-drive when searching for luxury, performance and creature comforts to satisfy any whim. And you'll love the delicious exhaust notes as the sounds of silence is overrated for those yearning to relish endorphin-inducing barks, pops and roars.
SCORECARD
Golf Bag Storage: Possibly two
Curbside Appeal: A sleek, sexy beauty
0-60 (est.): 4.5 seconds. Feel quicker
MPG: 18/27. Observed 22.0 mpg overall 
Must-Haves: Head Up Display, AMG Performance Exhaust  
Warranty: 4 years/50,000 miles
Base Price: $57,450 
Price as Tested: $70,755
Who Buys It: Anyone who leans towards performance and luxury
Finish Line: An excellent sporty value compared to others in this crowded field
CHECK OUT RICK'S YOUTUBE REVIEW BELOW!
Test-drive the 2019 Mercedes C43 AMG at Mercedes-Benz of Plano and Mercedes-Benz of Grapevine