The name Stoops is legendary in the Sooner state. 
The winningest coach in Oklahoma history, Bob Stoops' indelible impact on the University of Oklahoma and their football program cannot be understated. "Big Game Bob", as he quickly became known, led the Sooners to a school-record 190 victories, surpassing Barry Switzer's 157 wins during the 2013 season. 
In addition, Stoops led the program to a school-record 18 straight bowl games and a staggering 10 Big 12 Championships. 
Although the BCS has given way to the FBS Playoff system, Stoops fingerprints and success during the BCS era will forever be unparalleled. During his run, Stoops was the only head coach to win every BCS game, earning wins in the Orange, Sugar, Fiesta and Rose Bowls. The crowning achievement of those was in the 2001 Orange, which served as the BCS National Championship game for the 2000 season. The Sooners used a stingy defense and methodical offense to hold then undefeated Florida State to just two points, capturing the first National Championship for the program since Barry Switzer's 1985 group. 
The son of a longtime high school coach, Stoops was a four-year starter for Hayden Fry as a defensive back for the Iowa Hawkeyes, who subsequently gave him his coaching start in 1983. He later played a key role as a member of Bill Snyder's Kansas State staff. Eventually, he left for Florida and a three-year stint as Steve Spurrier's defensive coordinator. The Gators won a National Championship in 1996, which led to Stoops becoming one of the hottest names for a head coaching job. 
Oklahoma made Stoops their next head coach on December 1, 1998 and the rest was Sooner magic.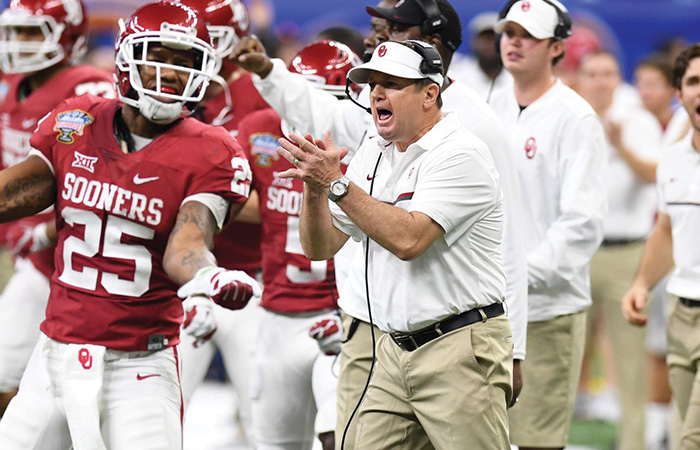 After 18 seasons at the helm for the Sooners, Stoops felt like it would be a good time to move on. He left on his own terms and passed the keys on to the next great OU head coach, Lincoln Riley. However, after a little over two years away from the sport that gave him his career, Stoops began to get the itch, and in February of 2019, the Ohio native decided that he would return to coaching and take the reins of the upstart Dallas Renegades of the XFL. 
The next chapter awaits Coach Stoops, and AVIDGOLFER sat down one-on-one with "Big Game Bob" to talk X's and O's on the gridiron and his passion for the game of golf.
AVIDGOLFER: Coach, if I had told you a couple years back that you would be coaching an XFL team that plays in the Ballpark in Arlington, what would your response have been?
BOB STOOPS: Well, I probably would've said no thank you. I loved what I was doing at the time. I was figuring my own life out, but you know, be careful what you wish for. Sometimes, after being out a few years you realize you have a little too much of your own time and you start to realize how much you love football and how much you miss it. 
AG: What were your initial thoughts on this particular opportunity?
BS: Well this is a perfect opportunity because I do love football and I love the process. This was a great way to get back in and I couldn't be more excited.
AG: You're also handling some of the GM duties with the Renegades. How has that been so far?
BS: Well truth be told, as far as General Manager duties go, I really only hired my staff. I have a great Director of Player Personnel, Daryl Johnston, a Dallas legend, and his two assistants Bob Morris and Dave Boller. They are guys that have done this before, and I trust them to put the team together as far as personnel. 
AG: After going through training camp with the new team, what have you noticed about the talent level? Were you surprised? Do you think most, if not all of these guys, could be NFL caliber players?
BS: They're very talented. If you consider the last five or 10 players cut off of 32 NFL rosters, that's a lot of really good football players. So, this league is full of really good talent and they're going to be a lot of fun to watch. They're going to be guys you're going to want to see. There are a lot of exciting players. 
AG: Have you seen the renovated ballpark? 
BS: It's a fantastic ballpark already and now that they have fit it for football and soccer, I think people are absolutely going to love what they've done. It's a wonderful venue.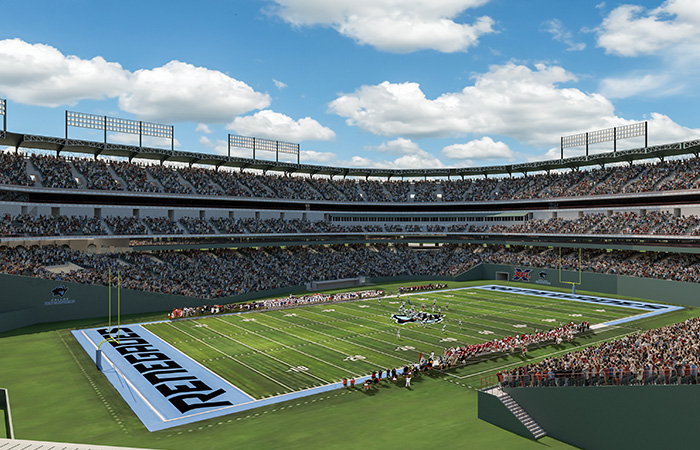 AG: You have obviously spent a lot of time down here over the years, not only on the recruiting trail while at OU, but also playing Texas in the Red River Rivalry. What are some of your favorite things about the D/FW area?
BS: The entire area is full of football crazy fans. When I was at Oklahoma, we always felt like this was our home for recruiting, so I have a lot of familiarity with the Dallas and Arlington area. And then playing in the Cotton Bowl against Texas and at AT&T (Stadium) in championship games. So, there's a lot familiarity and now we're getting to know even more great people in the area. 
AG: You spent a little over 30 years coaching at the collegiate level. What has the transition been like for you to coach at the professional level? Have you noticed much of a difference? Or is it still mainly just X's and O's?
BS: There's a definite difference in a lot of ways. The football on the field is very familiar, but what you realize quickly is these guys are so much older and mature physically and mentally. They've played so much football that they pick up things on the field quickly. You also don't have to deal with compliance issues, who is missing academic appointments, who might be failing a class and things like that. You really just have football to deal with. 
AG: This is the second go-round for the XFL. They're trying to really focus on the football this time and not some of the other things. What makes you think this will succeed the second time around?
BS: It's going to succeed because it's going to be affordable for families. It's going to be fan-friendly and fun to watch. We have great players that will make exciting plays and we have great coaches across the league. Another thing that will help it succeed are the TV contracts that are in place. We have national broadcasts on ABC, ESPN and FOX. We've also been very purposeful with our leadership. Vince McMahon, Oliver Luck and our President Jeffrey Pollack have all been thoughtful and meticulous. They have really taken the time to get it right.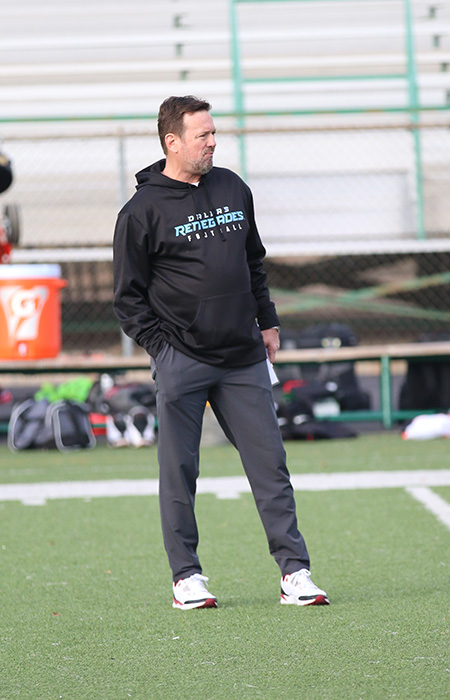 AG: Well this is a golf publication, so I have to ask you a few golf questions. When did you first learn to play? Did you play as a youth?
BS: I love to play, but I guess it depends on what you mean by youth. I first started playing just after college when I was a graduate assistant at Iowa. 
AG: Do you carry a handicap? 
BS: I do. Right now, I am a 12. Not bad. I generally fluctuate between a 10 and a 12. 
AG: Norman has some great courses. Jimmie Austin, the Ransom Short Course, Belmar Golf Club. Any others you play north of the Red?
BS: Those are the ones I primarily play, but I also love Oklahoma City Golf and Country Club and Oak Tree National. Oak Tree has a great history to it. If I'm looking to get out of town, I love Southern Hills. It's another great course with a lot of history. 
AG: Have you had a chance to play much in D/FW?
BS: You know, I haven't yet. But I am really looking forward to checking out some of the courses in town. 
AG: You have played in the Pebble Beach Pro-Am. What was that experience like?
BS: I love the Pebble Beach Pro-Am. In 2012, I played with OU grad Hunter Haas. This is a great story … I hadn't picked up a club in a while because of the end of football season and recruiting. The first two days we were hacking it around. And in the third round I end up shooting 82 at Pebble Beach with three natural birdies. We shoot up the leaderboard and end up qualifying for Sunday. I had to reschedule my flight to stick around. 
AG: You were expecting to trunk-slam and head out of town?
BS: Yeah. We didn't do anything the first two rounds. But in the final round, I end up shooting 80. On 17, I hit a shot on that par-3 to about six inches. I hit it right to the center of the green and then the ball starts rolling up next to the hole. My caddy thought it was going in. As I was walking up to mark my ball, Rocco Mediate looked at me and said, "Are you really going to do that to us on Sunday, coach?"
AG: How did you end up finishing?
BS: After the 82-80 weekend, I ended up winning low amateur. As a team, we ended up fourth. I have the Jack Lemmon crystal trophy at my house. 
AG: Ever had an ace and if so, how many? 
BS: Yeah. Just one. It was at Jimmie Austin up in Norman. 
AG: What would you say is the strongest part of your game?
BS: To be honest, I really don't have one. It all comes and goes. 
AG: Being a former Florida guy, I'm sure you've played with the 'Ole Ball Coach' Steve Spurrier a bunch? How is he as a player?
BS: I've played with coach Spurrier many times. The best thing about playing with coach Spurrier is he's going to play a mental game and you're going to count them all up. 
AG: So, he's not letting you walk off without counting them up?
BS: One time he and I played at Whistling Straits and I hit it down into some tall grass on the first hole. I hacked it around and when we were walking off the green, he asked what I had. I told him it was a 10. He looked at me and said, "Bobby, I think it was an 11." He was counting them for me. Of course, when you take that many strokes, it's hard to keep track.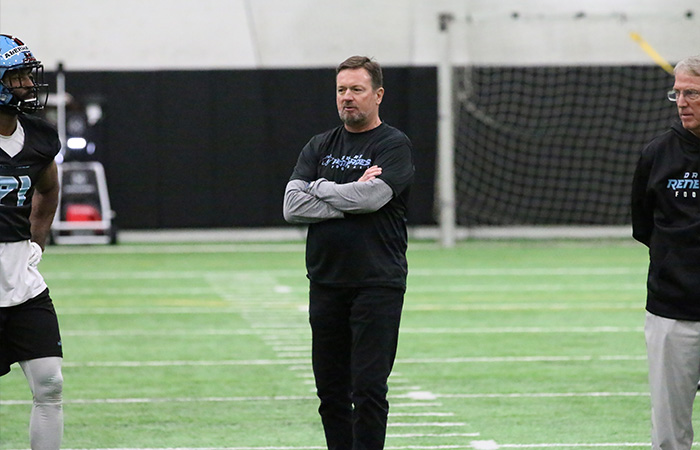 AG: You mentioned Whistling Straits,.That's a bucket list course for most people. Are there any bucket list courses you would like to play that you haven't yet seen
BS: Pine Valley of course. I would also love to go to Bandon, Oregon and play Bandon Dunes. I have been fortunate enough to play Augusta National several times with some close friends and that's been great. And because of my experiences in the pro-am there, Pebble is also one of my favorites to play. 
AG: Okay, this is a very generic golf question, but we get so many unique answers, it's always interesting to ask. Give us your dream foursome? 
BS: That's a good question. I'd start with my father, who passed away young. He was the type of athlete that wouldn't play for a whole summer and then go out and shoot 80. The second one would be Muhammad Ali. I'm not sure if he was much of a golfer, but I think it would be awesome to play with him. The third would be one of my great friends who also passed several years ago, Jim Braydich AKA, Snake. I think that would be a great day on the course.