AT&T Byron Nelson Preview

Not unlike the children standing in front of Willy Wonka's chocolate factory, golf fans across the DFW Metroplex are anxiously awaiting to present their tickets for the first glimpses of ultra-exclusive Trinity Forest Golf Club, the brand-new site of this year's AT&T Byron Nelson. Anticipation around the course and this year's event have been building for years, and expectations are high for The Salesmanship Club to continue its organizational excellence in putting on the tournament. To add to the drama, very few players – both members of the public and professionals – have seen the course up close and personal. Can this year's tournament at Trinity Forest live up to the hype?
The origin story and early days of Trinity Forest are rooted in a mixture of entrepreneurial spirit, a penchant for unexpectedness and a desire to build one of the greatest golf courses in Texas. When members of title sponsor AT&T began exploring options for a new site, nothing short of a championship-caliber course would do. In addition, the course would optimally highlight the city of Dallas and would potentially bring another high-profile PGA Tour event to the Metroplex.
So, what do you do when there's no options out there already? Build the perfect version yourself. On a covered landfill. In south Dallas. In the Trinity Forest. Committing to building something of championship caliber from scratch under those circumstances takes an appreciated level of boldness that will hopefully pay off in spades once the pros arrive in May.
Along with an unexpected site, the design itself abandoned any notion of a parkland course set in the forest. Bill Coore and Ben Crenshaw took the newly leveled land and cut out a links style puzzle that is the complete opposite of the site for the previous 35 events, TPC Four Seasons. The wide open space is 160 acres of rolling hills, dramatic angles and natural waste areas abundant with Texas bluebonnets and wildflowers. If not for the elevated viewing areas built specifically for the tournament's spectators, you could see across virtually the entire course at once. The slick greens and their devilish edges are known to send golf balls screaming any which way; we are excited to see how the best of the best handle their games here.
So, who is showing up to play at Trinity Forest?
Last year's champion, Billy Horschel, will be back to defend his Nelson title, but this year's field will look a bit different than in years past. While typically hosting a star-studded field, the Nelson's field as of time of press features a handful of the world's best and an influx of up-and-comers.
Sergio Garcia and Jordan Spieth join 13 other men headlining the tournament from the OWGR's Top 100: Chez Reavie, Si Woo Kim, Bryson DeChambeau, James Hahn, Kevin Na, Chesson Hadley, Anirban Lahiri, Beau Hossler, Yuta Ikeda, Ted Potter Jr., Marc Leishman, Adam Scott and Horschel will be teeing it up at Trinity Forest. Will this lineup dominate the rest of the field or will it pave the way for an up-and-comer to rise above and take home the Nelson trophy? We're excited to find out.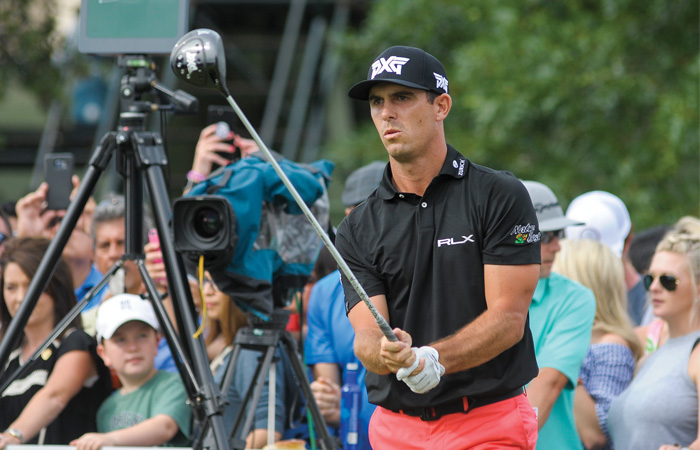 Spieth, coming off of excellent play at the Masters and the Houston Open, will most likely be looking to redeem himself after missing the cut in last year's event. The Nelson has proven a difficult event for Spieth, as he hasn't notched a Top 25 as a professional. The hometown hero has won himself a plaid jacket with his 2016 win at the DEAN & DELUCA Invitational at Colonial, but hasn't come close to winning on this side of the Metroplex. Perhaps this year, especially with a change in venue, he can grind out a victory, or, at the very least, work his way further up the leaderboard than in years past.
One tradition that has remained with the Nelson, however, is the turnout of Texas residents in the field. Cody Gribble, J.J. Henry, Hunter Mahan, Martin Piller, Martin Flores, Kelly Kraft, Conrad Shindler and Hossler are all scheduled to represent the Lone Star state in this year's event.
Jason Kokrak, last year's surprise contender who finished fourth, is back this year to see if he can recreate last year's success and seal the deal with a W.
Joaquin Niemann is another exciting addition to this year's field. The 19-year-old Chilean was the world's No. 1 amateur player from May 2017 until April 2018, when he turned pro. His debut at the Valero Texas Open in April resulted in a sixth-place finish, and he will be making the trip to Trinity Forest to continue competing alongside the big boys. Niemann was awarded the 2017 Mark H. McCormack medal for being the top amateur at the conclusion of the championship season, initially gaining him entry into fields of the 2018 U.S. Open and the 2018 Open Championship. However, as he has gone pro, he will need to earn his spot in the tournaments the old-fashioned way.
Where are the best places to watch the action unfold?
One of the amazing things about the new venue in Trinity Forest is that the links style design lends itself to walkability and visibility. There are no trees to block anyone's view, and the condensed 160-acre layout means holes are placed tightly together. This is great for fans who want to post up somewhere because there are many areas where you can watch the action on more than one hole simultaneously.
There are a few spots to take in the most action all at once. Right inside the main entrance, you can walk across hole No. 13 to a spectator area that includes views of hole Nos. 5, 6, 15 and 16. The KidsZone is back for golf's youngest fans at the event, and is also near a great place to take views of hole Nos. 2, 3, 7 and 11.
The hospitality centers of shaded seating and upscale concessions have expanded this year. One of the setups is the Michelob Ultra Club: a luxury climate-controlled viewing area located in the western half of the course. The Michelob Ultra Club offers views of the No. 5 green, No. 6 tee and No. 15 green. Single day tickets are $225 per person and include access to the air-conditioned venue, covered outdoor seating and the complimentary ballpark-style buffet of food, beer, wine and soft drinks.
Another hospitality center is the Harwood District Club, which is set up right in the middle of the course's layout. From one side, you have full access to No. 1 green, No. 2 tee and the No. 3 green. Or, you can mozy to the other side of the center to see the action on Nos. 12 and 16. This venue has proved to be extremely popular as tickets have already sold out.
The Grey Goose 19th Hole Lounge is back for patrons wanting to kick back with a cocktail. This year, the access to the lounge is located in a premium spot overlooking the greens of Nos. 13 and 15 and includes some views of No. 14 tee. There is no additional ticket fee for entrance to the 19th Hole Lounge, which is new for this year, but patrons still must be at least 21 years of age.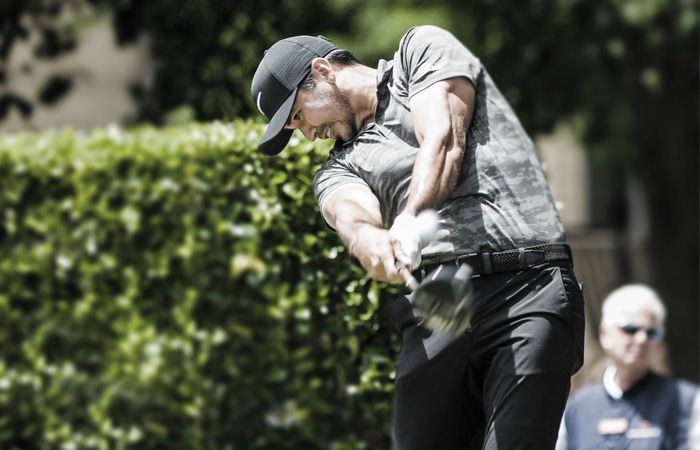 Speaking of tickets, how much are they and how do I get them?
Single-day tickets are $45 per person, and provide access to the complimentary parking lots and the tournament grounds. All children 17 and under will receive free admission with a ticketed parent courtesy of Under Armour. Daily grounds tickets are not needed to board the complimentary shuttles as they may be purchased at the tournament's main entrance gate.
As in years past, all current or retired members of the military are offered complimentary single-day tickets for themselves and one guest for each day of the tournament. This offers applies to anyone on active duty, those in the military reserve, national guard, military retirees and veterans. Please reserve your tickets by visiting www.birdiesforthebrave.org, selecting the Byron Nelson under the "Tickets" tab and then filling out the appropriate contact information. Military tickets must be reserved in advance.
All tickets may be purchased through Ticketmaster or by calling 214-943-9700. Daily grounds tickets may also be purchased on site.
What amenities are available this year?
Don't fret about the change in venue as The Salesmanship Club and AT&T are still delivering top-notch amenities for spectators.
The Pavilion, the site where you can purchase food, beverages and grab a seat for a second, will be set up at the front entrance. Across the course, multiple concession stands and restroom areas will be set up as well. Is your cell battery running low? There are a few AT&T charging stations sprinkled around the grounds for patrons with smartphones in need of some juice.
The KidsZone is back for the Nelson's youngest spectators and there is a dedicated autograph zone near the clubhouse. Under Armour is the event's official merchandise sponsor, and will set up shop at the main entrance so you can purchase souvenirs and apparel on your way in or out.
The Salesmanship Club has taken notice that the lack of infrastructure (especially trees) might pose a problem for spectators seeking some shade. Thanks to new sponsor Otterbox, various covered areas will be located around the course if you need a break from the sun. Please note that these areas are first come, first served to all general ticket holders. Patrons may also bring umbrellas to the tournament, but they must be without a carrying case or cover.
2018 AT&T BYRON NELSON FACT SHEET
DATES: Monday, May 14 – Sunday, May 20, 2018
TITLE SPONSOR: AT&T
SITE: Trinity Forest Golf Club, designed by Bill Coore and Ben Crenshaw (2016)
CALENDAR OF EVENTS (subject to change)
Monday May 15 (Course closed to spectators)
❚ Practice Rounds for PGA Tour pros only
❚ Pro-Am Tournament at Trinity Forest
Tuesday May 15 (Course closed to spectators)
❚ Practice Rounds for PGA Tour pros only
❚ Supreme Lending celebrity-Am at Dallas National Golf Club (participants only)
Wednesday May 16 (Free admission)
❚ Practice Rounds for PGA Tour pros only
❚ Hilton Anatole Pro-Am Tournament at Trinity Forest
Thursday May 17
❚ AT&T Byron Nelson First Round
❚ KidsZone, AT&T Fan Zones open to fans
Friday May 18
❚ AT&T Byron Nelson Second Round
❚ KidsZone, AT&T Fan Zones open to fans
Saturday May 19
❚ AT&T Byron Nelson Third Round
❚ KidsZone, AT&T Fan Zones open to fans
Sunday May 20
❚ AT&T Byron Nelson Final Round
❚ KidsZone, AT&T Fan Zones open to fans
❚ Closing Ceremony and Award Presentation
PURSE: $7.7 million
WINNER'S SHARE: $1.386 million
FIELD: 156 players (cut to low 70 and ties after 36 holes); Players have until May 11 to commit
TELEVISION: All four rounds are scheduled to be televised from Dallas on The Golf Channel and CBS.
Thursday and Friday 4-7 p.m. on The Golf Channel
Saturday and Sunday Noon-1:30 p.m. on The Golf Channel and 2-5 p.m. on CBS
DEFENDING CHAMPION: Billy Horschel (-12)
CHARITY: Momentous Institute
TICKETS: Any day tickets are $45 and gain access to the grounds and the Pavilion. Admission is free for patrons 17 years old and under, courtesy of Under Armour. Tickets for the new Michelob Ultra Club are $225 per person per day and overlooks the No. 5 green, No. 6 tee and No. 15 green. A ticket for the Ultra Club also provides a complimentary ballpark-style buffet, beer, wine, soft drinks and climate-controlled seating. Tickets can be purchased through the tournament's website, Ticketmaster or by calling 214-943-9700. Tickets also can be purchased at the course entry gates during the event.
MILITARY: Active duty, military reserve, national guard, military retirees, and veterans, along with one guest, receive complimentary tickets for each day of the AT&T Byron Nelson (Wednesday – Sunday). Tickets must be reserved in advance by going to www.birdiesforthebrave.org, selecting the Byron Nelson tournament and filling out the contact information.
PARKING: All spectators may park at Lot 15 of the State Fair of Texas parking lot, which is located at 2100 S. Haskell (at the corner of Haskell and Beeman). From there, spectators will take a complimentary shuttle to Trinity Forest, which is located 9 miles south of downtown Dallas. For spectators interested in using a ride-share service such as Uber or Lyft, the drop-off area will be located one exit from Trinity Forest on U.S. Highway 45 (Lot 12, 8575 S. Central Expressway). From there, it is a 5-minute ride in a complimentary shuttle service to and from the course. Shuttles begin running 15 minutes before gates open and will run a minimum of 30 minutes following gate closing.
SPECTATOR NOTES: Mobile devices are permitted, but they must be silenced at all times. Fans are prohibited from making or receiving calls except in designated areas, which will be marked with signage. Devices may be used to take photos and videos for non-commercial use (ex. personal social media accounts), but must be respectful of tournament play and posted signage. Live streaming, shot-by-shot coverage and commercial use of images is prohibited. Fans who violate mobile device policy will have their entry ticket revoked. The following items are prohibited on the course: large purses or backpacks, large camera cases, outside alcoholic beverages, coolers, ladders and signs. These items will be confiscated if brought to the tournament. All small purses or bags are subject to search.
INTERNET HOME PAGE: www.attbyronnelson.org