Fort Worth Invitational at Colonial Preview

After a touch-and-go year, the 72nd Fort Worth Invitational will go on as planned later this month in Fort Worth. When DEAN & DELUCA told tournament officials late in 2017 they would be unable to meet their financial responsibilities, the tournament was once again left scrambling to find a title sponsor for the 2018 event. The same scenario played out after Crowne Plaza fulfilled their contract as tournament sponsor. After the tournament organizers had some trouble finding a replacement for Crowne Plaza, DEAN & DELUCA stepped up in February 2016 to sponsor the event.
The Colonial event was first held in 1946 and has been contested every year since 1950, making it the longest-tenured Tour event at a single venue. However, with just months to go before the 2018 version was set to begin, the tournament still had no sponsor, and it began to look like the Colonial may be on its last legs.
Enter four local companies that decided to step up and help keep this Fort Worth tradition on this side of the dirt for another year. The 2018 tournament will boast multiple co-sponsors, including American Airlines, AT&T, XTO Energy Inc. and Burlington Northern Santa Fe.
These companies stepped up to ensure PGA tour pros will once again make an appearance in Tarrant County in 2018, and it looks as if the tournament will move forward into 2019 and beyond as Charles Schwab has come to an agreement to sponsor the event starting in 2019 and running through 2022.
Alright, first thing's first – who's going to be in the field?
The Nelson and Fort Worth Invitational being in back-to-back weeks has always helped ensure that at least a few of the world's top talents will stick around and play both. The year's field is highlighted once again by world No. 3 Jordan Spieth, who took home the tartan jacket in 2016. The defending champ Kevin Kisner will also be in the field, coming off a runner-up finish in the Dell Match Play back in March.
In addition, major winners Jason Dufner, Jim Furyk, Zach Johnson and Davis Love III will be in attendance, as well as past Colonial champions Chris Kirk, Boo Weekley, Steve Stricker, Rory Sabbatini and Keith Clearwater.
There is also plenty of international flair in this year's field, including Argentina's Emiliano Grillo, Venezuela's Jhonattan Vegas, Canadians Graham DeLaet and Mackenzie Hughes, South Koreans Sung Kang and Si Woo Kim, Russell Knox and Martin Laird hailing from the U.K., and Australians Cameron Smith and Rod Pampling.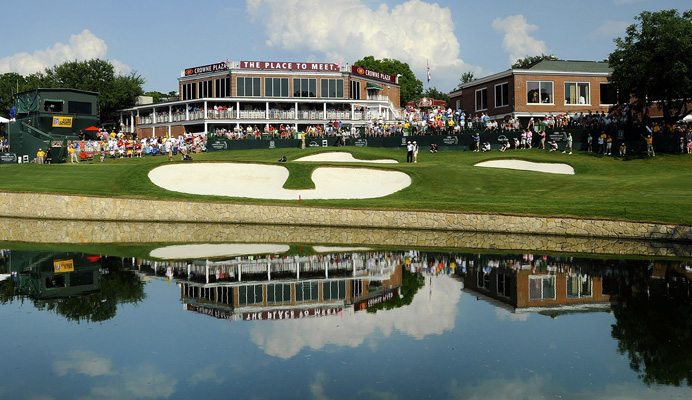 What's there to do for spectators when we aren't watching golf?
As you arrive for the tournament, patrons will once again work their way through Frost Park. This tree-lined area will be filled with tournament ambassadors and officials, as well as feature live music, jugglers, and beverages and treats to enjoy while entering or exiting the course.
The Michelob Ultra Champions Club is another popular spot for visitors to the tournament. Located on the west side of the putting green, just a short walk from the No. 10 tee box, the air-conditioned tent is popular to cool off and take in a few beverages as you watch the tournament on multiple large screens.
The PlainsCapital Bank Main Street is known as the center of all the action at the Fort Worth Invitational. Main Street is open to ALL spectators and has something for everyone – shopping, food and drink, as well as expo and product sampling from some of the tournament partners. In addition, The Colonial Grille and ULTRA Bar are inside for you to relax, take a break from the sun, and spend time with family, friends or coworkers, or entertain clients. Experiences to try out this year will be Tito's Airstream, Michelob Ultra Golf Expo, Geico Golf Simulator, Skechers Swing Analysis and the Titleist Charles Schwab Golf Experience.
Throughout the week, children can interact with the PGA Tour professionals at the D&M Leasing Autograph Zones near the warm up area next to the ninth green and behind the 18th green public grandstands.
Sounds great! What about on the course … where should we go?
Per usual, the main attraction on the course will be the high energy par-3 13th hole. Here, you can consume some beverages (adult or otherwise), and exchange a few bucks between friends on which pro ends up closest to the hole in every group. From there, the 14th tee is just a short walk up the hill.
Another great place to take in the action is behind the 11th tee box. The longest hole on the course (and the only par 5 on the back nine) is one of the few places you can watch the big boys unload on the big dog and air it out. With Colonial being predominantly a shot maker's course, watching the pros swing away is at a premium.
Of course, the center of Colonial's golf solar system is the area around the ninth green and 10th tee. You can watch golfers hit their approach over the pond on No. 9, then walk about 25 steps to see the group hit their tee shot on No. 10. From there a short march up the hill to one tee box, and just a few feet away, you can see groups complete their round in the grandstands near the 18th green.
If you're looking to watch the toughest stretch of holes on the course, 3, 4 and 5 are known as the "Horrible Horseshoe." A dogleg left par 4, followed by a mutant 240-yard par 3, and another par 4 that requires a power fade along the Trinity River. After watching groups tap in on the fifth, walk a short distance back to the east and watch some of the later tee times warm up on the driving range.
PRO TIP: Make friends with someone that has a sky box behind the 16th green. These "suites" are private, but have an outstanding view of the par 3, then you can simply turn around and watch the players feather an iron or hybrid club off the 17th tee. It's a fun bird's-eye view of both if you can manage to get yourself up there.
Daily tickets are available at www.deananddelucainvitational.com or at any DFW Tom Thumb or Albertson's location. Daily tickets are $50 with a weekly grounds badge available for $125. Champions Club Badges are $95 per day or $250 for the whole week. Youth tickets are just $15, with free access to kids 12 and under. Active, reserve and retired military will receive four complimentary daily tickets. Admission is free to all for Monday and Tuesday practice rounds.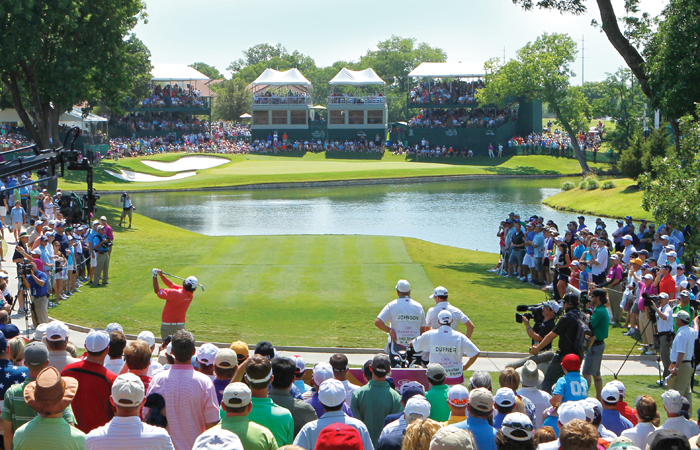 2018 FORT WORTH INVITATIONAL AT COLONIAL FACT SHEET
DATES: Monday, May 21 – Sunday, May 27, 2018
TITLE SPONSORS: American Airlines, AT&T, XTO Energy Inc., Burlington Northern Santa Fe
SITE: Colonial Country Club, designed by John Bredemus, Perry Maxwell (1936)
CALENDAR OF EVENTS (subject to change)
Sunday May 20 (free admission)
❚ Colonial Junior Invitational tournament
❚ Family Day and Youth Clinic presented by B&B Butchers and Restaurant
Monday May 21 (free admission)
❚ Morning – Hogan Pro-Am Tournament
❚ Evening – Ben Hogan Award, presented by Konica Minolta – Colonial Country Club Ballroom
Tuesday May 22 (free admission)
❚ 9:30 a.m.–3:30 p.m. – Executive Women's Day
❚ Practice Rounds for PGA Tour pros only
Wednesday May 23
❚ Colonial Pro-Am presented by MetLife
❚ Lockheed Martin Care Package Day
Thursday, May 24 First Responders Day
❚ 7:30 a.m. – Fort Worth Invitational at Colonial
First Round
❚ ALL DAYS: A $10 donation to Streams and Valleys and Fort Worth Bike Share will be made for all bikes parked at the Bike Valet Thursday – Sunday
Friday May 25
❚ 7:30 a.m. – Fort Worth Invitational at Colonial
Second Round
❚ American Airlines Patriots Outpost opens
Saturday May 26
❚ 7:30 a.m. – Fort Worth Invitational at Colonial
Third Round
Sunday May 27
❚ 7:30 a.m. – Fort Worth Invitational at Colonial
Final Round
❚ 5:15 p.m. – Awards Ceremony (18th green)
PURSE:  $7.1 million
WINNER'S SHARE:  $1.278 million
TELEVISION: All four rounds are scheduled to be televised live from Fort Worth on The Golf Channel and CBS.
Thursday and Friday 3-5 p.m. on The Golf Channel
Saturday and Sunday 2-5 p.m. on CBS
DEFENDING CHAMPION: Kevin Kisner (-10)
CHARITIES: The Birdies for Charity program is an opportunity for charitable organizations to solicit pledges from individuals and corporations for every birdie made during the Fort Worth Invitational Tournament. In 2017, 1,134 birdies were recorded during the tournament. As a bonus, charities can earn additional contributions from the Matching Fund.
TICKETS: Admission is free on Monday and Tuesday of tournament week. Daily Grounds tickets for Wednesday through Sunday are $50. Weekly Grounds badges are $125 and Champions Club badges are $235; single day Champions Club badges are $95. Youth badges for children ages 13-17 are $15 for Wednesday-Sunday, and children 12 and under are free. Other ticket packages and parking passes are available. For more information or to purchase tickets, call 817-927-4280 or visit www.deanadndelucainvitational.com. Active duty military, active reserve, active guard and military retirees receive up to four complimentary tickets.
PARKING: Public parking at Farrington Field on University Drive or the Rockwood Lane Lot on Rockwood Lane is $15 per day in advance or $20 cash at the lot on day of parking. Practice Round parking Monday and Tuesday is free at Farrington Field. There are bronze and silver premium parking packages available Thursday-Sunday at TCU for $50 or $75 per day, which includes shuttle to clubhouse. Weekly passes are $250 or $300. Lexus owners receive a $20 discount on daily bronze parking pass. There is also free bicycle parking in Frost Park Thursday-Sunday.
SPECTATOR NOTES: Mobile devices must be on silent at all times. Calls allowed in restricted areas only. The following items are prohibited on the course: large purses or bags, audible pagers, firearms, backpacks, clipboards, cameras (not allowed Thursday-Sunday), glass containers or alcohol. These items will be confiscated if brought to the tournament. All small purses or bags are subject to search.
AUTOGRAPH POLICY: Posters and autograph items larger than 8" x 12" should not be brought to the tournament. Clipboards are not allowed and will be confiscated.
INTERNET HOME PAGE: www.DeanAndDeLucaInvitational.com