Champions Q&A — Kevin Kisner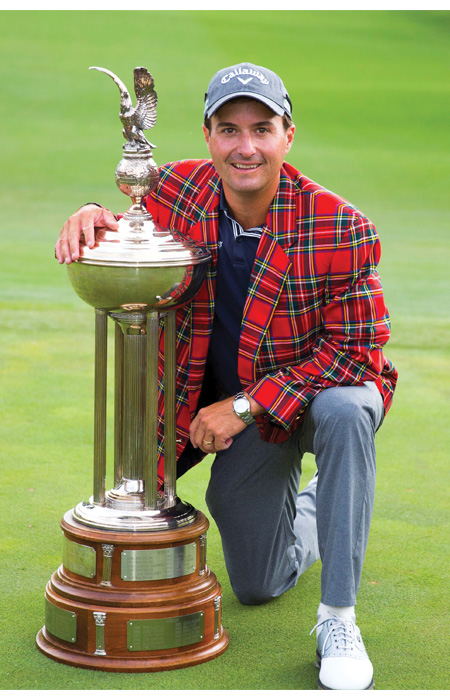 Kevin Kisner didn't grow up in Fort Worth, hasn't played hundreds of rounds at the historic North Texas destination, but when it comes to playing the tradition-rich PGA Tour site, Kisner feels like he can play every hole by memory.
That's because the Aiken, South Carolina native grew up on a course much the same as the traditional Fort Worth layout, Palmetto Country Club, where he learned to play the small greens and the creative angled shots which has made Colonial such a challenge to generations of golfers.
Kisner has learned his lessons well on how to conquer Colonial with three Top 10 finishes in only four appearances in Fort Worth, capped by last year's thrilling one-shot victory over Dallas' Jordan Spieth and Spain's Jon Rahm.
While admitting he didn't know much about Ben Hogan, he knew plenty about the course which will always be his namesake.
As he prepares to defend his 2018 Fort Worth Invitational title, Kisner was happy to talk about his love for the course, the city and his place on the Black Marble Colonial Wall of Fame.
– Art Stricklin
AVIDGOLFER: How did growing up in a small town in South Carolina and playing traditional courses help you when you came to Colonial?
KEVIN KISNER: Oh man, the small greens, being able to work your ball in several different directions, the traditional feel. I love courses like that. It's exactly what I grew up with back home. I could play those courses in my mind all the time.
AG: Some players are big into golf history, some are not. How much did you know about Ben Hogan when you starting coming here?
KK: Really not much at all. I'm not really much into history, about all I know is that everybody wants to swing like Ben Hogan did, including me.
AG: Players often talk about when they know it's their week; did you sense that at Colonial last year?
KK: Well, I had been close a few times recently on the Tour so I knew I was playing pretty well. Then on the first day I went through the Horrible Horseshoe (Hole Nos. 3-5) in 1-under par and wound up shooting a pretty low score (67). I figured if I could do that on day one, and had success at The Horseshoe, then I could do that the rest of the week.
AG: Are you the type of player who likes to see some of the sights around town during the tournament or are you pretty locked in during the week?
KK: Fort Worth is absolutely one of my favorite towns all year long on the Tour. It has a super cool downtown and my wife and kids and I will just wander around downtown and see all the things down there and places to eat. I'll sign up for more of Fort Worth any time I can.
AG: A win on one of your favorite courses in one of your favorite towns last year, how did you celebrate?
KK: I took my wife and kids and we went to that great restaurant downtown which has the cool outdoor balcony and all the plants (Reata) and just sat there outside and ate and looked at all the people. That was a pretty good celebration.
AG: One of the things the winner gets at Colonial is a Colonial Plaid jacket. Growing up in South Carolina you know the Heritage PGA Tour event gives out a plaid jacket to the winner as well. You've been to both events, so who has the better plaid?
KK: Well, I guess I got to say the Colonial Plaid is better because I don't have one of those other jackets. Maybe I should get one of those too with a win, but the Colonial plaid is really nice.
AG: Another great thing about a Colonial champ is your permanent name on the Wall of Fame next to the first tee. Have you seen that in person yet?
KK: Not yet, but they sent me some photos and it looks really great. I get to go back to Fort Worth to see it in person and get my family back to Fort Worth. It's always a busy time as defending champion, but it's a fun week and I'm looking forward to it.