Champions Q&A — Billy Horschel
Billy Horschel arrived at the 2017 AT&T Byron Nelson Championship as a FedEx Cup Champion and a multi-PGA tour winner, but mainly as a golfer enduring four straight missed cuts and having gone more than a year since his last Tour victory.
But what Horschel did have when he arrived in Irving for the last tournament held at the TPC Four Seasons after a 35-year run, was an unshakable belief in himself and his abilities and the fact he would soon be back in the winner's circle.
With four sub-70 rounds at the longtime tournament venue and pressure-packed playoff victory over World No. 4 Jason Day, that's what happened. The personable Horschel gained win No. 4 of his PGA Tour career, one he called the most important and memorable due to his prolonged victory drought and his wife's health challenges.
As he prepares to defend his Byron Nelson title at its new location at Trinity Forest Golf Club in Dallas, Horschel was happy to recall his 2017 Nelson victory and what made it so memorable.
– Art Stricklin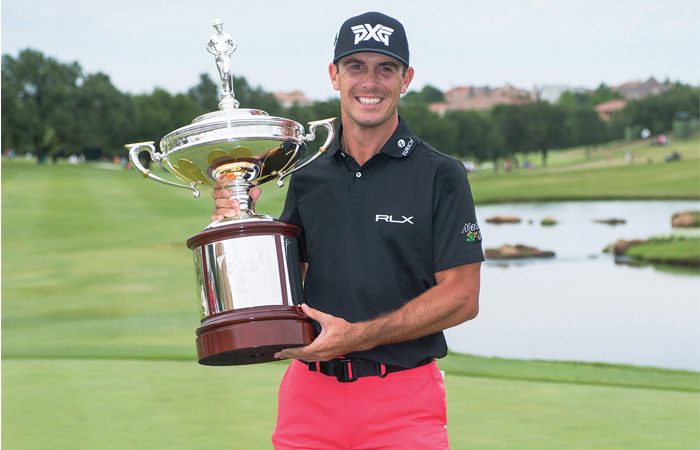 AVIDGOLFER: Golfers often say they have a good feeling about a week when they arrive or sometime during the week. You were in the midst of a pretty tough stretch; did you have that kind of feeling?
BILLY HORSCHEL: Well, I was coming off four straight cuts which is really rare for me, but the final nine holes of the Players Championship I felt like I was really clicking even though I didn't make the cut. With my talent and my background, I think I should always be in the mix and think I should have a chance to have an impact on the final outcome.
AG: You hadn't had a lot of success at the TPC Four Seasons course, but when did things start to click for you last year?
BH: Every day my confidence grew when I was on the course. I played good on Thursday, then a 65 on Friday, a 66 Saturday and I was right where I wanted to be. When I was at or near the top on Sunday, if you look at my history, when I get near the lead I'm pretty good at closing the deal. That's just what I have done.
AG: You were in quite a dogfight Sunday with Jason Day and James Hahn and others with the lead going back and forth. How do you approach something like that?
BH: It's all about how you handle your emotions and your nerves when you're in the heat of the battle. You need to get the lead at the end of the day, but it's all about how you do it. I missed a short putt on the 10th hole and three-putted on holes 12 and 13 to fall back. But I made a huge putt on the 14th (60 feet) to get back into it, then Jason chipped to get back in, but at the end of 18, I was in the playoff (with Day) and that's all I wanted.
AG: After you prevailed on the first playoff hole, what did it feel like to win again after the longest drought of your career?
BH: It was one of the most emotional and special ones of my career. Maybe because the first three came so fast and I got the FedEx Cup, I didn't really take time to appreciate it. With this fourth one, especially with everything I had been through, I took time to just soak it in and embraced it.
AG: How did you celebrate that night?
BH: I went over to Chad Campbell's caddy's house, Judd Burkett, and he was working the grill for everybody. We just had some great meats, drinks and just enjoyed getting the win again.
AG: While you're the defending champion this year, you're defending at a course you or few other players have seen, Trinity Forest Golf Club. How do you handle that?
BH: Well it kind of stinks to be honest with you, but I've had that experience before when I won a WGC event once at Cherry Hills in Denver and then they went somewhere else. You just have to remember what you did last year and channel those good thoughts.