Course Review – Oeste Ranch

Fun layout at an affordable rate for the Westoplex
By: Eli Jordan
Weatherford Texas isn't exactly what you would call a metroplex golf mecca. More known for its peaches, cutting horses and its courthouse, this suburb of Fort Worth gives you the small-town country feel, without having to travel far for your everyday needs.
On the east side of town, as you're working your way toward downtown Weatherford, development has started to take flight. Just as it has in many of the suburbs of Dallas/Fort Worth, homes and businesses are sprouting up all around the area. Nestled among this development is a course that fits just about everyone's game. Oeste Ranch opened in 2002, and since has been the go-to track for those in Weatherford.
The first thing you'll notice as you pull into the parking lot at Oeste Ranch is the two structures adjacent to the parking lot. One serves as the clubhouse, where players check in and load up on gear before teeing off. Just across the breezeway, is another building, this one houses the restaurant and cantina called Los Vaqueros, which is a great place to grab some food and drinks before or after your round. When the weather is nice, consider sitting on the patio. It gives you a great vantage point of the first and tenth tee boxes. Enjoy your meal and bet a buck or two on whether you think each player will hit the fairway.
Oeste features four sets of tee boxes, the tips, or 1's, stretch to about 6,600 yards, and the forward tees, the IV's, measure a very manageable 4,984 yards, which is perfect for ladies, seniors, or junior golfers looking to work on their game.
The first hole requires a precision tee shot. Although pretty much straight away, anything pulled left will find severe tree trouble, and almost guarantee an awkward punch out back to safety. The ideal miss is right, but too much fade and you could have an awkward look at the green behind two trees that guard short right. A small creek meanders short of the green to swallow any shots that end up short. It's a formidable opener. No. 2 is a hard dogleg around water guarding the entire left side. A driver may be too much for the longer hitters, as the fairway runs out quickly. The bowled green is accessible, and a bunker guards short and left.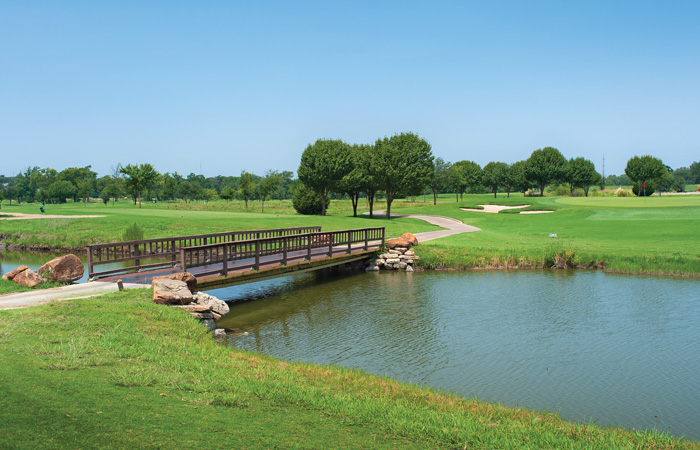 The third hole requires a smart tee shot. Plenty of water to intimidate here, not only down the left side, but straight away as well. A driver may not be the play for the bombers as there is potential to run one through the landing area into the drink. A controlled three metal or hybrid might give you the best chance to hit the fairway, but this may also leave a mid-iron second.
No. 4 is the first of three par-5's at Oeste. After a tough start, this one is a solid chance at a birdie. A good tee shot should leave only about 200 yards remaining. There is a creek that crosses the fairway that will force you to lock in if you choose to lay it up.
No. 5 is the second of back-to-back par 5's. It plays straight away. And at just 450, this one is absolutely gettable. Although miss it left and there is a drainage ditch that can leave you with an awkward stance. If you manage to locate the fairway, it's a green light special all day and a great chance at birdie or better.
The danger with number six is the large fairway trap that can devour any tee shot pulled left. The longer hitters can carry the trap without issue, leaving a scoring club remaining and another shot at a three. If you've been keeping score, then you realize through 6 holes, Oeste has had nothing but par 4's and the back to back par 5's. That means there have to be some par 3's left. After back to back par 5's on 4 and 5, you get back to back par 3's at 7 and 8. No. 7 is pretty standard, some OB lurks if you go too far left, but overall there's not much to worry about. No. 8 is a very interesting hole. Listed at 180 on the scorecard, but that's all dependent on pin placement. If the pin is up front, you can take about 30 yards off that number, if the hole is cut deep, add about 20 yards. Basically, the green is so deep this one can play anywhere from 145 to near 200 yards. This makes for some variety from round to round, which is always fun. There is also a creek runs down the left, so be aware of that.
The same creek that runs left of no. 8 also comes into play on the ninth. The fairway narrows due to the creek on the left and a fairway bunker on the right. Hit the fairway and you'll have a reasonable chance at a three to end the front.
If you have the chance to play Oeste, might I suggest you play the back tees at least on no. 10. Tucked back in an alcove next to the patio of Los Vaqueros, you can hear the country music on the speakers as you put tee in the ground. It has a very interesting feel, and I can only imagine how it would be on a nice spring day when the patio is buzzing with people. At 348, if you can position a tee shot, you are left with an approach that is a bit uphill. Another fairly deep green means you need to pay attention to where the flag is cut (Oeste uses standard red – front, white – middle, blue – back pin flags).
Without question, 11, 12 and 13 is the toughest three-hole stretch on the course. The trio measure 462, 405, and 460 respectively. No. 11 and 12 are basically straight away. No. 13 is a slight dogleg right that in a slight north wind would be a real bear. A small bunker protects short and left of the putting surface.
No. 14 is the first of two par 3's on the back. A little over 150 yards, this green works from front right to back left. Add a half club if the flag is cut in the rear.
No. 15 has to play as one of the toughest holes on the property. A hard dogleg left with a huge tree helping prevent cutting the corner. If you can carry a three-metal over the tree and catch some roll, players are still faced with a long second shot over the Clear Fork of the Trinity River. If you bleed one right off the tee, you just successfully turned this par four into a par five.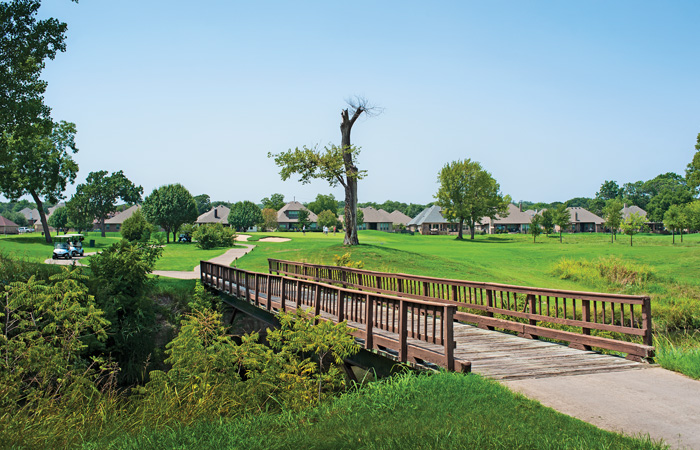 The closing three holes at Oeste feature the par 3 16th, the par 5 17th, and the par 4 18th. No. 16 features a green that is framed by trees on all sides and is certainly one of the prettiest holes on the property. A short iron should be plenty of stick here. No. 17 and 18 are all about the tee shot. The par 5 17th is all about the second shot. A good tee ball will leave somewhere between 200-230. You can choose to step on a hybrid or long-iron, but if you miss right, it's game over, as the Clear Fork looms. Find it and it's likely at best a bogey. If you do lay-up, the landing zone narrows, requiring precision. Again, as with several other holes at Oeste, a deep green means players should be mindful of pin location. When in the back, it could be as much as a full extra club.
The closing hole at Oeste Ranch again brings the Clear Fork into play to the right. Psychologically, the miss is left, but hit driver and pull one, and you'll find water left of the 18th fairway. Playing just 392, the smart play is a controlled iron or hybrid off the tee to take the big number out of play. It should be noted that when the prevailing winds are blowing from the south, 17 and 18 will have some serious teeth.
Overall, Oeste Ranch is a little rough around the edges in spots, but it's a fun layout with some interesting hole architecture. As the area continues to develop, expect this course to see more and more rounds and continue to grow. At present, management estimates Oeste sees between 700 and 800 rounds per week, many of which come on Thursday's when they have a league that occupies most of the tee times. For those out west looking for a place that will challenge and improve your game, but won't leave you broke, Oeste Ranch is a great option, and one that I plan to keep in my daily fee rotation for years to come.
Oeste Ranch Golf Course
Address: 29 Crown Rd,
Weatherford, TX 76087
Phone: (817) 441-1044
Website: www.oesteranch.com
Designers: Steve Mrak
Year Opened: 2002
Par/Yardage: 71/6,572 (I's), 6009 (II's), 4,984 (III's),
Fairways: Tif-Sport Bermuda
Greens: Tif-Eagle Bermuda
Rates: $32 Weekday, $37 Weekend (includes cart)
Toughest Hole: No.15, 445-yard par 4. This hard dogleg makes for an awkward tee shot. If you can't play a hard draw, you're going to have to carry something over a large tree on the left. If you can't carry the tree, you will have to play something out to the right, and then you're left with a very long second shot. Not to mention there is a creek that can be in play off the tee if you hit driver, or on your second shot if you leave one too far out right. It's a crazy hole.
Favorite Hole: No. 8, 180-yard par 3.
It's very rare that my favorite hole on a course is a par 3. But this one is fun because depending on where the pin is cut, it can add or subtract some serious yardage. The green must be 45-50 yards from front to back. On a day where the pin is up front, it might be a nine iron or wedge, but when it's in back, you may be hitting a 5 or 6 iron. The creek on the left side adds another element to the shot. It will make you think every time you play it.
Most Intriguing Hole: No. 2, 386-yard par 4.
Most Intriguing Hole: I can't decide whether I like or hate this hole. Which must mean it's got some intrigue. I'm usually not a fan of holes that take driver out of your hands, but this one doesn't necessarily do that. You can certainly hit an iron or three metal, but if you want to be aggressive, you can cut off some of the corner. Just depends on how gutsy you want to be. But if you try to be aggressive and rinse one, you could deep-six your front nine before it ever really gets going.