Course Review – Split Rail Links & Golf Club

Aledo is one of the fastest growing suburbs of Fort Worth. Just about 25 minutes south of downtown, this area is known for its killer high school football team and its small-town feel. If you are a golfer in this area, then your course selections are pretty thin, however, Aledo is blessed to have one of the most unique public courses in the West-o-plex. Split Rail Links & Golf Club presents players with stupendous conditions, and a challenging par-72 layout that will leave you wanting to come back time and time again. This Phil Lumsden design celebrates 20 years in operation in 2022, and it continues to be one of the premium daily fee courses south of Fort Worth. 
For starters, Split Rail has a lovely stone clubhouse with a great, open layout snack bar and restaurant, the Bagpiper Bar & Grill. In addition to a daily special, which includes selections like $5 Bloody Mary Wednesdays and a $10 club sandwich and iced tea on Friday, they also have lots of libations for your consumption pre- or post-round. Simple snacks like fried pickles, chips and salsa, or onion rings are also available for a snack while you add up the scorecard. 
The pro shop has some decent swag, if you need a shirt, cap or some extra nuggets before sticking a peg in the ground. The staff is always friendly and accommodating, no matter what you may need before your round. Whether it be bartenders or the pro-shop attendant, you will always be greeted with a smile as you make your way around the clubhouse at Split Rail. They are even working on an updated, dynamic website which will boost their online presence, so be on the lookout for that.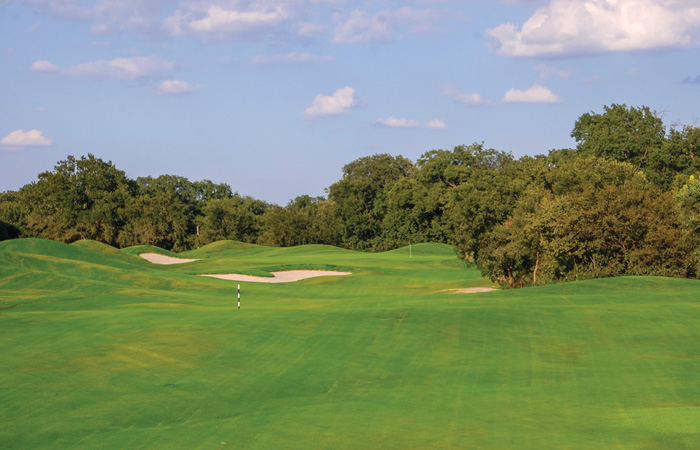 If you are one of those players who require a good long range session to loosen up before teeing off, then you're in luck, as there is a massive driving range and a great putting green and short game area to help get the back and quads loosened up before you play. I especially enjoy the putting green, and it has plenty of square footage to not only work on some short, straight putts, but some lengthy swinging efforts, as well. Even if you aren't planning on playing, it's a range rat's delight. 
I love courses that open up with a par 5. It gives good drivers of the golf ball a chance to open up with a birdie and get the round jump-started early on. Split Rail is one of those courses, with an opening par 5 that plays 566 yards from the tips. There is a little more room on the right that appears, and although tee shots that flare in that direction might not be in the fairway, the rough isn't terribly penal and allows for a good angle to go for the green. It is a good chance at birdie and a good hole to open the round. 
The next two holes are both par 4s and both true to the links-style moniker Split Rail boasts. There are a series of volcano-style mounds that separate the two holes. Take a look at the aerial look on Google Maps, and you will see what I mean. It's a really interesting visual as you tee off on both holes. Both holes are more or less bomb and gouge holes, if you can manage to squeeze by all the crazy mounding. 
The fourth hole is the first par 3 of the day, and it's a short one. At just 185 from the back tees, a one in yardage of 165 is more reasonable for the masses. The green here is pretty small and narrows toward the back. There are a trio of bunkers guarding the putting surface, so be mindful of choosing the proper club. 
No. 5 plays as the toughest hole on the course. Water down the left side that stays in play until about 240 yards off the tee, so you will want to favor the right side. Make a note that the fairway tightens on the right also, so be aware of out of bounds on that side. A smart play is taking a 3-wood and making sure to find the fairway. A pair of greenside bunkers guard the putting surface, so be sure to double- and triple-check your approach yardage.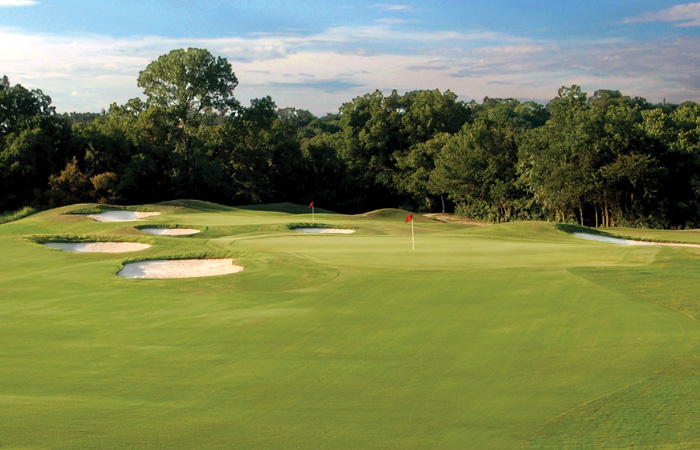 Another par 5 awaits at No. 6, and this one is another good chance for a birdie should you find the fairway off the tee. The same water that guards the left side of the fairway on No. 5 is now guarding the left side of No. 6 fairway, so be aware that it lurks in that direction. That water extends all the way down the left and then cuts across in a narrow creek just shy of the green. Those who are bold enough to go for it in two will need to navigate across that water to reach the green. Those who choose to lay up will need to be sure to leave a good wedge number for their third. 
After another dogleg left challenging par 4, comes the short, but challenging par-3 eighth hole. If you are familiar with the "Postage Stamp," which is No. 8 at Royal Troon in Scotland, this is almost an exact copy. Although a little longer, playing at 170 from the back tees, this hole features a large mound on the left and four bunkers that surround the green. These aren't coffin bunkers like those at Troon, but they can be penal if found. It's a great little hole and one of my personal favorite par 3s in the area. 
After the tree-lined 473-yard par-4 ninth hole, Split Rail features one of my favorite tee shots in DFW. From the tips, this tee shot is a carry over a small pond with a gorgeous waterfall, which really makes the tee shot pop. A windmill near the landing area on the right side of the hole is a nice touch and really adds to the rustic, friendly ambiance this course exudes throughout your round. The green on this par 4 is deep and is set up the hill a bit from the approach, so be sure to consider adding a club, and also be aware this green can be tough to get iron shots to check since it has some elevation. 
Speaking of elevation, the par-3 11th hole has plenty. This tee box sits about 50 feet above the green surface below, making club selection here a bit tricky. There is a lone pot bunker short of the greens, so be mindful that you don't find it off the tee. The green here is two-tiered, with the left side being elevated a bit from the right. Miss the green on the improper side and it can be a tricky two-putt.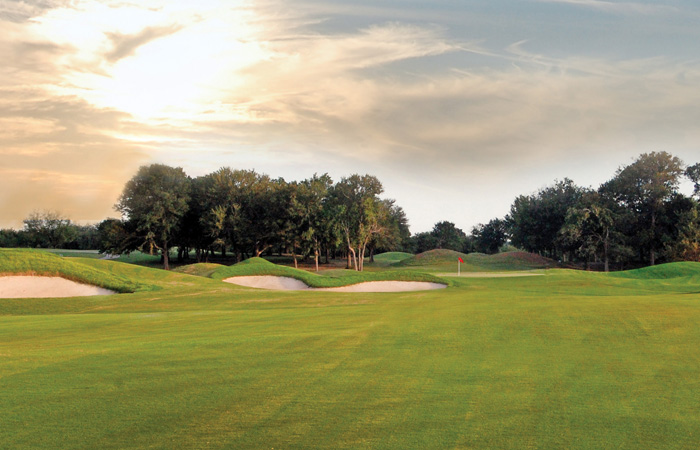 After a tough par 4 at No. 12 comes the first of two remaining short par 4s. The 366-yard dogleg left 13th provides big hitters (just 332 from the blue tees) a chance to get a stroke back after the tough 12th. If you aren't feeling bold, there is always the option of playing a long iron or hybrid off the tee, but longer players can mail it up near the green and try for an easy up-and-down birdie. Be aware that anything right can bury in think native grass and there are a trio of bunkers that surround the putting surface. It's a fun little hole, and one that requires some attention despite being on the shorter side.
No. 14 is the longest hole on the course. A quick stop on this tee for a photo next to the caboose is a must for your social media platforms, as it's one of the few courses I have ever played with one on the property. This one plays over 600 yards from the black tees; it can be a tough customer in the spring and fall months when the grass is a little thicker and holds more moisture. During the drier, baked-out summer months, tee shots will get some additional roll and make it play shorter than indicated on the card. Water down the right is in play off the tee, so the play is to favor the left center of the fairway for position. If you plan to go for the green, keep your shot out of the bunker short left, as, depending on where the pin is located, it has the potential to leave the dreadful 30- or 40-yard bunker shot that gives the average amateur fits. If managed properly, this can be another good chance for a birdie. 
After another par 4 at No. 15, which can be a tough hole, especially if your tee shot finds the cavernous fairway bunker on the left, comes the final par 3 of the round. For my money, the final three holes at Spit Rail stack up with any closing three holes in the Metroplex. The 190-yard downhill par-3 16th is a fabulous design, with an almost blind shot down a hill that is littered with rolling moguls that have the appearance of an Olympic skiing run. Club selection can be tricky here, as the elevation chance makes for a tough decision. And once you do reach the green, take a moment to look back toward the tee and appreciate the whimsical architecture.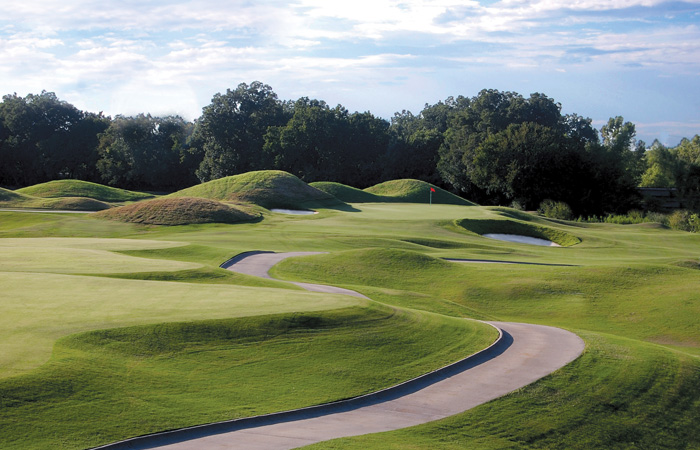 No. 17 is the second of those short par 4s on the inward nine. This one is basically straight away, although there is some water that lurks up by the green, so be on the lookout for that. If you choose to hit driver, favor the left center of the fairway.  A good tee ball here can leave a short pitch or even a putt for eagle. It's a hole where those gambling can press and potentially win some money. 
The final hole at Split Rail is another architectural delight. This par 5 features a massive fairway bunker that serves as a good aiming point off the tee. Carry the left side of this bunker, and a speed-slot will slingshot balls forward for some additional roll. The real treat here is the second shot. Those who want to lay up might choose the left side, but be sure to advance the ball far enough to avoid being blocked out by the tree in the middle of the split fairways. Longer players can try to reach the green in two by taking the elevated right side, but it's a long way home and missing right of the green leaves a tricky side hill lie. There is also a bunker short of the green that can collect balls and make for a tough pitch. 
Split Rail has a peaceful, serene feel to go along with its great combination of links-style holes and fun architecture. Beautiful water features, dynamic bunkering and fair green complexes make this a course that you won't ever get tired of. There are plenty of scorable holes, and a few that will really put your course-management skills to the test. Aledo is rapidly expanding, and Split Rail is a must-play if you get down in that direction.