Course Review – Tangle Ridge Golf Course

Tangle Ridge Golf Club in Grand Prairie has long been one of our favorite daily fee courses in the area. Ranking No. 5 on the east in this year's AG Best of Public rankings, Tangle Ridge is a course as unique as the terrain on which it sits. 
If you have lived in the DFW area for a while, then you are abundantly aware there isn't much elevation change. For the most part, it's pretty flat. Tangle Ridge bucks that trend and presents an undulating challenge through the south Grand Prairie hills, with twists and turns that will challenge even the best players. 
Customer service is paramount when you are looking for a top-quality daily fee course, and Tangle Ridge is one of the premiere courses when it comes to customer satisfaction. Everyone is friendly and accommodating when you arrive for your tee time. Check in is easy and seamless, and if you need a little something to eat or drink before you tee off, the snack bar is always quick and easy. Tangle Ridge has maintained this level of courtesy and efficiency even with courses seeing a major uptick in business over the last couple years as COVID has subsided, and those who took up the game during lockdowns are making their way to courses on a regular basis.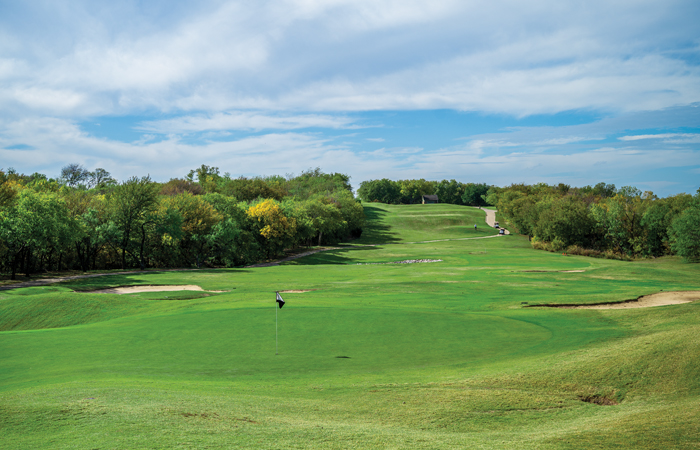 There is a driving range and large, undulating putting green to loosen up before your round, or if you are in the area, stop in to hit some nuggets or roll a few putts to stay sharp. It's a solid practice area if you need to get a little work in as you prepare to stick a peg in the ground. 
The real star of the show at Tangle Ridge are the fun elevation changes, and right away you get a couple of solid examples. The opening hole is a slight dogleg left that features an elevated tee box to really let you take a look at the hole as you get your round underway. Find the fairway here and you can have a chance at an opening birdie; but keep your eyes out for the deep bunker short and left of the green, as it can be a tough up-and-down. 
No. 2 again shows off the fun piece of property, as another elevated tee shot awaits. This dogleg right par 4 is pretty straightforward. But make note of the wind direction here, as if it is playing out of the predominant south direction, that, coupled with the elevation on the tee shot, means balls can leak further right than you might think and end up in the trees, requiring a new nugget. Favor the left center of the fairway to avoid this outcome, and it shouldn't be more than a short-iron in. It should be noted that the greens at Tangle Ridge can be a little tricky to read. With the rolling hills all around, players need to be mindful about where the higher points on the property are and how that might impact break. Some putts might look like they break one direction, but when you look at the overall topography, they can easily break the complete opposite of what you may think. This is especially prevalent on the opening nine, and is really noticeable on No. 2, No. 5, No. 6 and No. 8.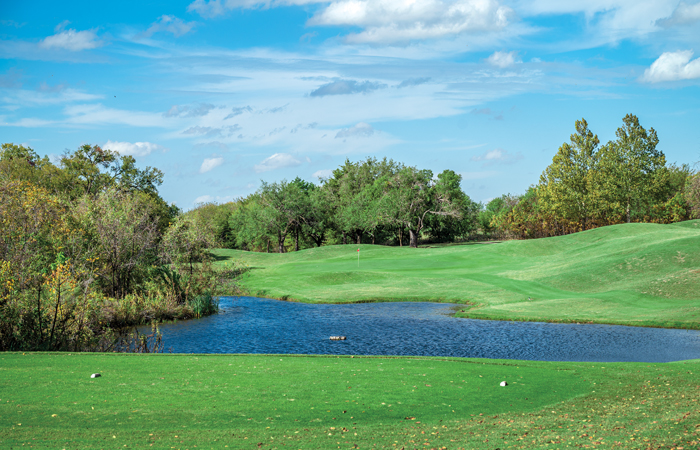 After another par 4 that is similar to the second, the first par 3 of the day comes at No. 4. This is a shorty, playing just over 130 yards even from the tips, but it can be a great chance to throw a dart depending on where the hole may be cut. 
The first par 5 of the day is the 545-yard fifth. Another example of the great topography, this requires a cut tee shot to maximize the fade-helping fairway that slopes hard from left to right. The longer hitters can give the green a go in two, but it's slightly elevated with big trouble left and a bunker short and right of the green. A lay-up and a precision wedge might be the best bet, unless you are looking to be aggressive.
No. 6 is one of my favorite par-4s in DFW. It's another elevated tee box that leads to a bunker littered landing area. Big hitters can take a driver and take a shot at the green but come up short and you run the risk of drawing a terrible lie in one of several bunkers. Laying up is no cupcake either, as leaving an iron or hybrid in one of the shorter traps can lead to the dreaded 60-yard bunker shot, which any amateur can tell you is a shot practiced in very short supply.  
Tangle Ridge features a fun finish to the front nine, as No. 8 is a monster par 5 that requires three great shots to get to the green. The tee shot plays downhill, but there is a creek that runs across at about 290, so the longer players run the risk of reaching it when there is little wind. From short of the creek, a mid- or long-iron layup is required to leave a wedge third over a large area of fescue that can collect balls that get hung up in the south wind. It's a challenging hole for even the best ball strikers.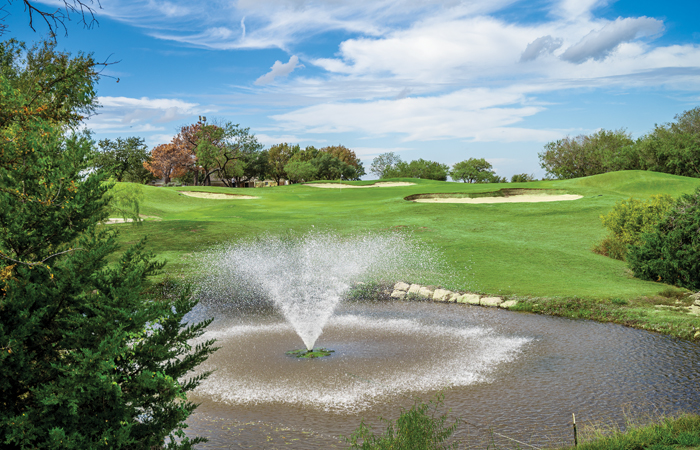 No. 9 is another short par 3, playing at just around 150 yards; this iron shot is more about finding the proper section of the whimsical putting surface. A pond short of the green can be intimidating but select the proper club, and with a confident swing good things could be in store. A front pin is in a bowl that slings balls toward the flag, so if you happen to be without a hole-in-one in your career, this is a good pin placement to remedy that. A back pin is a little more challenging, but it's gettable, too, with a good swing. 
The next par five of the day comes at No. 13. This tee shot requires precision, as a slight draw will add a little distance and keep the right trees out of play. A good ball off the elevated tee will leave a doable second shot to a large green complex with a little more room left than it appears. I have seen many shots that looked like they were in trouble left only to get to the green and see that they are just short of the putting surface or even just on the front edge. It's a great opportunity at a birdie if you can hit a good tee shot. 
One of the signature holes at Tangle Ridge is the par-4 14th.  Shorter hitters can bang driver, but I have found that a more conservative play takes most of the trouble out of play here, and believe me, there is plenty of it. If you are through the fairway left, you are faced with a very long approach over water that hugs the right the majority of the hole from tee to green. I think it's one of Jeff Brauer's best holes at Tangle Ridge. 
A picturesque par 3 comes at 17, which is the longest par 3 on the course at almost 200 yards from the tips. It's over another water feature which adds some visual stimulation and gets the blood pumping, especially if you have a good round going. Be aware that this hole will usually play with the wind a touch, but be mindful that the breeze will hit your ball when it gets above the tree line. It's a great par 3 and a fun penultimate hole. 
I always like courses that end with a par 5. It can help some money exchange hands or give players one final risk vs. reward opportunity to gain a shot. The par-5 18th at Tangle Ridge puts players to a decision right there on the tee. It's a pseudo-split fairway with a massive bunker right in the middle just over a large water hazard. Choose the conservative left route and there is a little more room, but it means almost no chance of getting home in two. Go to the right portion of the fairway, and it's a longer carry but makes the second shot more reasonable. I have always just hit it at the bunker in the middle and believe that there's no way I actually hit one dead straight. It's worked out more often than not, but I have found that big bunker a couple times, and it's a penal as it looks from the tee. It's a great finishing hole for a daily fee course. 
Having been open since the mid-'90s, the turf at Tangle Ridge is due for an upgrade here soon, and we're hearing rumors that may be in the works. So a renovation could be on the horizon; stay tuned for information on that. The course is still great, though, and at their current rate, it's one of the better deals you'll find in DFW. 
The combination of friendly service, fun terrain and a superior layout make this one of our annual favorites, and if you make it to Tangle Ridge, you will see why.