Travel – Firestone Country Club

Invited Clubs, formerly ClubCorp, is one of the premiere club management companies in the United States, with properties all across the country. One of their most recognizable clubs is familiar to those who have followed the PGA TOUR, Firestone Country Club in Akron, Ohio. 
Getting to Firestone is pretty painless from Dallas. There are plenty of flights to Cleveland, which is only about 40 minutes to the north on Lake Erie. The drive to Akron is simple, or Firestone offers shuttle service for your group at the airport, making the commute easy and painless. 
One of the first things you notice as you approach the property is the signature Firestone water tower. The unique feature, with its vivid maroon and white paint. was constructed in 1959 one year after the original clubhouse was lost in a fire. One of the main reasons the clubhouse couldn't be spared was the lack of a nearby water source. The tower was still operational until the 1990s, but now it serves as a great signature feature, welcoming members and guests to the property. Spectacular landscaping is also apparent as you arrive at Firestone. Everything is exceptionally green and lush. Plenty of colorful flowers and plants make the areas surrounding the clubhouse pop and really stimulate the senses as you hear the birds chirping and see all the wonderful colors. 
There are a couple of options for accommodations for your excursion to Firestone. Their stay- and-play package offers nights in one of their club rooms, which are upstairs in the main clubhouse. Each room is named for a PGA TOUR great, from Jack Nicklaus to Arnold Palmer and Tiger Woods. These rooms are a great option for groups that are looking for a more budget-friendly option and want to be closer to the all the action in the clubhouse. Each room is equipped with a super comfy bed and great views of the property. They are close to the locker room area, which makes it convenient to get a quick shower and head to dinner or for cocktails post-round. If you are wanting a more intimate atmosphere, one of Firestone's golf villas may be a better choice, as they can house larger groups and come equipped with community rooms with pool tables, poker tables and other amenities that are perfect for your buddies' trip. The club can even cater meals in the villas, if you don't want to dine in the clubhouse.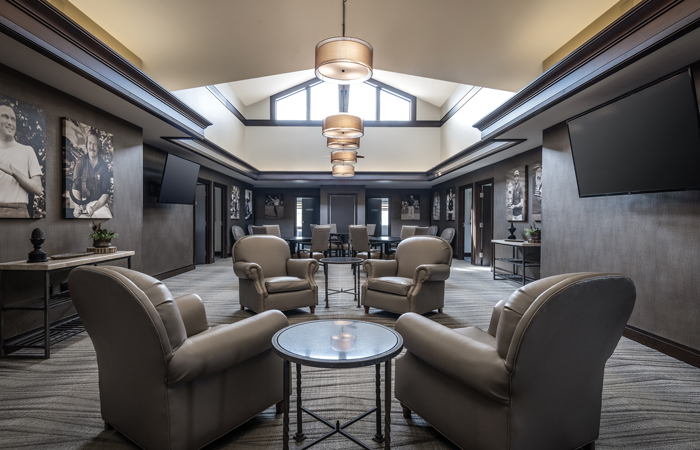 If you want to keep the fun rolling (literally) after dinner or cocktails, head over to the putting course that is just a stone's throw away from the golf villas for some flat-stick fun with some beverages. The course has lights, so even after the sun has ventured below the horizon, you and your group can throw down a wager or two and see who reigns supreme on the green. Adirondack chairs are nearby, if you want to lounge in between putting sessions or if you want to spectate while members of your party duel it out. It's another great little extra that Firestone has to keep you entertained while on property. 
Dining and drinks are convenient at Firestone, as they have multiple options right in the clubhouse. The 55th Hole Bar is perfect to reflect on your day on one of their three courses, and it also boasts one of the most interesting features I have ever seen at any club. If you are making your way from the locker room area, there is a secret door that leads to the 55th Hole. And this isn't your typical secret entrance behind a bookshelf; this is a Bruce Wayne manor, Batman-style secret entrance where you press a button and the door slides open on a rail system. It's a spot you will most certainly want to stop and take a quick video on your phone. Once inside, belly up and hope you see the famous Fuzzy behind the bar. Fuzzy is well known to members and has stories upon stories about tour pros, member shenanigans and other happenings from his time slinging suds at Firestone. You will definitely be hanging on every word, as he entertains you and your group over cocktails. Just be sure you don't end up as a future tale in Fuzzy's repertoire.
The restaurant scene at Firestone is simple, but delicious. The aforementioned 55th Hole also has a nice bar food menu, including appetizers like nachos, wings and Firestone's famous bean soup. Salads, burgers and sandwiches are also available, but I recommend one of the pizzettas, which come in four varieties, including a pepperoni, cheese, veggie or even a BBQ pork.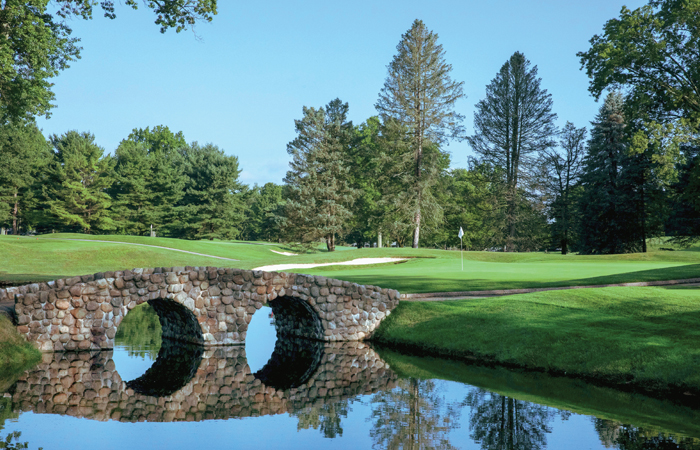 The 1929 Grille is also a nice option if you want something a little more formal. This is the spot for breakfast if you are looking to fuel up before heading out for a round. Omelets, breakfast burritos, pancakes or even eggs Benedict are there for your choosing. If you are between rounds and want to grab a quick lunch, then might I recommend the buffalo chicken dip or some of the maple bacon pork belly bites to snack on while you are waiting on that afternoon tee time. The 1929 also has a wide variety of sandwiches, like the Akron Hot Chicken, which is a crispy chicken breast on a toasted challah bun with chipotle aioli and banana pepper cabbage slaw. This is one of my all-time favorite chicken sandwiches, so it comes highly recommended if you are looking for a great lunch. If you want dinner in the 1929, they have plenty of rib-sticking meals that you won't be able to stop consuming. Filet, ribeye and a NY Strip are some carnivorous options, if steak is what you crave. If you want something a little lighter, then the seared Amish chicken with grilled corn, fava bean and cherry tomato succotash is a real crowd-pleaser. 
For a finer dining experience for your group, La Vetta Italian Chophouse is a great concept. Warm and welcoming, this spot has everything from house-made pastas to flatbread pizzas, chops and great steaks. The appetizer I suggest are the honey goat cheese and pistachio-stuffed dates. These succulent little sweet treats are perfect for a nice amuse bouche as you settle in for your meal. The jumbo lump crab cake is also fantastic, with big chunks of crab to get your tastebuds rocking. For your entrée, steaks are always a safe bet, but the lasagna and the bucatini vongole with clams, garlic and white wine are both savory and delicious. 
If you are out on the course, then don't forget to hit the 7/12 Grille for one of Firestone's famous burgerdogs, which were brought to the Firestone from Olympic Club by GM Jay Walkinshaw. They are a perfect mid-round snack and taste even better when paired with an icy cold beer. 
Now, there is one other food item that needs to be mentioned if you are headed to Firestone CC, and that is their famous crunchy cream pie. Jack Nicklaus is so fond of this sweet treat, he reportedly once sent his private plane to Firestone to pick up several dozen of them for a party he had planned. Now, that may seem ridiculous … until you try a slice. Trust me on this one, it doesn't get any better. I still wake up some nights craving a piece. It's that obscenely delicious. 
The three courses at Firestone are simply sublime. The Bentgrass fairways and greens are unlike anything you will see in Texas, as they are plush and the brightest green you will ever see on a golf course. If you are one who tends to get a little steep with the irons, expect to have your caddy chasing beaver pelts down the fairway, as you can really take some massive divots. Also make sure you have the divot repair tool in pocket, as you will need to be mindful of repairing pitch marks on the super soft greens.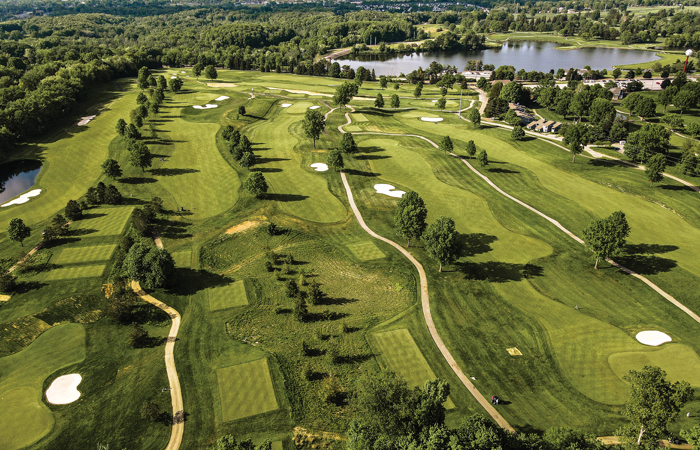 The Fazio Course is a parkland masterpiece. Formerly the West Course, it was reimagined by Tom Fazio in 2001. On any other property, this would be the signature track, but here, it almost seems along for the ride with its sister courses. The Fazio is the current home of the Ohio Senior Open and features generous fairways and large putting surfaces. It's a great course to open on as you get your feet under you for the trio of rounds at the club. The fairways have ample rolling hills that make club selection tricky, and the larger greens require precision iron shots to avoid long putts that have just enough subtle break to make them tough to solve. Some of the highlights of the Fazio are No. 2, which is a slinging, tree-framed dogleg right that plays up a hill to the green. A precision driver will leave nothing more than a wedge to the green, but an iron or hybrid can also be taken off the tee to play for position. The approach is the tricky shot here, as the elevated green can make club selection tough. 
Another highlight on the opening nine is the short par-4 fourth hole. This one plays a little over 320 yards from the tips, which means longer hitters can challenge the green off the tee. However, there are multiple gnarly bunkers short of the green that makes this a risky proposition. The long par-4 eighth hole is another great design. This slightly uphill dogleg right requires a precision tee shot that works left-to-right. A trio of bunkers surround the green, making this a tough mid-iron approach. 
The back nine on the Fazio is just as fun, with more of the same gorgeous parkland terrain. No. 12 is a highlight, as this par 3 is just a mid-iron, but the green is surrounded by thick rough and a bunker on the right. If the pin is up front, then it's a much easier hole, as a deep thumbprint on the left side of the putting surface makes this a tough two-putt even with hitting a green in regulation. 
The par-5 17th also gives players one more great chance to score on the Fazio Course. This one only plays 525 from the tips, and an even more manageable 506 from the blue tees. A good tee shot leaves players with a great chance to get home in two and have a great chance at a two-putt birdie. 
The North Course at Firestone can be summed up in a single word. Amazing. While most people come to Firestone to play the South Course, which has hosted loads of major events over the years, I found the North Course to be one of the most unique and challenging courses I have ever stepped foot on. Unlike the South Course and the Fazio, this layout comes equipped with water in abundance, as it twists and turns around the Firestone Reservoir.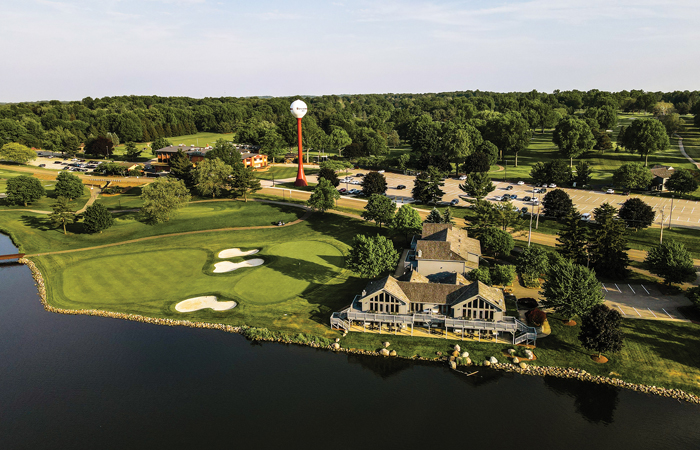 No. 2 on the North Course has to be one of my favorite holes on the whole property. Playing at 387 yards, this one has water left and right, which can come into play for those choosing to lay-up. The hole then retreats up a hill and back into a stadium of trees to an elevated green guarded in front by several small pot bunkers. Playing aggressive here could lead to a simple pitch-and-putt birdie, but miss big and you've brought double or worse into play. 
After the first couple holes, the North winds back into the gentle rolling terrain on the far side of the property. Numbers five through eight play 5,3,5,3, as this Robert Trent Jones Sr. layout offers some chances to score. The par-5 seventh is a fabulous hole that plays significantly downhill to a peninsula green. If you are feeling confident, you might give the green a go in two, but a layup and then a wedge might be the best bet to avoid a potential disaster. 
No. 14 is arguably the most gorgeous golf hole I have ever seen. It might not be for everyone, but I simply loved it. A hard dogleg left that presents a carry over some bunkers and thick native area, you can be as aggressive with the corner as you want. The more to take off, the more risk you run, but the shorter the second shot will be. The dramatic elevation change to the green below on approach is really jaw-dropping, should you choose the more conservative approach to the top of the hill.  
The final two holes on the North Course are a white-knuckle ride. The dramatic par-3 17th is a monster 218 from the back tees and is a downhill shot to an island green with almost no room for error. A couple bunkers in back can save your bacon if you miss long, but it's a shot that requires your full attention. I suspect the Firestone Reservoir has claimed many nuggets from errant tee shots on No. 17. 

The 18th is another hole that flexes its water-fueled muscles. This tee shot is another choose- your-own adventure, as players can determine just how much of the reservoir they want to chew off to get the fairway. A conservative line is maybe about 180 yards of carry, and those who want to be bold can cut more and more off to make this closing par 5 shorter. However, anything that bleeds right will be a splashdown. It's a great finishing hole. 
The South Course at Firestone has hosted over 70 professional tournaments over the years, including the Rubber City Open and the WEC-Bridgestone Invitational from 1999-2018 (with the exception of 2002), an event that Tiger Woods won a record eight times. A fantastic sister course to the North, the conditions on the South are as good as you will find anywhere. The Bentgrass fairways and greens are second to none, and the routing and creative bunkering make it as good as any course you will play. Over the last several years, the club has removed almost 100 trees to open up recovery efforts and also improve sunlight to help keep the grasses and greens happy. In addition to removal of trees, some of the lower branches were removed on existing trees to open up sightlines to other parts of the course. It really makes for an aesthetically pleasing day on the links. 
One of my personal favorite holes on the opening nine of the South Course is the par-4 third. This slight dogleg right is framed by huge trees on either side, and the approach is a short iron over a small, serene pond to a green guarded by a couple bunkers. It's a truly gorgeous hole. The ninth plays as the No. 3 handicap on the course, and you can see why. A couple of deep bunkers guard the right side, and should you find them, getting to the green is almost impossible. The slightly elevated putting surface here and soft greens mean spin control on your approach is paramount, as you don't want to spin anything back off the green. 
The inward nine is one of the best nines I have seen. From top to bottom, it's a great collection of holes, but the final three are some of the best. After making a triple bogey in the 1960 PGA Championship, Arnold Palmer called No. 16 a "monster." The nickname stuck for not only that hole, but the entire South Course is now referred to as the "monster" by members. No. 16 is one of those holes that really makes you love the game of golf. A long par 5, this tee shot apexes a hill and can slingshot down the fairway, leaving a chance to get home in two. But miss the fairway, and the thick rough will make a layup a tough customer. A small pond guards the green short, and a deep bunker sits in back. It's a great hole, but make a mess of things and you could find yourself in Arnie's shoes or worse. 
No. 17 plays back up the hill headed the opposite direction from 16. The main concern here is the approach. It plays a good deal uphill and with some of the swirling winds, it can be tough to pick the proper club. This is a fun par 4, if you trust your gut with club selection.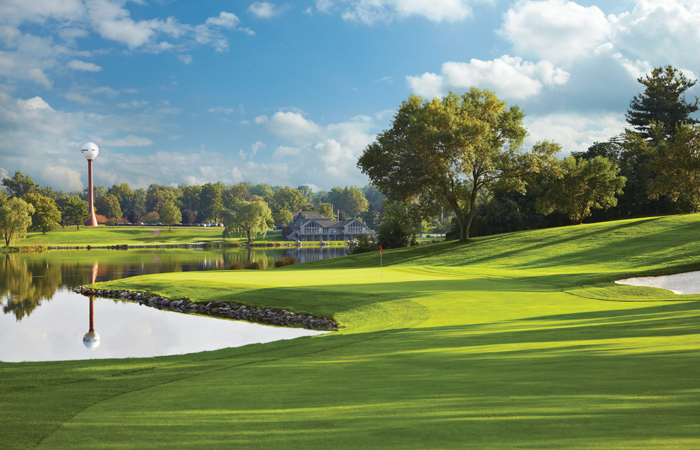 No. 18 on the South is the spot of one of the most iconic shots in the history of golf. If you are a golf history nerd, then you likely already know which shot I am talking about. At the 2000 NEC Invitational, Tiger Woods and Hal Sutton were still on the South Course finishing their final rounds after a long weather delay. At almost 8:30 p.m. Akron time, Tiger stood with an 8-iron in his hands from 168 yards out. In near pitch black, Tiger sent his ball hurtling into the night sky, where it dropped and spun back to just a couple feet. It's a shot that, in most circumstances, would've been played the following day. But Tiger had built a 10-stroke lead and he was also battling a stomach bug, meaning it was just time to get it over with. If you play Firestone South Course, be sure to stop by and visit the plaque on the right of the fairway to pay homage to Tiger. It's a great spot to drop a ball and hit one. Although the tree that guards the left half of the green is 22 years older now, so it's a tougher proposition than when Tiger pulled it off. 
If you're at Firestone, don't limit yourself exclusively to their property. Just down the road in Canton is something every fan of the pigskin should love, and that's the Pro Football Hall of Fame. This is one of the most incredible experiences you can embark on if you are a football fan. From the history of the game to the modern gridiron warriors, this excursion will leave you in awe from start to finish. One of the highlights is obviously the Hall of Fame Gallery, where you can see the bust of every Hall of Famer … from Jim Thorpe and Sammy Baugh to Dallas favorites Roger Staubach, Emmitt Smith and Troy Aikman, this is truly a sight to behold. And should you want additional information about any of the inductees, all you need to do is walk over to the kiosk in the gallery and search any player for their story and information. There is also a bevy of great memorabilia, including items like Eric Dickerson's Rec-Specs, or even a special theatre where you can experience hologram Vince Lombardi giving you a motivational speech. The whole thing is a must-see if you are a football fan, young or old. 
The newest feature at Firestone, which opened in mid-November is their BigShots location. BigShots Golf at Firestone encompasses 22,500 square feet and is near the Raymond C. Firestone Public 9 Golf Course. Open to the public year-round, BigShots Golf at Firestone includes a two-story tee-line with 44 climate-controlled tee boxes, a private event space and Anthem Kitchen + Bar, an elevated sports bar featuring unexpected menu items, signature cocktails and craft beer. It's a wonderful addition to the overall experience, and one I can't wait to get back and try out. So, there are plenty of other entertainment options around if you want to get off property. 
Firestone is truly one of the more impressive properties I have visited. It's very rare that I am really surprised by a golf course experience, but Firestone really wowed me. All three courses are so unique and fun to play. The North and South Courses are very challenging, and the Fazio is more of a resort style with some wider fairways. All three present plenty of white-knuckle shots, while also keeping you engaged and visually stimulated with exceptional routing, bunker placement and overall spectacular conditions. These are some of the best greens I have ever seen, and the fairways are better than any you will find anywhere. The accommodations and dining options are great, and the clubhouse comes equipped with a friendly, engaging staff. 
And, whatever you do, DO NOT leave Firestone without trying that pie.