Cover Story – Ryan Palmer

Ryan Palmer is as Texan as they come. The Amarillo native grew up worshipping Texas A&M football and wanting to be an Aggie. He got that chance and after a solid career in College Station, the now 46-year-old is one of the wily veterans on the PGA TOUR. In his career, he has finished in the top 30 in all four majors, including a 10th at the 2011 Masters and a T5 at the 2014 PGA Championship. He also has four PGA TOUR wins, including the Sony Open in Hawaii and the 2019 Zurich Classic, during which he teamed up with phenom Jon Rahm. Palmer has plenty of friends on Tour and has even given advice to some of the younger local guys, like Scottie Scheffler and Jordan Spieth. Just a couple months ago, Palmer was honored to become a Texas Golf Hall of Famer, along with Brad Elder, Barney Adams, Gordon Johnson and Ronny Glanton.  
AG sat down with Palmer at Colonial Country Club to discuss his love of Aggies football, Colonial's upcoming renovation, and his recent induction into the Texas Golf Hall of Fame. 
Congrats on the Texas Golf Hall of Fame. What was that whole experience like? 
I knew it was a possibility. I was nominated last year but it seemed unlikely. I was nominated again this year, and when I got the call, I was really excited. I was doing laundry when I got the call. I knew it might have been coming, but it kind of hit me in the gut when it actually happened. When I started playing this game, I never thought I could end up in the Texas Golf Hall of Fame. 
How was the ceremony?
It was so great and special to have my family there at the induction ceremony. My wife, Jennifer, and my kids, Mason and Maddie. My high school coach, Wade Walker, was there, my college coach at A&M, Bob Ellis, one of my early coaches, Neil Wilkins, and of course, Randy Smith, who I have been with since 2008, and he's been a huge part of my success. My caddie, James Edmondson, and his wife were there. It was just a great night. 
You went into the Texas Golf Hall of Fame with Barney Adams. Did you ever own an Adams Tight Lies?
I knew all about Barney. I tested a lot of the Adams clubs, but I don't think I ever put one in the bag. But, obviously, he changed the game with that development. Now, hybrids are everywhere. He did a lot for the game of golf, and it was great to be inducted with him.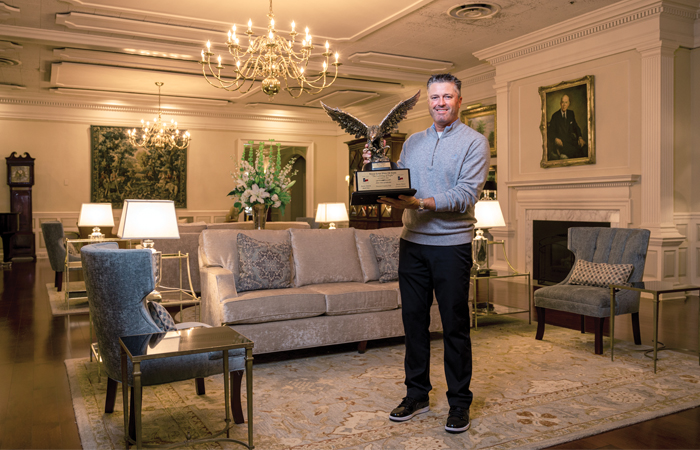 And you have a Ryan Palmer Day in Amarillo?
That was a really nice gesture. The mayor pro-tem of Amarillo showed up and announced that October 17 would be Ryan Palmer Day in Amarillo. It's pretty neat, and I was happy that they gave me that honor. 
Growing up in west Texas, how do you feel it helped develop your game? 
Well, obviously, I don't have any problem hitting it low. Playing in the elements out there helped develop my shot-making. But the main thing was the people I grew up around. They helped me develop as a player. There are so many amateurs I played against that helped me develop. I had to learn to compete hard to beat them. I owe a lot to the folks in Amarillo, Texas. 
So, you have played with some great players in the Zurich. Haven't you played with three number one players in the World?
Well, that's kind of true. They weren't number one when I played with them, but they all were number one at one time. 
Who is making those calls? 
Well, Jordan, and I have talked about it, and then there is the story of James beating Jordan and him having to play with me. We played together a couple years, and when I found out Jordan wasn't playing the following year, James and I spoke to Jon Rahm's caddie, Adam Hayes, and we thought we'd be a good tandem. I had gotten to know Jon a little bit and so it was an easy text, and it didn't take him long to agree. Of course, Scottie and I have the same coach, Randy Smith, and both train over with Dr. Troy Van Biezen. When I knew Jon wasn't playing, I asked Scottie, and he agreed.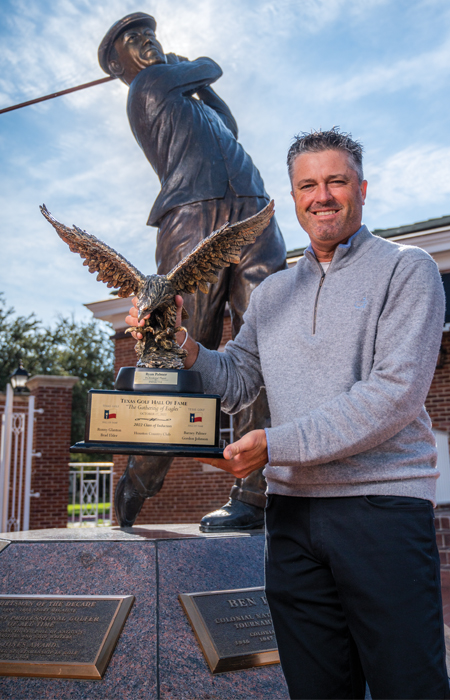 As an elder statesman out on Tour now, how much responsibility do you feel to mentor some of the younger players and teach them how to be a pro?
There's a little bit of responsibility there. In fact, this year they asked me to speak at the rookie orientation. Kevin Streelman and I spoke with, I think, 32 rookies. We sat and discussed things we saw on Tour and some of the things they might encounter. It was good to give them some insight on some of the things that they might see out there. One of the main things I preach is finding someone you can really trust to handle their personal finances. That is one of the main things I wanted to get across to them, because we see a lot of younger guys struggle with that. 
DFW is rapidly becoming a hotbed of golf with the extraordinary talent pool and the new PGA development up in Frisco. 
The talent pool here is massive. It's amazing how many great players we have here, not only on the PGA TOUR, but the Korn Ferry Tour, LPGA, the collegiate ranks and even into the high school level. The courses around here are fantastic, too. Of course, you mentioned the new PGA development, but courses like Dallas National, Vaquero and others are such great properties. 
You are a member at Colonial, and they are getting ready for a complete renovation. Did you have any input on the new design?
More than you would think. It was pretty cool, actually. When they first approved the renovation, they came to me and James and asked us to be a part of it. I have been a member here for a while, and James has been club champion before. We met with Gil Hanse, our greenskeeper, our tournament chairman and our GM, and sat down for a three-hour lunch and went through every hole. We discussed our concerns and our ideas. Later, we walked the course, and we discussed our ideas and what a PGA TOUR player would like to see versus what a good amateur player might want. It was great to be a part of it and took our advice. It's going to be unbelievable to see when it's complete. I'm really excited about the future of this club.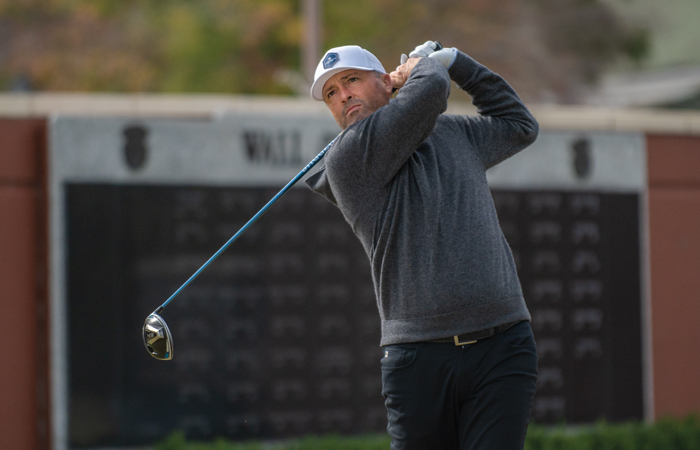 On your bio on the PGA TOUR website, it says you like to barbecue. What are some of your favorites?
My wife loves my steaks. I also use my Traeger and make beef jerky on that. I love making jerky. But I just enjoy being outside and cooking some steaks and maybe having a beer while I'm cooking. I also love entertaining friends and cooking for them when they come over. 
Should the Aggies keep Jimbo Fisher?
That's a tough one. It's been a rough year. I'm not too worried about Jimbo. They started a lot of freshmen and the injuries piled up, too. I do think Jimbo needs to relinquish some of the offensive play-calling duties. As long as the transfer portal doesn't decimate the program. I hate what the transfer portal is doing to college football. But I think they should keep him one more year. 
You're also a Cowboys fan. Which one would you like to see first … a Cowboys' Super Bowl or an Aggies' national title?
Boy. That's tough. I think because of my lifelong love of A&M, I think I have to go with the Aggies. I have loved them since I was a kid.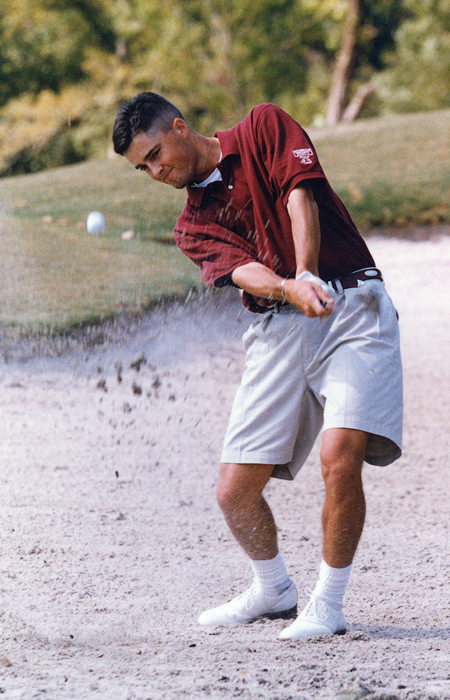 If you go to your Wikipedia page, there is also a Ryan Palmer that plays professional chess and one that plays professional darts. Who are you most likely to beat in a Palmer vs. Palmer matchup?
Darts. 100 percent, it's darts. I don't play much chess. 
Tell us about how you hatched your foundation and what kind of work you're doing there. 
The Ryan Palmer Foundation started back in 2003 in Amarillo. I wanted to be able to give back to the community that raised me. I wanted to be able to give back to the city. Having a charitable foundation is the immediate impact you can give, as opposed to donating to other charities. We partnered with the local children's hospital there, and we built a healing garden for parents and patients to get outside, and we also helped with some playrooms, computers and video games. Things that the kids deserve. My wife being a dentist, we also got involved with some dental care and partnered with some dentists there in Amarillo and a couple more here in Fort Worth. Every kid needs a healthy set of teeth and a great smile. When they get the care, they need, and they are able to smile like they should, that means a lot. In addition, Jennifer went through breast cancer back in 2016, and we decided we wanted to help with early detection awareness and breast cancer. Early detection is so important, and we want to help. It's great to provide services for these kids, and women dealing with breast cancer. I am super proud of the work we've done. We even have our logo on some of the pin flags on a putting green at the new NTPGA golf park. So, to have something that will be there long after me will be great.