After the Round – 97 West Kitchen & Bar

Hotel Drover is the newest shining star in the Fort Worth Stockyards. Open for less than two years, this luxury property comes with all the bells and whistles you would expect from a high-end hotel development. The warm and inviting lobby immediately sends you into Fort Worth overdrive, with warm woods and the ambiance of a 19th century western outpost. Drover carries a fabulous country chic vibe, with felt cowboy hats in abundance as you meander the property at a leisurely Fort Worth mosey. Retail stores are available if you need to stock up on some new boots at the Lucchese shop or a great new cowboy lid at Wide Brim.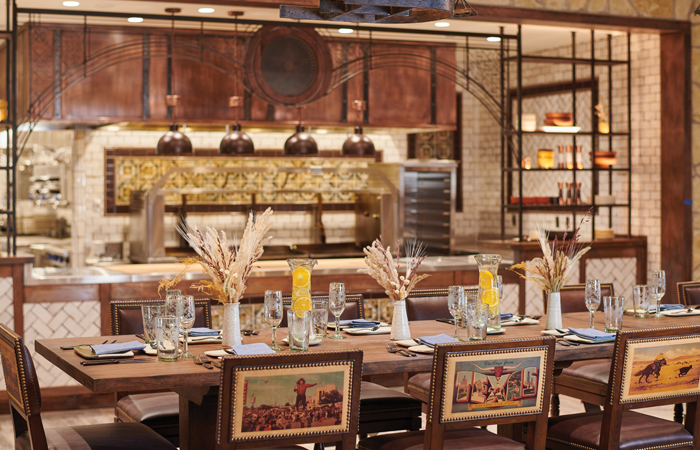 On the lobby level of the Drover sits 97 West Kitchen & Bar, which boasts a welcoming atmosphere despite being in a luxury hotel. Perfect lighting, comfortable seating and friendly waitstaff make this a wonderful place to dine, even if you aren't staying in the hotel for the night. Prices are fair and portion sizes are abundant, which makes this a great date-night spot if you have plans for the evening in the Stockyards. 
Appetizers range from simple to a bit more exotic, with items like blue corn tortilla chips alongside house-made queso, guac and salsa. Or if you're looking for something a bit more adventurous, you can sample the shishito pepper crab dip, which comes with lump crab meat, mushrooms and some pillowy warm flour tortillas.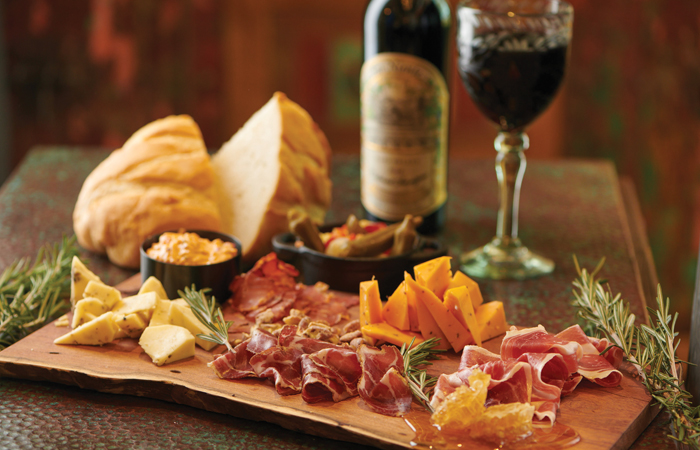 When my wife and I made our way through 97 West, we decided on the sweet tea-marinated fried green tomatoes. This is a one-of-a-kind app with all the southern flair you would expect from a night in Panther City. The bright acidity of the tomatoes is accompanied by a little hint of sweet from the tea brine. The crispy breading isn't heavy or greasy and has a great deep-fried crunch. These tomatoes come topped with a generous amount of chow chow relish, which adds a great fresh element to the top, and the spicy ranch dressing for dipping brings a little tickle to the back of your throat as you devour this delectable opening stanza. If you are in the market for a table sharable app, then I might recommend the meat & cheese board. This charcuterie is a combo of locally sourced meats and cheeses, along with some pickled veggies, pecans and honeycomb. It's perfect to split among the group so you aren't bogged down before the main event arrives. 
If salads are your thing, then 97 West has several to choose from. The Farm Stand is a great combo of lettuce, spinach, tomatoes, red onion and candied pecans. Feel free to add salmon or chicken to make it more substantial. If you're wanting something with red meat, then the steak panzanella salad may be the way to go. With a wood-fire grilled ribeye on top, this salad truly eats like a meal. 
The highlight of any meal is obviously the entrée. 97 West features just about everything a carnivore would want, from lighter options like mahi mahi or redfish, to more rib-sticking selections like steaks and ribs. One item I cannot recommend highly enough is the New York strip chicken-fried steak. This entrée is not for those looking to cut carbs or calories, as this massive portion will easily feed two, and comes with herb mashed potatoes, smoked sausage country gravy and seasonal veggies. Even though it's fried, the NY strip still stays super tender and juicy, and the breading isn't heavy or oily. The potatoes are velvety and buttery, and the gravy is served on bottom of the dish, which helps maintain the integrity of the crispy batter as you indulge. This is, without a doubt, the best chicken-fried steak in Tarrant County, and at just $28 for this huge meal, it's a great budget-friendly option if you aren't wanting to spend a lot for a great dinner. Consider a great appetizer and splitting this entrée if you want to be a little more waistline friendly. You won't leave hungry; I promise.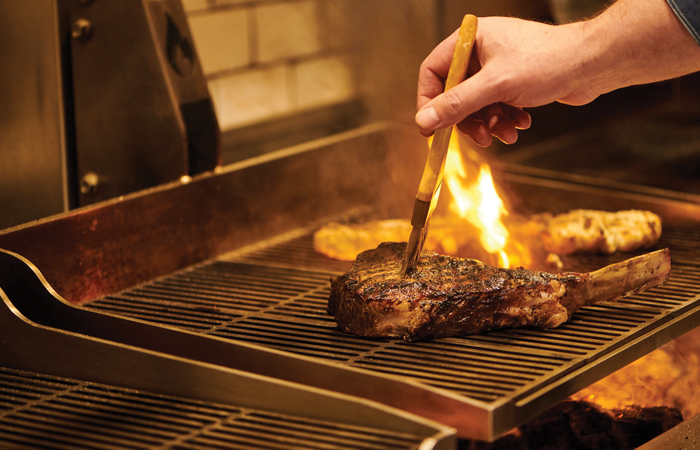 If wild game is something you like to enjoy, then 97 West has a half pheasant or even Broken Arrow Ranch antelope, as well. The antelope comes with Texas herb goat cheese grits and a delightful Texas balsamic vinegar marmalade. If you are searching for something a little outside the box, either are great options. 
On the lighter side, pecan-smoked salmon or cast-iron seared redfish are both great choices. The redfish is particularly interesting, served with a white bean ragout adobo butter and a great creole vinaigrette. 
How can you talk about a restaurant in the Stockyards without mentioning beef? 97 West has some great plates, but if you are a meat-eating, red-blooded American, then you are looking for beef. The steaks at 97 West are simply marvelous, with multiple cuts to satisfy your beefy craving, no matter what you pleasure might be. If you are a filet lover, then their 7 oz. cut is perfect. Magnificently prepared to whatever temp you prefer and as tender as any filet in Fort Worth. I went with the 12 oz. Akaushi New York Strip, and let me tell you, it may be the best steak I have had in the city. The fat content renders to perfection, and it just melts in your mouth. If you want to ramp up the flavor profile a little more, I might suggest a ribeye. The higher fat content makes this one of the richer cuts you can enjoy, but it is absolutely packed with flavor. A smoked prime rib is also available Thursday-Sunday and is something I can't wait to get back and try.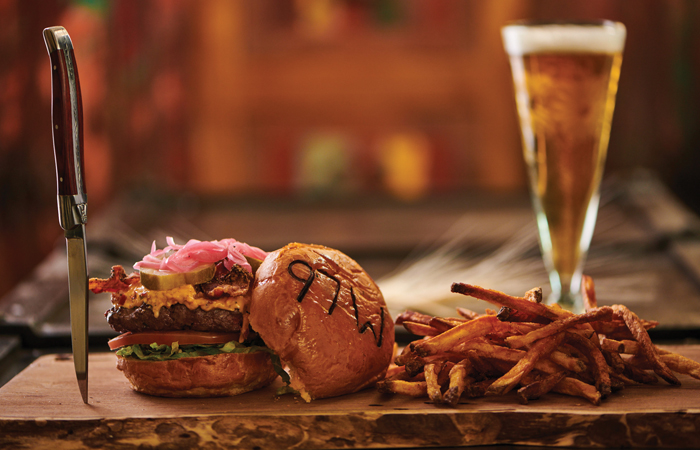 If you want to punch your throttle into overdrive, there are some sauces and add-ons you might consider with your steak. A Texas hot sauce hollandaise or a bright and fresh chimichurri are available, or if you love oysters, you can get your steak "carpetbagger" style, covered in fried oysters, roasted garlic jus and some of that hollandaise. 
One thing that I could not get enough of was the fingerling potatoes that are served alongside all of the steaks. It's one of the most unique sides I have run across in my various adventures to steak houses here locally. They were uncannily crispy, with some bacon and onion chopped in, and they are just magnificent. If you are a potato fan, these are something you will want to try, and then try again and again. Other family style sides include the aforementioned Texas goat cheese grits, fried Brussels sprouts and a creamy, rich three cheese mac & cheese. Any of these sidecars is a great accompaniment to your steak or chop. 
A couple dessert options can satisfy your post-meal sweet tooth. A Mexican bread pudding comes served with vanilla ice cream, or you can go with a southern classic with the pecan pie. The pecan pie is perfect to share for date night, as there are two smaller slices with a scoop of ice cream and a sticky bourbon glaze. It's a great way to end your meal. 
97 West is one of the most inviting premium restaurants I have stepped foot in. There's just something about the whole vibe of the Drover that really hammers home the Fort Worth Stockyards' experience. It's perfect in every way, right down to the wrought-iron posts next to the booths to hang your hat as you dine. It's a must try if you are wanting a great meal before you head to Tannahill's or Billy Bob's for a night of live music. It's Fort Worth to the core and one of the better meals you will enjoy as we steam-roll toward the holidays. 
97 West Kitchen & Bar (Inside Hotel Drover)
200 Mule Alley Drive 
Fort Worth, TX 76164
682-255-6497
www.97westkitchenandbar.com (reservations recommended)