Course Review – The Tribute Golf Links

After combining forces with Old American a few years ago, The Golf Clubs at Tribute are now one all-encompassing property. The clubhouse that used to be home to just The Tribute Golf Links now serves as the home for the pro shop, dining and all the other amenities for both clubs. These semi-private properties have memberships available, but also a multitude of tee times for public play. In this feature, we focus on The Tribute Golf Links and everything this property has to offer, from its links style, 18-hole championship course, to the incredible clubhouse and dining. 
Speaking of that clubhouse, just inside the front doors sits the Tom Morris Pub. This dining area seems transported straight from the U.K., with rich wood accents, a bar that makes you immediately want to down a Guinness, and a friendly, attentive staff. Breakfast is served Friday, Saturday and Sunday in the Morris, with items to fuel up for your round including omelets, French toast and a breakfast burrito. They also offer plenty of grab-and-go options if you are in a hurry to warm up or need a quick bite at the turn.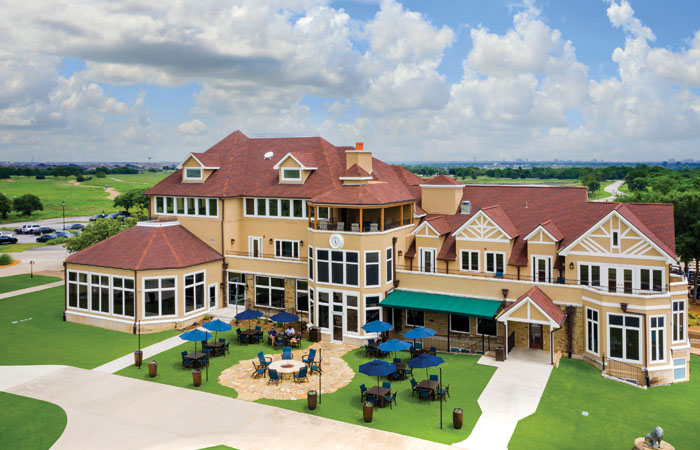 The lunch menu is substantial, with some Scottish fare like fish & chips, or more traditional American dishes like the Tom Morris burger or delicious flatbread pizzas. On my last visit, I tried the Buffalo Chicken wrap, which is bursting with flavor with moist chicken and a zesty buffalo sauce. It's also a great option if you want to grab one before you tee off, as this handheld is perfect for the course. Salads, other sandwiches and even dinner options, such as a pan-seared halibut or a Texas Wagyu strip, are also available. 
The Golf Clubs at The Tribute is also a great place for corporate tournaments, junior events or even weddings, with a unique 36,000-square-foot clubhouse that combines old-world charm, luxury amenities and second-to-none service. The spaces within the clubhouse include richly appointed conference rooms and full banquet facilities, with indoor and outdoor venue options.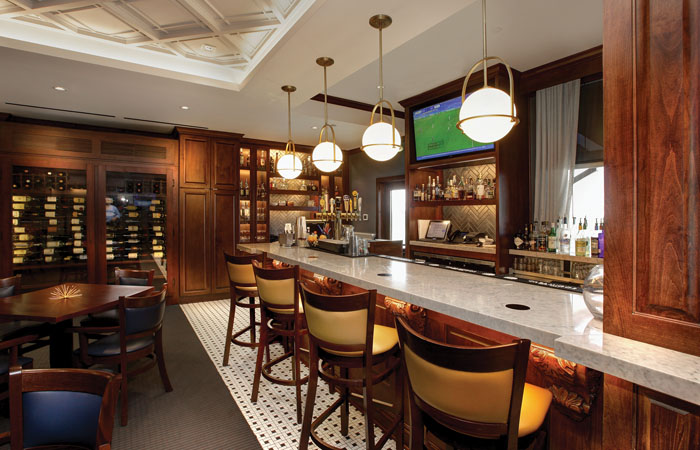 There are several holes at The Tribute that are replicas of holes at St. Andrews. No. 1 and No. 18 are, and as they do at the Old Course, they parallel one another. The opening tee shot affords players plenty of bailout room left, and when I say plenty, I mean about 200 yards worth. The angle gets trickier the farther left you get, but if you are one who tends to miss big right, it affords plenty of room for error. There is a small burn just short of the green, so a driver may not be the play here. Ideally, fire a hybrid or long iron to the middle of the fairway, and a short iron should be all that remains. 
No. 2 and No. 3 are both tribute holes from Carnoustie. Known to most in the golf world as "CarNASTY," these back-to-back holes are tough customers. The first is a 421-yard par 4 with a burn across the fairway that is reachable to most longer hitters. Laying up leaves a long second shot to a long green that makes distance control a necessity to avoid a long putt. No. 3 is a par 5, also from Carnoustie, which plays 581 yards from the tips. When the wind blows, which is often at The Tribute, this can be a tough par, as a pair of fairway bunkers in the middle of the landing area can collect balls and send your well-designed plans south in a hurry. Get through these two holes unscathed, and you have really shown your ball-striking chops. 
Skip ahead to No. 5, which is one of the most famous short par 3s in the world. Royal Troon Golf Club's "Postage Stamp" looks relatively benign as you scale the steps up to the tee, but the sweeping breezes coming off the lake, a tiny green and some diabolical bunkering make this hole much more difficult than you may think for just 125 yards. Find any of the bunkers surrounding the green, and things can get interesting quickly. However, a well struck wedge to the middle of the green can lead to a simple par or better.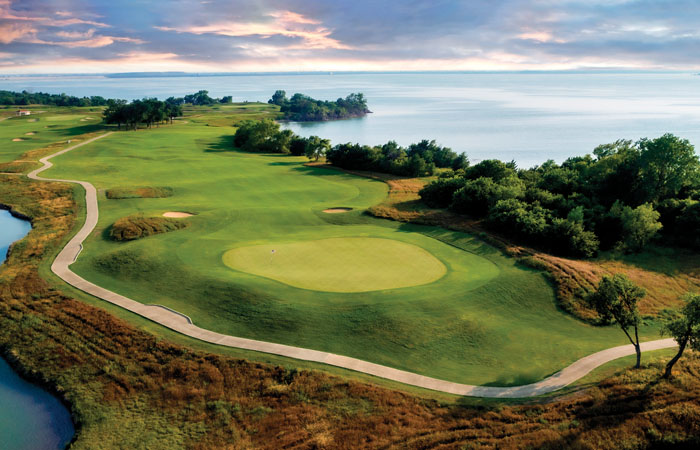 No. 7 is a fun and dramatic hole with beautiful views of the lake off to your left. This tribute to Alisa's No. 5 at Turnberry Golf Club features a hard dogleg left that plays to a whimsical punchbowl green flanked by a trio of bunkers. When the hole is cut in the middle of the putting surface, iron shots will collect toward it, but miss the green and this becomes a potentially evil up-and-down attempt. 
After a final outward nine par 3 at No. 8, you will come to a great scoring opportunity to round out the opening nine. This hole gives players many options, both off the tee and for your second and third shots. A deep bunker narrows the landing zone off the tee, so you need to favor the right side. If you succeed in finding the right center of the fairway, this leaves a chance to get home in two, but several bunkers short and right of the green are no bargain if found. The hole isn't long by today's par-5 standards, playing just 505 from the tips, but with the wind and out-of-bounds left the whole way from tee to green, this can be a feast-or-famine way to end the front nine. 
After a visit to Old Tom Morris' Prestwick at No. 10, which is a tough par 4 with a deep native fescue on both sides of this 456-yard behemoth, you come to another of the fantastic par 3s at The Tribute. This one again returns players to St. Andrews, and is one of the best par 3s on the planet. At 172 yards, this isn't a long par 3 by today's standards, but the uphill iron shot and severely sloped green makes a pinpoint tee shot necessary to avoid a comical putt on the green. Walk away with par here, and you should be thrilled to have just made three on one of the most iconic holes in the game of golf.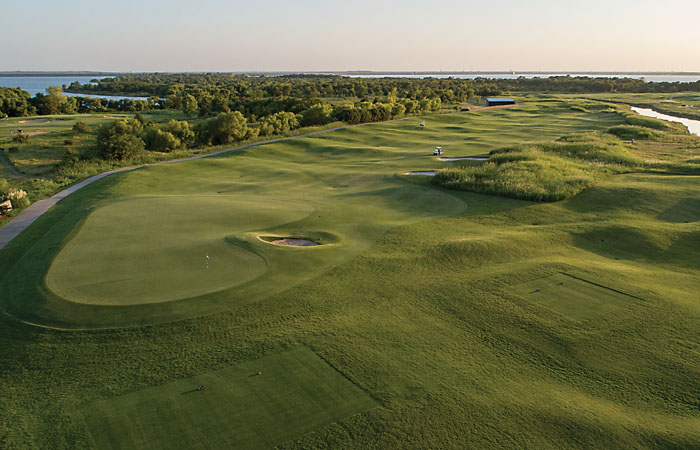 Drivable par 4s are one of the most interesting design elements of any golf course. These are almost always seemingly simple on paper, but once in front of you, there are often spots that can get you into serious trouble. This is the case with No. 13, which is called "Sutors." At just 310 from the back tees, this is a replica of No. 15 at Nairn Golf Club in Scotland. This temptation tee shot can yield great results, should a player manage to drive the green, but a miss anywhere short, right or left can lead to shots with bizarre hanging lies, thick rough, and undulations that can quickly turn this easy three or four into a bogey or worse. It is a fantastic design that can lead to joy or heartbreak. 
The final par 5 at The Tribute is often found on lists of the greatest holes in the world. This is a replica of No. 14 at Western Gailes, which is a course first born in 1898. Although long and fairly straightforward, a pair of small bunkers in the middle of the fairway can turn this hole against you quickly, while a position "A" tee shot will leave longer hitters a chance to go for the green in two. In all likelihood, most players will take this on as a three-shot hole, but beware, as five bunkers along either side of the layup landing zone can leave a tough third. Par here is a good score, and birdie will leave a smile on your face.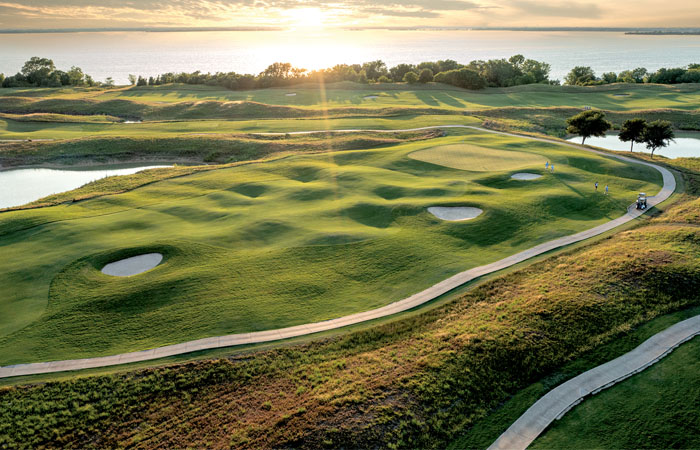 The final two holes at Tribute again return us to the birthplace of golf. The 17th hole at the Old Course may be one of, if not the most recognizable designs in the game. The "Road Hole" at St. Andrews is an architectural marvel, with several elements that have long endeared it to golf enthusiasts around the world. At the actual St. Andrews, the hotel is on the right of the tee, making this a blind hole. Although there is no hotel to navigate around at The Tribute, there is a large wall featuring the course logo that offers the same sightline as the original, which players must carve their tee shot around. A good tee shot leaves a mid-iron in, which sounds easy enough, but the "road hole" bunker guards the green. Find it, and entering to set up for your third honestly feels like being lowered into your own sand-filled grave. Miss right, and the infamous wall sits just a few feet away, and can lead to an unplayable lie and a dropped shot. It's a fantastic example of the attention to detail at The Tribute, and for a moment, you feel like you are really at St. Andrews. 
No. 18 is one final homage to St. Andrews. It runs parallel to No. 1 and again offers a massive fairway. Pay attention to the pin placement before you tee off, as this will let you know how far left you can bail out. A back right pin is more accessible the farther left you go, while anything on the left side of the green means players need to take a more straightforward approach. If you are familiar with this hole, then you know about the "valley of sin" that players need to navigate if they leave their approach short or get too close to the green with their tee shot. It's a great finisher, and one that can yield a birdie with two well-played shots. Also, don't forget to take a couple photos on the Swilken Bridge on your way by to commemorate your spin through The Tribute.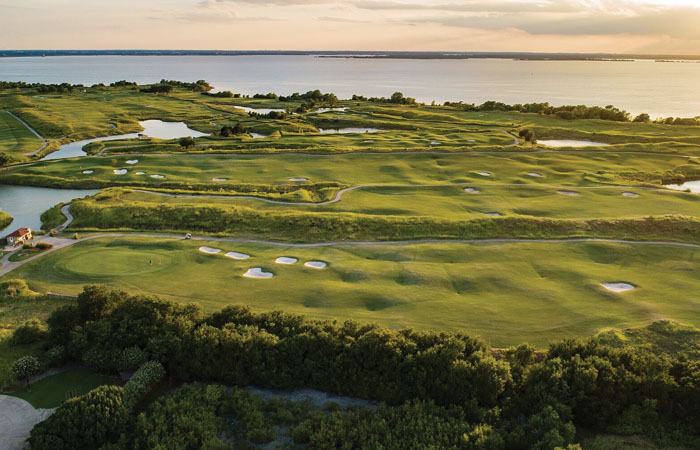 The Tribute isn't just a great place to tee it up. Without a doubt, the course is worthy of a trip to The Colony, just to see and experience holes that mirror the greats from across the pond. But the combination of great golf, great customer service and a great clubhouse makes this property a must visit for anyone who not only enjoys the game of golf, but world-class amenities.