Travel – Vidanta Nuevo Vallarta

The idea of first-class golf facilities, lodging and scenery all rolled into an amazing beach resort is hardly a new travel concept. But the new and ever-growing PGA TOUR site, Vidanta Nuevo Vallarta, takes it to a whole new level.
Opened in 1997, Vidanta Nuevo Vallarta is a 2,500-acre property on a mile of beach land is home to more than 2,900 room. It's the largest of Grupo Vidanta Mexican properties. 
There are 45 great holes of golf, plus multi-tower lodging options overlooking the lakes, river and beach scenery. Really, though, who doesn't have that at any self-respecting Mexico resort?
But what about a still under construction amusement park, the SkyDreams gondola system used on special occasions and to connect to the amusement park (which the resort website claims as the first-in-the-world gondola for a resort), river taxies and the world's longest cart suspension bridge?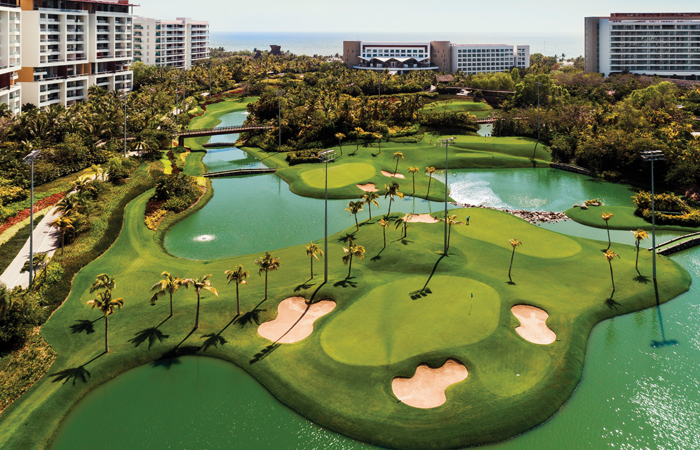 All that and more await your visit to the massive complex in Vidanta Vallarta, site of the PGA TOUR's Mexico Open at Vidanta, an official TOUR event won by Tony Finau this year, Jon Rahm the year before and is already on the 2024 PGA TOUR schedule.
"The commitment to excellence at Vidanta Nuevo Vallarta is unlike anything I've ever seen; it's just amazing," said PGA TOUR official Mark Williams.
"I have an opportunity to travel 35-40 weeks a year, and to say this is special would be an understatement," added John Norris, PGA TOUR Senior Vice President, Tournament Business Affairs.
Of course, golf is the reason many people come to Vidanta to start with, especially after watching the TOUR event on TV, and it definitely doesn't disappoint.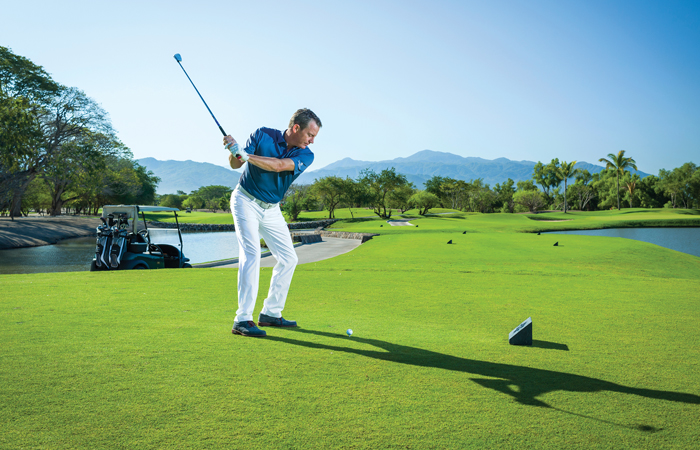 With two of the region's premier courses – The Nayar Course and the Vidanta Vallarta Course – plus the 10-hole, par-3 The Lakes Course and the all-new Vidanta Golf Academy which the pros use as a practice area, a beautiful new clubhouse restaurant, and the longest golf cart suspension bridge in the world, which links the tower lodging to the golf course, there is plenty to see and do.
Texas architect Chet Williams, who designed the par-3 Lake Course eight years ago, said the short course only added to the variety of golf options there.
"There were already a lot of buildings and towers there, so we had to be creative with the space we had," Williams said. "I worked on being extra creative so none of the holes looked the same, and we had a lot of watery scenery to use on several of the holes, which we were able to take advantage of." 
Indeed, more than half of the holes at the Lake Course feature the water to form a challenging, if not scary, tee shot. The course winds in between lots of trees and brush and plays in front of the hotel and condo towers.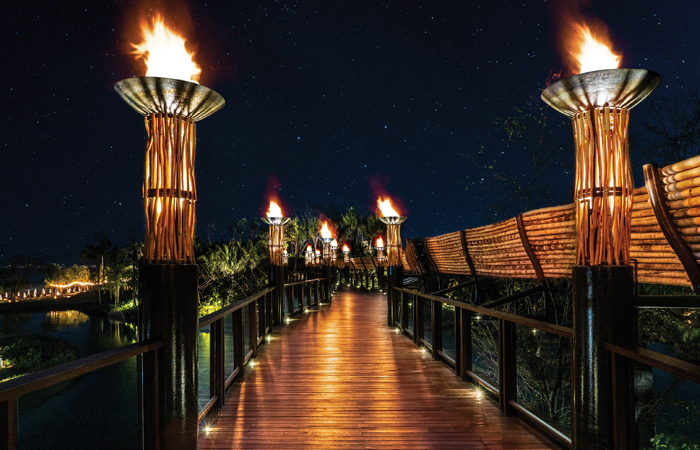 Another feature at The Lakes is the unique SkyCoaster gondola which goes over several of the holes, giving riders an aerial view of the hole layouts and the shots below.
"I've done a lot of golf courses in a lot of places, but I don't think I've ever done one with a gondola going above the course. There is a lot going on there," Williams said.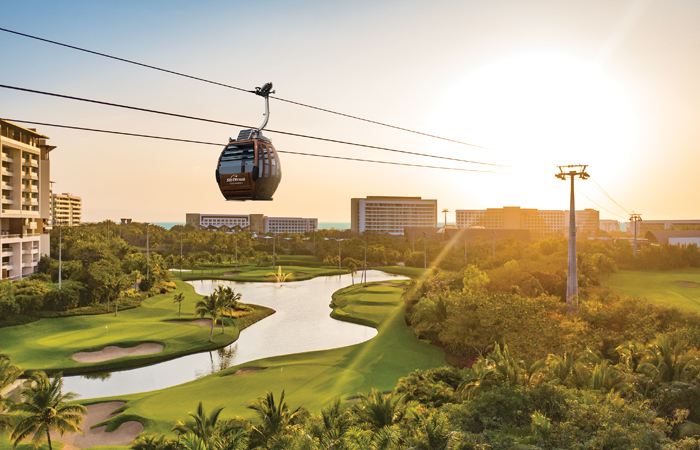 It's also the region's only brightly lit course, offering night play until 10 p.m., which was just enough time for Finau to take his kids to the course for 10 holes of fun after winning the PGA TOUR event in April over Rahm.
The tournament course, the Vidanta Vallarta Course, an 18-hole par-71 layout, was redesigned by Greg Norman and was awarded Renovation of the Year by Golf Inc. magazine in 2022. This course, originally opened in the 1970s, features wall-to-wall paspalum grass and challenging shots around the greens.
The pros play it from 7,400 yards, but amateurs can move up several sets of tees to make it a bit more user-friendly. Water comes into play on several of the holes, including the closing par 5, and there are plenty of trees, which can impede your movement if you stray off the fairway.
Both Rahm and Finau have gone double figures under par in their two wins here, but the chance to play where the TOUR's best play and a chance for a good shot or an even better memory is reason enough to challenge the course.
The adjacent Nayar Course is both a natural and technical marvel. This 18-hole, par-70 course is forgiving to beginners, but is rimmed with seven lakes and 49 strategically placed bunkers that can challenge the most experienced golfers. It also plays between several huge mansions, and the streets that run into the resort make it an interesting layout for all players.
When golf is finished for the day, you take the swaying golf cart bridge back across the river. There is no doubt Vidanta Nuevo Vallarta is a massive resort – some find the sprawling layout a bit confusing and aren't prepared for the amount of walking or tram rides that are involved. Woe to the traveler who gets on the wrong tram going to the wrong place (which I did) or tries to find a specific eatery with the right sign (which I also did).
The bright side of such a big resort is the proportional number of on-site amenities and activities available here. At Vidanta, along with the three golf courses and academy, you'll find multiple spas (some towers have their own), a lazy river, a multitude of pools, an entertainment pavilion for live performances and a shopping center. For other activities, you can take salsa lessons, go to trivia night, make arts and crafts, etc.
With the resort's beach access, guests can also lounge on the shore and partake in watersports. When hunger strikes, there are more than 40 restaurants and lounges to choose from, so whether you want to grab a casual lunch or indulge at a gourmet restaurant, there's bound to be a place to suit your taste.
Light shows? They got them. Famous entertainments and groups? Yes, and yes. Waterfalls, indoor and outdoor venues and theaters … they're all here. 
Accommodations are just as varied, ranging from rooms to lofts to four-bedroom estates and offering perks like private balconies, plunge pools, kitchens and more.
The towers are divided between the Grand Mayan, the Grand Luxe, Grand Bliss and the Mayan Palace, with larger houses available as well. The tower names hardly do the rooms justice with individual pools, spectacular views, full kitchens and dining areas.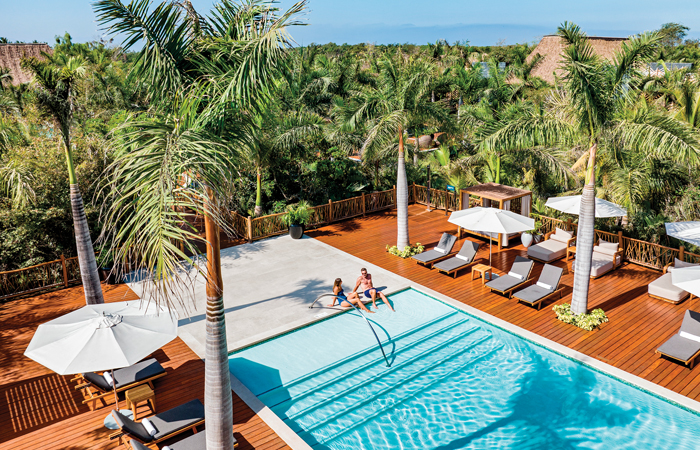 Among the newest dining option is the Sky Garden, which is on top of the Grand Luxe Tower and offers great food and better views overlooking the pool, jacuzzi and river.
"We are proud to show the world one of the most innovative resorts with three golf courses, including one PGA TOUR-certified course, and a host of fun dining, wellness, and nature experiences that we are sure golf enthusiasts and their families will enjoy," said Iván Chávez, Executive Vice President of Grupo Vidanta, the resort's owner.
"As the leading developer of resorts and entertainment in Mexico and Latin America, we are excited to celebrate this momentous occasion and demonstrate to the world that we continue to reimagine the future of entertainment with unprecedented projects like EPIK Theme Park and Vidanta World."
EPIK Theme Park is the first phase of Vidanta World, and will showcase the Vista Wheel, an incredible Ferris wheel that transforms into a multimedia light show spectacle by night; The Crater, a striking volcanic fountain experience; The Lake Show, a stunning production of incredible scale with talented artists, breathtaking scenery and dazzling lights, honoring the music of Carlos Chávez.
In other words, if they don't have it here during your resort visit, it's probably either not invented yet or still in the planning stages.
Spectacular resort overload might not be everyone's idea of a small boutique vacation spot, but at Vidanta Nuevo Vallarta, it's a very good thing.
For information on the resort and the many coming projects, visit www.GrupoVidanta.com or www.vidanta.com/en/web/nuevo-vallarta.