Course Review – Tierra Verde Golf Club

Two hundred and fifty acres in south Arlington became Tierra Verde Golf Club back in 1998. Now, 25 years later, this Audubon Signature gem has been reborn with some jaw-dropping improvements. Tierra is one of the Metroplex's foremost examples of wonderful playability combined with a serene country feel and relaxed atmosphere. Roadrunners, bobcats and other wildlife are abundant as you work your way through 18 magical holes.
Last summer, Tierra underwent a three-month transformation that included new Champions Bermuda greens, new white sand bunkers, as well as clearing of underbrush across the course and new sod in some of the more stressed-out areas of the course and property. The improvements have immediately paid dividends, as they were met with high praise from regular players of the course. The most important improvement of the renovation, though, is, without a doubt, the green restoration. 
If you are familiar with golf course agronomy at all, then you may be familiar with the word "encroachment." One of the unfortunate truths in golf is that greens often shrink over time. As mowers try to avoid scalping the collar, they allow it to creep into the green more and more. In fact, greens can lose 20-30 percent of their area over time. When putting green surface is lost, the original design elements are  compromised as pin placements and irrigation issues will negatively impact playability. 
Over 25 years, Tierra saw a good bit of this, but with the recent update, the greens have returned to their original design. And as a frequent player of the course (I'm an Arlington resident), I can tell you that the difference is noticeable.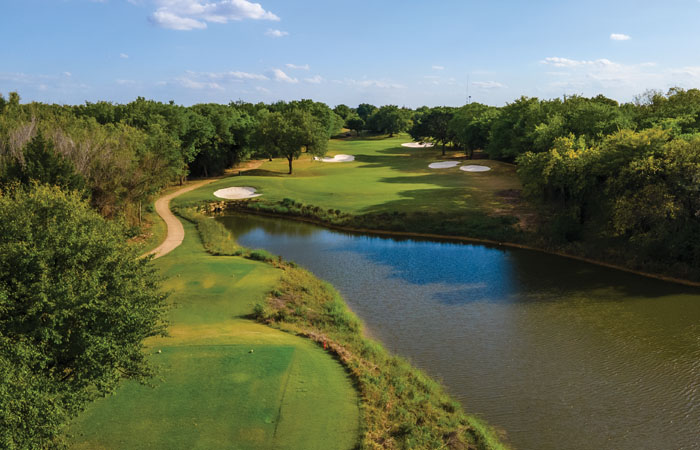 The second great update are the new white sand bunkers. Tierra had seen quite a bit of bunker wash-out over the last several years, and the remaining sand just wasn't cutting it anymore. The new sand is not only gorgeous to look at as it frames the holes beautifully and really pops, but it is also more playable. The sand is a little bit on the dense side as they continue to settle in, but another couple good rains and they will undoubtedly be perfect. 
Some of the on-course highlights include a great starting trio of holes that test players with a short par 4, a par 5 and a par 3. The opener is a great hole to ease into the round or be aggressive and try to get out to a great start. Playing just 355 yards from the tips, it's a great little hole to be aggressive and jumpstart the round or play a more conservative shot off the tee and ease into the proceedings. Either way you choose to play it, a birdie is available with well-struck shots. 
No. 2 is a long, uphill par 5 with a needle thread of a tee shot. This 578-yarder features a tee shot through a tree-lined chute over a small creek that opens to a relatively wide fairway. Those players who challenge the left side of the fairway, which is guarded by a large bunker, can find a speed slot and gain some extra yardage before the blind second shot. A windmill, which is visible on the backdrop to this hole, is a great target to look for as you determine what to do with your second shot. 
The first par 3 of the day arrives at No. 3. This hole always seems to play about a half club shorter than you may think, as there is often a slight southerly breeze that can add some carry. It's only 172 yards from the black tees, so this is another good chance for an early round birdie. 
The final two holes on the outward nine can make or break your opening nine. The short par-5 eighth offers a real chance at a four with a good tee shot. The second shot plays significantly downhill and usually downwind. So, there is a solid opportunity to make a four and gain a stroke. 
The final hole of the nine is a tough customer. This par 4 plays 469 from the tips and requires a solid tee shot and then a mid- or long-iron. There is a large fairway bunker on the right that can collect wayward tee balls, which makes it a much longer hole. Avoid this bunker, and a four is there for the taking. Par is a good score here to round out the nine. 
The back nine at Tierra is as unique as it is serene and peaceful. One of the great things about this layout is the fact that the holes almost exclusively stand alone, meaning there are only a few spots where you can see multiple holes at once. Every hole stands alone, which makes this a very enjoyable ride for all 18 holes.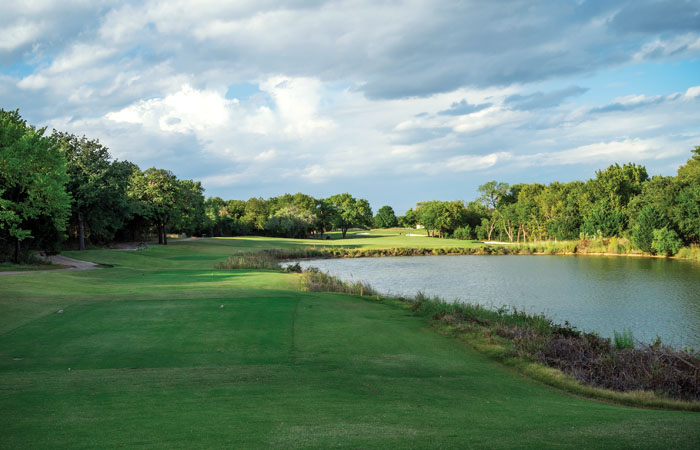 The opening hole on the inward nine is a great little par 4. Just 354 yards from the back tees, this one is another decision off the tee. Bombers can pull driver and get the ball up near the green, but a positioning play of long iron or hybrid can also work if the driver may not be cooperating that day. A whimsical two-tiered green means wedge shots need to be precise, or there is a chance of three-putting. 
No. 13 is another fun hole to navigate at Tierra Verde. This uphill par 5 is another great opportunity for a birdie. A generous fairway is great for letting a driver loose, and with a good tee shot, a chance to get home in two is possible. The green here is a little tricky, so be mindful of the pin placement when hitting your approach. 
Speaking of tricky greens, No. 14 also features a putting surface that will test even the best with the putter. Just 138 yards, this peninsula green is surrounded by water short and all along the right, and there is a distinct plateau on the left half of the green. When the pin is in the front, this is a prime place to get one close, as players can use the slope behind the flag to nestle shots near the pin. However, if the pin is on the plateau or playing back right, it can be difficult to get close, and even more difficult to two-putt if you should find the wrong spot on the green. It's one of my favorite par 3s in DFW and I suspect you will love it too, unless you hit one a little chunky and end up in the water.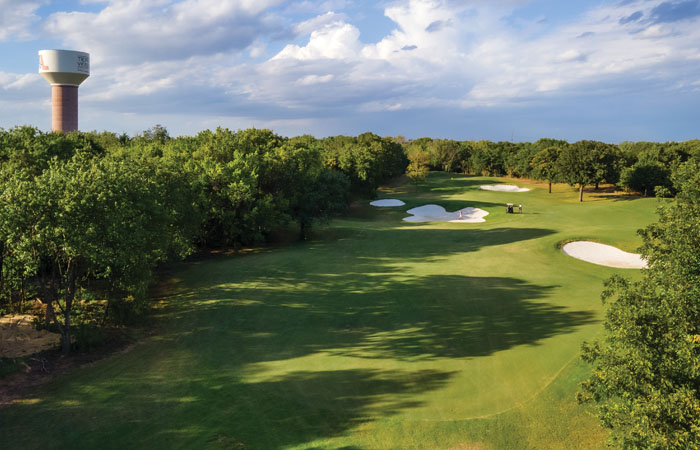 The final couple holes at Tierra Verde are as fun as they get. No. 17 is another short par 4, but it is very tight. It plays just under 300 yards from the back tees, meaning longer hitters can get something up near the green, but OB left and right are a concern, so an iron shot or hybrid might make the most sense. Either way you decide to play this one, it is a great little hole where a couple shot swings might happen. 
The final hole is one that has given me fits over the years, as I'm sure it has many others. This 437-yard par 4 has a massive fairway bunker on the right, which must be avoided if a par is to be made. The only caveat to that is missing left is almost worse. A gentle slope runs tee shots down behind a group of trees and makes for a near impossible second shot. From the tee, this fairway seems to have far more room than it actually does. Favor the right center of the fairway to have the best chance for a green in regulation. It's a tough finishing hole, but a great architectural design that will test even the best ball-strikers. 
Tierra Verde also has a great practice area to warm up before your round or bang balls to get your game in shape. An expansive driving range, putting green and chipping area are all perfect to hone your skills or just blow off some steam after a long day at work. The property also features a three-hole mastery course, with a couple par 4s and a par 3. I love looping the trio of holes when I don't have time to play or when I am just not in the mood to hit balls. Here's a pro tip: if you do play the mastery course, double your practice fun by hitting two balls off each tee. Hit one from the back tee box, then head to the forward tee and hit another ball. You will experience two separate hole experiences in one. It's a fun little loop as you work on not only your ball-striking, but your short game, putting and course management skills, as well. 
In addition to the great layout and the new updates to the course, Tierra still also boasts one of the finest dining programs in municipal golf. The Ventana Grille offers the usual suspects, as well as some other finer-dining options in a casual, relaxed atmosphere. If it's a post-round burger you seek, then try the Ventana Burger. This angus beef patty comes with a delicious "comeback" sauce, caramelized onions, candied bacon, white cheddar and the usual lettuce, tomato and pickle. It's a burger you will want to eat again and again. If you are wanting a nice dinner with a significant other, Ventana can accommodate there. as well, with entrees like the Tomato Basil Chicken or the rib-sticking Bourbon Glazed Meatloaf. All the food on their menu is to die for, and they even offer a Valentine's dinner every year for you and that special someone. 
At the end of the day, Tierra Verde is one of the most entertaining, fun courses you can play in DFW. After 25 years, it is still as architecturally great as it was the day it opened, and with the updated greens and bunkers, it is once again one of the best courses you can play for your municipal dollar. It's challenging, yet interesting, and has the country feel and serenity you crave from a great layout. The amenities only sweeten the deal, as the patio, practice area and food program make this a must-play for those looking for a great value with everything for a fantastic day on the course.