Cover Story – Best of Private Clubs 2022

Our best of private club rankings issue is always one of the most enjoyable endeavors we embark on annually at the AVIDGOLFER office. We always relish the opportunity to see how the upper crust lives and the amenities and courses they enjoy as members of clubs around the Metroplex. From the highfalutin, hyper elite clubs to the properties that feature young executives and their families, there is a club for almost everyone. We try to see as many as we can throughout the year and report on any changes to the courses, the clubhouses and the other things that make these clubs desirable for those with the means to belong.
There are so many nuances when ranking these clubs. Of course, golf is a main focal point, but there are many other things to consider when we look at a club. The amenities, from the pool to the fitness area, to the dining, each club has some things that are memorable and unique for their membership. There is a lot of history out there when it comes to clubs in Dallas, and it is up to us to make our conclusions based on how we perceive the overall value and allure of belonging to a specific club. 
We hope you enjoy the trip as much as we do as AG gives you the inside information on the best private clubs and all they have to offer. 
2022 Best of Private Rankings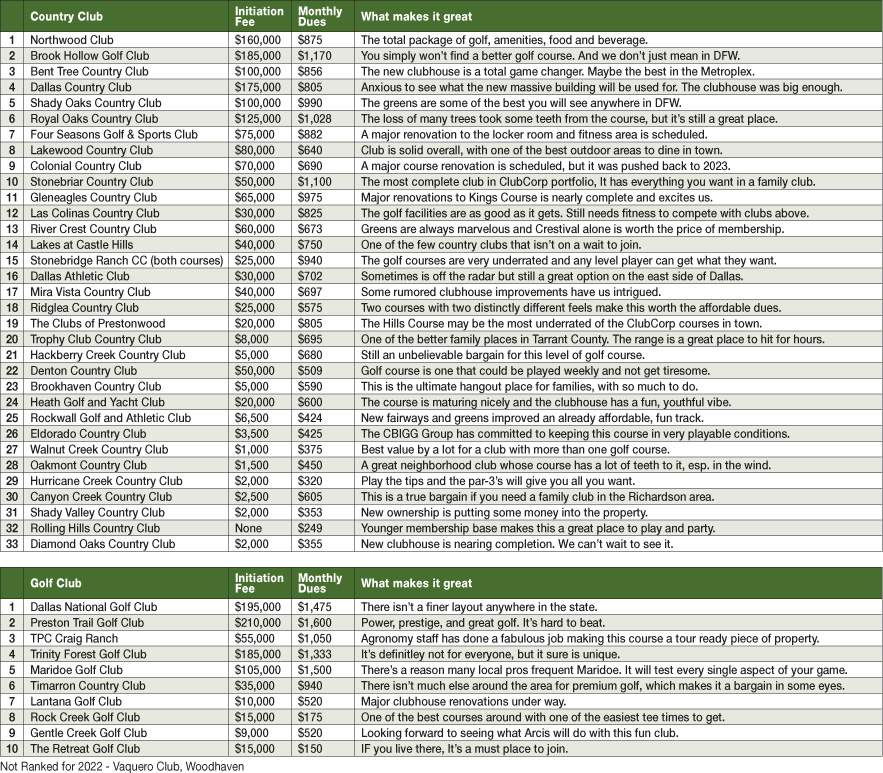 Best Overall Country Club 2022 – Northwood Club
The Northwood Club in Dallas overtook the top spot in our rankings for the first time in 2021. We detailed how their renovation from a few years ago had sent this magnificent piece of property to the top, and nothing has changed for 2022. Northwood continues to improve, and the renovation has settled in and matured to perfection. The golf course is hard to beat for everyday playability and agronomy. The host course of the 1952 U.S. Open, this classic design has fabulous routing in a parkland style with holes that test every ball flight and level of player. The bunkering and the greens are second to none with holes that you want to play again and again. The Par 5 fourteenth hole is a sight to behold, and is arguably the best hole in Dallas, with a tee shot that requires starting a fade over the gorgeous limestone of White Rock Creek. You aren't going to find another shot like it anywhere in the Metroplex. Stunning is an understatement.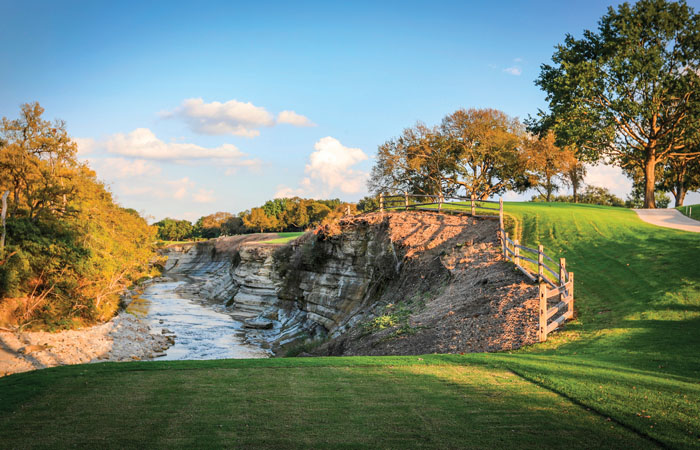 Northwood Club No. 14
A short course was added during the renovation and is fantastic for a quick loop to settle some bets, work on your short game or to entertain the kids that still may be too young or not have the attention span for a full nine or 18 on the main course. 
The clubhouse at Northwood is elegant without appearing pretentious and has all the great features any upper echelon club should have. The stand-alone golf shop has top end attire and equipment, which makes it a great spot to get those last-minute items for a round, or gifts for holidays and special occasions. The pool is surrounded by jaw dropping flora and buzzes with activity when the weather is warm, making it a great spot to cool off for members and their families during the dog days of Summer. 
The world class dining at Northwood really sets this club apart as they prepare a multitude of specials on a daily basis that truly prove how top tier ingredients (many of them grown on property) can be selected and masterfully combined to create items that dazzle the palate and the imagination. And don't forget to try one of their signature cocktails, the "Love in a Cup", which are delicious and can help medicate those occasional poor ball striking rounds. 
Northwood is truly remarkable and has set a standard that every other club should strive to achieve. Congrats to Northwood Club in Dallas for taking the top spot for 2022. 
Best Overall Golf Club 2022 – Dallas National Golf Club 
Dallas National is one of those pieces of property that drops your jaw every time you are blessed to see it. Located in south Dallas, it's the most unique golf course in the Metroplex. This Tom Fazio design shows off elevation changes which are more reminiscent of the Texas Hill Country or the foothills of West Virginia. Simply put, there is nothing like it anywhere else in North Texas. In fact, the common feeling is that if you blindfolded someone and placed them in the middle of the course, then removed it, it would be days before they guessed Dallas as their current location. We absolutely agree as it is nothing like what we see as we tour other courses in the area.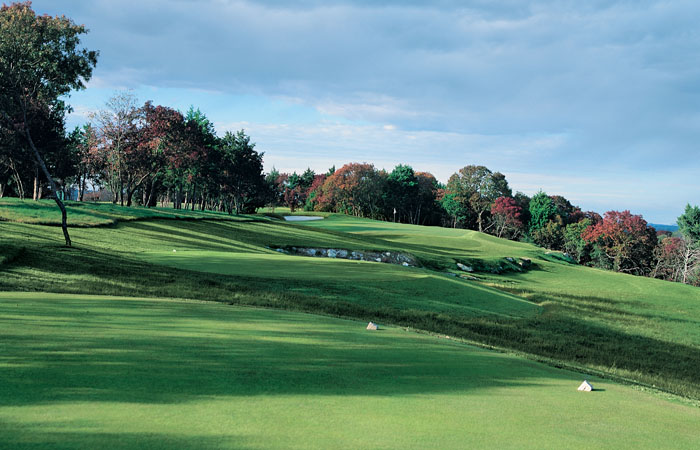 Dallas National Golf Club
There are no houses or noise pollution nearby, so the course is spectacularly quiet and serene as you meander your way through the limestone canyon on which it was routed. Each hole is more stunning than the last, with tee shots that will leave you in awe as balls seem to hang in the air for days. This course is simply stunning beyond words and will test even the best ball strikers. 
The on-course halfway house is as good as most high end restaurants, with snacks that eat more like fine dining than your typical course fare. 
The practice area is state of the art, with Trackman technology as far as the eye can see and the clubhouse, after undergoing a renovation a couple years ago, is as good as any in the area. For those looking for the absolute best golf experience in Dallas, National is a no-brainer. 
Best Country Club – Platinum Category • $100,000 and up
Brook Hollow Golf Club 
Bent Tree Golf Club 
Dallas Country Club 
Shady Oaks Country Club 
Royal Oaks Country Club 
Brook Hollow Country Club wasn't ranked last year after a major renovation. The AG staff was able to see the course for 2022 and all we can say is WOW. Not only do they have a temperature control system to keep the greens cherry no matter what kind of weather we get, but the green complexes and bunkering are superb. Simply put, this is a spectacular golf experience. Some of the highlights include No. 10, which is arguably the best par-3 in the Metroplex. We were blown away, and should you be blessed enough to get an invite to play, you will be too. There is nothing else like it. 
Bent Tree Country Club opened their new, massive clubhouse in 2021 and it's a true game changer for this fantastic club. Everything about it is nothing short of state of the art. The food, the gym, and the 19th hole are stunning. The course is still great, with plenty of fun holes and one of the most scenic par-3's you will find waiting for players at No. 14. The new clubhouse gives this property a huge bump for 2022. In addition, a new short game area is under construction and will give this club yet another great addition.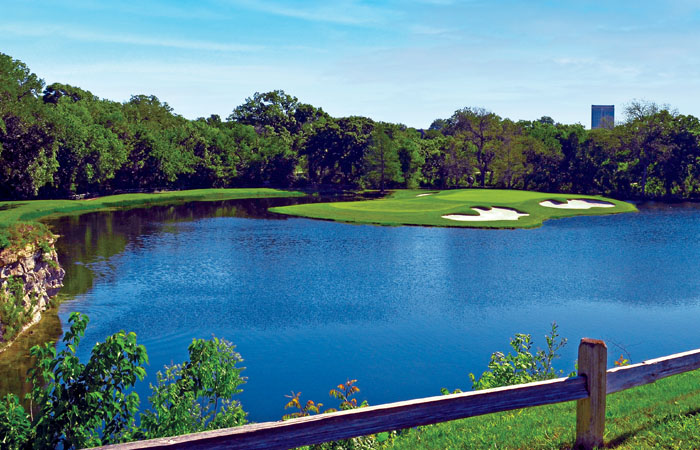 Bent Tree Country Club No. 14
Dallas Country Club has one of the best clubhouses in the city and should you find yourself on property, you just might see the who's who of Dallas power and prestige. The course is great, the facilities are top notch and the whole experience will leave you feeling like you are one of the Dallas elite. 
Shady Oaks Country Club in Fort Worth is one of those special properties that combines a palpable history with a new, modern feel. Of course, if you know anything about the club, then you are likely aware that Shady Oaks is a place Ben Hogan used to play and practice regularly. That alone makes this club worth the price of admission, but the course, which was renovated just a few years ago, is very worthy. It's a fine combination of great conditions, diabolical green complexes, and superb bunkering. Then, there is the "little nine", which is one of the best spots anywhere in the Metroplex to work on your short game. Shady Oaks is the total package, and at the top of the food chain in Fort Worth.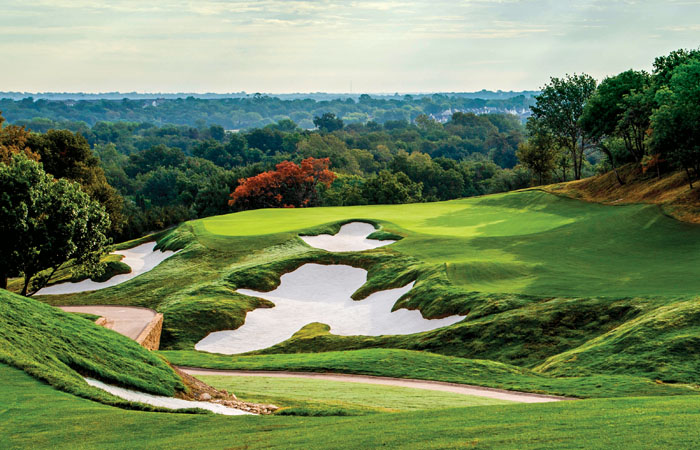 Shady Oaks Country Club
Royal Oaks Country Club is notably the home of teaching professional Randy Smith, who has a laundry list of great pros he has taught over the years. Those players include Justin Leonard, and now, Scottie Scheffler. Royal Oaks lost a bunch of trees in a storm a few years back, which took some teeth from the layout, but the course still has plenty of great golf holes. Notably the No. 9 and No. 18. The ninth is a great, quirky par-4 and No. 18 is a great finishing par-5. In addition to the great course, the clubhouse is one of the best in Dallas. It's a top-notch facility from stem to stern.  
Best Country Club – Elite Category • $50,000-$100,000
Four Seasons Golf and Sports Club
Lakewood Country Club
Colonial Country Club
Stonebriar Country Club
Gleneagles Country Club
River Crest Country Club 
Four Seasons Golf and Sports Club is a fantastic property with two huge pools, workout facility and a pair of great golf courses. However, this will be the final year they are under the Four Seasons umbrella. The property will change management in 2023 and the hotel and courses will likely see some changes. As far as golf, the TPC course, which was the longtime host venue of the AT&T Byron Nelson, is still worthy of a round and will truly test your game. The Cottonwood course, which is more popular among membership, is a fun track that can really yield some birdie opportunities. Overall, this is a great club.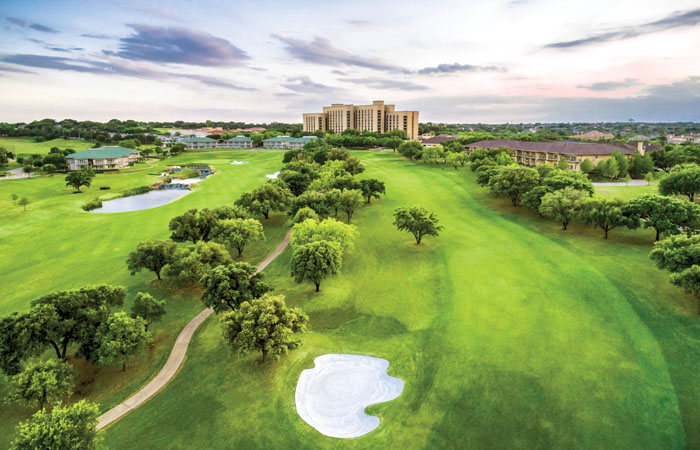 Four Seasons Golf and Sports Club
Lakewood Country Club has spectacular bentgrass greens and a great clubhouse. It is chock full of amenities and the membership features a great combination of older, traditional members with some youth that keeps the vibe fun and interesting. They have a great workout facility and everything you might need to keep your game and fitness on point. If you are looking for a great club in Dallas, then Lakewood checks all the boxes. 
Colonial Country Club was scheduled to undergo a massive course renovation beginning as soon as the 2022 Charles Schwab Challenge completed in May. Unfortunately, this Gil Hanse renovation has been delayed due to supply chain issues and will now be pushed back to 2023. Needless to say, we cannot wait to see what's in store for this historic Fort Worth club. For now, it's still a fun track with awesome greens, a great social scene, clubhouse, and pool. 
Frisco's Stonebriar Country Club is one of the best in the ClubCorp stable. With two courses, including the tough Fazio course, this is a topflight club for those looking for a pair of courses that will challenge every aspect of their game. The pool, tennis facility, and fitness areas are all fantastic. Stonebriar is a wonderful example of why ClubCorp remains on the leading edge of club management. 
Gleneagles Country Club features two superb courses, the King's, and the Queen's. It also boasts tons of other amenities including dining, tennis, pickleball, fitness and swimming. There are plenty of second-generation members, so there is a great combination of older established members and newer youthful members. It's a great club with a reasonable initiation and dues. 
River Crest Country Club in Fort Worth is one of our favorite clubs. The course is playable with slick greens and a scorable layout. The social scene is off the chain with multiple fun events throughout the year, including Crestival, which is a multiple day Calcutta that is one of the best member-guest tournaments hosted by any club in the state. The clubhouse checks all the boxes, and the outdoor pool area and patio are a great place to beat the summer heat. Overall, there aren't many things we don't love about River Crest. 
Best Country Club – First Class Category • $20,000-$50,000
Las Colinas Country Club
The Lakes at Castle Hills
Stonebridge Ranch Country Club
Dallas Athletic Club
Mira Vista Country Club
Ridglea Country Club
The Clubs of Prestonwood
Denton Country Club
Heath Golf and Yacht Club
After their renovation Las Colinas Country Club has taken a jump up on our list. The course is maturing nicely after the update, and they have seen their hard work pay off, as they will host the inaugural ClubCorp Classic coming up in April. The addition of this Champions Tour event should only help improve course conditions even more, and we can't wait to see what the professionals can do out there.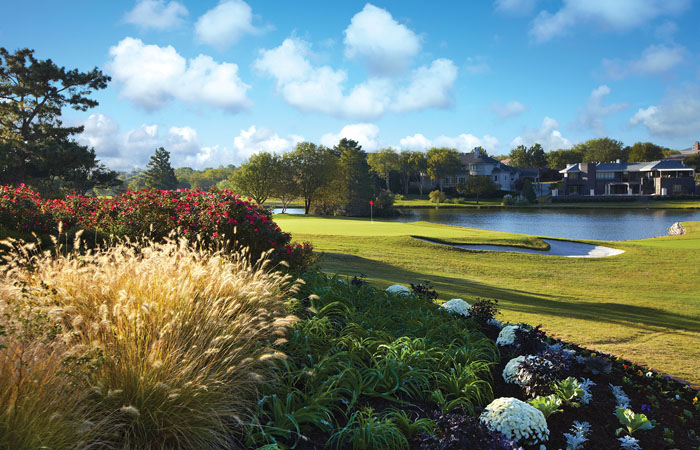 Las Colinas Country Club
The Lakes at Castle Hills has been private for several years now, and the club remains among the best overall values in the area. The course is plenty challenging (especially when the wind blows), the clubhouse is rock solid, and the driving range is massive. For a great golf experience at a great value, this club is toward the top of the list. 
Stonebridge Ranch Country Club is a great club for those looking for a club with all the amenities at a reasonable price. The Ranch course boasts 27-holes that feature some fun green complexes that will challenge your short game. The Dye Signature course is everything you would expect from a Dye layout. Their "Crush It" junior program is a great way for younger players to refine their game and improve.  
Dallas Athletic Club hosted the 1963 PGA Championship, which was won by Jack Nicklaus. With a pair of courses that both feature bentgrass greens, the whole facility is top notch. The short game area is one of the best around if you are looking to work on that aspect of your game. You should be aware that they have a large membership, so the courses can get crowded, especially on weekends, but this also means there is a great social aspect to the club. For an affordable club, DAC is a great choice. 
Fort Worth is well represented on our list, and Mira Vista Country Club is as solid as you can get for a club that doesn't have a six-figure initiation. Just in the last couple months, the agronomy team has been tidying up the course by pruning trees and making some aesthetic improvements, most notably on No. 11, which is a great hole. The club is in the process of adding some rock along the creek that flows through this par 5, which only enhances this great hole. There are also rumors of some clubhouse updates, which will improve the overall experience. 
Ridglea Country Club has 36 holes, although they are on different pieces of land. The main club is off Camp Bowie just minutes from downtown and features a great clubhouse, pool and the north course. The south course is about 10 minutes away and has another clubhouse with a great indoor bar area. The south course also boasts one fantastic amenity, and that is pace of play. It is rare that you find yourself playing a four plus hour round here, and that's great for those who don't have all day. This is a top-notch club which has everything for the young executive and their family. 
The Clubs of Prestonwood has a pair of courses, both of which can test your game. The River Course is solid, although we prefer the Hills layout more. The food and beverage programs are fantastic for those young execs looking to impress that dinner date or colleagues. It's yet another reason ClubCorp simply can't be beat when it comes to property management. 
Established in 1922, Denton Country Club is celebrating 100 years. This club impresses us a little more each year with a unique course that is fun to play day-in and day-out. The fitness facility is nice, with everything you need to stay fit, including complimentary yoga classes. They have tennis, swimming, and a junior program. If you are in Denton County, it doesn't get any better. 
Heath Golf and Yacht Club is still a bit of an unknown to most around the DFW golf scene. This massive development on the southern tip of Lake Ray Hubbard features a great social clubhouse that has a patio and pool that overlook the lake. The course, designed by Roy Bechtol is maturing nicely despite the weather curveballs it has been thrown over the last couple years. It has some great routing and a great finishing par 5. We expect it to continue to mature and we can't wait to see its growth. 
Best Country Club – Mid-Priced Category • $5,000-$20,000
Trophy Club Country Club
Hackberry Creek Country Club
Brookhaven Country Club 
Rockwall Golf and Athletic Club 
Trophy Club Country Club has all the great amenities necessary to be a solid club option for those focused on golf or those more interested in focusing on family. The Whitworth course is great, and the Hogan course is a fabulous test. The practice facility will keep your game sharp, and the putting green is massive. The clubhouse has everything you would want and comes complete with a solid younger family vibe. It's also a great place to host a tournament 
Hackberry Creek Country Club is one of our favorite ClubCorp properties. The course has a tremendous layout, is usually in great shape and has one of the most interesting finishing holes you will find anywhere. The clubhouse features Craft 11, which is Hackberry's restaurant. They feature every kind of dining you would need, from quick and casual to evening fine dining. 
Brookhaven Country Club became known to most of the DFW golf public as the place Jordan Spieth grew up playing. If you are looking for the best family scene in ClubCorp's stable of properties, this is probably it. The pool is gigantic and buzzing with activity during the summer, and the three 18-hole golf courses offer a different challenge every time out. It's a fabulous value from top to bottom.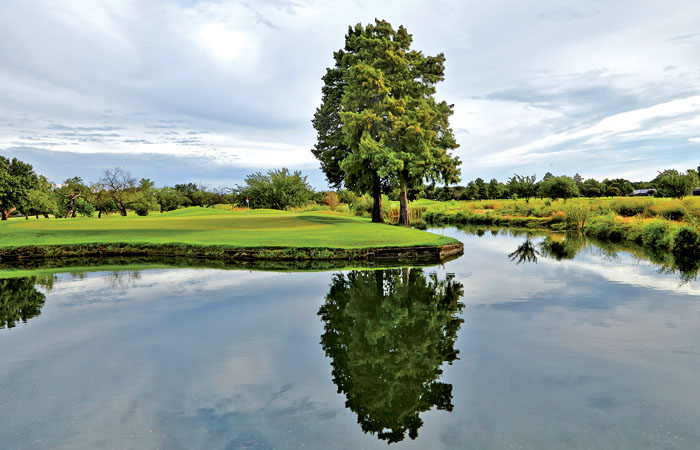 Brookhaven Country Club
Rockwall Golf and Athletic Club is one of the best value clubs you will find anywhere. Their 18 holes, many of which have lake views, present some fun elevation changes and some great par 3's. The course just replaced the turn on fairways and greens, so conditions should be wonderful once the new grass has had some time to mature. They have a pool and plenty of tennis courts (both indoor and out). It's a solid value option if you're out east of Dallas. 
Best Country Club – Value-Priced Category • Under $5,000
Eldorado Country Club
Walnut Creek Country Club
Oakmont Country Club
Hurricane Creek Country Club
Canyon Creek Country Club
Shady Valley Country Club
Diamond Oaks Country Club 
Rolling Hills Country Club
Diamond Oaks Country Club
Eldorado Country Club is a great option for value up in the McKinney area. With club prices, especially up north continuing to skyrocket, this club remains a solid choice. The course is worthy, stretching to near 6,800 from the tips, but features some tight fairways that require keeping it straight. The men's grill has plenty of great food and drink options and the membership is fun and youthful.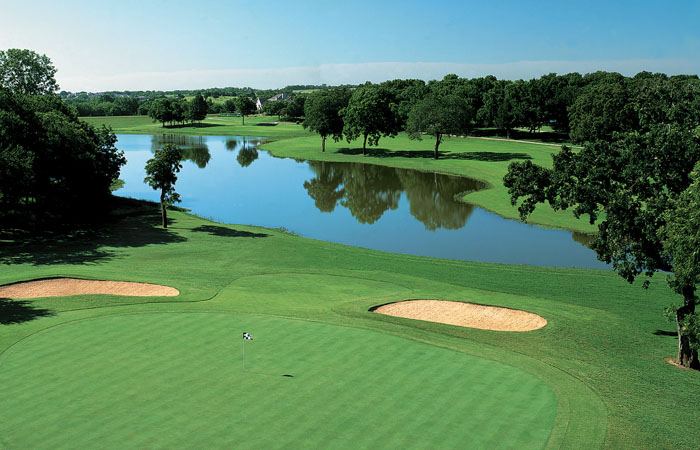 Eldorado Country Club
Walnut Creek Country Club is another of the ClubCorp owned properties that maintains a great standard of course conditions, amenities, and value. Two distinctly different courses, both of which are always in solid condition shape the property in Mansfield. The clubhouse is huge, with a great banquet area and bar. The outside of the clubhouse has seen a facelift over the last year and the pool area is great for those with kids who want to get some fun in the sun over the summer. 
Located in quiet Corinth, Oakmont Country Club is a reasonable club for those looking north of the Metroplex. The golf course features significant bunkering throughout, and the bar area is a great place to take in drinks after your round or pop in to catch some PGA Tour action or a ballgame. 
If you head north of McKinney to Anna, Texas, you will find Hurricane Creek Country Club. This off the beaten path club is one that you should check out if you are looking for somewhere with a great base of members, a fun golf course and some subtle but interesting elevation changes. The par 3's are no joke here, with all of them playing 200-plus yards from the tips. The clubhouse is very nice with a large bar area that usually has multiple members enjoying post-round libations. And should you live in the development just to the south, you can drive your own cart to and from the club.  
Canyon Creek Country Club features a stately, colonial style clubhouse with all the things you want in a club. Press 63 is their signature restaurant on property and has a wide variety of menu items to satisfy every craving. They have live music, cocktail classes and even a junior cooking class if your kids are wanting to refine their culinary skills. The course is a Press Maxwell design and truly stands the test of time. 
Shady Valley Country Club has been a little over a year removed from the ClubCorp stable of clubs. In that time, new ownership has improved the clubhouse, locker room and created a fitness center and simulator room. In addition, they have given the course a little TLC, including some much-needed tree pruning and removal of some trees that were diseased or dead. It's a solid club if you are in the Arlington area. 
There are only two options in Arlington, Shady Valley and Rolling Hills Country Club. Rolling Hills has a nice clubhouse with a great upstairs bar area. The course is nice, with some fun par-3's and some other fun holes. We have mentioned the lack of a driving range before, but overall, if you are looking for a good starter club as a young executive, then this is a worthy option. 
Diamond Oaks Country Club is nearing the completion of a new clubhouse, which will boost this property and help put it back on the map of solid clubs on the west side. The course is lined buy majestic oaks and is a great test of golf. It has a true classic, downhome feel and is a great option for those looking for a great member base at an affordable rate. 
Best Golf Club – Platinum Category • Over $100,000
Preston Trail Golf Club
Trinity Forest Golf Club
Maridoe Golf Club 
Inevitably, if you ask those in the know the most prestigious course in DFW, their answer is almost always Preston Trail Golf Club. This club is as tough an invite as anywhere else in the Metroplex, and it's absolutely worth it if you get the call. The course sits on a beautiful piece of land in north Dallas and has a super exclusive membership list. The clubhouse is fabulous, and you won't find a better place to have some after round cocktails. It's most certainly a "if these walls could talk" type club and we're always honored to get to see it.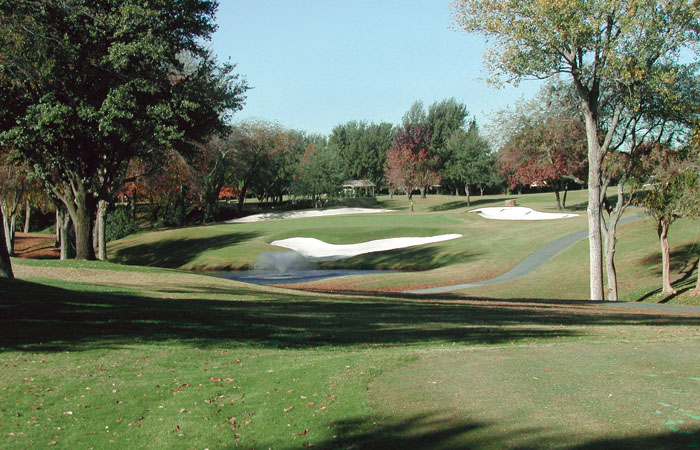 Preston Trail Golf Club
It's hard to find many players who are indifferent about Trinity Forest Golf Club. After almost six years, it seems to be a love it or hate it type attitude from most who see the course. We absolutely love the routing and the creativity it requires to score here. Some of the greens are downright diabolical, and we love the challenge. The clubhouse is massive and modern with everything a great club needs. 
If you are seeking the ultimate challenge, then consider Maridoe Golf Club. Many of the local touring professionals frequent Maridoe because it is as tough a test as you will find anywhere. It's a great combination of length, undulation, slick greens, and navigation of hazards. The range is always pristine and ready for practice with plenty of Pro-V's. The clubhouse is solid, with a great selection of gear, which comes adorned with one of our favorite private club logos in DFW. 
Best Golf Club – Elite Category • $50,000-$100,000
TPC Craig Ranch
TPC Craig Ranch put on a great show hosting the AT&T Byron Nelson for the first time. Despite the fact it was limited capacity, the agronomy staff rose to the challenge and the hospitality areas were a dream. We can't wait to see the 2022 version full of fans. The course is a wonderful Tom Weiskopf design that features meandering limestone creeks winding through the property. The clubhouse is modern and beautiful, and the amenities make you feel like you're at a club that costs twice as much. It's easy to see why this is one of ClubCorp's finest properties. This club truly belongs in the Platinum category, but its reasonable initiation fee has it in a category by itself.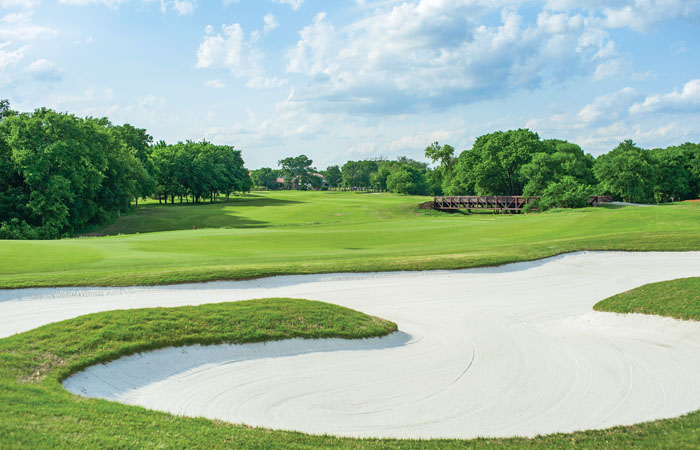 TPC Craig Ranch
Best Golf Club – First Class Category • $10,000-$50,000
Timarron Country Club
Lantana Country Club
The Retreat Golf Club
Timarron Country Club updated their clubhouse last year, and the new bar, expanded grill, and update to the men's locker room has this property looking great. The course is fun and playable as well, with an above average practice facility and a finishing hole that really leaves you wanting to come back again and again. 
Lantana Golf Club has a great golf course. The Jay Morrish signature design has some outstanding par-5's and one of the few island green par-3's in the area. Arcis has a real gem with this property and continues to update and improve the property with new additions. The restaurant is rock solid, and this club is everything you want at this price point if you are up near Denton. 
The Retreat Golf Club has very affordable monthly dues making it one of the best values out there for those who really want to get their money's worth. The course has some great elevation changes, including on No. 18. The property also features two pools, a nice clubhouse and even hiking trails. It is also Audubon Certified.  
Best Golf Club – Value-Priced Category • Under $10,000
Gentle Creek Golf Club
Gentle Creek Golf Club was recently purchased by Arcis Golf, and we are excited to see what changes might in store. The course is rock solid with some great scorable holes and some fun routing. This is a great option for those up north that are looking for a family friendly club at a reasonable monthly rate. Big things are in store for Gentle Creek, and we're excited about it.  
The Outliers
Rock Creek Golf Club and Resort
Pecan Plantation Country Club
Nutcracker Golf Club
The Jack Nicklaus-designed Rock Creek Golf Club and Resort is located about 90 miles north of the Metroplex on the Red River. The course at Rock Creek winds throughout woods and along Rock Creek, so there is a true feeling of isolation, peace and quiet. Members also have access to Lake Texoma via the Lake Texoma Texas Marina for boat rentals, and avid outdoorsmen can spend time in the nearby Hagerman National Wildlife Refuge.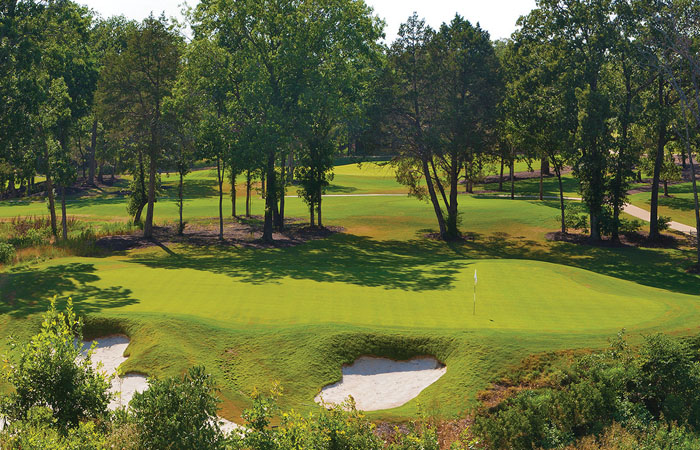 Rock Creek Golf Club and Resort
Pecan Plantation Country Club is a terrific retirement community course. The HOA covers the initiation. The layout provides excellent challenging holes with excellent elevations and views. The self-contained community even has its own stores and fire department.  
Nutcracker Golf Club is right down the road from Plantation. The course was carved out of the Leonard Bend Pecan Orchard and established in 1992. It's in good shape, flatter and easier to walk.
Not Rated for 2022
Vaquero Club – We are hearing rumors about a total renovation of the golf course at Vaquero that is supposed to begin sometime in 2022. So, we felt we should wait to rank them after they have completed that work. 
Woodhaven Country Club – According to their website, Woodhaven is temporarily closed from damage suffered in the freeze of 2021. Yes. They have been closed for over a year. We will continue to monitor the situation at Woodhaven as we move forward. 
The "List" 2022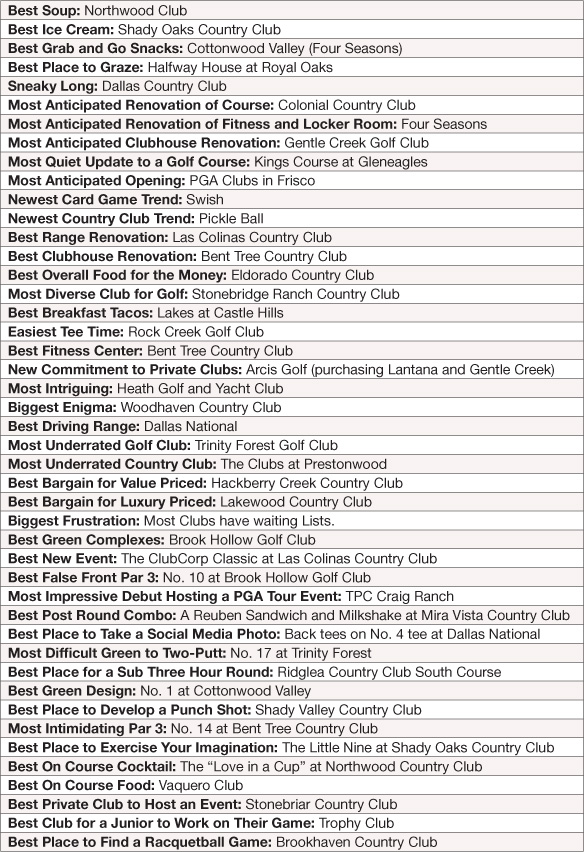 Fees and Dues 2022