Cover Story – Best of Public 2023

If you have been paying attention, then you are aware this is the 25th anniversary of the publication. For those 25 years, we have given our readers the Best of Public Golf rankings. Every year, our staff sits down and discusses (sometimes ad nauseum) where we think each course should be ranked based on any number of criteria. We try to be as objective as possible as we work through the 76 courses in DFW, looking at conditions, layout, hospitality, food and overall value. It can be an arduous task at best, and at worst, it can get downright contentious. Regardless, every year we get it done for our readers, because hey, we love our readers. 
As you check out our rankings for 2023, you will notice more changes than we have ever had, as new courses open and existing courses continue to evolve in the ever-advancing arms race to outdo the competition. As we compile the rankings, we hope to not only salute the best courses for their outstanding dedication to the game of golf and spearheading our continued enjoyment of the game, but also provoke conversation among our readers. So, let us know what you think. Send us an email, send us a message on social media. Let us know what you, the loyal AG reader, thinks of our 2023 Best of Public rankings.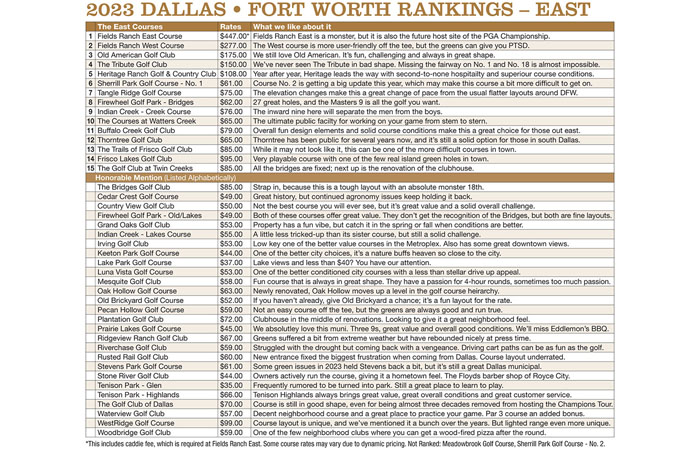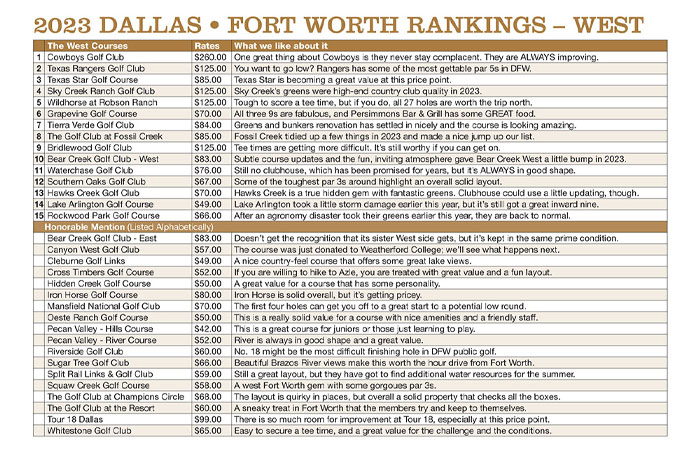 Best Overall Club (EAST) – Fields Ranch East Course 
For the first time in over 20 years, there is a new champ atop the AG public course rankings. The new development in Frisco officially opened earlier this year, and also hosted the Senior PGA Championship back in May. Boasting two courses, the East and the West, this is a spectacular place to play, and it's open to the public. Now, that's not to say it's cheap, as it is far and away the priciest of any of the publicly accessible courses in DFW. We give a slight nod to the East Course, as its overall layout and major championship provenance give it a modest advantage over the sister West layout. The Gil Hanse championship layout requires raw distance, accuracy and feel, while also challenging course management and club selection skills. The East course also features some dynamic elevation changes the likes of which aren't seen much in the Metroplex. Some of the highlights include No. 1, which is a 632-yard behemoth that truly sets the tone for the round, and the bodacious No. 15, which is sure to become one of the more iconic holes in DFW. The inward nine on Fields Ranch East is a true test, including the uphill, into-the-wind par-3 13th, which reads a muscular 271 from the tips, but plays closer to 300 when the wind blows. The course is designed to host and challenge the best players in the world, and it will in 2027 when the PGA Championship comes to town (a future Ryder Cup is also rumored), but this track can also be fun for amateurs, as well, if played from appropriate tees. The elevation changes, course conditions, dynamic design elements and major championship pedigree, along with all the other dining and amenities at the PGA Frisco development, make this an absolute must-see for anyone in DFW.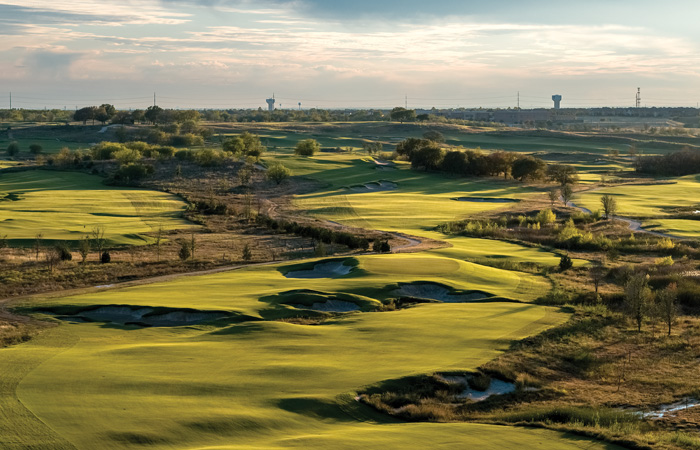 Best Overall Club (WEST) – Cowboys Golf Club
Cowboys Golf Club continues to delight year after year. Their commitment to stay consistently evolving will always make this property worth the price of admission. Recent renovations to the putting green and No. 2 green prove that Arcis is dedicated to keeping their flagship DFW destination on the cutting edge. We love everything about Cowboys, from the layout, to the food and beverage programs, right down to the names of current and former Cowboys players on the golf carts, the whole package is great from stem to stern. Some of the highlights include No. 3, which is a scenic and dynamic par 3 over water with intense bunkering beyond the serpentine and skinny green. A great finishing hole leads back to the clubhouse, with rolling terrain and fairway bunkers that frame the final stanza beautifully. The course is about as fun as it gets, but the little attention to detail really adds to the experience. The clubhouse is modern and beautiful with lots of Cowboys' memorabilia, like replica Lombardi trophies from the Cowboys' five Super Bowl wins and a once worn fedora that belonged to Tom Landry. The food is also great, from their famous sausages on course to their world-class entrées in the Ring of Honor Kitchen & Bar. After over 20 years, Cowboys continues to dazzle.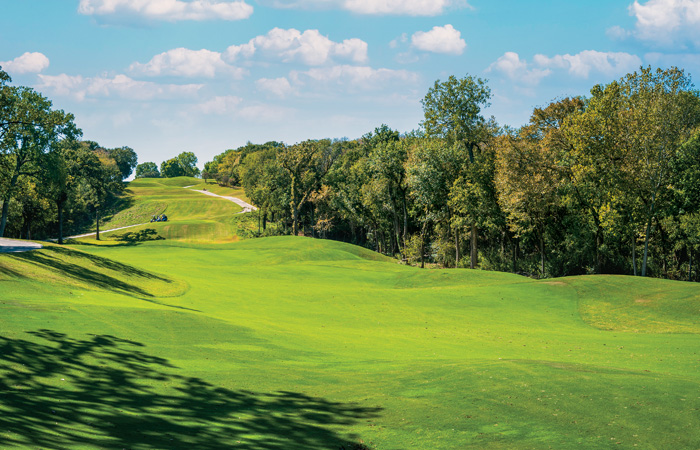 Platinum Courses ($100+) 
Fields Ranch West Course (East)
Old American Golf Club (East)
The Tribute Golf Links (East)
Texas Rangers Golf Club (West)
Wildhorse at Robson Ranch (West)
Heritage Ranch Golf & Country Club
Sky Creek Ranch Golf Club (West)
Bridlewood Golf Club (West)
As mentioned in the opener, Fields Ranch has two courses. The East takes the top spot this year, but Fields Ranch West is also a stunner. A Beau Welling design, this course features five par 5s, dramatic bunkering and mischievous green complexes. Although on the same piece of property, it is light years different (and more affordable) than the Hanse East design. This course features more forgiving tee shots than the East, but the green complexes and runoffs can be nightmarish if your short game isn't buttoned up. Truth be told, the West may carry a slight advantage in "fun factor," but the overall strategic design nod goes to the East. Regardless, you will definitely want to play both.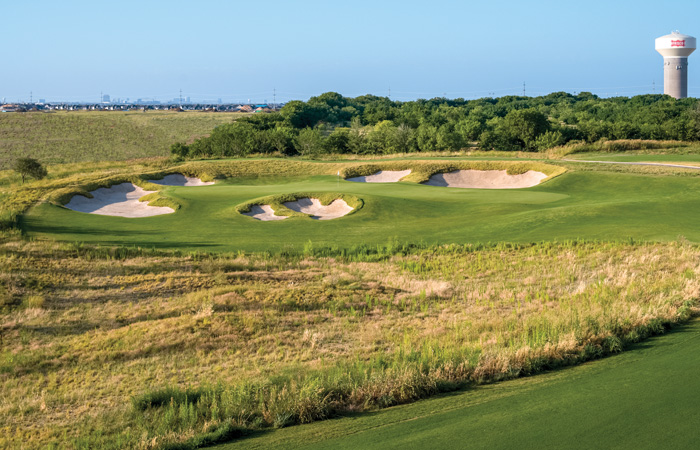 Although Old American Golf Club drops a couple spots due to the new Frisco development, this is still a great facility. The host course to the Ascendant LPGA Benefitting Volunteers of America, this layout is challenging but fair, with great conditions year-round. The tabletop greens can really be tough to navigate, but the fairways have softened over the years, meaning there are some scores out there if you are hitting irons crisply. Combining the Tribute and Old American into the same clubhouse made this whole property better and more convenient, and for that reason, Old American is still one of the heavy hitters
in DFW.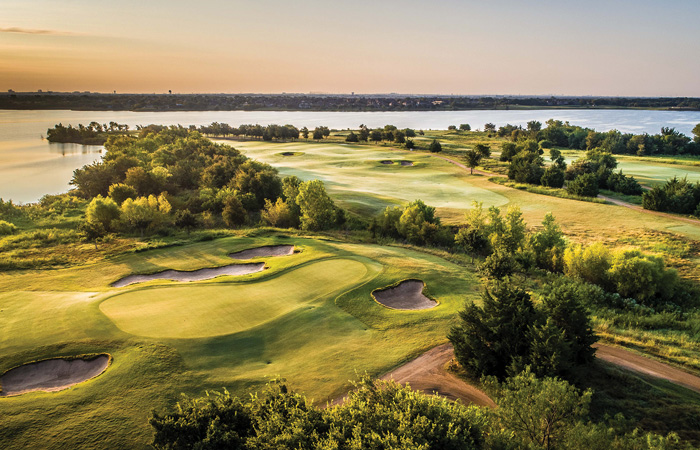 The Tribute Golf Links had a spectacular year condition-wise. Even during the absolutely brutal summer where temperatures touched 110-degrees plus for several weeks, the course still managed to keep up with the demand for water. Greens are always well above average, and this year was no different. The unique layout offers a chance to play many recognizable holes from across Scotland, including Nos. 1, 17 and 18 at St. Andrews and the "Postage Stamp" from Royal Troon. It's a fun day on the course and it's really fun if you happen to catch an overcast, windy day that really gives you the across-the-pond feel. Year in and year out, The Tribute Golf Links is a great option to tee it up. 
Home of the Korn Ferry Tour's stop here in DFW, Arlington's Texas Rangers Golf Club is still one of our favorite layouts. Not only is it super user-friendly, with some gettable par 5s and some short par 3s, but it also has a great practice facility, and the Home Plate restaurant is as good as any sports bar in the area. Rangers saw a little bit of challenge this year with the summer heat, as the Bermuda struggled to reappear after their annual fall overseed (to ensure the course looks great for the tournament). The greens held up well, but some of the tee boxes and fairways were a little crispy during the summer months. The course looks great at present, as the overseed is coming in nicely and cooler temperatures and rain have helped the course pop again.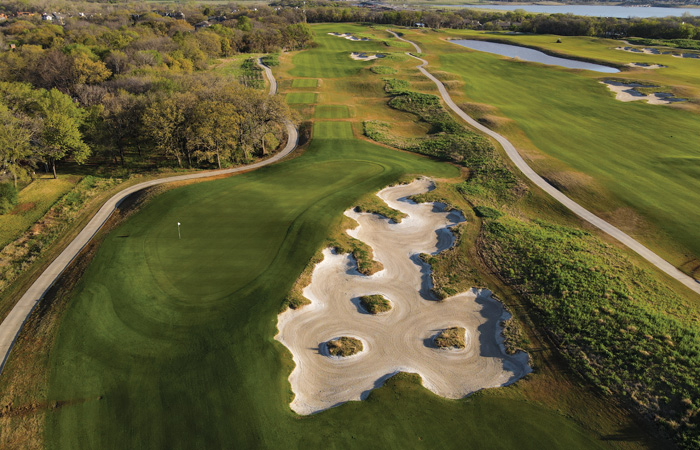 Wildhorse at Robson Ranch boasts 27 fun and playable holes. This course, built among the active adult community just south of Denton, always boasts great course conditions from tee to green. Although the development in the area has taken some of the country charm away from this once quiet property, you still won't find many courses with a finer 27 holes. 
Heritage Ranch Golf & Country Club has long been one of our favorite properties in the area. Yes, it is a "country club," but they also allow the general public to book tee times, so that's why we keep it in our public rankings. The course is stupendous, with a lot of personality and a fun inward nine that will test every club in your bag. It is a public course that feels private in many ways, from the conditions to the hospitality. It's a bit of a hike for those on the west side of the Metroplex, but well worth the trip.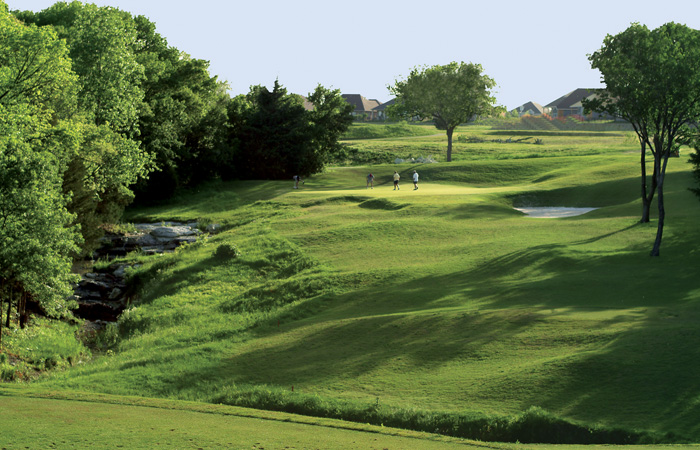 Sky Creek Ranch Golf Club really impressed us in 2023. This Keller course is the total package, with a solid layout, great greens and a nice practice area. We still wish they would flip the nines to make the first few holes a little more user-friendly, but on the plus side, the way it is currently set up, you knock out the tough opening few holes early in the round.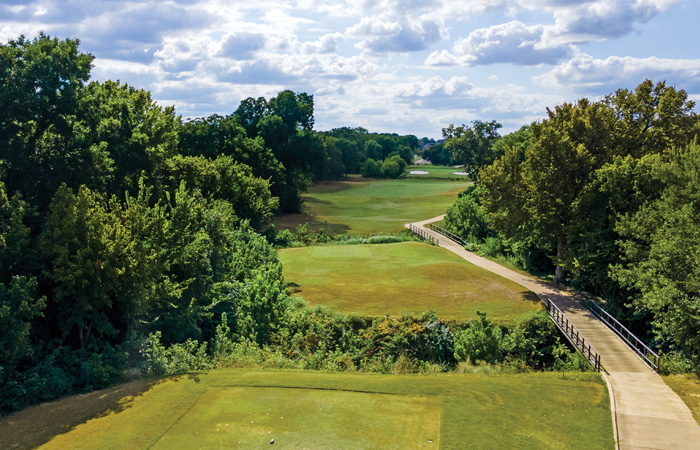 When we think of Bridlewood Golf Club, one word comes to mind: consistent. The TifEagle Bermuda greens are always good and frisky, while the fairways and tee boxes are lush and green even during challenging weather months. The course offers plenty of challenge, including No. 18, which is patrolled by trees, a lake and Timber Creek. The clubhouse and amenities are well above average for the rate, and the pizza at Marana is hard to beat for pre- or post-round chow. 
Elite Courses ($75 – $100) 
Texas Star Golf Course (West)
Tierra Verde Golf Club (West)
Tangle Ridge Golf Course (East)
The Golf Club at Fossil Creek (West)
Indian Creek Golf Club Creek Course (East)
Bear Creek Golf Club West Course (West)
Buffalo Creek Golf Club (East)
Waterchase Golf Club (West)
The Trails of Frisco Golf Club (East)
Frisco Lakes Golf Club (East)
The Golf Club at Twin Creeks (East)
Like several courses in DFW this year, Texas Star Golf Course fought some Poa Annua on their greens in the late winter/early spring. But once the temps warmed up enough, those problems were a distant memory and the greens at Texas Star were once again fantastic. The course layout can be challenging to the novice, but condition-wise, this is one of the most consistent we have in the area.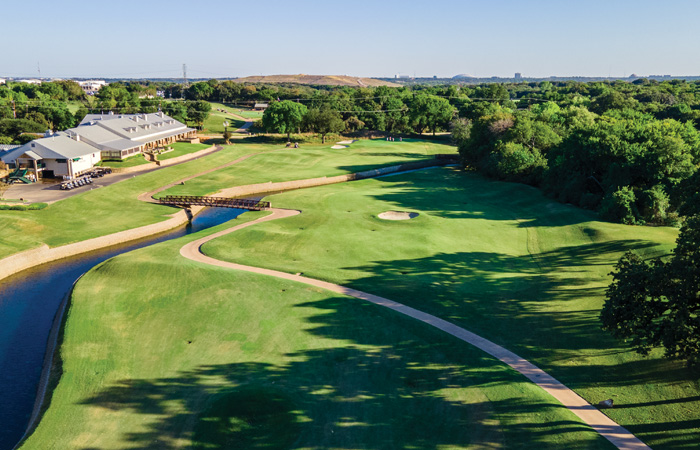 Tierra Verde Golf Club struggled with some Poa Annua in their greens early in the year, but once the hotter temps began killing it off, the greens were spectacular. Their green and bunker renovation has really settled in nicely, and the course is as good as we've seen it in years. It's a special layout that tests every club in your bag while offering a serene, country feel. It's a true must-play for those who want a great course with an affordable rate. Plus, the Ventana Grille has some great food for before or after your round!
One of the first things you notice at Tangle Ridge Golf Course in Grand Prairie is the friendly staff, and that's only the tip of the iceberg. The layout at Tangle Ridge is unique to the area, with some dramatic elevation changes and fun design elements. The greens are solid but are getting close to the end of their turf life. Could a green re-do be in the works? We're hearing it's a possibility. Overall, Tangle Ridge is hard to beat for great value and great hospitality.
The Golf Club at Fossil Creek has really focused on the little things over the last couple years, and we have definitely taken notice. This Arnold Palmer design underwent a bunker renovation last year, and that along with a new logo, updated clubhouse and some other detail work around the property have this north Fort Worth gem in fantastic shape. Fossil is very much a second shot golf course with very tiny greens that reward shot-making. Speaking of those greens, they were some of the best we saw all year. Kudos to Fossil Creek on a great 2023.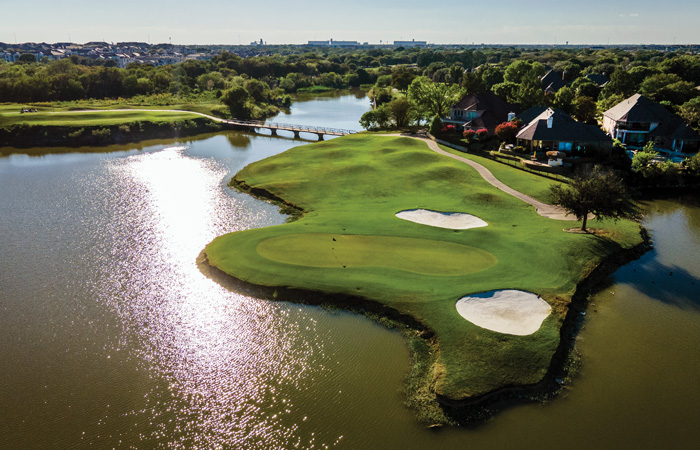 Indian Creek Golf Club Creek Course is one heck of a fun layout. The back nine in particular is beyond fun, with some great architectural elements, including a 260-yard par 3 and a wild final three holes. The clubhouse at Indian Creek has everything you need, with plenty of swag and food to begin or end your round. They are also one of the few courses that offer the Finn Scooters, if you are looking for a different conveyance than the usual old golf cart. 
Bear Creek Golf Club is now one of our favorite overall properties in the area. They have truly embraced a more relaxed, party-type atmosphere which is perfect for charity tournaments or your weekend round with friends. Course conditions on the West Course are always well above average, and Arcis has put some attention to detail into the property, which has really helped it become a great place to play from top to bottom.  
Buffalo Creek Golf Club is one of the feel-good golf course stories in all of DFW. Just a few years ago, it looked like Buffalo Creek might go the way of the Dodo, with the course on its last legs. But in just a few short years, KemperSports ownership has turned this property around and made it a legit contender as one of the top courses out east of Dallas. The overall conditions have improved to match those of other courses in its price range, making it well worth the trip to Rockwall. 
Waterchase Golf Club still teases us with the prospect of a new clubhouse about once a year, but just because they have yet to pull the trigger and start any sort of clubhouse project doesn't mean it's not worth your time. To be honest, Waterchase is year in and year out one of the best conditioned courses we see. There are a couple holes that make us crazy design-wise (No. 5 comes to mind), but overall, this track is fun and enjoyable, with greens that are worth the price of admission. 
The Trails of Frisco Golf Club is one of the most popular courses in this rapidly expanding area. Some fun par 5s make this layout scorable, and plenty of water on the course will challenge every club in your arsenal. The property comes fully equipped with a solid bar and grill, which features a great smash burger, or at the turn, their famous and easy-to-eat brisket or pulled pork in a cup. 
Frisco Lakes Golf Club, which sits near Lake Lewisville, is another example why golf in this area continues to grow. The almost 7,100-yard layout won't beat you up too bad (if you can navigate No. 7 and No. 8 successfully), but will also provide a stern test of your shot game and wedges. A full-service restaurant and bar has some great items like the bang bang shrimp, or their Nashville hot chicken sandwich. At almost $100, they are teetering on not being a great value anymore, but overall, the property is very solid. 
The Golf Club at Twin Creeks in Allen is a great choice for those north of Dallas. This Arnold Palmer design features multiple sets of tees to challenge the experienced player or the novice. A pair of creeks (hence, Twin Creeks), and five lakes make water prevalent and the course tougher to navigate on breezy days. The Elkhorn Grill is a great spot to tilt a few beverages as you get set to head out or to settle up your bets post-round. 
Top Luxury Courses ($65-$74)
Grapevine Golf Course (West)
Sherrill Park Golf Course No. 1 (East)
Firewheel Golf Park Bridges Course (East)
The Courses at Watters Creek (East)
Southern Oaks Golf Club (West)
Thorntree Golf Club (East)
Hawks Creek Golf Club (West)
Rockwood Park Golf Course (West)
Grapevine Golf Course has three fantastic nines, each of which is manicured to perfection. This used to be one of the best values in DFW, but after a clubhouse renovation a couple years ago, they are now at the same price point as many of their peer courses. Don't let that keep you away, though, as this property is one of the best in the Metroplex for overall value and course conditions. If you plan on trying to play Grapevine, you better plan ahead, as it can be one of the most difficult tee times to secure of all the public facilities in the area.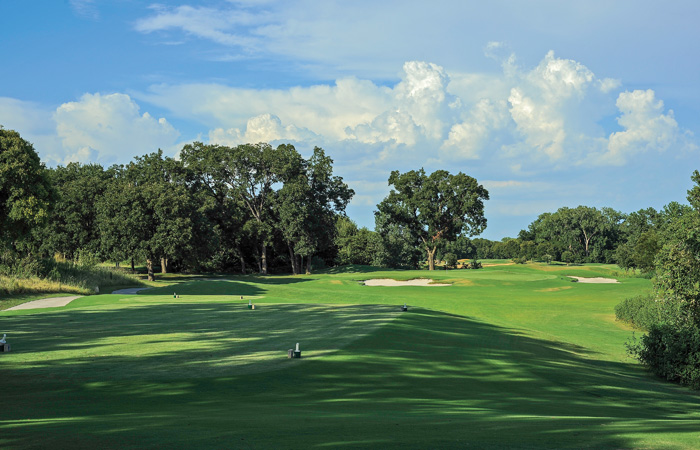 The No. 1 Course at Sherrill Park is a solid track for those in Big D. Ronny Glanton, who has been the man in charge there for years, exemplifies dedication to community and running a top-notch facility that is inclusive to not only the seasoned player, but juniors and those just getting the golf bug. It's a great overall facility, and the No. 1 Course is worthy of a visit.  
Firewheel Golf Park's Bridges Course is another great example of a course that we feel gets too little recognition. It's always in good shape, is a true test for even the most experienced players, while offering multiple sets of tees for those who maybe aren't as experienced. In addition, the Branding Iron Grill churns out a great brisket sandwich. It's the total package, and worth booking a tee time. 
The Courses at Watters Creek not only has one of the most complete public practice facilities in the Metroplex, it also has The Traditions Course that features some interesting architectural elements and holes framed beautifully by stately oak, cedar and pecan trees. No. 6 is a fantastic hole, with an elevated tee shot that must be played to a narrow, tree-lined fairway. Players then must navigate their approach over a creek and retaining wall to the green. It's a hole that can be feast or famine. 
Southern Oaks Golf Club has seen some ups and downs with ownership changes and uncertainty over the last several years, but the one thing that has been very consistent is the golf course. Next year will be the 25th anniversary of this Mark Brooks design, and conditions are still as solid as the day they opened. We love the layout, including the usually downwind par-5 9th, and all of the par 3s are a real challenge, including the redan 16th which plays a whopping 245 yards from the tips.
After a couple decades as a members-only club, DeSoto's Thorntree Golf Club has been public for a handful of years now, and the course continues to stay in solid shape year after year. The layout is challenging, with tree-lined fairways and whimsical bunkering. The greens are always in great shape, even during some of the months where weather doesn't cooperate. The clubhouse could use a little updating, but as far as a straight-up solid golf experience, Thorntree provides it. 
Hawks Creek Golf Club has long been right on the cusp of making our top 15 on the west side. The old Carswell Airforce Base course has some of the best greens you will find anywhere, and that's no hyperbole. The course is relatively short by today's standards, tipping out at just 6,898 yards, but some strategically placed bunkers and some holes that play into the predominant south winds give it some teeth. No. 9 and No. 18 are two of the most challenging holes on the course, both par 5s that require a long right-to-left tee shot and then a second shot over water. The clubhouse is a little dated on the inside, but the outside looks like a castle from overseas, so it has a cool aesthetic. 
Fort Worth's Rockwood Park Golf Course is one of our favorite renovations of the last decade. Unfortunately, an agronomy mishap earlier in the year nuked all their greens, forcing temporary putting surfaces for much of 2023. We're happy to report the greens are back open now and have recovered from the mistake, and we look forward to seeing this City of Fort Worth municipal thrive moving forward. 
Top Value-Priced Courses (Under $50)
Lake Arlington Golf Course (West)
Lake Arlington Golf Course is perennially one of the best value courses in DFW. The clubhouse is pretty bare-bones, and the course doesn't feature a single bunker, but the lack of bunkering allows management to spend that money on other parts of the course. Specifically, the greens, which have been immaculate over the last several years. The front nine is relatively benign, but the inward nine features some fun holes, with the stretch of No. 12 – No 14 being one of the most fun and interesting trios anywhere. A bad storm in early September took down some trees and branches, but they have recovered and are back to 100 percent. One quick suggestion from our staff: please level the back tees on No. 7 and No. 14. 
Best Outlying 
Tempest Golf Club ($89)
Pine Dunes Golf Club ($119)
The Links at Land's End ($89)
Squaw Valley Golf Club ($60)
Tempest Golf Club is just a couple hours east of Dallas and well worth the trip. It truly looks like a poor man's Augusta National with dramatic elevation changes in abundance and towering east Texas pines lining fairways and surrounding greens. They recently added a couple of rentable condos for overnight guests that can be booked through the pro shop, should you be looking for a quick weekend getaway on a budget. We can't recommend Tempest enough. Just look for the massive American Flag right off the highway in Gladewater.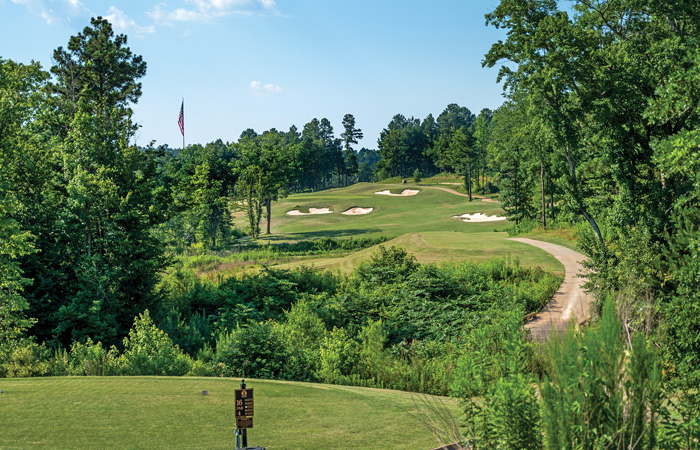 Pine Dunes Resort & Golf Club was once one of Texas' best-kept secrets. Fortunately for them, and not so fortunately for us, word is out, and Pine Dunes is seeing more and more rounds as people flock to Frankston for this magnificent layout. New rental cottages are on property now, and they book up fast. The rate at Pine Dunes has gone up a good bit over the last year, but we still think it's one of best overall courses for the price in the entire state. 
The Links at Land's End is another course just a couple hours away. Located in Yantis, on Lake Fork, this layout is quirky, but endlessly fun. The stretch of holes No. 7, 8 and 9 are not only scenic, with great lake views, but also fun and challenging. When the wind blows, this course can be a bear, but in calm conditions, it's absolutely worth your time.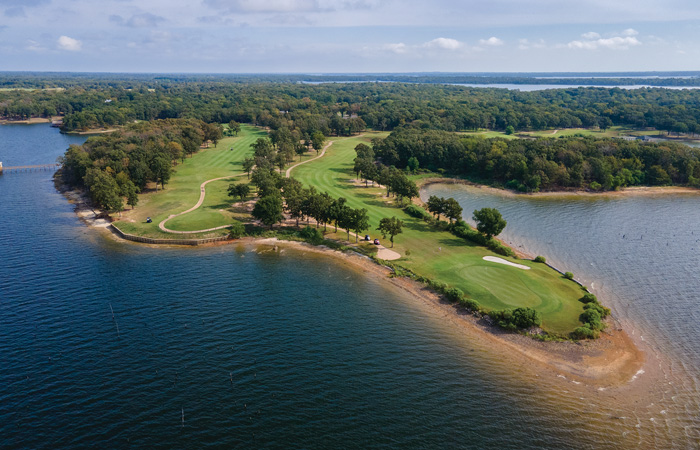 Squaw Valley Golf Club is just about 90 minutes away in Glen Rose. The Apache Links and Comanche Lakes courses are both always in great shape and feature winding creeks and streams in abundance. Although there isn't much in the way of elevation change, unique mounding and undulating greens can make this a fun property to see. Consider playing 18 in the morning, catching lunch in the Rooster Bar & Grill, and then looping 18 more in the afternoon.