Travel – Shangri-La Resort

Oklahoma, where the wind comes sweepin' down the plain, is accurate in many ways. The wind-blown fields and wide-open vistas make the Sooner state one of the most underrated destinations in our great land. Golf may be a little scarce north of the Red, but the courses Oklahoma does have are legendary by anyone's standards. Southern Hills, Dornick Hills, Oak Tree National and Karsten Creek are just a few of the must-play tracks when you are up north. But there is another property that needs to be on your radar for a quick weekend getaway with someone special or your next guy's trip. Shangri-La, which sits about 90 minutes northeast of Tulsa on Grand Lake o' the Cherokee, is a wonderful, all-encompassing property that you need to see. Aside from the fantastic golf, which we will dive into in a moment, the entire experience at Shangri-La is hard to beat for the price point.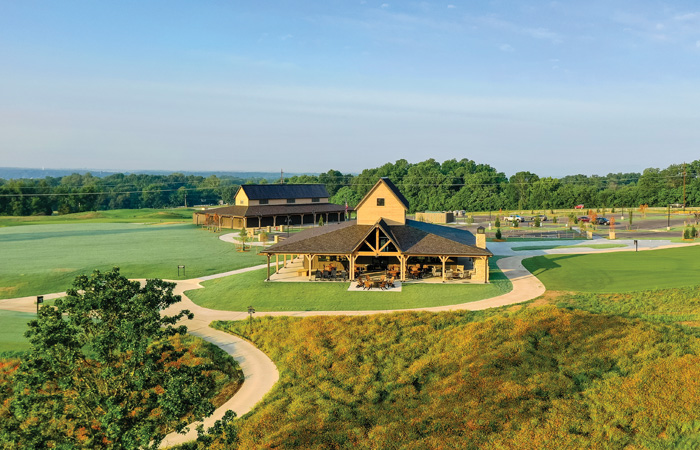 Shangri-La has an interesting history. The original hotel first opened on Monkey Island back in 1964. After a handful of ownership changes in the first half decade, the resort fell into a state of disrepair. Then, in May of 1969, new ownership renovated the property and launched a new version of the Shangri-La. Over the next several years, the resort grew and saw the opening of a residential project and the 18-hole golf course. From 1970 to 1983 the resort saw plenty of growth, including hosting the national Governor's conference in 1982. Sadly, just three years later, the property fell into bankruptcy, leading to uncertainty for the future. Several other property management groups, including ClubCorp and Highgate Hotels, came and went, until 2010, when new life was breathed into the resort by a new, highly motivated visionary in Tulsa manufacturing magnate Eddy Gibbs. Gibbs immediately went to work, demolishing downtrodden old structures, renovating the golf course, and beginning construction on a new, state-of-the-art 13,000 square-foot clubhouse. Course renovations included a new nine and updating the existing course, leading to a 27-hole golf mecca. In 2011, Gibbs also purchased the marina nearby, which was an additional piece of the new grand vision. The property continues to evolve, and guests are flocking to the area to see all the new amenities. 
Shangri-La is so much more than just golf, but as we begin to take a trip around the resort, you would be remiss if you didn't focus in on the fantastic courses. Shangri-La's stand-alone nine is the Champions. This par 36 offers great conditions, and some of the best lake views you will find on the property. Highlights include the par-4 third, which offers a tremendous tee shot that looks directly at Grand Lake. Bunkers down the right make it tough to bail out, and a small, three-tiered green focuses emphasis on the approach shot. It's picturesque and challenging. As you complete your loop of the Champions nine, you are met with another lovely par 4 that features a gorgeous pond that guards the green. A tee shot up the right side of the fairway takes water out of play, but an aggressive line over the corner of the pond sets up a wedge approach and a chance at birdie to finish out your loop.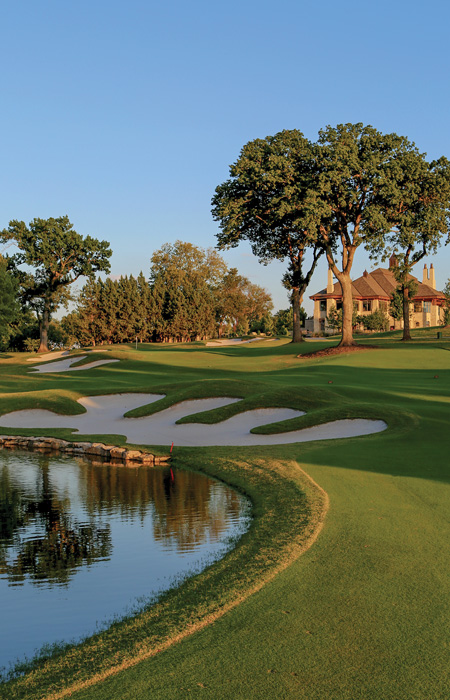 The Heritage and Legends nines are the traditional 18-hole loop at Shangri-La. Known as "Old Blue," this nine reopened a decade ago after a complete overhaul. Conditions are simply stunning, from lush tee boxes to beautifully manicured fairways and greens, this is everything you want when it comes to brilliant agronomy. The Heritage nine features one of the most beautiful and challenging holes on the course, the par-5 fourth. This tee shot requires both distance and precision, with a water feature pond on the right guarded by a massive bunker. Take on the corner and the reward is worth the risk, but miss just a hair right and you will be forced to re-load and do it all over again. No. 9 on the Heritage is another stunner of a par 5. The downhill tee shot, followed by an uphill approach, frame the hole wonderfully, adding some intrigue and another chance at birdie to finish out the nine. 
The Legend Course serves as the inward nine on "Old Blue," and you will love this architecture from opening tee shot to final putt. Lake views are in abundance, and in a fun twist, this nine features three par 5s and three par 3s, which is something not seen very often. The second of those par 3s is arguably one of the most beautiful on the property. Playing 184 from the tips, Grand Lake can be seen in the distance as you prepare to fire your iron shot to the green below. A pair of bunkers guard the front, so be mindful to choose your club correctly. 
Of all the holes at Shangri-La, the most iconic is the par-5 9th on the Legends Course, which plays as the final hole when looping "Old Blue." Known as the "Mickey Mantle hole," it derived its nickname from the Hall of Fame outfielder and Oklahoma native's albatross on this hole back in the 1990's. Mantle was a frequent visitor to the property and jarred his second shot on this final hole. The player who has the honors on this hole not only has the tee box, but he also gets to select one of two greens to play to for the whole group. The smaller island green (where Mantle made his two) is reachable with a good tee shot, but water surrounds the putting surface, making the second shot a white-knuckle ride. Should the player with honors choose the alternate green, it adds about 70 yards and makes getting home in two less likely, but also not as dangerous. Once you have finished, be sure to stop and check out the Mickey Mantle plaque near the waterfall that separates the two dynamic finishing greens. For anyone who is a baseball fan, it's a can't miss, and a fitting tribute to the Mick.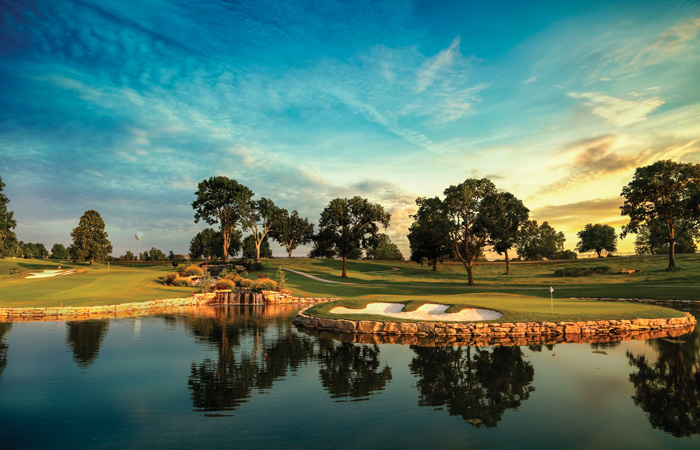 The clubhouse at Shangri-La comes equipped with everything you would need to gear up for your round. From balls and caps, to shirts and shoes, the attention to detail is at a premium. And don't forget to check out the restaurant and bar area upstairs for a great meal after your round. The Driver Croissant is a great and light lunch, with house-made chicken salad, lettuce and tomatoes. This area transitions to a fine-dining experience Thursday through Sunday and features chef-inspired options like Florentine pork tenderloin and smoked honey glazed duck breast. A significant wine selection is also available, if you are interested in trying something new for your evening out. 
As if the trio of nines wasn't enough to pique your interest in Shangri-La, the resort recently debuted a stand-alone par-3 course known as The Battlefield. I can truly say without question it is the most incredible par-3 course I have ever seen, with rolling hills, native flora and conditions that rival any high-end course in the country. Why did they choose the name Battlefield, you might ask? Well, Mr. Gibbs, the owner of the property, loves militaria, and you can see many examples on property, like a collection of historic military vehicles that can be seen near the resort hotel. This theme continues at The Battlefield, not only with the name, but also one of the most interesting elements I have ever seen on a golf course. On each tee box, a sign not only offers players the yardages from each tee, but also bears the name of an Oklahoma fallen World War II veteran, along with a QR code that is scannable, and leads to a website with each veteran's story. It's a wonderful tribute to those who have served our country, and while there, I highly encourage you to take in each individual story.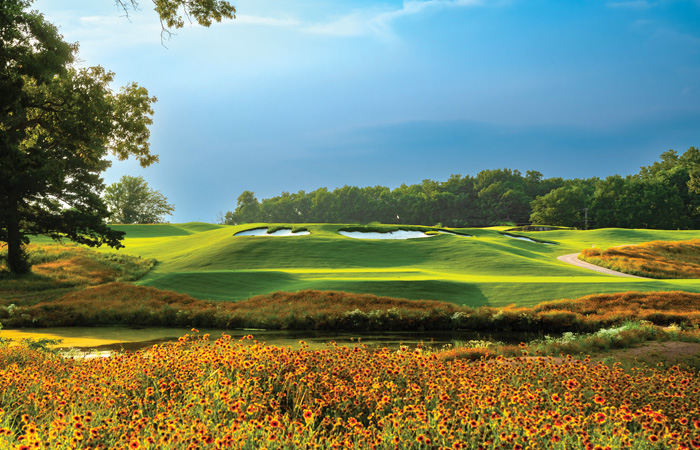 "This is a like a living monument to those who died for our freedoms," says Barry Willingham, CEO of Shangri-La.
As for the course itself, it is definitely not your standard par-3 course. It features 18 holes, ranging from a little over 100 yards to a muscular 245 yards. Good players might not hit a driver, but the course will challenge almost every other club in your bag. Five sets of tees are available, meaning you can choose your own adventure and make the course play a variety of different yardages. The course also has the "Felix" tees, which are perfect for junior players or older visitors to the Battlefield. These tees got their name from Felix the Cat, which was used in World War II as the logo of the Fighting 31 Navy Squadron. So, yet another military tie-in. I can say without question, The Battlefield is one of the most unique golf experiences I have encountered, and I would absolutely make the trip just to play it again. 
The Battlefield sits a couple miles from the main resort, so they also have their own clubhouse with a bar and restaurant, as well as an event venue and large patio where guests can relax and enjoy entrees like Birria tacos and one of their signature cocktails. Might I also suggest trying the Battlefield Ale, which is their signature beer. I would also be remiss if I didn't mention that The Battlefield also has one of the cooler logos I have ever encountered, so be sure to stock up on a shirt, logo ball and cap while you're there. A military-centric park is also in the works and will sit near The Battlefield, and it will become the permanent home to those aforementioned military vehicles as well as become another spot to honor the dedication of our service men and women.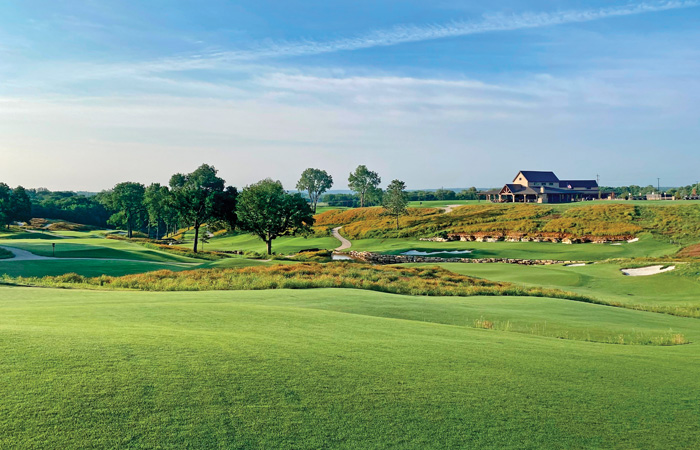 The hotel at Shangri-La isn't massive like some other resorts, but it does come fully equipped with 119 rooms, a large resort pool with jacuzzi and splash pad for the kiddos, spa and fitness center. I will add that on my visit, it was still quite warm, and this has to be one of the coldest swimming pools I have ever been in, so it couldn't have felt more refreshing after a hot day playing some golf. Towels are at the ready, and the staff at the Shagri-La pool bar was courteous and slinging cocktails to the many hotel guests. Inside the main lobby, don't forget to stop and take a look at the mahogany speedboat once owned by John F. Kennedy. Restofus is the boat's official name, and it was navigated by Kennedy himself off the coast of Massachusetts. 
Yes, the pool and hotel are fantastic, but another star of this property is the Anchor and Racquet club and activity center. Outdoor and indoor tennis courts are available, as well as pickleball courts for those into that craze that seems to be sweeping the nation. There is also a massive arcade that features both traditional and virtual reality game, including a CXC Racing Simulator that is so realistic, it is the simulator of choice for many drivers on the NASCAR circuit. Shangri-La is a golf resort, afterall, and what golf resort would be complete without indoor simulator bays. The Anchor has them for you and your group should you want a little more golf after sundown. Oh, and there is one more thing you should take note of when you head over to the Anchor, and that's the whiffleball park. Yes, you read that right, they have a small-scale Fenway whiffle ballpark. Complete with artificial turf and a green monster in left field, this is a wonderful place for the kiddos to have a little home run derby or a full-fledged game. It's so cool I had to go over there and hit a few taters myself.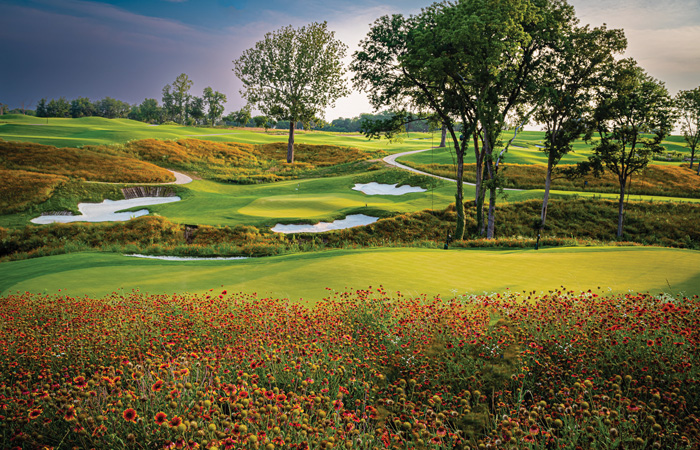 For meals, you can always head to the main clubhouse and The Summit, but if you are looking for something a little more low-key and casual, then Doc's Bar & Grill is a nice option. Salads are available for those watching theif figure, but if you fancy something a little more rib-sticking, then the Doc's Smashburger or their belt-busting chicken fried steak can be a more substantial choice. 
I mentioned the marina a bit earlier, and that is another great way to enjoy your time at Shangri-La. All this talk about golf and I have barely mentioned that Grand Lake o' the Cherokees is one of the most scenic and largest lakes in the state. It is known for recreation, and as a getaway spot for affluent Oklahomans. At Shangri-La, you can rent personal watercraft, fishing vessels, or even charter a yacht for the day. Waverunners can be rented for the affordable rate of $79 per hour. Parasailing is also available for those who are feeling a little more adventurous. 
The drive to Shangri-La from DFW isn't bad at all, sitting right at about six hours total, and once you are on property, it's all worth it. Of course, if you aren't much for road trips, you could always catch a quick flight to Tulsa, rent a car and drive the hour and 15 minutes to the resort. However you choose to get there, you won't be disappointed. I have seen a lot of golf properties traveling this great land, and I never would've imagined such a dynamic and fun property was right under my nose just north of here. Shangri-La is truly one of the most complete resorts I have ever seen, with not only wonderful golf, but solid food, drink, and an endless supply of activities for adults and kids. If you are in the market for an affordable getaway with the family, or you are looking for a great destination for your next buddies' trip, look into Shangri-La. You won't regret it.