Golf Science – Professional Prep

What does it take to succeed at Q School? As the number of professional golf events springing up all over the world proliferates, with ever-increasing amounts of prize money, many would love to know!
Meet Texas' very own Scott Fawcett, former golf professional and most recently known as the guru of course management. As a recently turned 50-year-old, he plans to participate in the Tour Champions' Q School for 2024, to test everything he has learned since last playing on a professional tour.  
Here is an inside look at some of his thinking, planning and practice in preparation for his do-over opportunity at professional golf. "In my twenties," said Scott, "I was better than the scores I was shooting." Now that he teaches and uses course management, meditation and expectation management, he feels he can do better justice to his golf skills. "I'm not a hot head anymore."
In earlier times he believed his main fault was putting, but never practiced putting constructively and did not practice what recent research has shown to be the main aspect of putting – speed control. He also believed, as many younger golfers do, that golf was only about the golf swing. 
The main reason Scott expects to do well in the seniors' Q School is that his driving numbers indicate he should be able to drive it way past everyone else on the tour (with, perhaps, the exception of Padraig Harrington). Driving aggressively is a very important aspect of what Scott teaches, so he is keen to see how his long-hitting capabilities suit seniors' courses, when most people who play it inform him that distance is not important for this Tour. He believes that, practically, one cannot make a bogey after driving well! With his gift for driving far, he believes he has a good chance to birdie par 5s and shorter par 4s.
The next step, he says, is to not make "stupid bogeys." In fact, he is a great proponent of the Tiger Five, which requires good golfers to avoid bogey on par 5s, avoid double bogeys, avoid three-putts, avoid bogeys from 150 yards and in (typically a 9-iron or less for better golfers) and avoid blowing up easy saves. After that, all that's left is for a golfer is to trust that he will make some birdies along the way. While of course there will be some poor holes, the idea is to minimize the above five typical mistakes.
Of course, the Tiger Five is geared toward the better golfer who can drive the golf ball fairly far. What gives Scott that ability? "I have always been good at driving," he said, but does not know precisely why. He is, in his own words, a "big, strong guy" with brute strength and natural speed. People with his body type, who do not move the pelvis "up and around" in the downswing are more prone, he believes, to elbow injuries (than the lower back injuries seen in those with a lot of pelvic motion) because they extend the elbows so hard. Even though he has good flexibility in his lower body, his upper body does not side-bend much and he cannot rotate his pelvis to face target in the downswing. 
His swing preparation routine involves walking into the ball while aligning his clubface to a spot 18" in front. He then sets his body lines parallel to that line. He likes to have a left (lead) hand feel of a short thumb that is on the right side of the grip. After that, he tries to make sure he does not let his spine tilt away from the target too much, as he has a tendency to use his head as a counterbalance. 
Besides having a forceful swing that sends the ball a long way, as well as good planning, Scott's other plan for performing well is his improved putting practice. While his putting practice in earlier days might have involved randomly rolling putts around on a green, he now uses several speed drills, during which he knows how long each putt is, and then rolls it to a specific distance. He does this for putts ranging from five to 40' away from the hole.
He had a recent chipping epiphany when he was told to aim at the landing spot for the ball, rather than to target.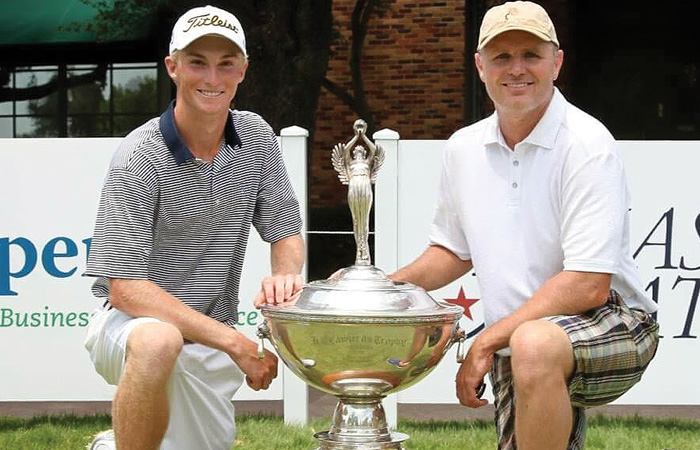 What about specific golf clubs and what about fitness? Any special plans there? No. He generally buys clubs from the PGA Superstore. His main clubs are his driver (with 8° loft and 45" length and the full-size head), the mini-driver (which goes 30 yards further than his 3-wood) and a 3-iron, as he places great emphasis on making each hole as short as possible through a tee shot that goes as far as possible. 
His fitness training is not golf-specific but mainly a traditional strength-training one (to be as strong as possible). Explosive exercises might give him injury, so he avoids those. He also uses a Rypstick for speed training and for now just tries to maintain rather than gain speed, given that he already cruises at a 175 miles-per-hour ball speed with his driver.
Finally, with respect to ideal preparation for his upcoming event, Scott believes that frequent meditation can also help. He has the Waking Up app that he uses for 10 minutes of daily meditation, and then a few other audios that he listens to in the steam room of his gym after a good workout. What he has learned in recent years about meditation is that it does not involve a lack of all thought, but rather is about recognizing recurring thoughts and stopping the negative ones. Now he would never give credence to a thought like "you suck," because he knows that it is just a passing thought and not real.
This, then, is the overall plan for someone who has tried to cover all the bases for his upcoming trial where he plans to "put his money where his mouth is" and use all that he has learned (and teaches) over the years to produce good performance. 
Not only has Scott's course-management greatly improved, from years of teaching those fundamentals, he makes sure to no longer try to work the shot both ways and, instead, has a stock shot that suits his swing – a mild fade. His typical miss is an overcut, but, by definition, says Scott, 15 percent of shots will be relatively bad for all skill levels of player. With his stock fade, he is able to rule out missing anything on the left side. When a hole demands a draw, Scott uses his "mini-driver" (with a 300cc head size, a length of 43" and a loft of 13°) and places it back in his stance to produce a slight draw – with no swing change.
Given all the detailed planning and preparation, it is sure to be a fascinating journey, one that will certainly be eagerly followed by the many who are involved with his teachings and his Decade app. So, to Scott Fawcett of Frisco, Texas, we can only say go play golf (not golf swing)!
Dr. Kiran Kanwar, golf science consultant, is the developer of The Minimalist Golf Swing System – 100% scientific, simple, and specific. She has M.S. in sports science and nutrition, a Ph.D. in biomechanics, an anatomy a degree in Kinesiology and is an LPGA Master Professional. Visit her websites www.YourGolfGuru.com and www.mgs.golf .