Cover Story – Best of Public Golf 2020

2020 will go down as one of the most bizarre years ever for the DFW golf industry. The COVID-19 pandemic has altered families, businesses, and our day-to-day lives like nothing we've ever seen before. Throughout the topsy-turvy year, courses have been forced to adapt and evolve as the rest of us have. Some closed by local mandates for several weeks only to open back up with new safety protocols. Some courses remained open throughout, staggering tee times and moving to single rider carts to prevent the spread of the Coronavirus. Despite the weird world we've been forced to deal with, golf in north Texas has exploded in 2020. With most people working from home, it was easier for players to sneak out during the week once they were done with Zoom calls. Thus, we saw a significant uptick in rounds at almost every course in the Metroplex. Golf, for all intents and purposes, seems to be one of the safest activities around for social distancing and avoiding transmitting the virus to others. For this reason, most properties saw one of their busiest years ever, with tee times filling up quickly during the warmer months. Again for 2020, AVIDGOLFER gives readers its best that public golf in DFW has to offer, and this year was as competitive as ever as courses tried to stay one step ahead of the competition to keep players coming back during the pandemic of 2020.
BEST OVERALL CLUB
It seems we go through this every year, but once again for 2020, Cowboys Golf Club takes our top spot for best overall golf experience in DFW. This Arcis owned property made some improvements in 2020 and continues to stay at the forefront of overall great conditions, great amenities and keeping its players coming back time and time again. Yes, Cowboys is the most expensive daily fee course in the Metroplex, but the experience is worth the price of admission. The course always lives up to expectations, with a great collection of scorable holes and some holes that will challenge every aspect of your game. The food and beverage programs are second to none, and the clubhouse will blow you away with a stupendous bar area and Cowboys memorabilia that will have the football fan taking notice. It's a great place to host tournament or outing, and the staff is always ready and willing to go above and beyond to make sure their customers are enjoying every aspect of the experience. Overall, it's tough not to see this as the best overall day of golf in the area.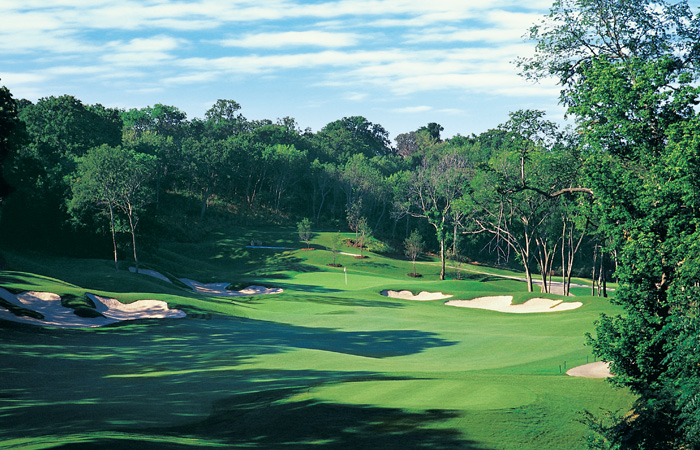 Cowboys Golf Club
Top Elite Courses ($79 and Above)
Old American Golf Club (East)
Tribute Golf Links (East)
Texas Star Golf Course (West)
Texas Rangers Golf Club (West)
Heritage Ranch Golf Club (East)
Wildhorse at Robson Ranch (West)
Coyote Ridge Golf Club (East)
Bridlewood Golf Club (West)
Frisco Lakes Golf Club (East)
Sky Creek Ranch (West)
The Golf Club Fossil Creek (West)
Tour 18 Dallas (West)
Old American Golf Club and The Tribute Golf Links have joined forces and are now under a single umbrella known as the Golf Clubs at The Tribute. Both clubs are operating out of The Tribute clubhouse which is in the process of being updated. A slight routing change to Old American was necessary to accommodate the clubhouse change, but the course is as good as ever, with softened conditions that have made it more enjoyable to play that it has ever been. The Tribute is always fun too, with replicas of some of the most famous holes in European golf. Conditions at both courses are consistently well above average making this duo two of the most entertaining and interesting tracks in the area.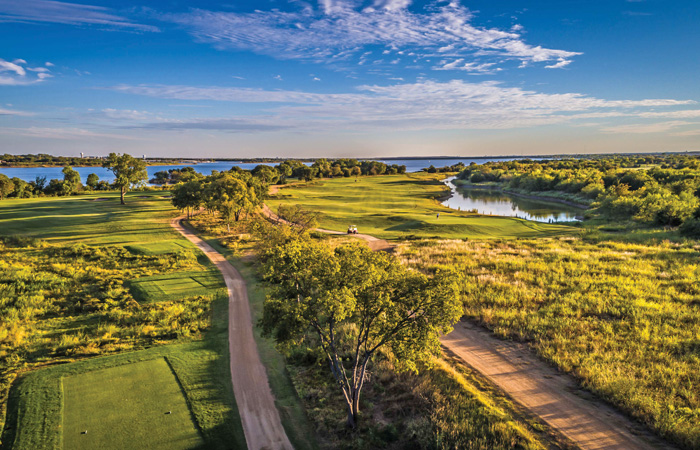 Old American Golf Club
The mid-cities have long had a great option for upper echelon golf in Texas Star Golf Course. Top tier turf, a nice practice area and a tough test of golf await those that want a great elite course with some personality. The clubhouse and restaurant could probably use a touch of updating, but the course is always awesome. It's a perfect place to play if you're looking for a central metroplex meeting point that will always keep up their end of the bargain when it comes to conditions. 
Texas Rangers Golf Club is a course that we absolutely love here at AG. For almost two years, it comes up at least once a week how pumped we are to get to see the almost complete mega-clubhouse. The course is so enjoyable, with tons of scoring chances for the average player. The par-3 6th is one of the most interesting 110-yard holes you'll find anywhere, and a doable final three holes could lead to some wild finishes amongst your friends. John Colligan truly did great work here. Now, it's time to get the clubhouse opened up and see what the Korn Ferry boys can do when they host the Veritex Bank Championship in April.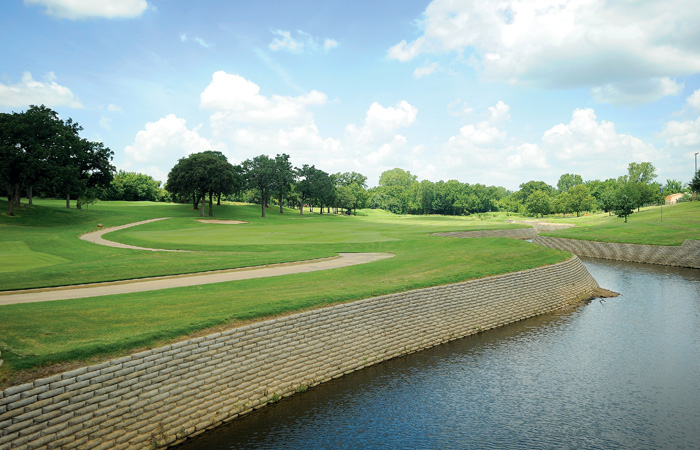 Texas Star Golf Course
Heritage Ranch Golf and Country Club is one of just a few public courses where you truly feel like it should be a membership only property. A massive 24,000-sq. ft. clubhouse overlooks the course, which presents a great challenge and fantastic conditions. The trees on the property frame the course beautifully, and the slight elevation changes present subtle challenges in club selection. From the time you arrive, Heritage Ranch doesn't at all feel like a daily fee course. Check it out and you will no doubt agree. 
One of our favorite courses on the west side for 2020 is Wildhorse at Robson Ranch. Although conditions here are always great, we were floored to see that they were even better for this year. It was one of the most impressive displays by an agronomy team in 2020, especially given just how much play courses have seen during the pandemic. Kudos to the staff at Wildhorse for wowing us during our annual visit.
Coyote Ridge Golf Club makes our top 15 every year on the east side and rightfully so. It's in rock solid shape every time we visit, has a great clubhouse, top notch service, and they always impress with their menu. It's a no-brainer to add to your foursome's rotation. 
Bridlewood Golf Club is a favorite of the Texas Junior Golf Tour. The layout is challenging but playable, the course is nails when it comes to conditions and it has all the creature comforts you would expect when you head to a high-end property. Plus, they have some great pizza in the clubhouse. 
Frisco Lakes Golf Club might be one of the most played courses in DFW. They are constantly booked up, and with good reason. The course itself is super fun with some holes that will make your palms sweat. No. 7 and No. 8 are high on intimidation factor, especially if the wind is blowing. Expect a fun day when you head to Frisco to play this one. 
After a renovation a couple years back, Sky Creek Ranch Golf Club has finally settled in and started to soften up a bit. When greens are new, they tend to be very firm for a while and that was the case at Sky Creek, but now that they are maturing, it makes holding them much simpler, and that's a good thing. For our money, this layout also has one of the most difficult opening stretches in the area. If you can hang on through the first four or five holes, you have the chance to do some damage, but that can be easier said than done.
The Golf Club Fossil Creek is an Arnold Palmer design that has been a Tarrant County favorite for years. It may be time to put just a little TLC into the course, but it's still rock-solid and the stretch of 11, 12, and 13 are as fun as any stretch in the area, and it's a great place to look at if you plan to host a tournament or a private event. 
New greens have Tour 18 Dallas trending in the right direction. It's always fun to text yourself up against some of the most famous holes in golf, whether it be No. 18 from Doral, the church pew hole at Oakmont, Amen Corner, or the Island Green at Sawgrass. You can see them all in one convenient location at Tour 18. Conditions continue to improve, and we look forward to seeing it again in 2021. 
Top Luxury Courses ($69-$79)
Tierra Verde Golf Club (West)
Bear Creek Golf Club – West Course (West)
The Bridges Golf Club (East)
Tierra Verde Golf Club was the crown jewel of the Arlington city courses for years, but with Texas Rangers opening a little over a year ago, it has now found itself taking a bit of a back seat. However, Tierra is still one of the best luxury courses for the price in the area. A great combination of challenging holes and holes that are gettable when your game is on. The finishing stretch of No. 14 through No. 18 are as good as any in the area, and at this price point, it's a must see.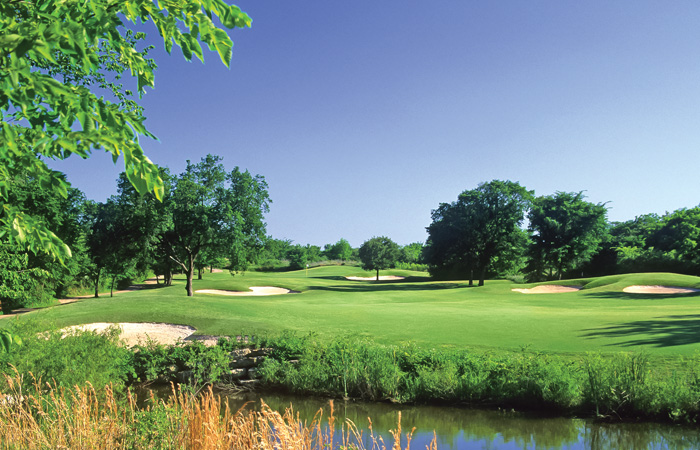 Tierra Verde Golf Club
Bear Creek Golf Club is one of the most heavily trafficked in the metroplex. Its central location near DFW Airport means it sees more rounds than just about any pair of courses in the state. The West Course has more personality than its sister track, and for that reason it makes the list of the top 15 on the west side. Drastic elevation changes with rock formations scattered across the property make the front nine as interesting as any front you'll see. The back nine is a bit softer, but No. 16 and No. 17 are both great.  
Although it is a bit of a hike (right at about 50 miles from DFW Airport), The Bridges Golf Club is definitely worthy of the trip north to Gunter. This is a great layout with plenty of bunkers and water features to keep you on your toes. The best part about The Bridges is that it feels like a mini-vacation, but if you play early you can still be home for dinner. 
Top Premium Courses ($60-$69)
Tangle Ridge Golf Course (East)
Grapevine Golf Course (West)
Firewheel Golf Park
Bridges Course (East)
The Trails of Frisco Golf Club (East)
Indian Creek – Creek Course (East)
Pecan Hollow Golf Course (East)
Hawks Creek Golf Club (West)
Year in and year out brag about the top notch, friendly staff at Tangle Ridge Golf Course in Grand Prairie. This year is no different as once again every time a member of our staff visited, we were met with a smile and some chit-chat. In addition, always making players feel welcome, the course at Tangle Ridge is in fantastic shape, with some recent bunker renovations across the course adding some aesthetic upgrades. Overall, it's one of the better experiences at this price point.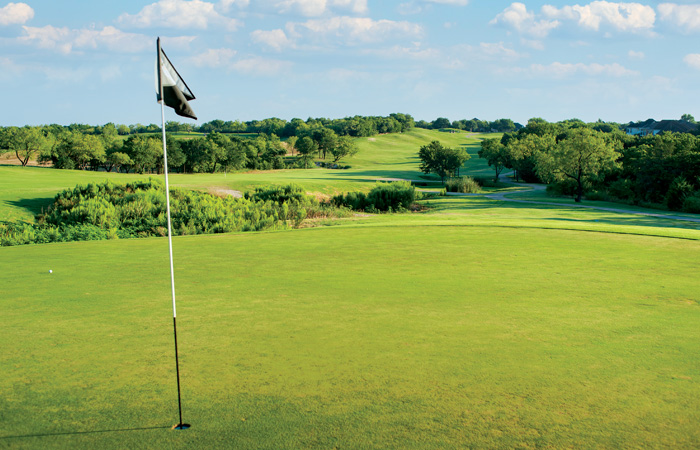 Tangle Ridge Golf Course
Grapevine Golf Course has long been one of the best go-to values in the area. Great conditions, great rates, and 27 unique holes to navigate. Now, the city is investing in a new clubhouse that is in the process of going up. We're all looking forward to seeing the new facility which should further enhance this already fun property. 
Firewheel Golf Park's Bridges Course will be on this list until the end of time as long as they keep those sweet Bentgrass greens. We like the course but putting when their greens are cherry is one of the best things about DFW golf. It's truly a place where you'll love rolling the flat-stick. Majestic trees are scattered around the property and make for a serene setting. 
The Trails of Frisco is another course that sees a ton of play and with good reason. This layout commands attention with meandering creeks and water on several of the holes. This layout requires some experience to navigate, but once you have played it, you'll know where to go. The course is consistently in good condition and the price is right. The Trails of Frisco is a great place to play if you're up north of Dallas. 
The Creek Course at Indian Creek is a must play for those in the Carrolton area. The Creek course boasts a colorful layout with some short par-3's and some longer par-5's. It's fun and the course is generally above average condition-wise. If you're in the area, give it a look. They also have the Finn Scooters available for rental. They are like a small motorcycle that carries your golf bag. It is definitely a change to the traditional round in a cart. 
If you want a course that has a little bit of everything, then Pecan Hollow Golf Course should be on your list. With five sets of tees, this track can play over 7,000 yards for the low handicapper or as little as 4,700 for the ladies or beginners. Couple that with a five-hole short course that is magnificent to work on your wedge game or to let the kids have some fun, and you have a great facility that is suited for every level of player. 
For those on the east side, Hawks Creek Golf Club in west Fort Worth (Westworth Village to be exact) may not be familiar to you. Located right next to the Naval Air Station Joint Reserve Base, this course has some of the best conditions for the money you will find anywhere. In 2020, the greens in particular were fantastic, and if you're an airplane buff, you will routinely see jets lighting it up and taking off from just on the other side of the property line. The clubhouse interior could use a little sprucing up, but the course has tremendous value. 
Top Mid-Priced Courses

 

($55-$60)
Split Rail Links and Golf Club (West)
Southern Oaks Golf Club (West)
Sherrill Park Golf Course, No. 1 (East)
The Courses at Watters Creek (East)
SugarTree Golf Club (West)
One of life's great mysteries is how Split Rail Links and Golf Club continues to only charge $59 to play this fantastic course. For the money, this may be the best value in the state. The course opens with a linksy style beginning before giving way to the trees after the first few holes. The layout has plenty of character, and No. 10 is a great place to snap a picture with your group.  The greens are always great, and the short par-4 17th and the par-5 18th can help you get to the clubhouse with some confidence. It's a little bit of a drive, but absolutely worth it.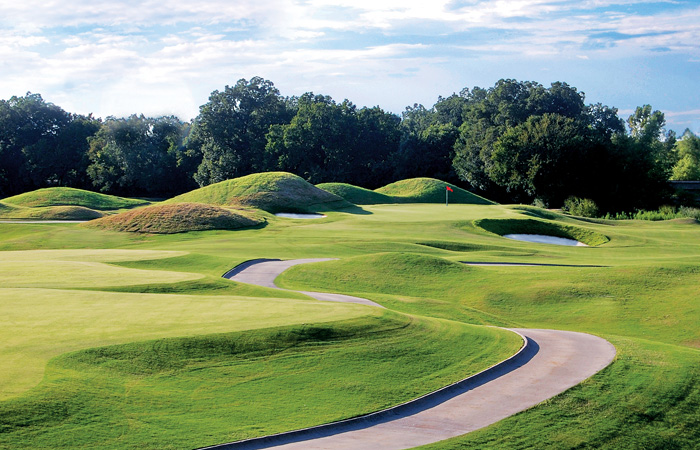 Split Rail Links and Golf Club
Southern Oaks Golf Club in Burleson has seen its share of adversity. It seems like the property has changed ownership almost every time we make an appearance down there. For some courses, that could be a death sentence, but not Southern Oaks. The routing here is superb, it's always in great shape and the staff continues to evolve with the changes. Kudos to Southern Oaks for always being able to adapt and bring the west side a top-quality course at a great rate.
The No. 1 Course at Sherrill Park underwent a fantastic renovation four years ago and the course continues to be one of the best. A classic design that incorporates as multitude of challenges, this property will always impress. Couple that with a great staff and it's a course you need to go check out. 
You want to play 18? You want to practice? Need a little wedge work? Well, The Courses at Watters Creek has you covered on all accounts. The 18-hole layout is fun and manageable, the practice area has everything you need, and the short course is a great way to improve your 100-yard-and-in game. Overall, it's a great facility. 
If it's peaceful scenery and great greens you seek, then SugarTree Golf Club on the Brazos River is a place you need to visit. Some recent upgrades to the course include removal of some problem trees that had started to infringe on the layout, some upgrades to drainage, and the addition of a new short course called "The Grove". The par-5 14th hole that parallels the Brazos is still one of the most impressive holes you'll find anywhere.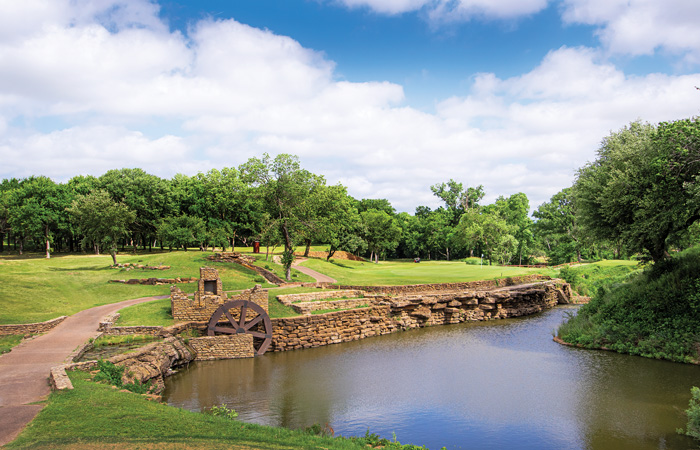 SugarTree Golf Club
Top Value Priced Courses (Under $55)
Thorntree Golf Club (East)
Prairie Lakes Golf Course (East)
Thorntree Golf Club was once one of the best private clubs in south Dallas. A place where you would routinely see local celebs teeing it up and others driving by the course in their expensive sports cars. Now it is a public course that still plays like a private track. The inward nine can lead to some explosive numbers if you're not careful, and No. 14 is one of our favorite par-3's in the area.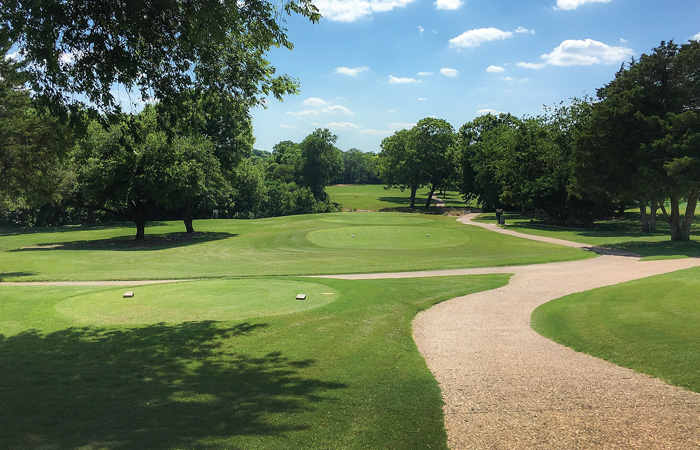 Thorntree Golf Club
With 27-holes, Prairie Lakes Golf Course is perfect for just about anyone who wants a fun layout with some fantastic value. The Red nine is great for beginners, the Blue nine is a little more advanced, and the stretch of No. 5 – No. 8 on the White nine would make a tour pro nervous. It's a great overall facility that is always in solid shape and tons of fun to play. 
Best Outlying 
Tempest Golf Club ($75)
Pine Dunes Golf Club ($89)
The Links at Land's End ($89)
Squaw Valley Golf Club ($62)
Tempest Golf Club is a course that you might not be familiar with but should. It's one of our favorite spots out east. Located in Gladewater, we watched a couple years back as the course underwent a renovation that turned out to be amazing. Big trees and rolling elevation changes will wow you as you enjoy a day away from the madness of the Metroplex. Add Tempest to your day trip golf list for 2021.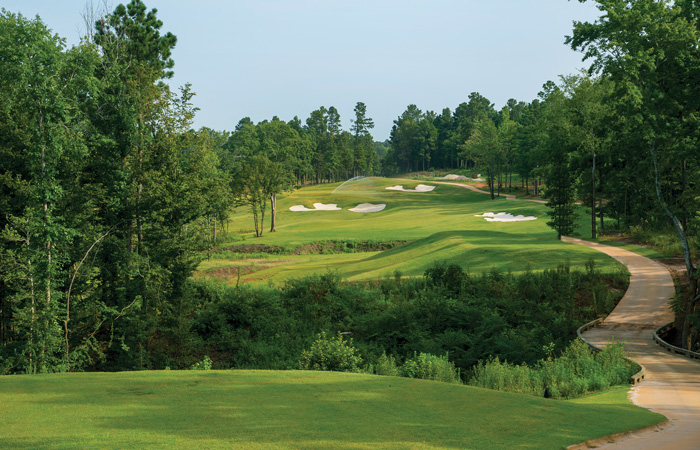 Tempest Golf Club
Pine Dunes Golf Club might be one of the best golf values in the state. Rumors of a potential switch to an all private property have begun to circulate recently, so we will keep our ears to the ground for any news there. In case they are true, I advise getting down to Frankston ASAP while you can still enjoy this great course. The huge pine trees and slick greens have a deep southeast feel and will have you thinking you're somewhere other than Texas. 
The Links at Land's End is on a beautiful piece of property overlooking Lake Fork. Tons of wildlife will amaze you as you play golf. Don't forget that Lake Fork has some tremendous fishing too. Get up nice and early, cast a few lines and then head to the course for a full day of great golf. 
Squaw Valley Golf Club in Glen Rose has two top notch tracks. We love the Apache Links course and the Comanche Lakes course. Both are definitely worthy of the hour trip to play. We suggest making a full outing of it during the long days of summer and loop 36. You won't be disappointed. 
Not Ranked: Iron Horse Golf Course recently opened back up after some serious renovations to the course, the irrigation system and the drainage system. We were able to see the course in the late summer and were very impressed with the overall improvements, but we want to give the course a year to grow in before we add them back into our rankings.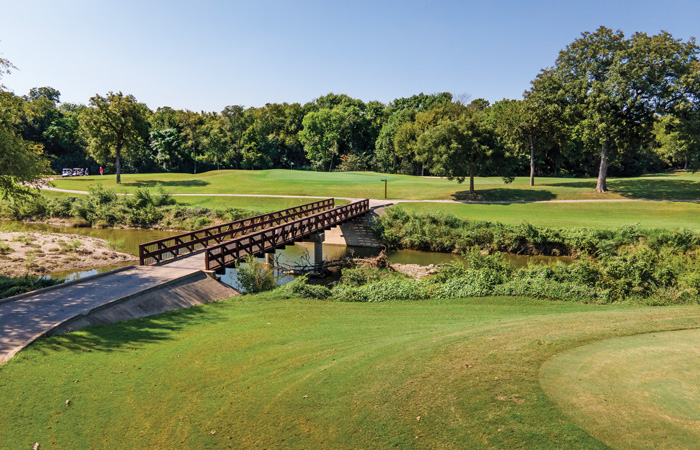 Iron Horse Golf Course
WEST
1. Cowboys Golf Club     $199.95                      Still the top dog, as they continue to evolve and improve every year
2. Texas Star Golf Course    $79.00         A great value for the layout and conditions. Also convenient to anywhere in the area
3. Texas Rangers Golf Club   $119.00           The soon to be complete massive clubhouse will only enhance this great property
4. Wildhorse at Robson Ranch   $85.00          Making this a 27-hole layout gave Robson a serious boost
5.  Split Rail Golf Club      $59.00                      Routing boasts a lot of personality and the course conditions are always solid
6.  Southern Oaks Golf Club    $55.00             Course is fun and challenging, but we miss the larger clubhouse and bar
7.  Bridlewood Golf Club    $94.00                   Deceptively wide fairways with exceptional playabilty
8.  Tierra Verde Golf Club    $76.00                 Plenty of risk/reward holes that can make for a feast or famine type round
9.  Sky Creek Ranch          $89.00                     Tough opening stretch, but some great design elements and slick greens
10. Grapevine Golf Course           $60.32          27 great holes and a new clubhouse we can't wait to see
11.  The Golf Club Fossil Creek      $79.95         An Arnold Palmer design that won't hamstring the shorter hitter
12.  Bear Creek Golf Club – West   $69.95         Popular 36-hole facility, with the West being their premiere course
13.  SugarTree Golf Club    $55.00                     New par-3 course "The Grove" recent renovations make it worth the drive
14.  Tour 18 Dallas $89.00                                  Looking forward to the updated greens fully growing in
15.  Hawks Creek Golf Club     $60.00              Outstanding value and greens are top of the food chain
Bear Creek Golf Club – East     $59.95            Nice alternative to the West course if you're looking for value
Canyon West Golf Club           $50.00             Bit of a hike, but a great value and challenge for the daily fee player
Cleburne Golf Links     $46.00                         Lake views always impress and they sling an excellent burger
Cross Timbers Golf Course     $47.00             No. 9 and and No. 16 are two of the most picturesqe par-3's in the west
Hidden Creek Golf Course      $48.00             A value priced muny that doesn't look like one
Lake Arlington Golf Course     $45.00            A truly underrated course that boasts expectional value and playabilty
Mansfield National Golf Club $49.95             Keep it in play and you could be staring at a career low round
Meadowbrook Golf Course    $41.00               Great "introduction to the game" course that has some fun routing
Oeste Ranch Golf Course    $39.00                  Fun for the good stick and beginner alike
Pecan Valley – Hills Course     $40.00             Forgiving layout makes for a fun, stress-free round
Pecan Valley – River Course    $48.00             Water features and great greens make this a must add to your muny rotation
Riverside Golf Club     $49.99                            Front nine built for scoring, back nine can be a roller coaster ride
Rockwood Park Golf Course   $59.00              Desperately needed new clubhouse is under construction
The Golf Club at Champions Circle   $59.00  A nice total package that will keep you coming back.                                              The Golf Club at the Resort    $55.00               A straight hitters paradise that is constantly trying to improve
Waterchase Golf Club $69.99                            Hyper-friendly staff coupled with a fun layout make for a great day of golf
Whitestone Golf Club $50.00                            Recent tree removal, bunker renovations, ice towels, and yes… FREE popsicles
Not Ranked                                                             Iron Horse Golf Course
EAST
1. The Old American Golf Club   $150.00                                        Softer course conditions make it as playable as its ever been
2. The Tribute Golf Club $125.00                                 Combining forces with Old American can only help make it even better
3. Heritage Ranch Golf & Country Club  $83.00                             Private club feel that is available for play to John Q. Public
4. Coyote Ridge Golf Club           $95.00                                       Always impresses with great conditions and a great clubhouse
5. Tangle Ridge Golf Course       $68.00                 Elevation changes are worth the price of admission, and look out for No. 8
6. Thorntree Golf Club    $49.00                                       Still has the country club feel after being public for a little over a year
7. Firewheel Golf Park – Bridges Course $62.00               Bent Grass greens are still there, and they're still worthy of a round
8. Sherrill Park Golf Course – No. 1         $57.38                      From the back tees, a good test of golf for the lower handicapper
9. Frisco Lakes Golf Club         $79.00                                               No. 7 and No. 8 are a couple of DFW's best holes
10. The Courses at Watters Creek   $55.00                                A fantastic place to spend a day working on your game
11. The Trails of Frisco Golf Club  $64.95                          An forgiving opening par-5 can help get you off to a fast start
12. Indian Creek – Creek Course   $68.00                         Fun combination of holes that require course management skills
13. The Bridges Golf Club $69.00                                      A rural, rustic layout where you can breathe in some country air
14. Pecan Hollow Golf Course      $61.00                         Good 18 hole layout, lighted driving range and 5-hole short course
15. Prairie Lakes Golf Course        $50.00                        27 holes provide a challenge for any level
Buffalo Creek Golf Club          $64.00                        Some upgrades have the course trending in the right direction
Cedar Crest Golf Course         $45.00                        Tee it up where Walter Hagen won the 1927 PGA Championship
Country View Golf Club          $43.00                        Greens put a premium on iron play at this bargain of a course
Firewheel Golf Park – Old/Lakes Course  $49.00  In demand courses that are perfect for those not looking to break the bank
Grand Oaks Golf Club $50.00                              With your greens fee you are entered for a chance to win $2,500 with an ace
Indian Creeks-Lakes    $45.00                                          Generous fairways easy to hit and it's perfect if you're looking to walk
Irving Golf Club           $48.00                                          Don't forget to look to the left of No. 7 for the Bonnie and Clyde bridge
Keeton Park    $40.00                                                                                Flat, walkable course that won't empty your pocket book
Lake Park Golf Course $34.00                                      Be prepared to be surprised and be prepared to want to go back
Luna Vista Golf Course           $47.00                         Great place to go work on your game during lunch or after work
Mesquite Golf Club     $49.00                                      Cozy track that isn't brutally long, but the greens will test the flat-stick
Oak Hollow Golf Course         $46.00                         Nice value and a solid practice area make this property worthy of a visit
Old Brickyard Golf Course      $39.95                        Stretch of No. 8 – No. 12 has some of the best personality in the area
Plantation Golf Club   $58.00                                     Tight golf course that puts a premium on well placed tee shots
Ridgeview Ranch Golf Club     $64.00                       No. 11 is a PGA Tour tough par-4
Riverchase Golf Club   $45.00                     Water in play on 14 of 18 holes means you may want to bring some extra nuggets
Rusted Rail Golf Club  $42.00                  Enjoyable course, solid conditions, and if you're planning a wedding, give it a look
Sherrill Park Golf Course – No. 2         $42.22             If you're playing well, this is a course that can yield some low numbers
Stevens Park Golf Course       $57.00             Don't forget the Downtown Dallas photo-op when you're playing the back nine
Stone River Golf Club $41.00                  Three par-5's in the final five holes can make for a late rally to a below average round
Tenison Park – Glen     $29.00                               White Rock Creek meanders through the course, making accuracy a plus
Tenison Park – Highlands        $62.00                  Water features and bunkering make this a fun and sometimes tough track
The Golf Club at Twin Creeks $58.00                  Bridge replacement means the routing of the course is back to normal
The Golf Club of Dallas           $59.99                   Excited to see what the new owners have in store for this venerable course
Waterview Golf Club  $45.00                                New Bermuda greens coming in nicely after being updated
WestRidge Golf Course           $74.00                  Six par-3's, six par-4's and six par-5's make it a topsy turvy day on the course
Woodbridge Golf Club            $55.00                   Trees frame the course nicely and make for a shady round in the summer