Cover Story – Best of Public Golf 2022

This year, 2022, was one of our most competitive ever for our best of public rankings. The western side is particularly compelling, as there are so many great public courses that not only boast great conditions, but outstanding price points to boot. The east also has plenty of great options, and with the grand opening of Fields Ranch East and West courses coming in spring 2023 (more on pg. 54), the east will get two new heavy hitters in next year's rankings. 
Weather again was a challenge in 2022. The freeze of early 2021 hurt courses, and superintendents battled for months to restore turf and repair damage. In 2022, courses saw another challenge, and that was a crippling summer drought that left many courses fighting city-imposed water restrictions and "crispifying" courses before our eyes. From June 2 to August 9, there was no measurable precipitation. That's 67 days for those of you counting at home, which marked the second-worst such dry spell in DFW history. Temperatures soared during this time, routinely topping 100 degrees. 
Then, of course, in typical Texas fashion, the drought-busting rain in mid-August brought a deluge of water, which certainly helped courses, but also caused other issues as dry ground has trouble soaking up water after a major drought. So, again this year, courses were forced to deal with adverse conditions. 
We are happy to report that most made it through unscathed, as agronomy teams continue to evolve and advance as the years roll on. We saw some exceptional course conditions this year, despite the weather adventures. So, kudos to you, golf course superintendents. 
We also saw a few renovations this year, but nothing too major. There were some clubhouse, bunker and green renovations at several courses, but many weren't complete until late in the year, so they didn't impact the rankings dramatically. So, all in all, most of the courses hovered around the same spots in our rankings, but there were a few movers-and-shakers here and there. 
So, here we are … our 2022 best of public golf rankings. 
BEST OVERALL CLUB
Cowboys Golf Club is working on two decades atop our list of best public courses in DFW. Yes, it's a pricey round of golf, but at the end of the day, we all know we get what we pay for. 
To begin with, we have to give Cowboys credit for consistently improving the property from year to year. Seems like every time we make a trip to Cowboys, they have another project going on. Sometimes, it's the little things, like new menu items, signature cocktails or GPS screens on the carts. But other times, there are more major upgrades, and we saw a couple examples of that in 2022. 
For one, Cowboys is near completing a new putting green and short game area, which is something that they have needed for a couple years now. The old putting green, while neat (it was a giant star if you looked at it from Google Maps), was a little small, especially for a course that hosts so many tournaments. So, that project is definitely an upgrade.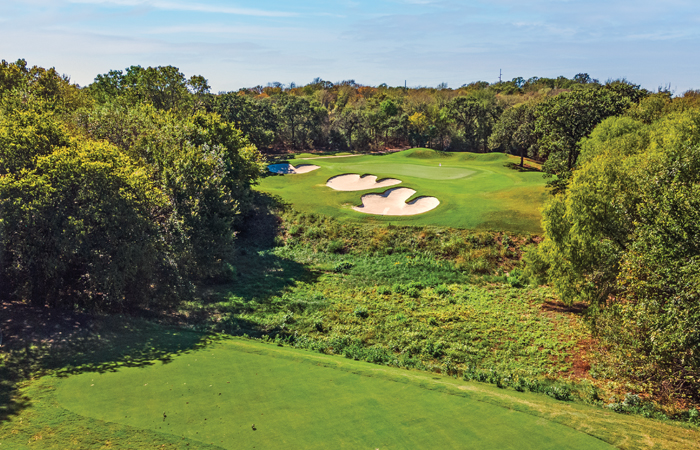 Cowboys Golf Club also has one of the best clubhouses in DFW. They are always improving the interior of the property, whether it be the dining area, the banquet room or the pro shop, which, while small, has some of the best and trendiest gear you will find on the market today.  
We also love the fact that every year, Cowboys features multiple fun and exciting tournaments that are open to the public. From their Red, White & Brew two-person scramble in July, to their Boos & Birdies scramble, which was just a few weeks back and had prizes for best costume and plenty of drink specials for participants. 
Cowboys is, without a doubt, the most well-rounded property in terms of course conditions (which really popped in 2022), food and beverage, swag, amenities and all the little things you want in a premium course. And, of course, don't forget about the jalapeño cheddar sausages at the halfway house. We recommend them on a tortilla with a little shredded cheese and some mustard. 
We understand a full renovation of the second hole is planned for the near future, which has long been one Achilles heel of the course layout, as for some reason the No. 2 green has always ridden the struggle bus. So, even further enhancements to the course are planned, which will be necessary as the arms race for the top spot heats up with the impending grand opening of both Fields Ranch courses in Frisco expected for early 2023. 
Can Cowboys continue to hold on to the top spot moving forward? Only time will tell. But, for 2022, Cowboys Golf Club is still the best public golf has to offer in DFW.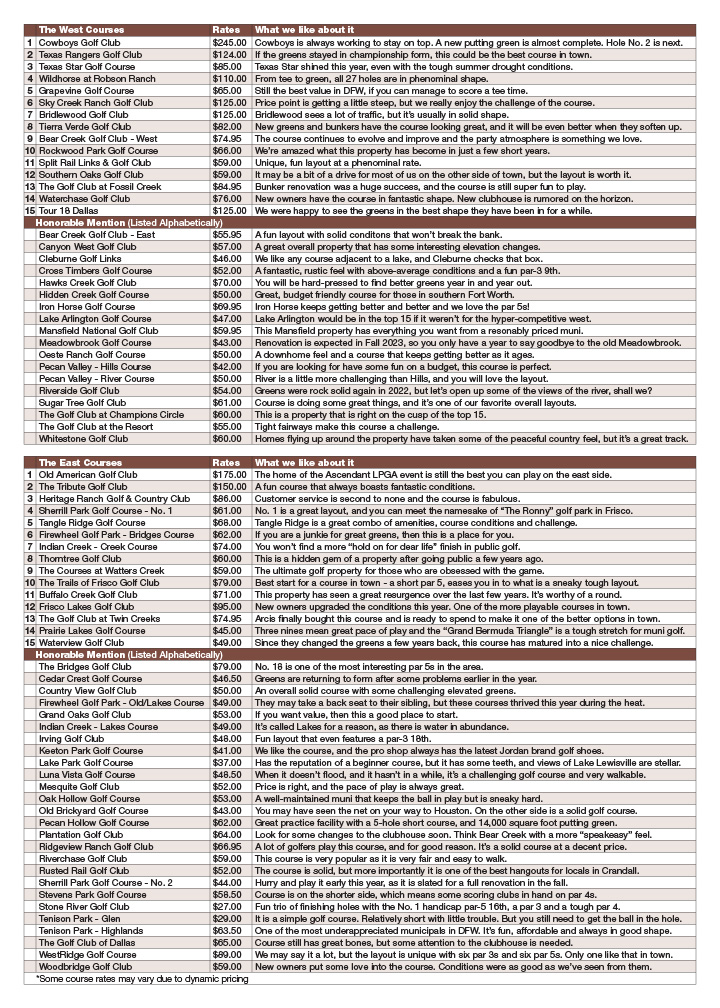 Platinum Courses ($100+) 
Old American Golf Club (East)
The Tribute Golf Links (East)
Texas Rangers Golf Club (West)
Wildhorse at Robson Ranch (West)
Sky Creek Ranch Golf Club (West)
Bridlewood Golf Club (West)
Tour 18 Dallas (West)
Old American Golf Club is still right up there with the best the Metroplex has to offer. This tough track is the host course of the LPGA event every summer, and always seems to be in great shape even though we are consistently dealing with challenging weather conditions. The tabletop greens and narrow fairways make this a ball strikers' course, but there's a reason it's always atop the East. With the Fields Ranch courses opening in 2023, will Old American remain at the top moving forward? Only time will tell.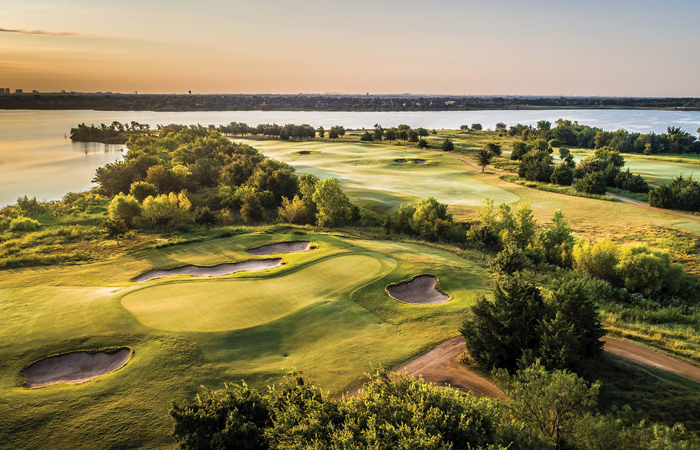 Year after year, Tribute Golf Links has some of the best course conditions we see. This 18-hole delight spotlights some of the most recognizable holes in European golf. From No. 1 and No. 18 at St. Andrews Old Course to the "Postage Stamp," this collection of holes is fun every time you play them. The winds off the waters of Lake Lewisville can really give players the full across-the-pond experience, and it's one of the few courses where a cool, cloudy windy afternoon enhances the experience. It's a must-play and a great value, even at its current price point. 
Texas Rangers Golf Club has become one of the most pleasurable golf experiences in DFW since it officially opened a few years ago. The host course of the Korn Ferry Tour's Veritex Bank Championship has plenty of scorable holes, with plenty of challenging greens mixed in along the way. The Home Plate restaurant (and patio) has really settled in nicely and ironed out all the kinks with their food and beverage programs. Texas Rangers also has a great practice facility, with a massive driving range, short-game area and a couple of putting greens to finetune the flat stick. Overall, Rangers is a great facility from top to bottom.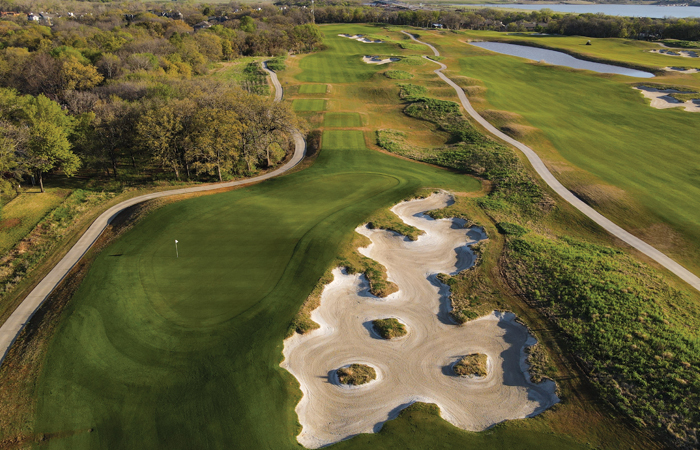 Wildhorse at Robson Ranch boasts 27 fun and playable holes. This course, built among the active adult community just south of Denton, may have the best overall conditions we saw all year. The tee boxes, fairways and greens are all well above average and plush. None of the three nines are life-changing, layout wise, but they are all fun, and if you are playing well, you can definitely post a low number. The only drawback of Robson is there are houses lining almost every hole, from tee box to green. So, at times it can feel a little claustrophobic. That being said, you will still enjoy all three nines.  
Sky Creek Ranch Golf Club on the west side is a tough course but usually comes equipped with above-average course conditions. The drought hurt Sky Creek in 2022 but, overall, this is still a great course layout (although we really wish they would flip the nines) with nice, fast greens. The opening several holes are among the toughest stretches in DFW, so strap in and hold on until the course softens a bit a few holes in. 
Bridlewood Golf Club is a great overall facility that features the total package of great course conditions, solid clubhouse, practice facility and clubhouse amenities. The course will challenge all skill levels and course management skills and the TifEagle Bermuda greens are almost always rolling well. Plus, they have some killer pizza at Marana in the clubhouse. 
Tour 18 Dallas is finally returning to form. The greens were the best we have seen them in years, and the rest of the course seems to have taken a step toward returning to where it used to be. Some minor attention to detail still remains to get the property back to its halcyon days, but it's still fun to play Amen Corner, Sawgrass No. 17 and Pine Valley's No. 17. 
Elite Courses ($75 – $100) 
Texas Star Golf Club (West)
Heritage Ranch Golf
and Country Club (East)
Tierra Verde Golf Club (West)
The Trails of Frisco Golf Club (East)
Frisco Lakes Golf Club (East)
The Golf Club at Fossil Creek (West)
Waterchase Golf Club (West)
Texas Star Golf Course is not only challenging, but it presents some of the best course conditions we see each year. This course has a great combination of beautiful rolling terrain and some fun, yet diabolical at times, green complexes. The clubhouse has all you need, including solid food and drink options for before or after your round. There is a reason Texas Star is always ranked among our best public facilities in DFW.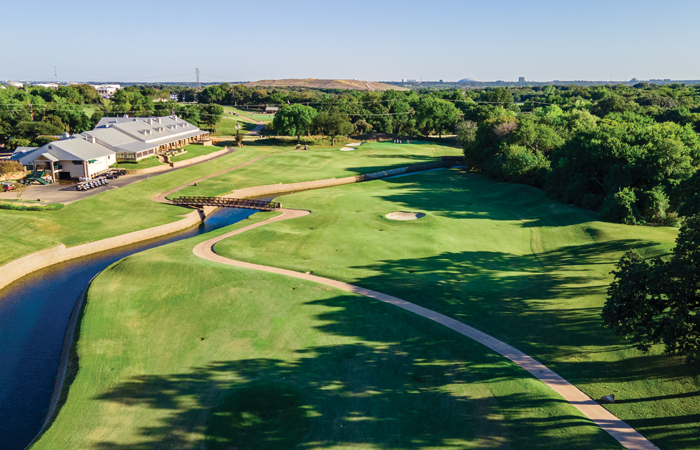 Heritage Ranch Golf and Country Club is always one of our favorite courses. The outward nine are super special, with tons of great holes you will want to play again and again. They have a huge clubhouse which overlooks the property and is a great place to hang out pre- or post-round. Gorgeous tree-lined holes and some fun elevation changes make this a fun layout. Yes, there is a membership, so getting a tee time can be tricky, but if you can pull it off, expect a great day on a great property. 
Last year, we said "With a ton of money going into Texas Rangers Golf Club over the last half decade, Tierra might be due for a little TLC (some bunker work would be nice)." We're happy to report the City of Arlington and Tierra Verde Golf Club came through with flying colors. Not only did they renovate their bunkers and add some great white sand, they also re-did all their greens, as well. The new sand really makes the course pop, and the new greens are going to be fabulous after they settle in and soften up a bit. Overall, Tierra Verde has always been one of the best courses in DFW, and the recent updates help enhance this great property even more. It's one of the best you can play in the area. 
Frisco is becoming quite the golf mecca with the PGA development, and The Trails of Frisco Golf Club is part of all the action. This Jeff Brauer design features some fun par 5s that can yield some birdies, including No. 1. There is plenty of water on the course to challenge even the best ball-striker. Couple the fun course with a solid clubhouse featuring a good bar & grill, and you have a property that is a real crowd-pleaser. 
Frisco Lakes Golf Club is another Frisco gem that might be one of the most-played courses on the East side. It's reasonably priced for what you get, which is a fun layout with some challenging holes sprinkled in. No. 7 and No. 8 are particularly fun, as No. 7 is a short par 4 with water all down the left, and No. 8 is a tricky peninsula green. The course can be a tough customer when the wind blows. Don't sleep on the buffalo wings in the clubhouse either. 
Since we last reported on The Golf Club at Fossil Creek, they have really stepped up their game. Clubhouse and bunker renovations have this Arnold Palmer design shining brighter that it has in years. The stretch of holes between No. 11 and No. 13 are fantastic and as challenging as any stretch in Dallas/Fort Worth municipal golf. A new logo and new clubhouse swag are a refreshing update, as well. Overall, this is a fun course that has made some great new changes.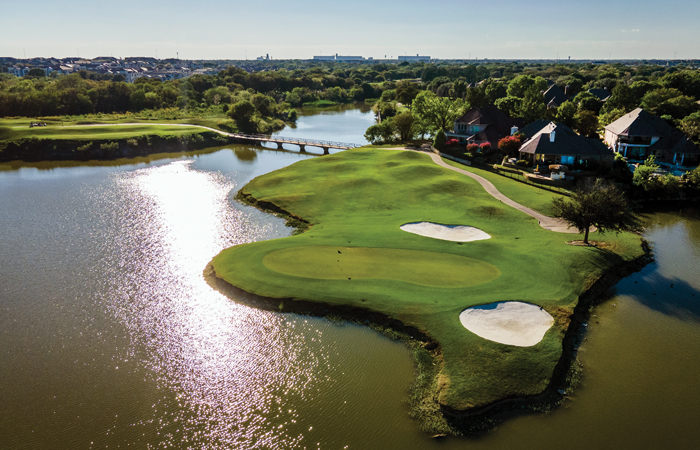 Waterchase Golf Club returns to our West top 15 for 2022 after what we considered to be one of their banner years condition-wise. The course was dazzling, especially after the drought broke in August. The property popped with the colors of wildflowers scattered across the par-72 layout. Sure, there are a few holes that are a little gimmicky and they desperately need a clubhouse (which we hear may actually happen in 2023), but the course is usually in fantastic shape and 2022 was a great example of that. 

Top Luxury Courses ($65-$74)
Tangle Ridge Golf Course (East)
Grapevine Golf Course (West)
Indian Creek Golf Club
Creek Course (East)
Bear Creek Golf Club
West Course (West)
Rockwood Park Golf Course (West)
Buffalo Creek Golf Club (East)
The Golf Club at Twin Creeks (East)
We say this every year, and for good reason, but Tangle Ridge Golf Course in Grand Prairie is one of our favorite overall layouts in DFW. It has some great elevation changes that really dazzle the eye and will test your club selection prowess. The par 5s are gettable, and this means there are plenty of opportunities to score here. The clubhouse is still fine, with some great snack and meal selections as you settle up from your round. They also have some of the friendliest staff members in DFW.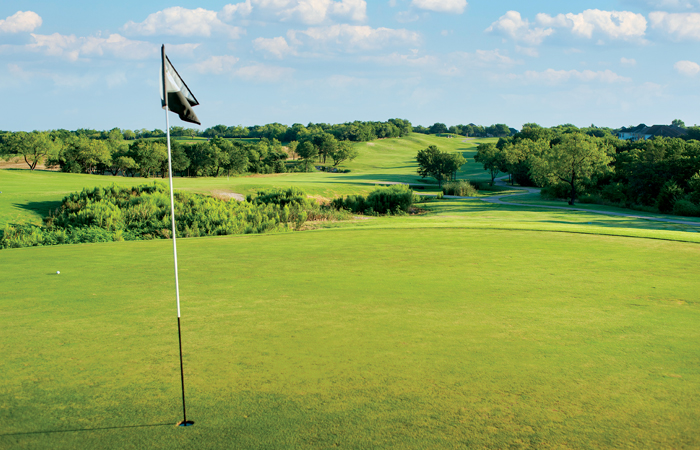 We sure love Grapevine Golf Course here at AG. Only problem is, the word has gotten out over the last few years and now it's almost impossible to get a tee time. We completely understand why, as it features 27 fantastic, well-manicured holes, a great clubhouse, and they even have an awesome restaurant, Persimmons, which serves up delicious food and signature cocktails. It's a great property, but if you want to play it, you better plan ahead. 
Indian Creek Golf Club has both the Lakes and the Creek courses. We prefer the Creek, as it has plenty of challenge and some of the most unique design elements you will find anywhere, especially on the inward nine. The 260-yard, par-3 12th is a monster, and a 601-yard, par-5 16th is a tough customer, as the river runs all along the right. It is also one of the few courses in DFW that offers the Finn Scooters, if you are looking for something a little different.  
Bear Creek Golf Club has definitely stepped up its game over the last several years. And the West course is a true delight. This Arcis property has leaned into the latest trends of music on the course and flowing drinks with "The Backyard." This outdoor patio, which features a retro Airstream as a centerpiece, slings great food and drink all while pumping out some tunes to those making the turn or just finishing up their round. The course itself has some fantastic holes, including the downhill par-5 No. 6, which now conveniently features a light on the tree to let players know when the fairway is clear. Holes 16-18 are also a lot of fun, including No. 17, which is a par 3 over water. 
Rockwood Park Golf Course is now half a decade removed from its course overhaul. Last year, they added a new clubhouse to complete the property. Every time we play Rockwood, we love it more and more. This was a truly spectacular renovation from architects John Colligan and Trey Kemp. The design is wonderful, and the greens are slick, but fair. It has been the fastest-rising municipal on our list over the last several years, and we are happy to see it.
Just a few years ago, Buffalo Creek Golf Club was borderline unplayable. Over the last few years, new management has this Rockwall gem looking great again. Buffalo has some great bones, with some interesting routing that makes for a fun day on the links. The outdoor pavilion, known as Betty's Place, was upgraded, as well, and is a great spot for hosting post-tournament awards and meals. Overall, this is one of the most improved courses over the last half decade. 
The Golf Club at Twin Creeks is one of the few Arnold Palmer Signature designs in the area. Mature tree-lined holes and rolling vistas really make this a visual delight. Multiple tee options can make this a challenge for the single-digit handicapper, or more manageable for those just looking for a fun day on the course. Pop in the Elkhorn Grill after the round for a quick cold beverage. 
Top Premium Courses ($55-$64)
Sherrill Park Golf Course No. 1 (East)
Firewheel Golf Park Bridges Course (East)
Thorntree Golf Club (East)
The Courses at Watters Creek (East)
Split Rail Links & Golf Club (West)
Southern Oaks Golf Club (West)
The No. 1 Course at Sherrill Park is a great collection of holes that twist and turn around Spring Creek in Richardson. Originally designed by Leon Howard and then renovated by D.A. Weibring, this course is always in rock-solid condition, and the practice area is great for those wanting to work on their short game. Pop in the pro shop and say hello to Head Professional Ronny Glanton, who was recently inducted into the Texas Golf Hall of Fame.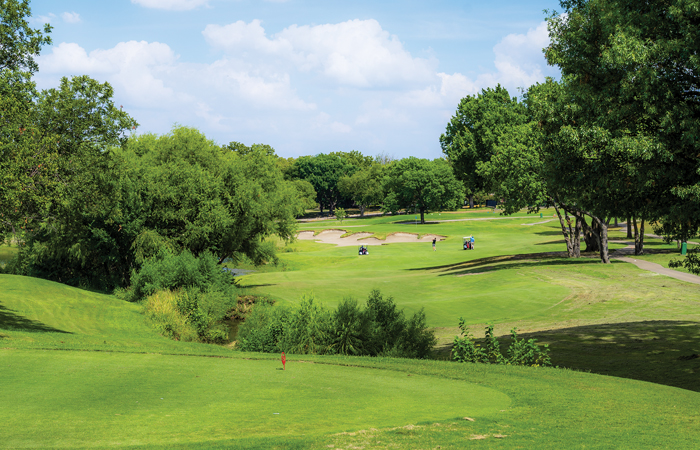 Firewheel Golf Park's Bridges Course is another course that was built during the DFW golf boom of the late '90s and early 2000s. Opened in 2001, this course is now a little more than 20 years old, and it has held up swimmingly. Huge mature oaks frame holes wonderfully, and this is one of just a few courses in DFW that still has bentgrass greens. This is a course you will want to play as often as you can.  
Hard to believe Thorntree Golf Club has been public for four years now. This DeSoto track has held up well since the change, and although we'd like to see a little modernization of the clubhouse, the course is still rocking along and in really good shape for your dollar. They also now feature Toptracer range technology, which is really neat if you have never experienced it. 
The Courses at Watters Creek is one of the most complete municipal golf properties we rank. They have everything a range rat might need, from their nine-hole Players Course to their driving range and putting green and, of course, their 18-hole Traditions Course. The Traditions has a great layout, and with multiple tee boxes, it's good for the beginner or the grizzled veteran. 
Split Rail Links & Golf Club has seen some real weather challenges over the last couple of years. The freeze of two years ago, followed by the summer drought in 2022, took its toll on the course. But with hard work, Split Rail has bounced back nicely and is as solid as ever. The links-style layout is as unique as you will find anywhere. We absolutely love the 10th tee, as it is one of the most photo-worthy tees in the area. The clubhouse and restaurant are solid and have everything you want to make it a great experience.  
Southern Oaks Golf Club is a favorite of the Texas Junior Golf Tour, and rightfully so. It has plenty of fun, playable holes, as well as some real white-knuckle shots mixed in. The Redan style of No. 16 features one of the toughest tee shots in the area, and should you manage a par there, you have the brutal 245-yard, par-3 17th to contend with. They also have a great driving range, putting green and chipping area. There's a reason it always finds our top-15. 
Top Value-Priced Courses (Under $50)
Prairie Lakes Golf Course (East)
Waterview Golf Club (East)
Prairie Lakes Golf Course is one of the best bang-for-your-buck courses in DFW. The property has three nines, which keep pace of play flowing nicely, and the course has a nice combination of straightforward, scorable holes, as well as some holes that hug Mountain Creek Lake, which, when the wind blows, can be pretty rough to navigate. And, yes, we always mention Eddlemon's BBQ in the pro shop, but that's because it's absolutely delicious. If you happen to have one of the morning tee times, though, Eddlemon's also does some killer breakfast sandwiches.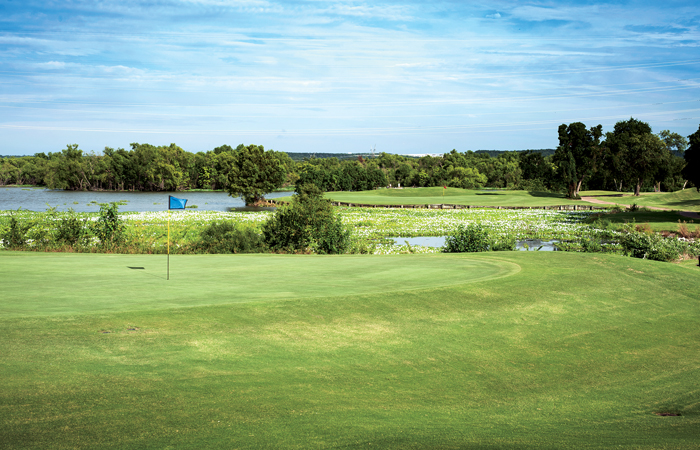 Located in Rowlett, Waterview Golf Club is a great value for what you get. This par-72 layout has a multitude of mature trees and water features that make this course fun for all ages and skill levels. Their restaurant makes a great spot to have some lunch and a few drinks post-round, and their indoor pavilion is great for your next tournament lunch or corporate outing. 
Best Outlying 
Tempest Golf Club ($89)
Pine Dunes Golf Club ($119)
The Links at Land's End ($89)
Squaw Valley Golf Club ($60)
Located in Gladewater, which is two hours east of DFW, Tempest Golf Club is a course that you really should give consideration if you want to make a nice day trip to play something a little different. One of the most dynamic layouts in the state, the rolling undulations and elevation changes make this course unlike anything you will find in DFW. Neptune's Grille & Bar has plenty of TVs and beverages to quench your thirst before you make the short drive back to the Metroplex. We can't recommend this one enough.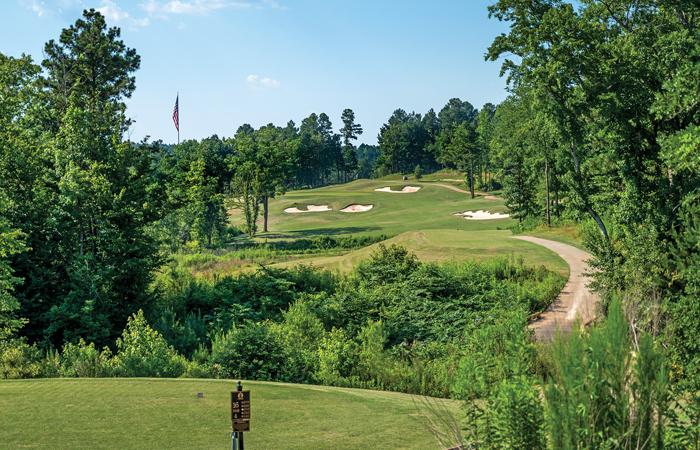 Pine Dunes Resort & Golf Club is truly one of Texas' best-kept secrets. Although it did get some notoriety on the Golf Channel last year, it is still isolated enough to keep annual round numbers low and course conditions spectacular. Located in Frankston, this course doesn't really even feel like you're in Texas. The tall pines and exposed sand dunes are worth the price of admission.  A new clubhouse is expected in the near future, which will make this property even better. 
The Links at Land's End is a property that we don't give near enough credit for being amazing. On Lake Fork, this course has water galore and can pose a real challenge when the wind blows. Also, if fishing is up your alley, Lake Fork offers some of the best lip rippin' in the state. It's a great place for a little quick getaway with friends. 
Squaw Valley Golf Club is just about 90 minutes away down in Glen Rose. The two courses are both fun and usually in really good shape. The Apache Links and Comanche Lakes each have plenty of fun holes and are worthy of a 36-hole loop if you are up for it. Their Rooster Bar & Grill is a fun spot for all your food and beverage needs and is just steps from the clubhouse.