Long known as the "Live Music Capital of the World," Branson, Missouri, with its ceaseless marque of family-style shows, has adjoined with a burgeoning playing partner to redefine the region amid the heart of the Ozarks. 
(And no, it's not Jason Bateman, whose acclaimed Netflix series was set 120 miles northeast, in Lake of the Ozarks).
Rather, famed and native son Johnny Morris and his budding baby, Big Cedar Lodge, has continually crafted the region as a must-play domestic golf destination.
The founder of Bass Pro Shops, Morris' yarn spins with pure Americana: He started his outdoors mecca in 1972, selling fish tackle in the back of his father's liquor store in Springfield, Missouri. Today, as head of the Bass and Cabela's empire, Morris is worth a reported $7.6 billion, tracking him as one of the country's top 100 wealthiest people.
In 1987, Morris purchased the 4,600-acre spread of what is now Big Cedar and, over the course of the new millennium, the noted conservationist has transformed the property into a family-style outdoors resort with golf as its centerpiece.
"When it comes to the development, who's truly in charge, it's John's show," says Bob Newell, vice president of golf at Big Cedar Lodge. "He's just a very visual person, and he's here way more than you'd expect. We see him here all the time."
The ever-bustling resort property serves as both complement and dichotomy to what Branson often tracks among its 10 million annual visitors, a swath of whom enjoy the direct-flight access from Dallas.  
In contrast: For what Branson presents in timeless, mid-America charm, entertainment, conservative milieu and family-style strolls through its downtown and Branson Landing shop and stroll areas, Big Cedar, though just nine miles removed from the tourist hub, presents a heightened experience (for a price), yet one which is bestowed without any pretension. While the Branson/Big Cedar 'tween don't generally meet (i.e., Big Cedar buddies' golf trips don't typically go off-property to take in a Branson night), it's still good to know the terrain. 
In concert: Framed by a gorgeous natural canvas, both Branson and Big Cedar are rolled out with homespun hospitality; home to a half-dozen golf options beyond Big Cedar (including burly Branson Hills Golf Club, charting as the top non-Big Cedar public in the state), Branson's tee scene is avid unto itself. And just 30 miles from the Arkansas border, there's a blend of Midwestern welcome and easy Southern drawl across these parts, which lend to the ease and respite of both locales.
Big Cedar: Tiger Town
Since Big Cedar debuted Payne's Valley in 2020, the first public-access course design from Tiger Woods, the resort has become one of the country's most sought-after golf destinations.
According to Big Cedar reps, the resort fielded 80,000 (!) phone calls in the four days following the televised Payne's Valley Cup exhibition event in September 2020, featuring Woods, Rory McIlroy, Justin Thomas and Justin Rose; in 2021, Payne's Valley was named by one leading outlet as the "Best New Public Course in America."
For a property long defined by connecting families with nature, Big Cedar's five-course spread is being redefined in real time. And take note that a sixth play, a yet-to-be-formally-announced short course, is currently seeing land movement.
"This didn't really start as a golf resort, but as a lake retreat. But golf has obviously become a big part of it," says Matt McQueary, director of golf sales and marketing at Big Cedar Lodge. "And Payne's Valley really pushed us here since it opened; the course is sold out every day.  It books out 60 to 100 days in advance. And that's pretty crazy."
Said bookings, it need be known, are preferential to guests staying on-property; the general public faces a dice roll window of 30 days out to find a tee time.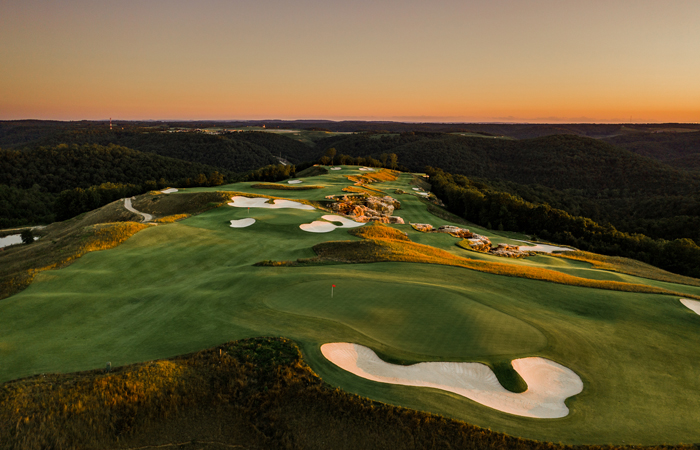 "For decades, this was known as a family-style resort that had golf as an amenity. But since Payne's Valley has exploded, that has changed; golf is now the driver," says Newell. "I still think that, at our core, we're a family resort, but I like to think that what makes us special is the hospitality we bring for the whole family.  
"It's not taking a shot at the other popular golf resorts like Bandon, Streamsong, Pinehurst, but we just offer guests so much besides golf."
While destination golf guests often aim to play the full Big Cedar slate, Payne's gets top demand.
"At Payne's Valley, it's pretty wild. And I almost feel bad, answering 40 phone calls a day and having to turn some folks away because we're sold out," says Steven Shumate, head golf professional at the Payne's Valley and Mountain Top courses. "But, with five courses, we'll always try to find something for guests. That starts with our championship courses and then filters down to the short courses."
Payne's Valley lives up to the accolades. A terrific mix of fun, flora and flatstick challenge, the course fascinates in its philosophical design contrast from whom many consider the greatest golfer of all time. While one might think that Woods would design a course befitting a test of his own talents, the amateur inverse is at play.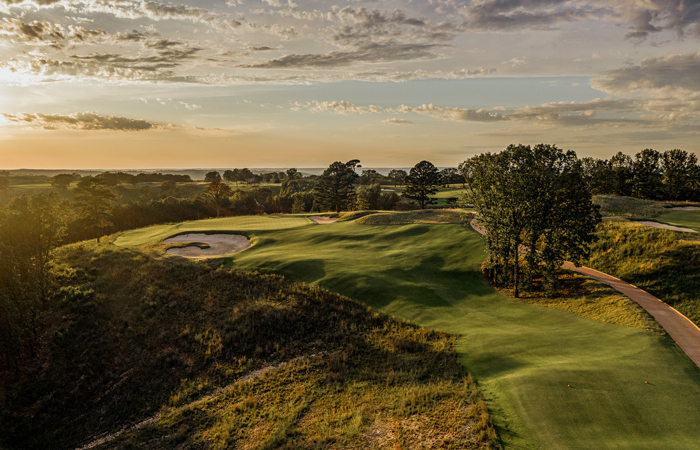 The manicured Payne's is very generous from tee-to-green, with massive landing areas followed by big target greens complexes; from the forward tees, playability is ample. Highlighted by its par 3s, the most notable shortie is its amply photographed conclusion, the island 19th; while purists may lament the Morris-designed, Disney-style epilogue, the setting amid a rocky amphitheater is full glee for most, replete with a hostess, full bar and winding exit through the elevated scenery.
Of more earnest tasks are Big Cedar's "other" championship plays, drawn by an all-star design cast not often playing second fiddle.
"What I think makes us different (from other destinations) is that, on our five courses, you would never confuse one for the other, no matter which one you're standing on," says Newell.  "They're all very distinct."
In full, the lineup can be viewed as "1-2-3," with the latter denoting Woods' demand for a very sharp wedge and putter game.
Per the formers: "Ozarks National is very natural, with the zoysia fairways to the native areas and the eyelashing of the bunkers. It's a first-shot golf course, and pretty demanding from the tee," McQueary says of Big Cedar's Bill Coore and Ben Crenshaw design. "It proves a test for the first timer, as there are some blind shots out there. But after playing a time or two, you learn where the wide areas are out there and where the misses are. And this course does have a lot of ground game potential; there aren't a lot of forced carries, not water guarding the greens. You can roll shots around here."
Typically viewed by guests as the toughest of the trio, Ozarks is indeed a task for newcomers, with sharp angles and course lines inclined to run balls toward bad places.
More forgiving is the natural portrait of Tom Fazio's Buffalo Ridge, painted with native grasses, rocky outcropping, aesthetic water features and, yup, actual North American bison adjacent to the golf grounds. Per Fazio's celebrated style of contoured green structures, the course earns the "2" distinction among the "1-2-3."
"Buffalo Ridge has such natural appeal and is really about the second shots," details McQueary.  "The fairways are often generous, but the greens and surrounds can get tough, with the ball rolling off toward the sand or catch areas. The course really puts the focus on approaches."
The championship plays find genuine compliment in Big Cedar's pair of short courses.  As viewers of the former PGA TOUR Champions' Bass Pro Shops Legends of Golf tourney may recall, the Jack Nicklaus-designed Top of the Rock (the only par-3 course ever featured in a pro event) is an aesthetic treat.  Just don't get lost in the views overlooking Table Rock Lake, as Top is no pitch-and-putt.  Rather, with forced carries, wind susceptibility and a third of the holes charting at 170 yards or more, even the seasoned pros had some struggles with pulling the proper club.
And for more short fun, Gary Player's 13-hole Mountain Top makes for further par-3 engagement. Not to be outdone by his former rival, Player's course plays as palpably as the Nicklaus design; from its tips, Mountain Top sports nearly 2K yards of walkable play, enjoyed by a diverse tee sheet of families, juniors and bet-setting fellas.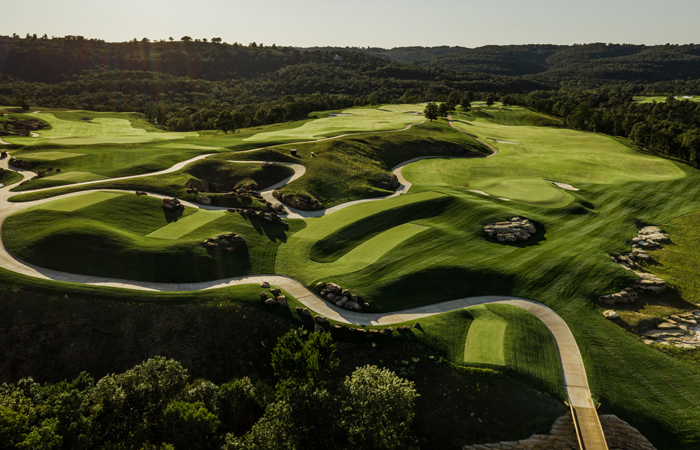 "A lot of play on Mountain Top is post-round; there's some daylight left, and people want to get in a few more holes. The atmosphere is laid-back, get in some more swings and camaraderie.  And a lot of betting," Shumate adds.  "It can go under the radar as just an add-on, but it really is a great time."
Sculpted by the Ozarks' unique topography, the vision of a self-made billionaire outdoorsman has turned today's Big Cedar Lodge into a must-play for the modern golfer. Just don't forget that while Morris and his golf grounds track among the nouveau riche, the owner and resort's founding purpose was initially enriched beyond the fairways.
And all of those amenities are still very much present. 
"Because of the rise in our golf popularity, people don't always know about all of our off-course activities.  This resort is so big as a whole, with all sorts of outdoors adventure and all of our fishing and water sports with two marinas and a 43,000-acre on-site lake," concludes McQueary.  "There's our Ancient Ozark's Natural History Museum, a cave and nature trail (by golf cart), our nature preserve, the spa, our shooting academy. 
"Sure, you could come here and be happy doing nothing but golf. You could also come here on a buddies' trip or a family getaway, and everybody will find something to do."