Cover Story – Bryson DeChambeau

PGA Tour golfers have often been lumped into the same pro linkster stereotype. Tanned, trim, talented, with the exact same swing and same looking Tour wife as the last dozen pro golfers who strolled through here. Same appearance, same clothes, same success. Like out of the pro golf factory.
To that similar narrative, allow us to introduce you to one Bryson James Aldrich DeChambeau, the former SMU golfer and now full-time Dallas resident. Just about nothing about him is similar to any other golfer on the PGA Tour, from his love of statistics and analytics to his white, Hogan-Style floppy hat he wears as a tribute to former SMU golfer Payne Stewart.
To rephrase Gary McCord's title of his autobiography, 'Just a range ball in a box of Titleists', DeChambeau indeed stands out in just about every way with his same length clubs for all of his irons to his often stats-based confusing quotes, but these days he also stands out with his outstanding play.
A week after playing in Colonial in Fort Worth this year, he won the prestigious Memorial Tournament, hosted by Jack Nicklaus, his second PGA Tour win in as many years.
At this year's Colonial tournament and later after his win at Memorial, DeChambeau spoke extensively to AVIDGOLFER Senior Writer Art Stricklin about his love for Dallas and Dallas National Golf Club, where he spends much of his time at the new, modern 6,000 square-foot Golfers Performance Center.
Enjoy learning more from one of North Texas' most interesting professional golfers, his swing, his theories and his very interesting round last year with President Donald Trump.
AVIDGOLFER: You grew up in California, then attended SMU, but now you could live anywhere. What do you like about living and practicing here in Dallas?
BRYSON DECHAMBEAU: It's really easy to travel out of, you have a great practice facility, lots of friends and good SMU memories. Really easy for me and I'm spending a lot of time working at Dallas National. I love it out there and they love me. So it's really nice.
AG: With the large number of North Texas pro golfers here, if you want to get up a game when you're off for week and others are off as well, I'm guessing that's easy?
BD: It is, but to be honest, I'd rather practice than play. I don't play much, I'd practice most of the time, but I guess it's easy to get one you if you want to. That's really not my thing.
AG: You talk about how great you played this year. Are you the classic case of there is a lot of different ways to play this game and be successful?
BD: Look, everybody does it uniquely if you think about it. Not one other person plays the same exact type of game. We all have different feelings, different neurological impulses that are unique to each player. In that facet, yes, we're all different. We're all going to play in unique ways. I just look a little different than most.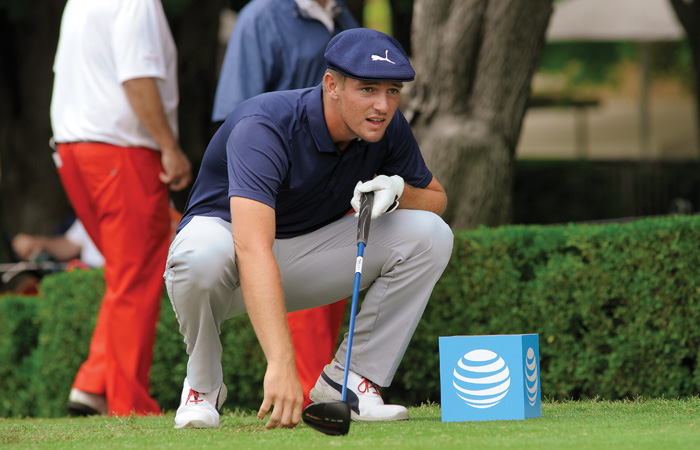 AG: For the casual golf fans can you just do a Cliff's Notes version of your philosophy in how you go about the game?
BD: I hit a white ball into the middle of the fairway, I hit a white ball onto the green, and make a putt. That's the easiest way I can put it. I mean, look, it's more of a scientific way of playing the game. I take averages and statistics to my heart, and then also I take biomechanics to my heart as well. That's more importantly where I am going down, and trying to understand how everything in my body is working to create more and more consistency through impact.
AG: What have you learned about the PGA Tour in the brief time here?
BD: A lot, oh my gosh, from a patience perspective it's very difficult and it's going to take a while to get good out here. I couldn't explain it, if I had 15 minutes, on how much I have learned. The biggest difference between amateur and professional golf is learning every single hole, every single shot, every single tournament, it's not easy, but it's what I've committed to do. At this point in time, you either have to learn or get off the tour and that's what I'm trying to do.
AG: What is it like sleeping in your own bed during a PGA Tour event like Colonial?
BD: It's fun to have friends out here supporting and being able to sleep in my own bed. I haven't played well at home the last couple of years, but I'm playing better now and think I can complete and win at home in front of my friends which would be great. I've got to get my ball striking better on a sub level, but it's nice to know I can still have my C game and still win.
AG: Is it easier to play at home or harder because you're out of routine?
BD: It's a little out of my routine at home, but still nice. It's comfortable. It's fine, it's got its pros and cons, but at the end of the day, it's nice to be home. It's so rare to do that. Still fun. I've done a lot of fun ways.
AG: One of the unique things you've gotten to do over the last year was play golf with President Donald Trump?
BD: Oh, yeah!
AG: How did that get set up? Did you call him or he call you?
BD: There were a lot people who are friends of his who I have a good relationship with as well so it all came from that. It didn't come together until the end of the year and it happened kind of last minute, but when the President calls you have to do it.
AG: Did you get some push back from that?
BD: I had some people try to give me some flak for playing with him, but I don't care who it is, Obama or Clinton or whoever, it's an honor to play with the President of the United States and you have to do it.
AG: What stuck out about the outing?
BD: It was a great time, a lot of fun to do that.
AG: What did you think about Donald Trump's game?
BD: Let me tell you something, that guy can putt. He can really, really putt. A couple of times he was in trouble, but he can really putt and got out of trouble. Amazing.
AG: A week after playing well at Colonial, you won in a dramatic playoff at Memorial. Is this a kind of validation?
BD: It is. People always kind of scrutinize me saying I'm too technical and whatnot. It's all just to aid my feel. I am a guy that goes off of feel still, I mean to everybody's surprise probably. But it's just an aid and it helps me be more comfortable in more difficult situations. The tougher the situation gets, the more I can rely on the numbers to be able to bring myself back down and be comfortable. Because, again, at the end of the day, if you can calculate every variable, which you can't, but if you can at least try and bring it back to some sort of understanding of what's going to happen or predictability, that's what can allows you to have a little more confidence out there consistently.
AG: Do you think others would understand it?
BD: Oh, yeah, absolutely. Look, people think that all the stuff that I do is insane, it's crazy, there's a lot of variables that go along and, yeah, but all we're trying to do is take the complex, which is this golf environment, and make it simple. Quantify it down to where I can say, all right, it's just a 155-yard shot.
AG: Have you ever gotten frustrated or offended at some of the scrutiny that you faced for your analytical ways?
BD: Yeah, I would say disappointed, because whenever you look at somebody, don't judge them by the cover, right? You've got to judge them by the results and the work ethic and the dedication and the perseverance that the person has. So whenever you look at somebody and say, oh, man, that dude's weird, why is he doing that? He's got these dumb one-length clubs that don't work. Yeah, they do. I mean, I won last year and they work pretty well for me. I'm confident with it, and we kind of came up with it back in 2011, so I know what's going on with it.
AG: How satisfying was it to get the win at Memorial with some key putts after putting well at Colonial and doing it mostly with your putter?
BD: Yeah, I've struggled with my putting my whole life. And it's without enough thanks to the guys at Sik Golf for being able to figure out what the proper launch is on the putter, for me, to realize what it needs to be on the system called Quintic. And just being able to verify that every week has allowed me to be more comfortable with how the ball's coming off the face. And then, obviously, seeing golf — or seeing putts go in is huge. It's very, very big for somebody's morale.
AG: I think your win moves you to 8th in the Ryder Cup standings. How much is that on your mind right now and secondly, what would it mean to have the chance to be able to do some of those winners' fist pumps in Paris?
BD: Well, I've been on three United States teams, the World Amateur, Palmer Cup and the Walker Cup. And every single time it was the coolest experience to be able to go represent your country and be at the forefront of that. So to make the Ryder Cup is obviously No. 1 on my priority list, if I don't do anything else this year. This is obviously pretty solid too, but I will say that to be able to represent your country would be a tremendous honor, one that I'm highly looking forward to, if I do get that opportunity.
You can find Art Stricklin on Twitter @artstricklin