Cover Story – Charles Schwab Challenge Preview

Colonial Country Club, the historic Fort Worth golf mainstay, birthed in the Great Depression, having survived fire and flood and the annual assault on par, is ready to regain its relevance and step back to the worldwide stage.
Twice in the last two decades, Colonial has been the site of a worldwide golf event, relevant for its overall impact on the game, not necessarily for the player with the tartan jacket. 
Once, when Annika Sorenstam teed it up with men in 2003, as the first female golfer in more than a half century at a PGA Tour event. Now, June 8-14, the par 70 old school private course gem, will host the return of PGA Tour golf, the Charles Schwab Invitational at Colonial, after a worldwide COVID-19 pandemic which shut down pro golf and all live sports for nearly three months. 
Both times Colonial was especially selected as the host venue, the first time by Sorenstam, and the second by the PGA Tour for its classic golf qualities and long links history and top-flight tournament administration.
"My dad would be very proud. There is no doubt he is smiling down right now," said Marty Leonard, a longtime Colonial member, whose father Marvin, a Fort Worth business merchant was the driving force behind the course arriving in desperate economic times. 
Much like the desperate times the sports world finds themselves in now.
"He loved Colonial and loved founding the city junior golf championship, he spent so much time there, probably more than at the store," Leonard added. 
"It's really exciting going into it. Most of the golf world will be watching it, just like most of the golf world watched Annika on TV," said longtime Colonial pro Dow Finsterwald, Jr. "People will be watching Colonial the world over."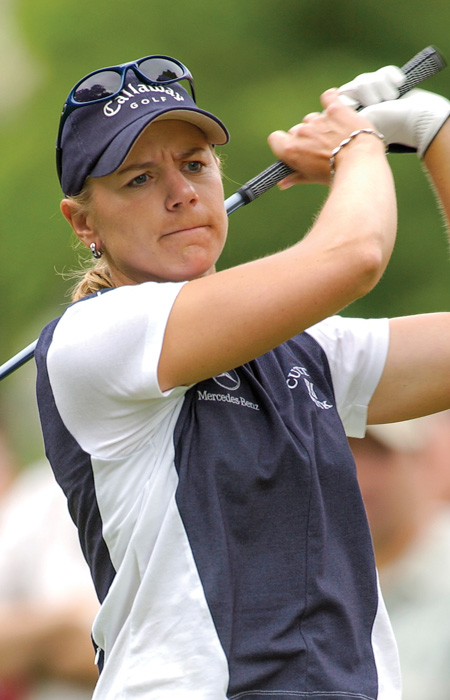 What they will see when they tune in this month is the second longest annual site of a Tour golf event, behind only Augusta National Golf Club and the Masters. Having hosted a PGA Tour event every year since 1946.
With the field expanded to 144 players in 2020, some of the top marquee names, Rory McIlroy, Dustin Johnson, Phil Mickelson among them, and rising star players, will make up the greatest field in Colonial history, according to tournament director Michael Tothe. 
When they arrive, they'll find a layout designed by Texas architects John Bredemus and Ralph Plummer with Oklahoma's Perry Maxwell, that's short by current PGA Tour standards, unique in the massive trees which line the course and forces you to have a variety of shots to the left and right sides to survive.
In fact, it was Fort Worth native Ben Hogan, a five-time winner at the place nicknamed "Hogan's Alley", who once said the "straight ball can get you in more trouble at Colonial than any course I know".
"It's a golf course which has survived the test of time," said Colonial tournament manager Dennis Roberson. "It's shown to be an important piece of the golf world. It's not a bombers course for sure, but when Rory gets here for the first time they will know all about it and it will stand out in players' minds."
Indeed, the Colonial winners list, displayed on a massive black marble wall a few feet from the first tee, could host its own wing in the World Golf Hall of Fame with players of all types, swings and abilities taking home the traditional plaid jacket given to Colonial winners.
Hogan won the first tournament ever played here and his final Colonial in 1959 and is memorialized by a huge statue which overlooks the 18th green. Other winners include Arnold Palmer and Jack Nicklaus, Lee Trevino and Ben Crenshaw, Phil Mickelson, Adam Scott and Dallas native Jordan Spieth.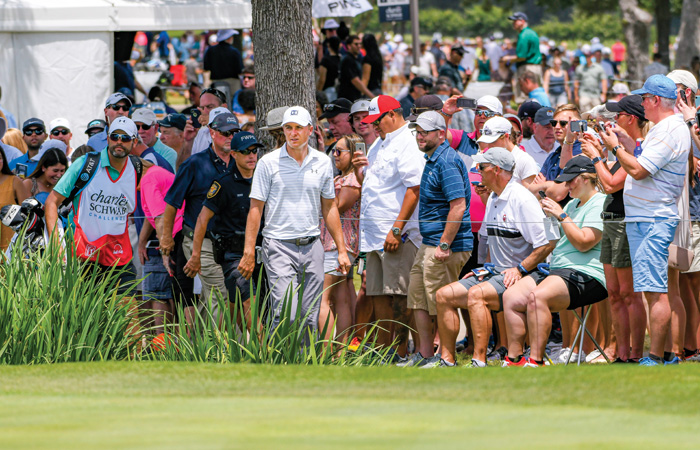 "When players come out here when the tournament is not being played for a luncheon or media day, they're always surprised by how close the holes are to each other and how much core golf there is here," Roberson added.
Leonard, Roberson, Finsterwald and longtime member Clif Overcash, Jr., were all a part of the 2003 Annikamania Colonial tournament at which she turned in two respectable rounds but failed to make the 36-hole cut. They all hope to play some role in this year's PGA Tour return from the worldwide pandemic to sports normalcy. 
They're anxious to see what the tournament means for the long Colonial history and what the players think about the storied layout.
"We know how to run a tournament. We've done that for decades, but for Annika it was like a Colonial on steroids with so many fans and media here," Roberson said. "This year, it's 180 degrees different. We are stripping everything down, everything, fans, media, grandstands, scoreboards, to leave the course and the players alone."
"Who knows what this tournament will mean in five years to sports in general or to Colonial history," Overcash added.  "I know when the players see the Hogan statue and see the Wall of Champions on the first tee, they will enjoy it and remember and respect the course."
Jim Hill spent two decades as a marshal at Colonial and was there when Annika made her historic entry at the annual rite of Texas spring. Recently retired, he said this will be the first Colonial he'll watch on TV, an event he's eagerly awaited.
"It's a shot makers course, which doesn't favor the long hitters, but the course has been there so long with the Hogan history, it will be a great field with plenty of great players."
Marty Leonard said her first memories of Colonial came with she was 8-9 years old when her dad took her to the event. She became friends with Hogan, who her dad mentored and financially supported and even wound up purchasing his car in later years.
To see the course her father founded and loved and the one she has maintained a close eye on through the decades, means an outpouring of pride and emotion for the June 2020 event.
Leonard was there when a fire raged thought the clubhouse and was there when a flood from the nearby Trinity River literally left workers hanging from the trees and forced a slight rerouting of the course. She was five years old when Colonial hosted the 1941 U.S. Open won by Craig Wood, the first Open hosted west of the Mississippi River, and was there for the Women's Open in 1991, the Designated Tournaments, the forerunner of the PGA Tour's Players Championship, and dozens upon dozens of Colonial events.
"I'm excited for Colonial because I think we can pull it off, hopefully with no problems. I'm excited it will be on nationwide TV and everybody can see this course. It's a reopening of the golf business which we all want, but this course is so different it will force players to hit clubs and hit shots they don't normally use."
While the unknowns of hosting the first full-scale tournament return to golf after a scary and unchecked worldwide virus are many, Colonial is responding in the same way it has for 74 years.
"We're not taking this lightly, at all," said Tothe. "But it's an honor to be asked to do this and at the end of the day, the course will speak for itself."
There is one other thing Colonial knows about the unknowns of this year's event. The can-do, Fort Worth hospitality spirit will never die out no matter what challenges it is thrown.
"I know Mr. Leonard would be full speed ahead to get this done," said Overcash. "He would be standing on the 18th green, handing out the trophy and slapping the winner on the back. Coronavirus be damned."
The Field 
As of the printing of this issue, the Charles Schwab Challenge was set to have seven of the top-10 players in the world in the field. Those include world No. 1 Rory McIlroy, world No. 2 Jon Rahm and the No. 3 player in the world Brooks Koepka.  In addition, Justin Thomas, who is No.  4 ranked player in the world golf rankings, Dustin Johnson, who is the current world No. 5, Patrick Reed, who comes in at No. 7 and Webb Simpson, who is the 9th ranked player in the OWGR.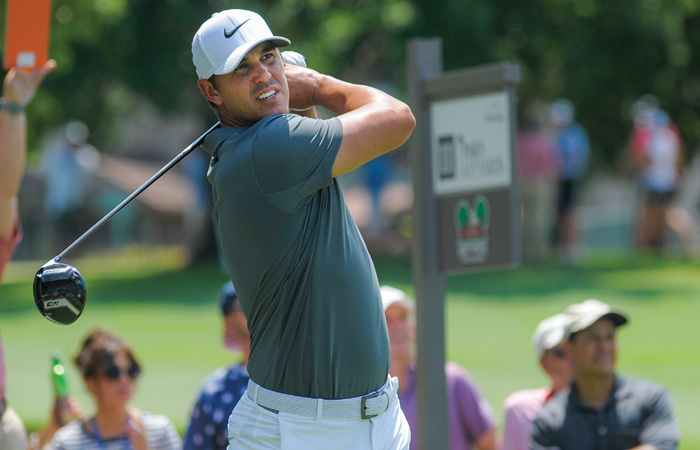 In addition, many of the most popular players in the world will also be joining the field, including Phil Mickelson, fresh off "The Match II" where he was paired with Tom Brady and were defeated by Tiger Woods and Peyton Manning. Also, in the field are three defending major champions, including Shane Lowry, who captured the 2019 Open Championship, the aforementioned Koepka, who is the defending PGA champion, and Gary Woodland, who won his first major title last summer at the United States Open at historic Pebble Beach. 
Many rising stars are also in the field, including Scottie Scheffler, who may be one of the few players who can say they won a tournament during the layoff, as he captured the Sarmatian Fund invitational at Maridoe Golf Club back in April. Also on the list of rising stars in the field are a couple of Oklahoma State phenoms. Viktor Hovland and Matthew Wolff, who is known for his unconventional herky-jerky pass at the ball will also be in attendance. You may remember Wolff from his appearance alongside Rory McIlroy, Dustin Johnson and Rickie Fowler in the TaylorMade Drive for Relief match play event that took place at Seminole in mid-May. 
Speaking of Fowler, he is another Oklahoma State great in the field for 2020 at the Charles Schwab. Xander Schauffele, Ryan Palmer, Bill Hass, Charlie Hoffman and Bryson DeChambeau are also expected to compete. 
With the COVID-19 pandemic making international travel difficult, Tommy Fleetwood, the No. 10 ranked player in the world is not expected to make the tournament after originally committing. Fellow Englishman Lee Westwood, who was once the No. 1 player in the world, has also withdrawn from the field.
Both Fleetwood and Westwood both cited the quarantine restrictions as the reason for their withdrawal, as any International players traveling to the U.S. are subject to a 14-day quarantine, which means those wanting to play in the Charles Schwab needed to be in country by no later than May 25th.
Although some international players will undoubtedly have travel issues, many players with overseas ties residence here and for that reason, the international flair is still just as prevalent as it has been in the past at the Charles Schwab Challenege. 
Non-American players in the tournament field include Jason Day, Graeme McDowell, Ian Poulter, Byeong Hun An, Abraham Ancer, Rafa Cabrera Bello, Corey Conners, Matthew Fitzpatrick, Si Woo Kim, Sung Kang, Bernhard Langer and others.
Past champions in the field are abundant, listed alphabetically, Olin Browne ('99), Keith Clearwater ('87), Zach Johnson ('10, '12), Chris Kirk ('15), Kevin Kisner ('17), Tom Lehman ('95), Mickelson ('08), Kevin Na ('19), Justin Rose ('18), Rory Sabbatini ('07), Jordan Spieth ('16) and Steve Stricker ('09).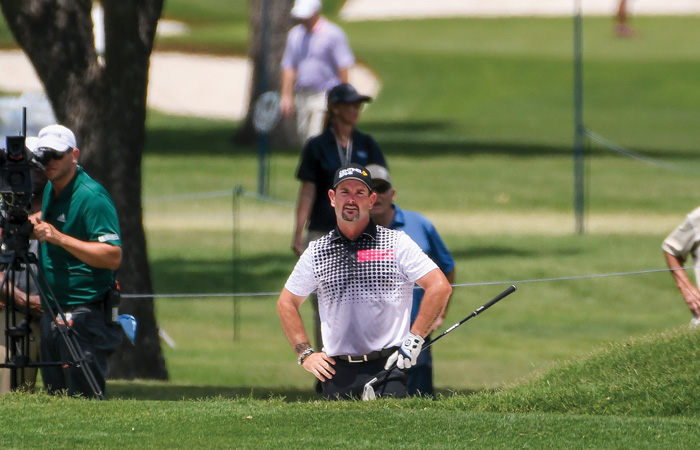 It should be noted that the tournament field does not become official until 5 p.m. Friday, June 5th.
The Protocol
Obvuously by now we've made it abundantly clear there will be no fans at this year's Charles Schwab Challenge. The COVID-19 pandemic has made that impossible. However, players, caddies, tournament officials, volunteers and a limited number of media members will be on the property for the event. So, how is that going to work? 
In early May, the PGA Tour released a 37-page report detailing all of the new procedures that will be implemented to help keep all personnel safe during the re-launch of the season. 
It is what is being called a "layered testing approach" that starts with a questionnaire for players, caddies, volunteers and other tournament officials. Temperature testing and a nasal swab or saliva test will also be in place.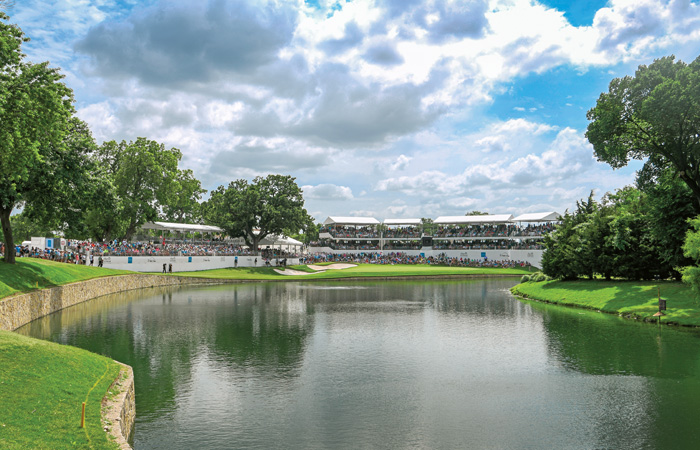 Players and caddies will be sent a pre-tournament and travel test and will also be required to test when they arrive in the city of the event. A test that will likely be conducted at the host hotel. After that, daily questionnaires and temperature screenings will be applied to determine if anyone is symptomatic. 
Testing will also be required as a condition of competition, akin to the current drug testing requirements.
Results of the nasal swabs can take 24-48 hours and those waiting for results can still practice and play but will not have access to other onsite facilities like the clubhouse or common areas.
Those who test positive will not be allowed to continue with the competition and, per federal and local health guidelines, they will be isolated for at least 10 days. A player who tests positive after making the cut at an event will receive last place earnings.
Entrances to player/caddie areas and restricting access to the clubhouse to only those who have been cleared through testing. Families will not be allowed at tournament sites and player support personnel such as agents and swing coaches will be very limited, and they will be required to follow social distancing 6-foot rules at all times.
The Tour will also provide a chartered flight from each tournament site to the next, but those flights will require players and caddies to submit to viral testing within 24 hours of departure.
During rounds, players will be encouraged to "fulfill normal tasks," including removing and replacing golf clubs in their bag and retrieving their golf ball from the hole. Caddies will be allowed to rake bunkers and tend flagsticks, and the Tour plans to provide sanitary wipes and sanitizer as well as personal protective equipment to everyone onsite.
The Tour also plans to allow a limited number of media at events with workspaces spread out to provide social distancing. All interviews will take place outside with two or three "pool" reporters, who will then share the information with others.