Cover Story – Fairways of Solitude

The COVID-19 Worldwide Pandemic has changed life for golfers and just about everybody else in the world over the last six months. 
From no live sports and fanless golf tournaments to out of work members to prolonged at home executives and on-line schooling for kids, everything which can been disrupted in the golf world has been and is likely to continue to be so.
 But a half dozen Texas golf communities have found a bonanza in their relatively remote location, social distancing and upscale amenities in the age of Coronavirus.
Stop the presses! None of the Lone Star links are saying the worldwide pandemic, which killed thousands, is good thing or a positive marketing trend for their individual locations. But each is seen a surge in demand for their escape for urban density for green grasses solitude for golf and disease avoiding good times.
Here's a look at the Texas golf communities who have benefitted in the golf's new world order.
Escondido Golf & Lake Club
Location: Horseshoe Bay
Nearest Urban Area:  Austin
Golf: 18-hole Tom Fazio designed 
championship course & practice facility
Escondido is a private gated lakeside retreat located along the shores of constant-level Lake LBJ in the enchanted Texas Hill Country. The architecture of the homes exemplifies the rustic luxury seen in the great country homes of Provence, Spain and Tuscany. The community was designed as a place where families and friends can gather to create and share in the best moments of their lives. The Escondido Golf and Lake Club is a social and recreational hot spot for the Escondido property owners. 
Inside the impressive stone walls which lie with the boundary in the golf-heavy community of Horseshoe Bay, there is a lot to like at Escondido. It boosts the only Tom Fazio designed golf course outside an urban area in Texas.
"Every week I talk to members who moved here from Houston, moved here from Dallas or Austin to get out of the urban environment and get back to the lake and back to nature," said General Manager and CEO J.J. Wagner.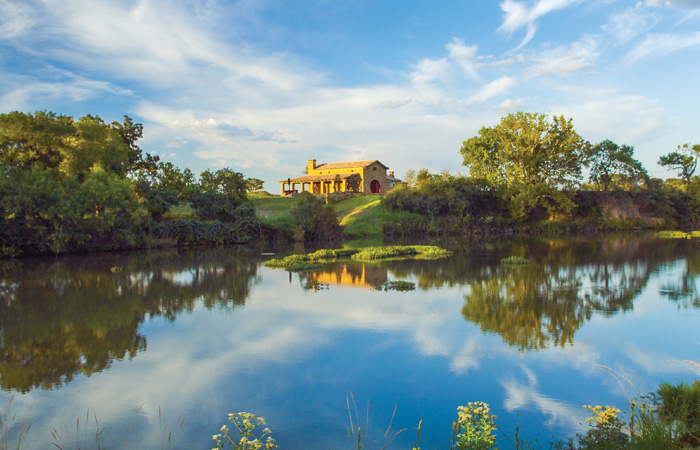 But all of that started to change come April 1 this year when cities started to shut down, business closed and the term shelter in place became buzzwords.
"I started to have people tell me we're going to quarantine right here. We've got a lot of people doing that right now."
When it comes to getting to one of Texas' highest rated and finest private clubs, No. 5 in the latest Lone Star statewide poll, Escondido has three unique ways to arrive at the exclusive private home community highlighted by the Fazio Championship golf course.
They can arrive by boat to the private Escondido harbor with ties directly into the large, wooded community, which many members do on a regular basis during the year at the constant level Lake LBJ which laps the shores of the marina.
They can come by air at the large private airport on an elongated landing strip overlooking the property, only seven minutes from the stone façade and wrought iron gates at the club. Or if they want to be downright old-fashioned, they can traverse the scenic farm-to-market road which winds through the adjacent quaint town of Marble Falls and leads you toward the capital city of Austin or other Texas' metropolitan centers.
Escondido, as one former club executive once said, is the place people came not to be seen.
Boasting one of Fazio's finest golf courses and a spectacular Lake Club and Marina, Escondido is situated on rolling grassland shaded by grandfather oaks and surrounded by dramatic granite outcroppings, native wildflowers and spectacular lake front views. 
Currently Escondido has 120 active home sites and approximately another 150 lots to be built on and in these uncertain times, home sales have been impressive.
"It's really been unbelievable to see the response," Wagner said. "We have a lot of people very excited about what we're doing here." 
It is an inspiring Hill Country landscape where Estate home sites, Golf Casitas, Villas, and Escondido Lago homesites, make up Texas' preeminent Hill Country community.
Visit escondidotexas.com to view available homes and properties.
Bluejack National 
Location: Montgomery
Nearest Urban Area: Houston
Golf:  First Tiger Woods golf course 
design in the United States
Tiger Woods has spent his entire career racking up wins on the golf course, but many feel that his biggest win could be his career as an architect, which has kicked into high gear with his first U.S. course at Bluejack National.
Located just outside the Sam Houston National Forest, the sprawling facility can appear downright remote spread over 750 acres. It's less than an hour from downtown Houston, but it feels much further.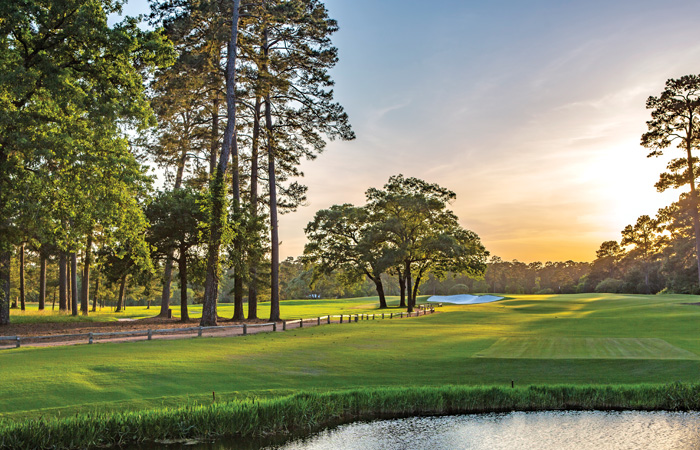 "This is the epitome of social distancing right here," said Dallas developer Andy Mitchell who has overseen the project for five years. "We have a lot of people running their businesses from right here,"
"With this large area we are a great, safe sanctuary for people," said Brett Schoenfield, the newly hired president and general manager at Bluejack National. "We have amenities people want to hunker down with, plus we have space to breath."
Not only does Bluejack have the par 72, player friendly golf course designed by Woods and Beau Welling, who is doing one of the courses at the new PGA Frisco project, but it's marketed itself to the entire family, a critical component in today's new golf community era.
"What we finding these days is that families are assessing their lives in a whole new way," Schoenfield said. 
To that end, Bluejack has strategically engineered a series of new facilities which began with a 10 hole par 3 course, which has lights in the trees for night golf, to the Shed, which will focus on golf performance with a TaylorMade Club testing facility and a putting lab when it opens later this year.
Off the course there is the Fort which features tennis, swimming fitness/wellness/spa, anbowling alley, football field and a mini regulation baseball field for little league and whiffle ball games.
There is the Shack which is bringing expanded with a full pro shop and custom oven for family fun. The latest addition is first tee Lemon Drop which offers lemon flavored drinks of the soft and decidedly harder variety to get your round kickstarted, and they also feature the namesake candy.
The Sanctuary, which will contain a spa and workout area, and a new large clubhouse which overlooks the 9th and 18th holes are in the planning stages 
Of course, every player is still introduced by a first tee starter, after you chip with your driver to decide who hits first.
The course, Woods' ode to Augusta National, has very little water, almost no rough and very little chance of losing a ball, a stated Woods' goal when he opened the course in 2016. It's one friendly, scenic challenge after another. Of course, the outdoor BBQ shack after the 11th hole isn't a bad perk either.
Bluejack currently has 240 members with room for 450 and 400 residences with new residents and/or urban dwelling escapees 
There are 14 cabins which can accommodates two families each which line the par 3 and the current pro shop and practice areas. Those are currently sold out, but more are under construction.
"It's truly a great escape, especially with all the changes and unknowns we have facing us," said Schoenfield. "One thing we've found in these uncertain times is that people are assessing their lives and live styles and deciding they want space, security and comfort for their families.
"We were fortunate to stay open when others closed, and we had some people stay here for several weeks with no intentions of leaving any time soon."
Lajitas 
Location: Lajitas, TX
Nearest Urban Area: El Paso
Golf: Lanny Wadkins designed 18-hole facility
You want remote, room to breathe and all the social distancing you can stand. Have we got a place for you! The Lajitas golf resort in the tiny community of the same name which abuts the Big Bend National Park and the Big Bend State Park is the ultimate social distancing stop in the Lone Star State spread out over thousands of a dusty, tumbleweed covered acres.
How big is Lajitas?  Big enough to border Mexico. Not New Mexico, but the country of Mexico, where in a pre-9-11-time frame, you could actually aim your par 3 tee shot into another country and then walk or row across the Rio Grande river to putt out.
It's Located 237 miles South of Odessa, Texas, 315 miles South East of El Paso and 439 miles West of San Antonio, but the Lajitas Golf Resort is well worth the drive no matter where you are coming from.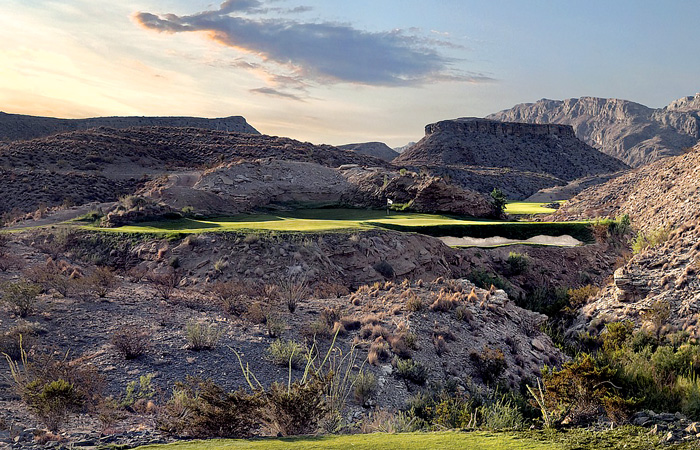 Framed by pristine deserts and towering mesas, you'll hardly see another car while staying alert dodging deer, rabbits, and roadrunners. Getting there was half the fun while taking a left out of the resort heading West on Hwy 170, provided 49 miles of the most scenic drives in America with a road perched high above the Rio Grande snaking through the mountains.
The good news is that if you don't like driving, you can take advantage of the resort's private airport and 30-seater jet with a very successful regular charter service out of Dallas Love Field. While the 27,000-acre resort is BIG, the complex itself is small and intimate like an old western town with the golf, spa, pool, rooms, and dining all within walking distance.
Sadly, Clay Henry, the beer drinking goat who also served as the honorary mayor is no more (you can draw your own conclusion here), but there is still plenty to see and do here once you arrive.
Dallas businessman Steve Smith, of Excel Communications fame, originally envisioned the facility as a remote second home community, but while that business plan didn't work, another Dallas business titan Kelcy Warren came in to the save the day.
He purchased the entire complex as a luxury hidden outpost to which has drawn visitors from former President George W. Bush to thousands of North Texans looking to beat the dangers of urban life and most recently the Coronavirus.
Black Jack's Crossing, the golf course named for U.S. General John J. Perishing know as Black Jack, who once roamed these parts, is quite simply an amazing course with spectacular views of the mountains, mesas, deserts, Rio Grande river, and Mexico beyond.
 The course, designed by Dallas' PGA Tour golfer Lanny Wadkins is usually in excellent condition, and while challenging from the back, tees still very playable for the average golfer with wide landing areas and large greens. Many courses built on spectacular land force a hole or two to be designed into places they should not be, creating holes that are not quite "golf holes" . Not at Lajitas there is not a bad hole on the entire layout.
"Some of the drops from tee to fairway with the Big Bend Mountains in the background are simply spectacular," Wadkins, who spent years working on the course, said. "The course and the overall landscape will take your breath away."
The course, except for a couple of the opening layouts and the 18th which aligns along the Rio Grande, playamong the hills and mountains surrounding the facility with 100-foot drops to spectacular visits and greens.
Anything but a well charged cart if out of the question here, but it's truly a one of a kind Texas test.
In fact, while August is traditionally one of the slow months at Lajitas with temperatures reaching into the triple digits, it's been nearly full in the new travel age we find ourselves in.
"The golf experience in Lajitas is predicated on superb playing surfaces, amidst a relaxing environment which cannot be matched anywhere in the world.  I'm sure there are other places one could go to completely escape reality and relax, but couple that with an absolutely world class golf experience—nothing compares to Lajitas," says Lajitas Director of Golf, Brian Pionkowski
Of course, when you get off the courses there is luxury lodging in the officers' quarters where the old cavalry post once stood, the Thirsty Goat Solon will drown your sorrows or celebrate any victory you have at Black Jacks.
It also has a most interesting, huge full-length painting above the bar which has to be seen to believe. There is also excellent food, horseback riding, a private air strip, trips from the Chilios Mountain and star gazing at night. Don't forget a quick ride to Terlingua, once home to the world chili cookoff, and the historic Starlight Inn for a road trip off property
The Clubs at Houston Oaks
Location: Hockley, TX
Nearest Urban Area: Houston
Golf: Chet Williams championship redesign ranked 
No. 2 in Texas & Family 9-hole short course
Three Houston-area families have come together to provide the ultimate in second home security, community and luxury, with endless choices and a very few budget limits or extended committee meetings for that matter.
The No. 2 ranked golf course in the state, designed by Texas' leading architect Chet Williams features a nine-hole family practice course, fishing, treehouse, little league ballpark, boutique hotel, lavish clubhouse, meeting facilities, indoor and out. Even a wedding chapel. Done, done, done.
"Every comment from every member has said thank you for creating this. We don't know what we would have done without it," said Steven D. Alvis  Managing Partner, NewQuest Properties, one of the three founding partners who have made it their mission to make Houston Oaks the ultimate in laidback luxury in a less urban environment, but still less than an hour from downtown Houston.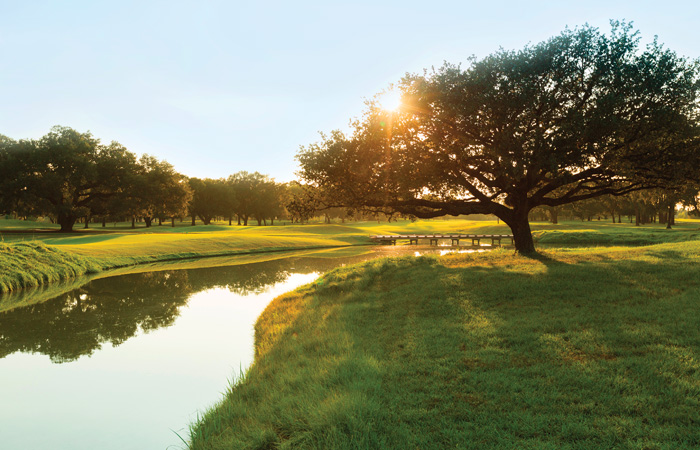 There latest addition is one of their most lavish. The owners at The Clubs Houston Oaks have acquired the historic Rococo fantasy ballroom interiors from Houston's famed La Colombe d'Or boutique hotel.  Le Grand Salon de la Comtesse was originally built for French royals in the 1730s.  It consists of quarter-sawn English oak paneling, gilding-frame mirrors and stunning chandeliers.  The salon was named for the Franco-Belgian princess La Comtesse Elisabeth Greffulhe, a worldly socialite and arts patron.  
The Club is initiating the conceptual design of Le Grande Salon at Houston Oaks as the centerpiece of the new special events facility.  The new facility will include bridal facilities, meeting spaces, offices and a full-service catering kitchen to host weddings, social affairs, receptions and a variety of celebrations.  
"With my kids and my facility, I find myself spending more times at Houston Oaks these days," said Houston golf builder Jon O'Donnell. "It really has everything for the family and an easy trip from many places in Houston. It's really an easy decision for us."
Groundbreaking on the new events center, part of the 950-acre facility, is expected later in 2020 or early 2021 with a planned completion in the summer of 2022.  Membership at The Clubs at Houston Oaks is by private invitation and personal referral through existing members of the Club.  
Tapatio Springs
Location: Boerne, TX
Nearest Urban Area: San Antonio
Golf: Bill Johnston designed, Tripp Davis 
renovated 18-hole golf course with new clubhouse
Jack Parker and his son Jay are responsible for much of the initial golf boom which began in San Antonio and South Texas in the 1990s, so they know something about Texas golfing trends. With the latest move to more remote, secure environments, they feel Tapatio Springs was and remains ahead of its time.
"The course has never been in better shape, the condos and the homes on The Ridge are selling and we have a new set of condos in downtown Boerne which will be more popular than ever," Jack Parker said. "It's a great time for people to come down here and experience the best of South Texas golf away from the urban traffic and confusion."
San Antonio's original destination resort, Tapatio Springs Hill Country Resort is nestled in the heart of the Hill Country on 220 acres among rolling hills, wildflowers and limestone cliffs. It's the ultimate family-friendly, affordable destination with a new $1.0 million resort pool and bar, an 18-hole championship golf course recently restored by Tripp Davis and Associates, casual, full-service dining, live music event series and over 10,000 square feet of flexible event space
Restoration of the course by Davis and Associates, which included complete bunker and tee work, was finished in 2016. Fairways were regraded to improve drainage and playing surfaces, while three greens were resurfaced and a new practice putting green was installed. New and artful bunker designs have especially increased the drama and strategy of many holes.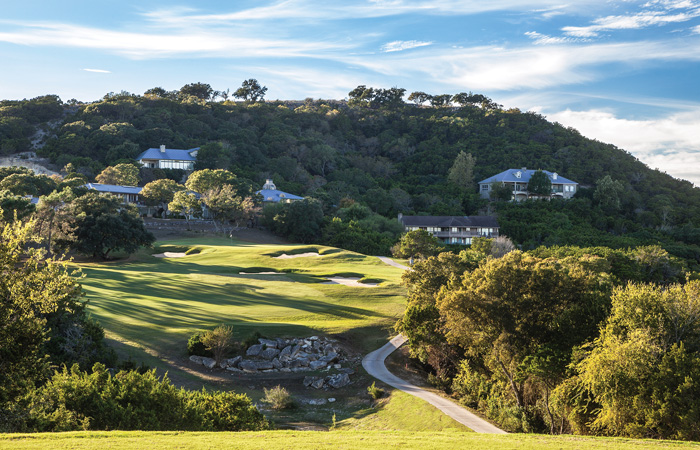 "Attractive bunkering is one of the key ingredients in defining the visual character of a golf course; the greater the visual and strategic character, the greater the experience," offered Davis.  "I'm not sure I've ever seen a bunker and tee project have as big an impact on the visual and strategic interest of a golf course as what's been achieved here."  
Aside from the great golf, open to members and guests, Jay Parker said the remote location of Tapatio Springs along with the growth of Boerne is perfect for the new era of golf and golf travel.
"I think most people have figured out that golf can be COVID free for the most part. The resort has been close to capacity most weeks and the property sales in Boerne has been off the charts.
"We're close enough to an international airport, but still have large home sites 2 to 4 acres if that is most desired or a secure condo in a rural area. In each condo we are building we are making sure there is room for a home office and work gym, because people are prioritizing what is important in their lives now. I believe that COVID can be a generational change for people who want to get out of the central city and back to the suburbs."
There is a large resort style pool at Tapatio with a tennis courts, a modern conference center, and the natural flowing springs where the resort gets its name.
"I think drive to properties will be the way to go for a long time to come," said Jay Parker.
"You can't beat the charm of the San Antonio and Hill Country area and the golf here is second to none," added Jack Parker, known as the king of San Antonio golf, for his decades of work in making this Texas' most attractive destination.
RB Golf Course & Resort
Location: Runaway Bay, TX
Nearest Urban Area: Fort Worth
Golf: 18-hole golf course with lake views, 
adjacent cabins, community clubhouse
A hidden gem in Northeast Texas, just west of Fort Worth, now known as RB Golf Course & Resort, has a variety of homesites, stay-and-play packages and day trips to this almost always overlooked remote section of Texas.
New Wise County native owners Daniel and Dani Cocanougher have already begun to spend the money to restore the facility, first opened in 1960s. First on the improvement list was the planting of new championship Bermuda grass. In addition, the sprinkler system was repaired, making the course more playable, trees were trimmed, and deferred repair was completed.
"Our goal is to make it the community center for Wise County and everybody who wants to play, eat, live and meet here in the general area," said Dani Cocanougher. "We are remote enough to not draw that many people from Dallas-Fort Worth, but we want to make this great for local people and anybody who comes up for the weekend."
The Lakeview Tavern a 1,945 square restaurant has been restored and the most recent addition has been on outdoor covered pavilion with a 60×100 square foot covered hitting bays along with eight uncovered bays, all lighted for night play.
Barton Creek Resort & Community
Location: Austin, TX
Nearest Urban Area: Austin
Golf: Four golf courses, multi-tower
resort, large residential community
Long regarded as the top golf destination in Texas, Barton Creek has an innovative program which allows golfers to sample each of the courses on a regular basis without purchasing a home at Barton Creek.
Titled the Owners Club, it allows golfers to pay an annual fee along with an intuition charge in exchange of 21 to 24 days of year of golf of any of the four Barton Creek courses, two by Tom Fazio, one by Austin's Ben Crenshaw and other off property by Arnold Palmer.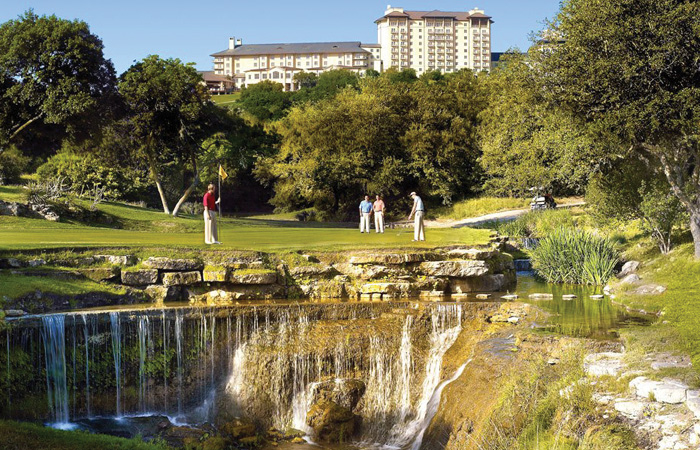 Golfers can also stay in fully appointed luxury homes on site along with discounts on Barton Creek food and resort items.
"It's really the best of both worlds on staying there and having access to all the courses without buying a home or living there fulltime," said Plano's Bob Chitwood, a longtime Owners Club member. "If you play a lot of golf and want to schedule ahead, it's really the best value and investment for your money.
Located a half hour away from downtown Austin in peaceful, rolling West Austin terrain, there is a lot to golf like at Barton Creek. The two original courses, opened in the 1980s and '90s, has been ranked as the No. 1-2 resort layouts in the state.
The Crenshaw Cliffside course has some of the largest putting greens in Texas befitting the Lone Star Legend namesake who made his legacy with his Lil' Ben putter.
The Barton Creek lakeside is a nice change of pace in the Austin-area wilderness, 30 minutes from the resort.
For luxury golf during this bizarre links year, density is out, remoteness, security, distancing is in and there are plenty of Texas golf communities willing to swim along with the latest Lone Star Links tide. 
Briggs Ranch
Location: San Antonio, TX
Nearest Urban Area: San Antonio
Golf: Tom Fazio designed golf 
course and private community 
With the only Tom Fazio designed golf course in the San Antonio and the stone wall protected gates on the remote edge of San Antonio, Briggs Ranch Golf Club & Community is continuing to grow as a hidden luxury oasis.
"There is the place in the Texas Hill Country where the frenzy of the city clams and the stresses of everyday life melts away," said Carter Speer, the president of Briggs Ranch Reality. "Here is where your to-do list consists of 18 holes of the best golf in the nation."
Indeed, the work Fazio did on this tree strewn piece of land is dramatic and adding enough championship holes with some added water and dramatic vistas completes the experience.
The par-72 Briggs Ranch Golf Club, opened in 2001 has been ranked the best residential golf course in Texas by Golfweek Magazine and sixth in the U.S. The signature Fazio design offers every player a challenge while hiding the cart paths from view, making it play like an 18-hole journey through nature.
The veteran architect has enhanced the natural terrain, creating a course which seems to be in continuous motion with nature.
"It's certainly one of his best works and has hosted several top state, professional and college tournaments along with fun rounds for members and guest," Speer added.
The Tuscan inspired clubhouse serves as the gateway to the Hill Country with sprawling estates homes and economical villas all with the gated security, remote feel and challenge of one of golf's top architects.
"Briggs has everything you could ask for with top amenities, gated location and remote facilities close enough to the central city," said Speer.