Cover Story – Larry the Cable Guy

Over the years, AG has had its fair share of not only golfers, but celebrities on our cover. From major winners like Jack Nicklaus and Todd Hamilton to celebrities like Jerry Jones, Dr. Phil, Janine Turner, and even President George W. Bush. When we got word that there would be a new Champions Tour event in town that not only features the best over 50 players in the world, but also a laundry list of high-profile celebs, we were most certainly intrigued. The inaugural ClubCorp Classic takes place April 19-24 at Las Colinas Country Club and features former athletes like Marcus Allen, Greg Maddux, Tim Brown, DeMarcus Ware, and yes… Tony Romo. In addition, there are several actors and comedians expected to appear, including Anthony Anderson, Alfonso Ribeiro, Jack Wagner, and Blair O'Neal. 
As we browsed the celebrity list, there was one name that popped out. A comedian that has been in the spotlight for going on two decades, with his unique brand of shtick and his signature catchphrase of "Git-R-Done". Unless you have been living under a rock, then you likely know who we're talking about, and that is none other than Larry the Cable Guy. With seven comedy albums under his belt, the 59-year-old has seen his popularity skyrocket from his work on the Blue Collar Comedy tour as well as lending his voice to the Cars movie series, where he played Mater, the rusted out tow truck that was prominently featured in all three films as well as a series of video games based on the movies. 
Born in Nebraska, the one-time target of a Comedy Central Roast has adopted the game of golf as a vehicle for his charity endeavors, becoming a regular at the AT&T Pebble Beach Pro-Am, as well as the American Century Championship at Lake Tahoe. Now, he will lend his sleeveless look and whimsical on-course antics to the ClubCorp Classic.
AVIDGOLFER sat down with Mr. Git-R-Done for a one-on-one about his life as a comedy icon, his charity work, and his love of the game of golf. 
AVIDGOLFER: I know you have your own charity, but what are some of the other charities or causes that are near and dear to you?
Larry the Cable Guy: There are so many. I love the one David Wells puts on out in San Diego. It's called Perfect 33. It's for veterans that have PTSD and those kinds of problems. You can really tell how much it means to them in their eyes, so that's one of the ones I really enjoy. 
AG: What about some of the ones that make it to TV?
LTCG: Of course, the American Century is great. Tahoe is such a fun area, and the course is beautiful. I also love the one at Pebble Beach. I go out to Monterrey a day early and they'll show me around and show me some of the things they have done with that money to help the kids and the community. Golf is such a charitable sport, so that's just great. To be able to see what each individual charity is doing with that money is wonderful.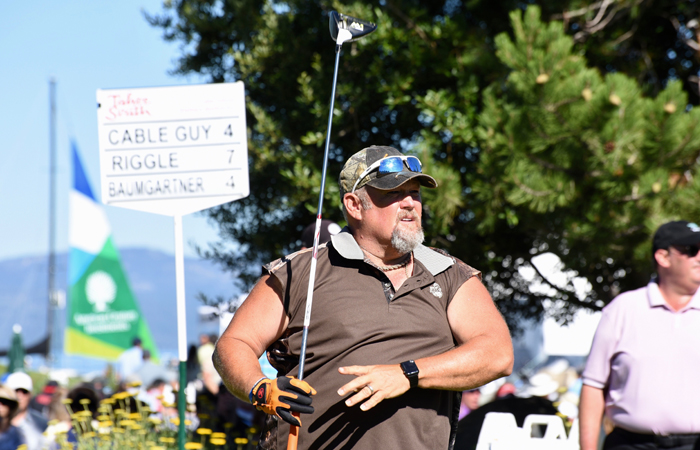 AG: You used to be a radio personality. How did you parlay that into a stand-up career?
LTCG: I worked at it a lot. I was a stand-up comic before I got into radio. I had a buddy that was a comic, and he had a family and wanted to get off the road. He started his own club, so I was helping him out doing some characters and stuff. A few of the characters became pretty popular, then I started going on the radio and was kind of a sidekick. It ended up getting bigger and bigger until Larry the Cable Guy got big enough to where I could start going out on the road. 
AG: Did you play any other sports growing up?
LTCG: Yeah. I liked all sports, but I mostly played baseball growing up. I played baseball in college. I was a pitcher for a Division III school in Georgia that isn't there anymore. In college, I got clocked at 95, so I had a good arm, but I couldn't throw a curveball at all. 
AG: Any funny stories from your playing days?
LTCG: Not many from my college days, but in the early 2000's I was pitching batting practice to the Nebraska baseball team. I threw one and the mitt popped. I thought it had to be somewhere around 80. Nope, the radar gun said 59. I threw another one, it was 61. I thought something was wrong with the gun, so I threw one more and it was 57, and I hurt my arm. I think part of the reason I took up golf is because I got too old to play baseball and softball anymore. It's a great way to stay competitive. You can make a shot like a pro makes on occasion. It's fun. 
AG: We heard Boo Weekley was the motivator to get you playing? Is that true?
LTCG: Yeah. Boo is a buddy of mine. The first one of these tournaments I didn't even play. I went out, rode in the cart, and just made fun of everyone on a megaphone. It was fun, but I didn't want to do that for seven hours at every one of these events, so I decided to learn how to play. Right when I started playing, I met Boo and I wanted to make sure I could play in his tournament. I listened to the way her talks and I thought to myself, if that old boy can play, then so can I. When you're growing up, you always kind of assume golf is snobby, but when I met Boo, I realized I could get out there, too. He's just like me. He fishes, he likes everything I like. He gave me advice on what clubs to get to start out and gave me plenty of swing tips. That's the great thing about Boo, is he opened the game to a lot of people that normally wouldn't play golf or had a certain opinion of the game.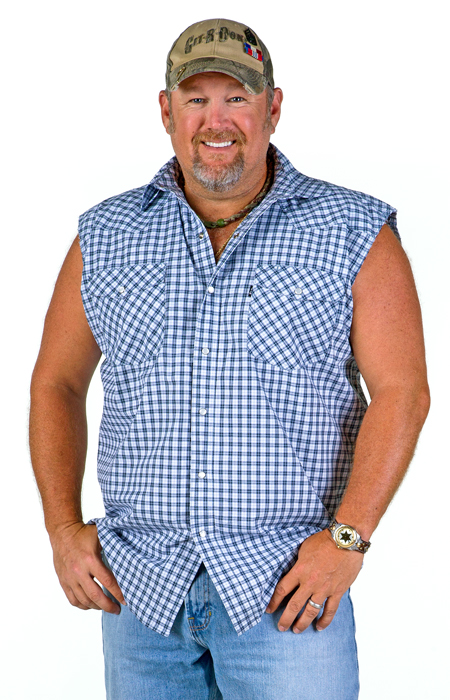 AG: After you started playing a little bit, did you find your attitude toward the game changed at all?
LTCG: Absolutely. Once I started playing and learned how to play, everything I thought I knew about golf went out the window. There is such a diversity of people who play, and I absolutely loved it. The majority of those who play are just regular people who love the outdoors, love the exercise, love the comradery, and love the competition. And that's the cool thing about golf and playing these charity events, is you see lots of different people playing. 
AG: Any unique foursomes you remember playing in?
LTCG: One of the practice rounds I played at Pebble beach was me, Bob Stoops, and Kenny G. Can you imagine another sport where those three people would be playing together? We had an absolute blast, too. That's what makes golf so much fun and so unique. You never know who you might be playing with or who you might meet. 
AG: Do you have a home course you play?
LTCG: Well, there was one down the road that I loved, but they had a strict dress code. They required shoes and a shirt. 
AG: So that was a no-go?
LTCB: Of course, I am joking around, but I really didn't start playing until about 2010, and when we moved back to Lincoln from Florida, I didn't really consider any courses because I had just started playing, but as luck would have it, the place we're living in now is close to some great courses. Nebraska has some great golf. Seven minutes to my left is Firethorn Golf Club, which is my home course now and one of the best in the state, and seven minutes the other way is Hillcrest Country Club, which is an older club that has been around forever, and is completely different from Firethorn, so I have two different layouts close by. There is also a local course called Crooked Creek, which I can drive my four-wheeler over to. One of my friends is the head pro there, so when the other courses are closed on Monday's, I will go over there and hit balls. I am very fortunate to live close to some great places.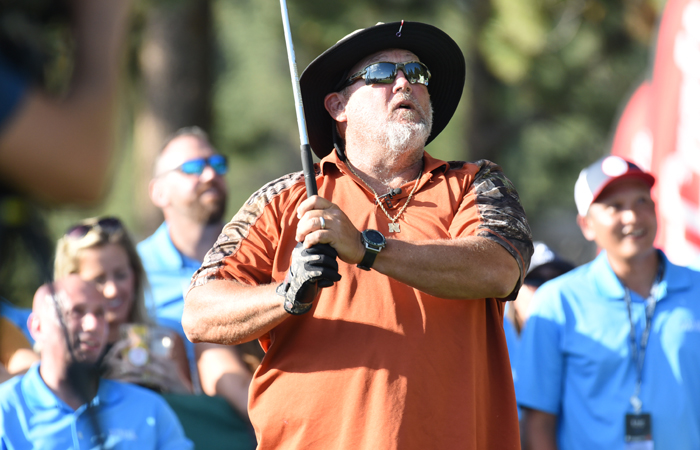 AG: What is your current handicap?
LTCG: The KFC Fill Up Bowl. 
AG: They are delicious. 
LTCG: To be honest, I have it to about a 12 or 13. But you know how that goes, sometimes I will go out and play to an eight, and sometimes I will play to an 18. 
AG: What is your current favorite on-course beverage?
LTCG: I can tell you based on my on-course decision making it's not Smart Water.
AG: Well, what is it then? You a beer man? Arnold Palmer perhaps?
LTCG: Great story about Arnold Palmer. I had the chance to play with him at Bay Hill before he passed. We had brunch beforehand to discuss his children's hospital. The server came by and asked what we wanted to drink. Of course, I felt it was apropos to order an Arnold Palmer. We all got a good laugh. 
AG: Meeting the King must have been amazing. 
LTCG: Yeah. He was so much fun. Of course, the work he did with his hospital is amazing. Right before we met him, I had played my lowest round ever and shot 84. I bragged to my wife for like a week beforehand about how good I played. When we met Mr. Palmer, I asked him what the worst round he ever played was. He mentioned a specific round where he just wasn't feeling well and ended up shooting an 84. My wife let me have it. I told her an 84 is really good and Arnie said he shot 84 and it felt like he had never picked up a club before. 
 AG: Who is your current favorite player?
LTCG: My son and I love to watch Harry Higgs. He's a character and what a name. Harry Higgs. But right now, he's one of our favorites. 
AG: Any others?
LTCG: I also love Viktor Hovland. He just seems like a super fun guy, but he seems like he's having fun and I love how he plays. I also really like Tommy Fleetwood. I have run into him several times on the putting green at Isleworth, and his son loves Cars, so I will go over and do some Mater for his son. I would love to see him win, he's a great guy.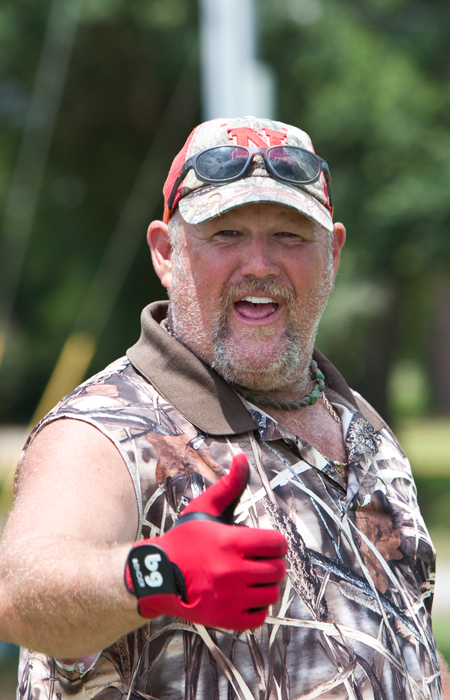 AG: Have you been to any tour events as a fan?
LTCG: To be honest, I really don't watch as a fan much, because I love playing so much. The only one I have been to is the Honda Classic, because I played in the pro-am there. But I haven't been able to go to many as a fan.
AG: Of the following famous courses, which one would you like to play the most? Augusta National, Cypress Point or Pine Valley?
LTCG: You know, I have heard so much about Cypress Point, and playing in the Pebble Beach pro-am I have been invited to play it a couple times, but the last couple times I have been invited I had a couple friends with me, and they would only allow me to bring one friend and I didn't want to leave anyone out. But I do want to get that one in at some point. 
AG: What about Augusta?
LTCG: I played Augusta about two weeks before the tournament about three years ago, which was incredible. Everyone there was awesome. They were all so fun and I just loved every minute of it. 
AG: How did you play?
LTCG: I played pretty good. I shot 92. But the cool thing was I went tap in par, tap in par, tap in par on Amen Corner. My caddy was so impressed, and then I made double bogey on the next two holes, but I played Amen Corner in even par. 
AG: How excited are you about the ClubCorp Classic and coming to DFW?
LTCG: Any time a new celebrity tournament is announced I am always so honored to be invited. They are such a blast. I love messing with the fans and I love golf in Texas. Golf in the Dallas area is so good. But it's been a while since I have played in Texas, but I am really looking forward to it. 
AG: Do you know a lot of the Champions Tour players?
LTCG: Of course. I know a lot of them. And their tournaments are super fun. And since it's the inaugural event, I think the fans and celebrities will be excited. And to be honest, most of the celebs take it seriously and can really play. I think people are really going to enjoy it.
AG: What's your favorite golf joke?
LTCG: Here's a good one. Guess who's playing in the ClubCorp Classic? Larry the Cable Guy. 
The ClubCorp Classic 
Presented by Choctaw Casinos & Resorts
April 19-24, 2022
Las Colinas Country Club
Champions Purse: $2,000,000
Celebrity Purse: $500,000
Charity Parnership: Momentous Institute
Schedule of Events
April 19: Pro-Am Pairings Party and Kickoff Concert with Cole Swindell (at Toyota Music Factory)
April 20-21: Pro-Am Competition
April 20-24: ClubCorp Classic 
Ticket Information 
Single-Day Ticket: $35
3-Day Grounds Badge: $75
Choctaw Club: $350/day (includes premiere green-side seats on No. 17, premium food and bar service and parking pass
Parking Pass: $15/day
Notable Champions Tour Players in the Field
Mark Brooks, Lee Janzen, Mark Calcavecchia, Colin Montgomery, K.J. Choi, Miguel A. Jiménez, Darren Clarke, Mark O'Meara, John Daly, Rod Pampling, Chris DiMarco, Corey Pavin, Ernie Els, Vijay Singh, Retief Goosen, David Toms, Jay Haas, Mike Weir
Notable Celebrity Competitors
Marcus Allen, Alfonso Ribeiro, Ray Allen, Ivan Rodriguez, Anthony Anderson, Tony Romo, Tim Brown, Emmitt Smith, Joe Carter, John Smoltz, Greg Maddux, Annika Sorenstam, Mike Modano, Brian Urlacher, Mark Mulder, Jack Wagner, Blair O'Neal, DeMarcus Ware