Cover Story – Masters Craftsmen: Artisan Golf in Fort Worth

Fort Worth has always been a golf town. Its rich history, which includes Byron Nelson and Ben Hogan caddying as teens at Glen Garden, Marvin Leonard and his passion and near obsession for seeing bent grass greens thrive in the Texas heat, to Colonial and the Horrible Horseshoe, Panther City has always been a place where golfers and the golf industry have flourished.
For that very reason, Nike once constructed a state of the art research and development facility in Fort Worth. Just west of downtown, adjacent to the Leonard Golf Links, sits what used to be known as The Oven. Most Fort Worth residents likely don't know just how often greatness frequented this state of the art facility. Tiger Woods, Rory McIlroy, Stewart Cink, Justin Leonard, Michelle Wie, and even Michael Jordan would get their clubs custom fitted out of this space.
Two years ago, Nike announced their intentions of permanently doing away with the manufacturing of equipment. No more irons, no more drivers, no more wedges, no more golf balls. The company still makes apparel and shoes, but if you want some Vapor Pro irons or a dozen RZN golf balls, your only option may be the secondary market.
Not only did this development impact the tour players that had become comfortable playing equipment with the swoosh, but it left many of the R&D people at The Oven in limbo. Talented club designers, machinists, and scores of others who had dedicated years to the production of innovative and beautiful golf clubs were all out of a job. Once it was known the facility was going to be shut down, those who weren't out the door in a matter of hours were tasked with the challenge of producing enough product to keep their current stable of tour players in Nike equipment as they worked to make the transition to other manufacturers. Once that job was done, the facility closed. And there it sat.
Two of the men that were given the challenge of making a stockpile of Nike clubs for their touring professionals were Mike Taylor and John Hatfield. The pair have more than 60 years in the golf club making industry, but when Nike folded up shop, they were now thrust into a holding pattern. Then in 2017, Taylor, Hatfield, along with a few others from the halcyon days of Nike equipment production decided maybe it was time to try to do something on their own.
Taylor, who describes himself as a "good ol' country boy", once worked alongside some of the finest club designers and manufacturers for Hogan Golf in Fort Worth. If you've ever seen Hogan irons, you understand the craftsmanship that went into their clubs, especially in the 80's and 90's. Although many of the Hogan irons were considered to be for the advanced player, there is little debate over how beautiful their forged blades were. Taylor met several people during these years, including Mr. Hogan himself, that helped fuel his budding passion for golf club design and manufacturing.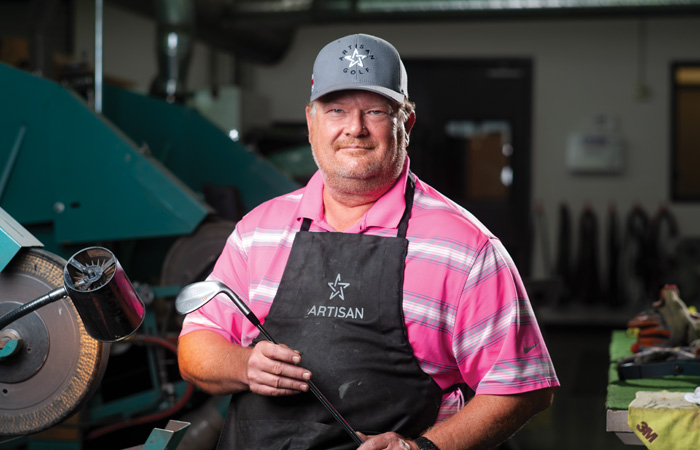 "I think Hogan's passion for the game and for the equipment helped mold a lot of us over there. We were held accountable, and we were conditioned to get things done correctly. I think a lot of the passion started with him." Taylor said. "And man, the smells you would get in that place. It's different now, but back then, they would be making persimmon woods, and it smelled like you were in a furniture factory."
Hatfield, another 30-years-in-the-industry guy, carries himself as a little more reserved than his shop-mate. The putter maker extraordinaire fell in love with putters with his days pre-Nike when he worked at Ray Cook. Since then Hatfield has helped some of the world's best make pressure putts when it matters.
"There are three things I want to do. First, I want to help people. I want people to play better. Second, is performance. I want every putter to perform better than any putter these players have had before. The third thing is I want everyone who orders one to know and feel like they're worthy of a tour quality custom product." Hatfield said.
Tour quality is just the beginning for the customers of Artisan. Yes, the clubs are magnificent, and the performance is second to none, however another great thing about Artisan design is the records they keep on file. As with tour professionals, specs for each individual are kept in binders. If you purchase wedges from Artisan, once they wear out and it's time for a new set, they know exactly how to construct them over again. No different than the records Nike kept for guys like Tiger or Rory. It's pretty special as an amateur to have your very own serial number.
Back in April, as Patrick Reed began his walk up the steep grade on number 18 at Augusta National toward the first major championship of his career, we began to see story after story about how Reed marched to the beat of his own drum. Of course, we all heard the tales about his family and his collegiate career, but one of the things the casual fan discovered, is that Reed is one of the few tour stars that doesn't have an equipment sponsor.
In fact, Reed's bag is filled with clubs from several different manufacturers. In his bag for that Masters win, was a Ping Driver, a Nike three-wood, a Titleist three-iron, Callaway 4-PW, a Titleist Vokey 61-degree wedge, and an Odyssey putter. If you're a follower of golf, you are most likely aware players are allowed 14 clubs in their bag. So, what other two wedges was Reed's caddy lugging up the 18th fairway at Augusta? You guessed it. Artisan. In Reed's Ultimate Software green and black staff bag, alongside manufacturer names like Titleist and Callaway were 51-degree and 56-degree Artisan wedges crafted in Fort Worth.
Of course, Reed isn't the only player without an exclusive equipment deal. PGATOUR.COM Equipment Insider Jonathan Wall has spent the last several years sneaking peeks at the arsenals of the best players on the planet.
"Nike's exit from the gear industry set all of this in motion." Wall said. "I'd say about ten percent of the top 100 in the world rankings don't have a staff deal (meaning 13 or 14 clubs of one brand), and five of the top 15 don't have a staff deal, which is significant."
In addition to Reed, US Open champ Brooks Koepka, and Open champion Francesco Molinari also don't have staff deals. You read that right. All three major champs in 2018 don't have an exclusive equipment sponsor. Reed, who dropped Callaway as his official equipment provider in 2017 is one of five of the top 15 players in the OWGR who don't have a staff deal. Reed, Koepka, Molinari, Paul Casey and Tommy Fleetwood all pick and choose what clubs they hit.
As reporters began to mention the wedges, and websites and magazines published stories about "what was in Patrick Reed's bag at Augusta", the Artisan name began to gather some steam, and the team's social media platforms exploded in a matter of days.
"Oh my gosh. We all thought we were doing great with like five hundred followers on Instagram. After Reed wins the Masters, we gained about 5,000 followers on Instagram just like that. My phone was just buzzing in my hand constantly." Taylor said. "We didn't grow up in that social media era. But it's like a huge human network. Like a virus. Once it starts going, it's crazy."
There's no question Reed carrying a pair of Taylor's wedges in his bag at Augusta has helped put Artisan on the map, but there's also little doubt the pedigree of the employees and the craftsmanship are the reason people are not only seeking out these one of a kind clubs but ordering them at a staggering rate.
Taylor has spent most of his adult life preparing and teaching his hands and his brain to work in unison when creating these masterpieces. Now, it's really beginning to pay dividends.
"There's a lot of detail that goes into certain blends and things. Having the vision to see these shapes take place is paramount. You have to have a vision to see what that looks like. The build is so important in these clubs. The components are so critical and the way they fuel the performance of the golf club." Taylor said. Taylor's custom wedges will run about $250 each depeding on options like shaft, grip, and laser personalization.
When it comes to Hatfield's putters, there are several important aspects that he looks for during a fitting. The first is the loft of the putter. You may think that putters don't have any loft, but that's not accurate. Most putters have somewhere between 1.5 to as much as 7 or so degrees of loft. The benefit of a quality fitting is to determine how your stroke affects the ball. Hatfield makes sure the loft is correct for your stroke and it gets the ball rolling instead of airborne at impact. One of the other interesting customization features is deep milling versus light milling. The lighter the mill, the more pronounced the sound coming off the face of the putter. The deeper the milling, the less auditory feedback you'll get. Some players prefer the deeper mill because they "feel" softer, some are just the opposite. There is also a mid-mill option for those who prefer a more neutral sound. The fitting will determine which is best for you based on your feel on the greens and the sound you prefer.
John estimates they have done about 125 putters so far, with several more on pre-order. These custom designs come with a price, though, as they start at around $875.
"We're using CAD for all of this. Our first designs took us about 6-8 months to perfect, but now that we're fine tuning the process, it's not taking as long." Hatfield said as he presented to me his latest mallet design.
Both Mike and John explained that while CAD is still the industry standard for designing clubs, it's still very difficult to know what the finished product will look like on a 2D screen. They really need to see the finished version in their hands to make sure it's flawless and to their standards.
Although the milling process for the putters only takes a few hours, and the remainder of the customization just a little bit longer, the processing time of the putter orders sit at about 4-6 weeks on average. So, if you think you may want a new Artisan putter for a fall golf outing, best get on the horn now. In addition to knowing the loft and milling are dialed in to help you play your best, Artisan offers additional ways to make your putter unique. From a variety of finishes to laser etching of initials or logos. The headcover options for the putters are superb as well.
When it comes to the wedges, it might take a couple weeks to complete the process, but again, the waiting list is several weeks, and of course, you have to find time to do the fitting before the process can even begin.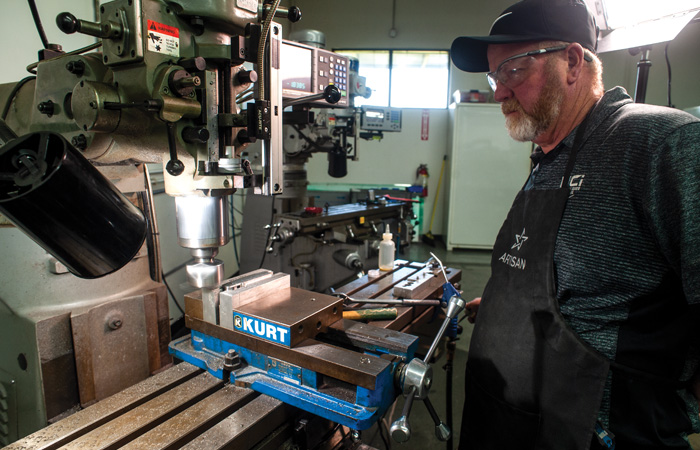 Of the 50,000 square foot facility, the Artisan boys really only occupy the machine shop, and couple other rooms used for storage. The other offices, front desk and foyer area, and some of the other R&D areas once bustling with secretaries, reps, club makers, and other Nike employees now looks more when you used to wander the halls of your high school after 6 pm. An, almost peculiar silence. The aromas and the sounds in the work areas reminded me a lot of growing up in my grandfathers auto-body shop. The smell of sandpaper, the metal being polished, it was a surreal feeling, but at the same time Artisan almost had a local pub type feel. Several people were in and out, dropping off, or picking up items. All of which were greeted with a smile from the always boisterous Mike, who is one of those guys who I can guarantee you has never met a stranger. There's no doubt I would love to sit down with both Mike and John over some drinks and have them fill me with stories of dealing with all the tour pros over the years (that, of course, would be OFF the record).
One of the things I was shocked to find out about both men is how little they actually play golf. There's a saying in this industry, that once you get in the golf business, you stop playing golf. Now, that generally applies to pros at courses, because they have to work weekends and holidays, but neither Mike or John seemed to have much interest in actually playing. In fact, Mike has yet to make himself a set of Artisan wedges, and John said he thought he hadn't played a round in ten years. Both men seem to enjoy their angling more than their golfing. I guess you don't have to play them to build them.
After our time shooting photos and taking the guided tour of the operation, I spent some time with Mike out in front of the shop as he took pulls off a cigar. We rapped about the Open championship and Francesco Molinari's win, Bernhard Langer, technology and its impact on the game, caddies, and a host of other topics. As he drew the final drag off the cigar, as the last few puffs of smoke exhaling from his lips, he left me with this:
"I love Fort Worth and its passion for golf. It's helped keep me passionate for what I do. And that's what makes my career great. Two years ago, a bunch of us had no idea what we were going to do, but you move forward with what your passionate about and try to earn a living. Here in a couple months, we're really going to be churning these things out, then who knows? Maybe we might even do some… irons?"
For more on Artisan Golf, you can visit their Instagram Page @artisangolftx or check out their Facebook Page @Artisan Golf LLC