Course Review – The Courses at Watters Creek

There are plenty of daily fee courses scattered across the Metroplex. Simple, difficult, great shape, goat ranch… you have a lot of options to put a tee in the ground and let it rip. However, some daily fee courses stand out among the many choices around the area. If an interesting layout that challenges every club in your bag at a rate that leaves you some cash to settle up with your friends after a Wolf game is something you're looking for, then a trip to Watters Creek in Plano may be just what you're after.
One of the first things you'll notice about the property is the tremendous practice area. If you like working on your game instead of playing, then this is truly a public mecca to do so. You can easily see why AG called it the best practice facility in town in our 2017 Best of Public issue. That shouldn't change for 2018, as the large range, nine-hole course, and six-hole par-three course make this a fantastic place for those of us not fortunate enough to belong to a private club to go shave some strokes off our game.
The opening hole at Watters Creek immediately gives even the most skilled players a challenge. From the tips, it plays 444. A long cut tee shot is required on this no. 4 handicap hole. A fairway bunker and some mounding left of the primary landing zone can collect any pull, and shots that find their way too far right can have tree issues or find Russell Creek.
The second is another par 4. At just 350 from the back tees, the longer hitters can try to make a run at the green, but laying up with an iron to ensure hitting the fairway will still only leave players a short iron in and a solid chance at birdie. But beware, there are fairway bunkers on both sides of the landing area that can give you problems if you spray it.
No. 3 is a challenging par 3. Although it only plays at 153 yards, consider taking an extra club to account for it being slightly uphill. If you don't, you may find a watery grave short and give a stroke or two back. A trio of bunkers surround a back-to-front sloping green. It can definitely be a tough two-putt if you have to roll one downhill.
The fourth hole at Watters Creek may be my favorite on the property. A par-5 that doglegs hard left around a corner. Driver can be played here, but if you over-draw one, you're likely going to find tree trouble, or even possibly roll all the way into a creek that guards the left side. A large fairway bunker straight away with a draw is the optimal shot. Pull it off, and you should get some extra roll and have a solid chance at getting aboard in two. One thing I really enjoy about this hole (and any hole that has this design feature) is the bunker about 40 yards short of the green. From the fairway, it appears to be greenside. So, the first-time player may think it's not a bad spot to end up, however, it's an optical illusion, and if you find it, you will have the dreaded 40-yard sand shot amateurs rarely practice. Lots of mounding right of the green means missing there is no easy up and in.
No. 5 plays 432 yards. A fairway bunker almost cuts the landing area in half. You want to be on the left side of the fairway to have the best angle in. Anything to the right of the fairway bunker funnels down to a collection area and leaves awkward approach from thick rough.
The par 4 sixth is the signature hole at Watters Creek. A long iron or hybrid off the tee will run out down the hill toward the creek and leaves just a short iron to an elevated green. Miss right and a large tree blocks your look at the green and a punch back into the fairway may be your only play. Miss the putting surface long and you could end up with a touchy downhill sand shot that runs back toward the creek. When the greens are running fast, there's a chance you could send it right off the front of the green into the hazard.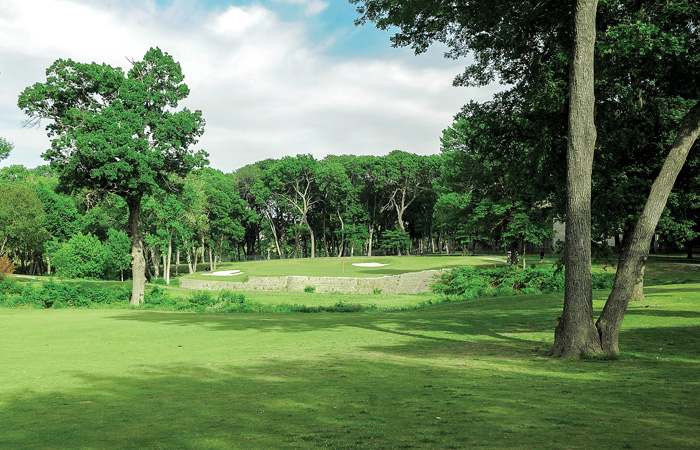 No. 7 is another well designed par 5. Though it's on the shorter side (just 512), the uphill tee shot adds some distance. A trio of fairway bunkers make this a tough driving hole. Find one, and you'll be laying up. If you manage to navigate through them, you have a downhill over water second. If you manage to carry it all the way there, since you'll likely be hitting a longer iron, your ball will likely chase to the back of the green, leaving a tough two putt from this multi-tiered green. If you choose to lay-up your second, you'll be hitting your third over the water, and from the front right angle, there isn't as much green to work with.
The par four eighth is a carry back over the same lake that guards the no. 7 green. Find the short grass and there's not much to the approach. There is one green-side bunker short right to worry about.
The final hole on the front nine is a gorgeous par 3 over water. Lilly pads and flowers add some great color and a fountain in the middle of the water feature adds some aesthetic value. A couple of bunkers guard the green, but the intimidation is all in the carry over the water. A great end to the front nine.
The beginning to the back nine gives players every opportunity to score early on. 10, 11 and 12 are the 15th, 13th, and 17th handicaps on the course. The short par four tenth is a dogleg right. Longer hitters can keep driver in the bag here and take the fairway traps out of play. A long iron or three-metal will leave a short approach over Russell Creek.
No. 11 is your standard par 3. Just 163 from the back box, it has a couple bunkers guarding the area short of the green. This one plays just a touch downhill, so if you have a helping breeze, players may want to take less stick.
The twelfth is plays just 376, and although there is a slight dogleg left, the bombers can rip one out there and get a scoring club in their hand. You'll definitely want to get a couple shots over the first few holes on the back and give yourself a little breathing room for the finish, as 5 of the top 9 handicapped holes make up the final 6.
No. 13 is another dogleg left, this one plays 427, but the big hitters can saw off a good portion of the dogleg and only be a short iron away. A deep bunker guards short right of the green, so make sure you take enough club to cover it.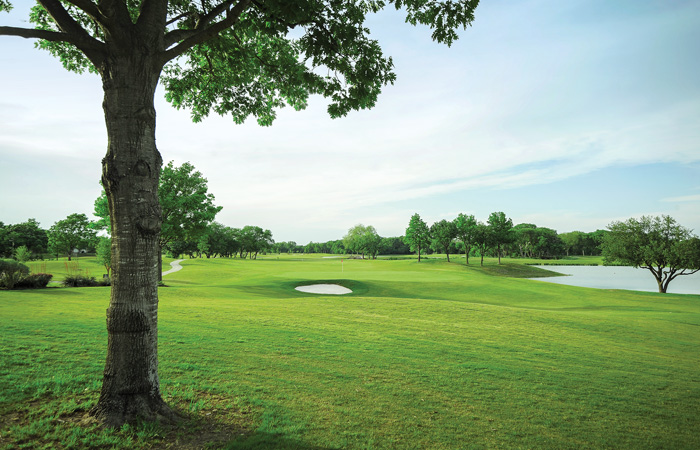 Despite being listed as the no. 7 handicap on the course, the par 5 fourteenth hole can still be gettable. There is water to carry off the tee box, but it really doesn't come into play unless you hot the dreaded topper or the moon ball. Avoid the trees down the right and there is a reasonable shot to get to the green in a pair. If you miss a little long and left, there is a sand trap to corral any ball. It can be a tricky up-and-down.
No. 15 is a short par-four. A slight dogleg right means the ideal angle would be a tee shot down the left center of the fairway. Over leak a cut and your ball will feed down a hill leaving a potentially awkward side-hill second shot.
Sixteen is a tough hole. No two-ways about it. At 215 yards over water, par threes don't get much more difficult. Hitting a long-iron pure is something most recreational golfers struggle with. On this hole, if you don't hit solid, you're likely going to end up rinsing one. And if you do manage to pull it off, there is a bunker in between the hazard and the putting surface. The green is deep too, so if the pin is in back, it adds some yardage. Any prevailing wind, and now you really have your hands full.
The most difficult hole on the course serves as the penultimate challenger at Watters Creek. Playing back into a predominantly southern wind, this 477-yarder is the longest four-par on the course. The same water that was in play on 16 is again in play off the tee on 17. If you subconsciously get scared of the water and blast one way right, the hole will play more like a par-5. To maximize distance, a draw is the optimal play, but if the draw turns into a hook, you'll be headed back to the bag for a new nugget. It's a tough par.
There's something that I really enjoy about a par-5 to finish a round and that's exactly what you have at Watters Creek. Again, water down the left side is in play, but a solid strike will carry it easily. Just avoid the lone fairway trap and you can have a legitimate shot at trying to reach the green. There is a creek that streams across the fairway, but only the longest of hitters need pay any attention to it off the tee. Two bunkers down the left side and one right protect the lay-up zone if you choose to play this as a three-shot hole. If you miss your second or third shot right of the green, it can be a tough up and down to finish with a tweeter.
The practice facilities are enough to make me wish I lived less than 45 minutes from Watters Creek, but the course is in solid shape, and it provides a fun test of golf. If you're in the north metroplex, it's a definite must try.
The Courses at Watters Creek
Address: 7201 Chase Oaks Blvd.
Plano, Texas 75025
Phone: (214) 509-4653
Website: www.watterscreekgolf.com
Designers: Weibring-Wolfard Golf Design (2012), Bruce Devlin (1991), Robert von Hagge (1991)
Year Opened: 1991
Par/Yardage: 72/7,015 (black tees), 6,626 (blue tees), 6,212 (white tees), 5,636 (gold tees), 4,979 (red tees)
Fairways: 419 Bermuda
Greens: Mini Verde
Rates: Traditions Course: Monday – Thursday $45, Friday $49, Saturday – Sunday $59, Players Course: $25
Futures Course: $10
Toughest Hole: No.16, 215-yard par 3.
As detailed in the article, if you're a longer hitter, or a good ball striker, then this hole won't be as intimidating. But the fact of the matter is most amateurs aren't hitting their long irons consistently pure, and a 200-plus yard par three over water will always give daily fee players nightmares. Although its ranked as the no. 9 handicap, for most, it will play more difficult than a middle of the road hole.
Favorite Hole: No. 4, 516-yard par 5.
Despite the fact I'm not a draw player, I still liked this one. If you can hit a long draw, you can eat this hole alive, but if you are a predominantly left to right player, you can still control a three metal off the tee and have a shot to get there in two. I am a huge fan of the optical illusion bunker 40 yards short of the green. From the fairway, it appears to be greenside, but it's well short of the putting surface.
Most Intriguing Hole: No. 9, 205-yard par 3.
Not sure if I would label no. 9 as intriguing, but it certainly pretty. I enjoy short par three's over water. All the lily pads and the fountain in the water feature really make It aesthetically pleasing. Plus, if you can knock one close, it's a good chance to make a birdie before you make the turn.