Cover Story – Q&A with 2018 Champions

Aaron Wise Q&A
2018 AT&T Byron Nelson Champion
The University of Oregon college star made the first AT&T Byron Nelson Championship held at Trinity Forest Golf Club his first PGA Tour title, outlasting a full field of top talented Tour players shooting a record low score of 23-under-par.
While he hasn't won since then, he captured PGA Tour Rookie of the Year honors last year and had a Top 17 finish with a closing 67 in the 2019 Masters, defeating Phil Mickelson, Rory McIlroy among others.
AVIDGOLFER: You came to the first year of the Byron Nelson at Trinity Forest Golf Club not having seen the course, as most people haven't, but shot a record low score here for the win. Did you see low scores for you and others before the tournament began?
AARON WISE: I didn't really know what kind of scores it would take to win at the Nelson, because nobody had been there before, it was all depending on the setup.  When I got there and saw the greens were really soft and there wasn't much wind, then I knew we were going to need really low scores to win and so would everybody else.
AG: I remember Adam Scott said he went to Google Earth to learn more about the course, because it was so new. Did it help that everybody in the field had to learn the course for the first time as opposed to the Masters at Augusta National where some players have played their 30-40 times and know every bounce and roll of the course?
AW: 100% it did. I had been learning new courses every week and Trinity Forest put me on even footing with the entire field. To be honest, some of the older players aren't used to learning new courses because they usually don't have to, but it was a big advantage to me that week. My caddie and I just used the same system we had used in the past weeks to learn something new and for some of these veterans it was something they don't usually have to do.
AG:  You're certainly at the start of your career with many good times and hopefully, many victories to come, but there is a saying people always remember their first. Will you always remember your first win at the Byron Nelson?
AW: Certainly, a 100%, in this sport you lose so often, you always have to remember the wins.  You always remember the wins on the PGA Tour and the Byron Nelson will always be first.
AG: Going back to a course that you won at Trinity Forest, is that something you're really looking forward to? Will you have the same game plan as last year?
AW: Going back to a course where you've played before is one of the greatest feelings because it is so less stressful.  You know where parking and dining and the locker room are and when you get to the course you know the angles and the forms and how to attack the course. If it's firm and fast with soft greens like last year, it will be to hit as far as you can off the tee and give yourself as short a shot as possible to the green.
AG: As a rookie or any players, it's always on to the next week, but what did you do to celebrate the Byron Nelson win last year?
AW: You know we had the long rain delay on Sunday, so by the time we got finished with everything, it was late at night and there was only one place to eat within 30 miles. We just went to some local bar to have a burger and a beer and just soaked it all it. It was really a good feeling.
AG: There is one burning question left to ask, which almost broke the internet last year after you won. You appeared to be seriously, 'friend zoned,' when you went in for a kiss for your girlfriend on the 18th green. Care to explain what happened?
AW: Sure, it was just a misunderstanding; we still laugh about it today. My girlfriend, Reagan, had flown in Sunday and was going to surprise me on the 18th green if I won, but I already figured it out. So when I saw her, I didn't act surprised, so she was trying to figure out why. I went in for a kiss and she would have kissed me, but she was totally into that situation that I wasn't surprised and she wasn't expecting a kiss.  So it was just a misunderstanding, but we're still dating and we still laugh about it. It was just blown out of context, but we're still all good.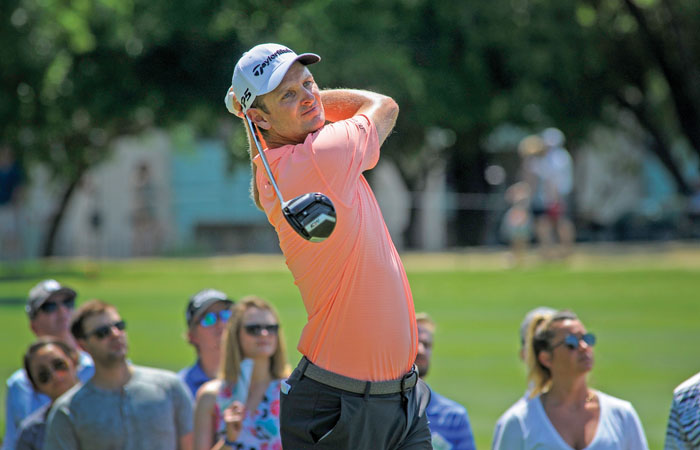 Justin Rose Q&A
2018 Fort Worth Invitational Champion
Justin Rose, a English veteran of the world golf circuit for nearly two decades, certainly proved his worldwide worth with a four-shot victory over current U.S. Open Champion Brooks Koepka in the 2018 Colonial. He started the final day at historical Colonial Country Club with a four-shot lead and never saw it shrink less than three in proving his No. 5 Worldwide Ranking for his second PGA Tour win of the year.
While he has won all over the world, Rose said the win at Colonial was special for the history here, the site of a U.S. Open as a former U.S. Open champion himself, and the deep ties to Ben Hogan, a legend Rose has long admired. He now has 9 PGA Tour wins, 11 European Tour wins and an Olympic Gold Medal.
AVIDGOLFER: You've won all over the world in your long career, what was it like to capture a win at a unique, traditional venue like Colonial?
JUSTIN ROSE: Certainly I've been fortunate to win on some great, traditional courses and I would certainly include Colonial with that. The great thing about Colonial is it doesn't favor the big hitter or the small hitter or the short game player. It favors everybody who is playing well and that's what great courses do.  Some of the newer courses we play now at 7,500 yards eliminate half the field before it starts, but Colonial never does that.
AG: Did it remind you of any courses you were playing growing up in England?
JR: Will it's certainly a parkland course and I grew up on those, with plenty of doglegs which I'm used to. The modern bunkers are a bit different than I grew up with, but the fairway bunkers there are so awesome, you want to lay back from those if you can. But the great thing about the course is if you lay back too much and try to attack the greens you run into the green nucleus.
AG: What else do you appreciate about classic courses like that?
JR: The way the greens force you to make decision on every hole and every putt and the way the doglegs force you to work the ball in one direction or another. I know at some point they're going to have new greens there (Colonial), but the one thing I would do to make it even better is to have firm greens with the classic course. Last year we had soft greens which gave us low scores. It needs firm greens that golf course does because the subtle runoffs don't come into play if you don't have them and you don't have the real flavor of the course without firm greens.
AG: Colonial is one of the few tournaments which gives out a jacket, the Masters, Hilton Head and Colonial. Did you spend much time with your jacket?
JR: You don't get to keep it for long, maybe that is more Ian Poulters style, but the really cool thing is your name on the Wall of Champions on the First Tee. You look at that wall and you see Ben Hogan's name several times and you see Jack Nicklaus and Lee Trevino and Phil Mickelson and Sergio Garcia and all the great players who have won here and to have your name on that wall forever is pretty cool. It's the highlight of a career
AG: Do you anything to celebrate?
JR: Well it's on to the next one, but I certainly glad to come back and defend this year. In the past there was also a big European Tour event at my home club, Wentworth, the week of Colonial and I didn't get to play here very much, but now that tournament is being moved to September so I can come back and play at Colonial for many years.
AG: You were so dominate in your win last year, when did you feel like it could be your week?
JR: I felt good the first couple days of the week, during the pro-am, and felt if I didn't muck it up, I would be OK.