After the Round – Bob's Back!

When you think of the great dining experiences in Dallas, there are several that immediately come to mind, and for years, the original Bob's Steak & Chop House on Lemmon Avenue has been one of the go-to destinations for steaks, chops and top-quality seafood. 
After almost a decade away from the business, Bob Sambol stepped in and bought the licensing rights to the original Bob's. In his nine years away, Sambol had been overseeing the Trinity Groves project in south Dallas, but in February he decided that he wanted to get back to his roots. Sambol said as we spoke, he was elated to get back to where it all started 25-years prior.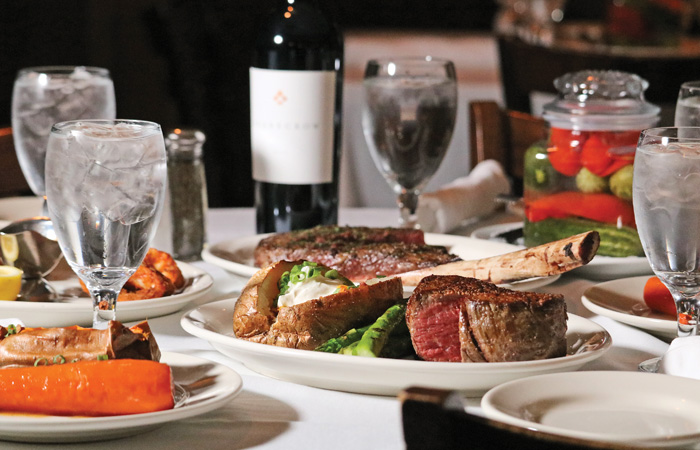 As you walk through the door at Bob's you are immediately greeted at the hosts stand with a smile and a "Welcome to Bob's". A bar to the right is a great place to have a glass of wine or a cocktail before dinner, or if you happen to be flying solo, eat your whole meal there. The dining room is simple but gorgeous. Rich wood walls and low lighting make for a perfect dining experience, whether it be a dinner meeting amongst colleagues, or an intimate date with someone special, the space just glows with class and will leave even the most experienced fine dining aficionados impressed to the back teeth.  
Our server Ashley greeted us with a smile and poured over the menu like it was second-hand. She gave us specials for the evening and recommended several of her favorites. I'm sure the entire staff at Bob's is world-class, but Ashley made it a truly memorable experience from start to finish. Shortly thereafter, Bob made his way to our table and offered to bring us several samples of his appetizers. Of course, that was a no-brainer. 
Just a few minutes passed, and our starters arrived. The Shrimp Platter, which consists of two cocktail style shrimp, two remoulade style and two fried. The shrimp were large and delicate. The cocktail sauce had the punch of some additional horseradish, the remoulade was a delight and the batter on the fried shrimp was crunchy without being greasy or heavy. If you're debating on shrimp options for the table, the platter is a great compromise that will give everyone something different to try.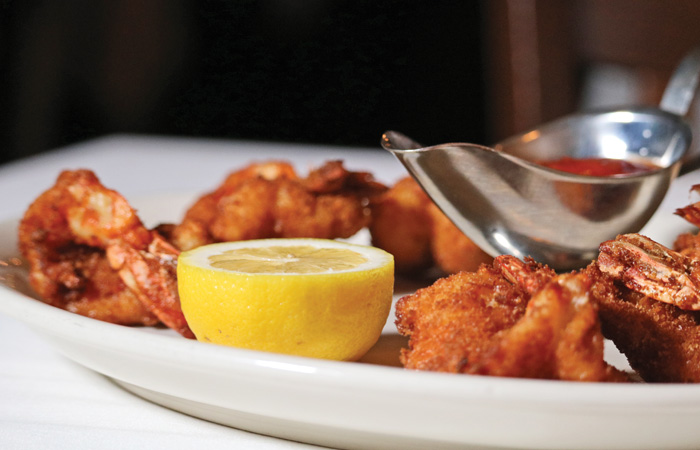 In addition, we sampled the onion rings, which were perfection. I have always been an onion ring guy, but it can be hard to find good ones. These were top tier, perfectly golden battered and crunchy. The sweet onion inside wasn't overbearing. The light batter and sweetness were the perfect yin and yang. 
But the true star of the app show was Bob's Roasted Neuske Bacon Slices. The two four-ounce strips come served with a whiskey glaze. The thick cut pork belly was superb, flavorful and juicy. I have truly never had anything like it. Get a couple orders for the table and watch as people ooze backwards in their seats with delight. They are an atom bomb for your taste buds, and I could probably write an entire review on just this appetizer. Even as I construct this piece, my Pavlovian reflex has my mouth watering. An absolute must-try if you make the trip to Bob's. 
For the main event, I decided on a Wedge Salad, the 12oz filet with baked potato, and my date went with the Swordfish special for the evening. 
The Wedge Salad arrived first, and this had to be the most delicious wedge I have ever sampled. It was not only a massive portion but came dressed with all the wedge staples. A ridiculous amount of blue cheese crumbles, plenty of blue cheese dressing and bacon bits. As far as salads go, this one is as rich and flavorful as any you will ever try. I did my best to finish it off, but I had to save some room for the main course. 
As the entrees appeared in front of us, we couldn't help but appreciate the simplicity of the plating. Far too often nowadays executive chefs are overcomplicating plates with paint brushed sauces and ring-molded accoutrement. Sure, we eat with our senses and visually stimulating plating is an artform, but Bob's subscribes to the KISS (keep it simple, stupid) method. The steak and potato middle of the plate with their world-famous glazed carrot in between. No nonsense, and that's the way great steaks should be presented. 
The filet was perfectly prepared. I like my steaks blue and that's exactly how it came out, with a glorious cool, pink center. The cut was so buttery and tender it almost didn't need a knife. Our server even suggested that I add some of Bob's pepper-butter on the side. This simple addition of melted butter with fresh pepper ground in was a welcome addition and really took things to the next level.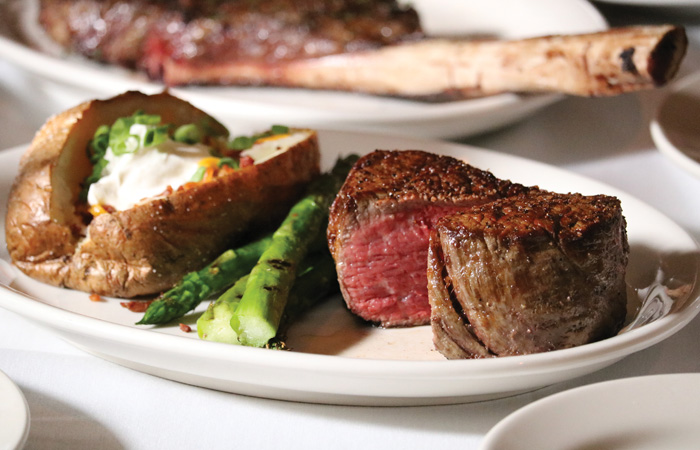 The swordfish my date ordered was as good a piece of fish as I've ever tried. Fresh, light and buttery. If you're leery of fish that can be a bit oily, such as salmon, then give this one a try. It was magnificent and is a great lighter option if it happens to be on special. 
When it comes to sides, Bob's has creamed corn, asparagus, broccoli, green beans, mushrooms, the aforementioned onion rings, and sautéed spinach and mushrooms. However, one side was worth talking up a bit. Recommended to me by our fearless leader Craig Rosengarden, the creamed spinach was a total home run. Served in a similar fashion to French Onion Soup, the spinach was topped with cheese that is then melted to create an oozy, crusty topper that was out of this world. Even if you aren't a spinach fan, I can guarantee this will make you a believer. 
Bob's features a bevy of high-quality entrees, from the filet, to the Cote de Boeuf Bone-In Ribeye, to a half roasted duck, rack of lamb, South African lobster tail, and they also offer Wagyu options as well. The whole menu is off the charts superb and I can't wait to get back there to sample some more of the fare.
Obviously if you're headed out for a wonderful meal, then the only way to complete the evening is with some dessert. Bob's has all the usual suspects, crème brulee, bread pudding, brownie sundae, chocolate cake and carrot cake. However, one dessert always grabs my eye when I see on a menu and that's Key Lime Pie. I have always loved the tart and sweet combination and when I have the chance to order it, it's a done deal. The crust was fantastic, and the pie was light and delicious. It was a perfect way to end an extraordinary meal. 
Bob's Steak & Chop is one of a kind and now that Bob Sambol is at the helm again, expect it to remain that way in perpetuity. Superlatives can be thrown around pretty recklessly these days, but there aren't many that don't describe this dining experience. From the bar to the dining room, from the food to the wine, from the service to the owner, Bob's is simply spectacular.